1. Bringing Geographical Knowledge and Data to Life
Naoki Seita is a teacher at Yokosuka Municipal Taura Junior High School in Kanagawa prefecture. Hoping to give his students a real sense of how the content of Social Studies is connected with actual societies and lifestyles, he has been working to create classes for the past four years that link knowledge with individuals and stories. Last year, in his geography class for first-year junior high school students, he used examples of real-life individuals to convey how Japanese people are interconnected with other countries around the world.
Students have displayed great interest in these classes, and often ask questions such as "are there similar cases in other countries where Japanese people were involved?" At the same time as being delighted to see students change the way they look at geography classes, Mr. Seita also has concerns that his students might be growing less aware of the knowledge and understandings they are expected to acquire.
"If you just want to acquire knowledge, you can easily do so using tools such as the internet, so teachers are now seeking ways of teaching that go beyond mere knowledge acquisition. However, I understand the argument that the proper place for moralistic content focused on individual people is in the Morality curriculum. I want to gain a broad range of opinions on the classes I've been running on a trial-and-error basis, and that's what motivated me to give this demonstration class."
The online demonstration class was attended by approximately 20 people from around Japan, including teachers, parents, and students aspiring to become teachers. Mr. Seita conducted condensed versions of two classes that he had run for his first-year junior high school students, one on "Africa" and the other titled "Europe 2."

♦Outline of the online demonstration class

◊Africa
This class focuses on the northwest African country of Mauritania. It reveals the role played by a Japanese person in Mauritania's economic development, and connects this with the country's natural environment and social conditions.
Summary of content:
Following the Great East Japan Earthquake disaster, the Japanese Embassy in Mauritania accumulated donations totaling 45,700,000 yen. Why were such generous donations received in a country where the average monthly income is just 7,000 yen? One factor was the presence of Masaaki Nakamura, who was dispatched to Mauritania by the Japan International Cooperation Agency (JICA). Nakamura focused on the octopus species living in the country's coastal waters, popularized octopus fishing, and facilitated the export of octopus to Japan. Mauritania is the source of around 35% of all octopus imported by Japan, and octopus is now one of the country's major exports. In 2010, Nakamura was honored with a National Order of Merit from Mauritania. The huge donations in the wake of the earthquake disaster were an expression of gratitude for this Japanese man's work in helping to develop the country's economy.

◊Europe 2
The European Union (EU) was established on a foundation of remorse for two world wars. This class explores the ideas behind the EU from the angle of a Japanese person involved in the establishment process.
Summary of content:
The cornerstone of the EU is pan-Europeanism, the idea of creating "common rules" through Europe-wide dialogue in order to prevent armed conflict. The proponent of this idea, Richard von Coudenhove‑Kalergi, had an immense influence of the establishment of the EU, as demonstrated by his 19 nominations for the Nobel Peace Prize. A citizen of the multi-ethnic state of Austria-Hungary, Coudenhove-Kalergi's mother was a Japanese woman named Mitsu Aoyama. Her marriage is said to have been the first official international marriage in Japan, and Coudenhove-Kalergi himself was born and raised in Japan. Did his idea of uniting Europe through acknowledgment of diversity stem from his own diverse roots? He may also have been influenced by the notion "Asia is One," published the work of Okakura Tenshin around the same time.
The actual class formed the second part of a three-class series. In the first part students watched an educational video and covered the outline of the unit. The second was the main class, and the third was devoted to practical exercises. This means that students had already acquired a certain degree of knowledge by the time they participated in this class.
In the class, Mr. Seita showed slides created by using a presentation software, posing questions to students along the way. He provided opportunities for students to work with their neighbors to check one another's knowledge and exchange opinions. He did not use any handouts, but had students note down their observations. To wrap up the class, he had each student write down and submit a summary of the class as they would explain it to their own family members.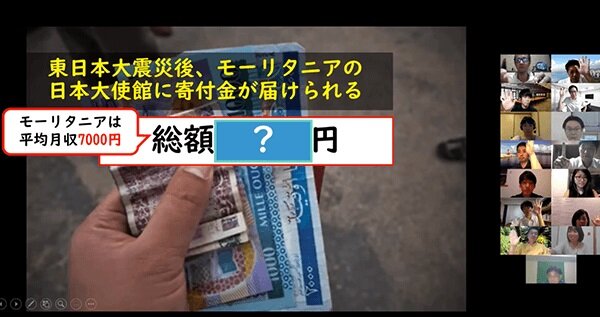 2. Varied, Well-Paced Classes Attuned to Students' Interests
Participants rapidly became absorbed in the stories of unexpected connections between Japan and Mauritania, and Japan and the EU. During the class they used the Chat function to share a variety of thoughts and questions. After the demonstration class, Mr. Seita held a discussion session with the participants, chaired by Mr. Shogo Minote of Koganei Municipal Maehara Elementary School, Tokyo.
The first question that arose concerned the process of designing the class: "how do you make connections between individual people and geography?" Mr. Seita replied that he gained inspiration from newspapers, magazines, and television. He explained that because he thinks habitually about class design, he often has a flash of insight that connects geography with something that he sees. He goes on to investigate it and flesh out his ideas.
"The EU class, for example, started out when I recalled having read in a book that 'the mother of the EU was Japanese.' I hoped that when they discovered that a Japanese person was involved in the establishment of the EU, students would be impressed and have greater love for their own country."
The next question observed that the class progressed like a variety show on television, and asked if that was deliberate. Mr. Seita explained that he had gained ideas from The Writer's Journey, a book about the stories behind commercially successful movies.
"I try to begin with a topic that initially seems unrelated, and have some ups and downs along the way before finishing with a happy ending. The online videos that students often watch are ten minutes long at most, and sometimes just 20 or 30 seconds. In order to hold the interest of students used to that kind of format, I keep each individual part short and switch scenes at a good pace."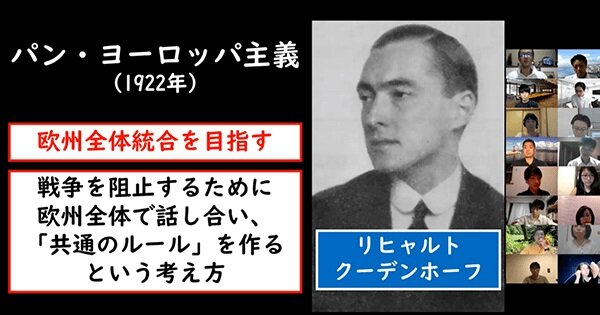 3. Memorable Classes Boost Enthusiasm for Learning
Participants were greatly enthused by the surprising connections between Japan and other countries revealed in the class, and proposed a succession of ideas on how to develop the class further, such as:
"It would also be interesting to look at non-Japanese people who Japanese people may feel grateful for, and the connections with their countries."
"I want to inform students not just of the successes of international aid programs, but also examples of failure. I think it would be good to learn about both in balance."
"I'd like to add something on the thoughts of the people in the country being discussed."
Mr. Minote commented that he had felt affinity with the stories of the two Japanese people presented in the class, but asked about the aim of focusing on these two individuals. Mr. Seita replied by explaining his thinking behind the class.
"There are both good and bad sides to Japan, but taking into account the developmental stage of my students, I believe it's best for them first to encounter the good sides, and gain a self-affirming sense of Japanese identity. I treat failures and negative aspects as subjects for long-term study that students can look into as they develop doubts and questions."
Materials and data are important elements of learning in geography. One participant suggested that an excessive focus on individuals and stories might make it difficult to focus students' attention on the factual content that they are supposed to acquire. Mr. Minote responded by asking the participants:
"Focusing on individual people and exploring their achievements, as was done in this class, is a moral approach. If so, wouldn't it be better to run this kind of class in Morality?"
One participant responded to this by suggesting that the class could function as a model of how to engage with geographical knowledge through a focus on individuals, and enable students to develop their own ways of looking at and thinking about geography.
Another participant, a parent, pointed out the importance not only of the content of the class but also of which teacher you learn it from, saying: "I think that motivation for learning arises from an emotional state. Surely this kind of memorable class is worth offering in any part of the curriculum?"
Mr. Seita explained that one step he took in order for students to understand the class as part of the Social Studies curriculum was to highlight in red on his slides the key vocabulary from the textbook--such as "desertification," "slum," and "monoculture economy" in the case of the class on Africa--and enable students to revisit what they had studied in the previous class. "Some students used these key terms in their written reflections on the class," he recalled. "I think the purposes of the class came across well to the students."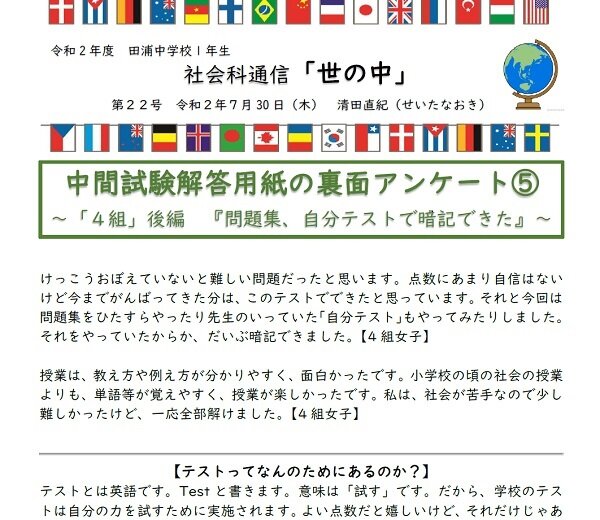 Yononaka, the Social Studies grade bulletin produced by Mr. Seita
4. Consciously Detach After Class and Trust in Students' Motivation
Another challenge is how to carry the approaches learned and the motivation kindled in the class through to the next phase. Mr. Minote asked how Mr. Seita responded to students wanting to learn more, given that the class itself was so interesting. Mr. Seita replied that he deliberately detaches himself from such students because he wants them to learn for themselves.
"I give them hints, such as telling them that the Ministry of Foreign Affairs' website has information on Japan's relationships with other countries, but I don't give them any specifics. My aim is for the class to enable students to advance to the next stage of learning of their own accord."
After all the classes for the year level are over, Mr. Seita publishes students' reflections in Yononaka, the Social Studies grade bulletin. His aim is for students to inspire one another by sharing their thoughts across different class groups.
Mr. Minote proposed a new type of exploratory learning designed to advance the interests students gain in class into the next stage of learning.
"This class could be used as a model for an activity in which students investigate the links between Japan and other countries and present their findings. Like the popular variety show, they could throw darts at a world map in order to select their country: this would enliven the students and motivate them to engage with the task. Students wouldn't just acquire knowledge, but also become aware of the devices that Mr. Seita is using in his classes, which should help develop their capacity to convey their ideas to others."
Mr. Seita responded by saying that he definitely hoped to find the time to put this proposal into practice.
"I intend to incorporate the various ideas you have put forward today as I work to create classes that foster students' love of geography. You said that it's important which teacher you learn from: today's experience has strengthened my resolve to live up to that expectation and maintain an aura of fun as I teach my classes."