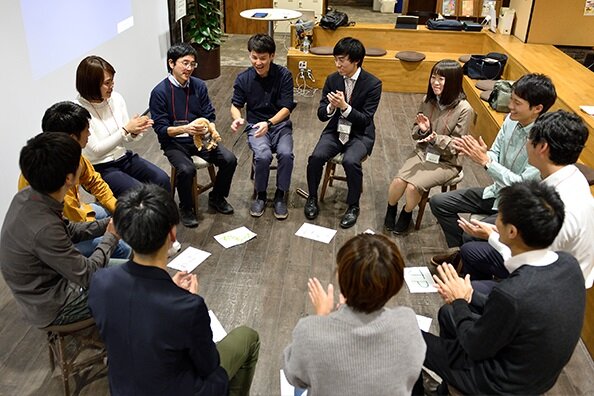 1. Accepting One Another, Building Cordial Relationships
 

Koichi Kadono,
teacher at a public elementary school in metropolitan Tokyo
 

 
Nine years into his teaching career, Mr. Koichi Kadono regularly conducts "class meetings" for the class cohort he is in charge of, promoting dialogue among students, fostering their initiative, and building a class community where children can feel safe and secure. Mr. Kadono had been struggling with class cohort management when he learned of the class meetings approach promoted by experts such as Professor Shinji Akasaka of the Graduate School of Education at Joetsu University of Education, and was inspired to incorporate it into his own classes. As he tried the approach in practice, he witnessed changes in his students and gained a real sense of the importance of creating safe, secure spaces.
"The primary aim of the class meeting is for all members of the class to gain a sense of community and find a place for themselves, through free and open dialogue. By generating this kind of atmosphere and relationship within the class, I found that children started talking among themselves more at other times, and this enabled us to achieve a greater depth of communal learning in class."
In this demonstration class, after an ice-breaking activity, Mr. Kadono and the participants sat in a circle to conduct the discussion.
Firstly, they went around the group in a clockwise direction with each participant, including Mr. Kadono, naming something that had made them happy recently. Participants shared experiences such as going to a hot springs resort, winning tickets to a concert, and having a delicious breakfast, and then Mr. Kadono asked them what kind of response they would have liked to get from other participants while they were talking. He proceeded to explain the kind of attitude expected from all participants, saying: "you feel reassured when people are watching and listening intently to what you're saying, when they smile at you, clap, and nod, don't you? Try to listen in that way as much as possible too. And if you can't think of anything to say, it's OK to pass."
2. Understanding Others' Positions and Generating Ideas
The next topic was "something troubling you recently." Participants talked of such problems as having such an overloaded schedule that you are unable to do what really should be done, falling asleep on the sofa in front of the television, not being able to use a smartphone properly, feeling too cold to get out of bed, and being unable to communicate well with their father. The participants were asked to each pick out two of the problems raised that they would like to talk more about, and Mr. Kadono tallied the nominations. Then the group discussed ideas for resolving the most common problems.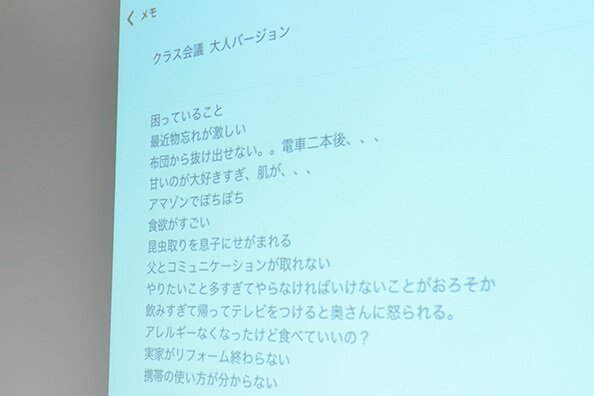 "When I run class meetings in actual classes, a whole range of problems are raised, from everyday issues to troubles at cram school and home life. We select a number of problems that everybody feels they can relate to or would like to try and solve, and share our opinions on them. Then at the next class meeting, we follow up with the children who had the problems originally, and ask how things have been going since then."
One of the topics that many participants chose was being too cold to get out of bed. The participant who raised it explained: "I wake up, but then can't help falling asleep again," and others offered words of advice such as: "place your alarm clock somewhere out of reach," "turn on the heater," "prepare a delicious snack in advance so you can eat it as soon as you get up." These prompted the original participant to decide on a solution for themselves: placing the alarm clock out of reach, and setting a timer on the heater before going to bed.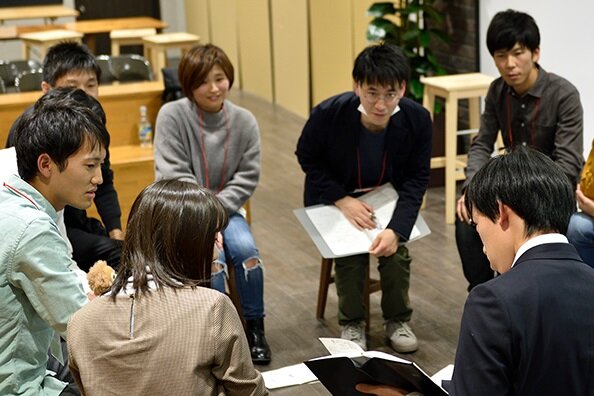 Another problem that attracted the interest of many participants was being unable to communicate effectively with one's father. Demonstrating their understanding of the predicament and the feelings of the participant who had originally raised the problem, other participants offered a variety of suggestions based on their own experience, such as: "try doing something together that your father is good at," "go mountain-climbing together," "see if you can convey your feelings to him via your mother," and "I think it's OK just to be in the same space, rather than forcing yourselves to have a conversation."
The original participant listened earnestly to all these ideas, then responded by saying: "Thank you, everyone. I shouldn't presume it will be difficult from the outset. I'll start by communicating through my mother, then gradually build a relationship in which just the two of us can spend time together."
Speaking to participants after the demonstration class, Mr. Kadono underlined the significance of class meetings as follows: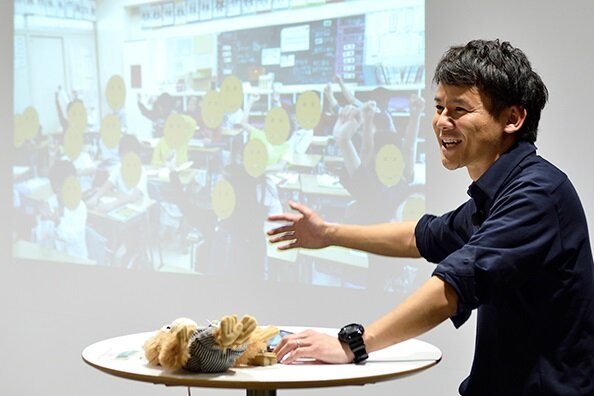 "I suspect you understand this now that you've experienced it for yourselves, but whether or not the class meeting can actually solve problems is really not that important. What's more significant is the experience of having your desire to be heard accepted warmly by other members of the class, developing an ability to express your ideas more proactively, and feeling secure within the class group."
3. Being Acknowledged is a Source of Joy for Adults and Children Alike
 

Shogo Minote,
Koganei Municipal Maehara Elementary School, Tokyo
 

 
Next, Mr. Shogo Minote of Koganei Municipal Maehara Elementary School, Tokyo facilitated a discussion among participants on how to run class meetings in their own schools. Taking into account the conditions within their schools, participants offered comments such as: "it would be difficult to run it for the whole class right away, so I'd like to try it in groups during lunch time," and "rather than simply deciding on topics by majority vote, it might be good sometimes to prioritize the ones that students particularly want advice on."
Comments received from participants after the session included: "if the class meeting idea takes root, I think it will make classes more fun, so I definitely want to try it," and "I feel it's an important opportunity for children to grow independently as they build their own class cohort."
Mr. Kadono offered his own reflection on the demonstration class as follows:
"It was a meaningful opportunity for participants to open up to others proactively. I experienced afresh that both adults and children feel the same kind of happiness when others acknowledge you. Class meetings enable students to build their class cohort autonomously, and they give each child the sense that they can have an impact on the class as a whole. I hope class meetings become more widely used in schools across the country."
The aim of this series is to create opportunities for teachers working within metropolitan Tokyo to improve one another's teaching practice. We hope that it prompts participants to think about their teaching while they enjoy pursuing dialogue from a child's standpoint and various expert perspectives. The first session involved a demonstration class on "morals, dialogue, and ICT" by an elementary school teacher, and in the second session a junior high school teacher conducted a demonstration class on "science, question-making, and exploration."