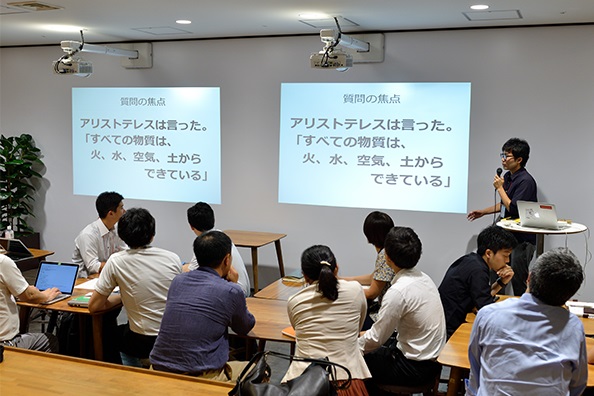 1. Teaching Students to Confront Fundamental Questions about Matter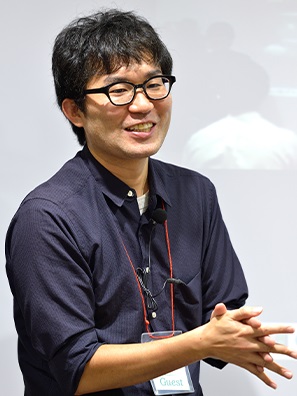 Daisuke Ikubo, teacher at
a public junior high school in metropolitan Tokyo
Mr. Ikubo conducted a demonstration class centered on "question-making," an activity that involves the teacher presenting a "question focus" from which students themselves construct questions. Mr. Ikubo says that he emphasizes "question-making" in his actual teaching as well.
"I always do 'question-making' in the first class of each unit. The aim is to build students' interest in the learning content of the unit and stimulate their motivation to learn."
This demonstration class covered the unit on "matter around us" in the junior high school first year Science curriculum. The "question focus" provided by Mr. Ikubo was: "Aristotle said that all matter is made from fire, water, air, and earth."
"Today, the 'four elements theory' that matter is composed of fire, water, air, and earth has been repudiated. But when considering the properties of matter and changes in them, it's extremely important to be aware of the fundamental question of how matter is composed. So in my actual classes I set the same question focus as I used in the demonstration class."
2. Strategies to Enable Students to Pose Questions More Easily
The participants were divided into groups of four or five to engage in "question-making."
Firstly, the groups brainstormed questions and wrote them down on paper. A variety of questions emerged, such as, "did Aristotle find it interesting to think about things like this?"; "did Aristotle come up with the four elements theory based on his own research?"; "what kind of matter is made of air?"; and "are fire, water, air, and earth matter too, and if so, what are they made of?"
"I used this same 'question-making' process in my actual classes. In order to create an atmosphere in which all students can pose questions easily, I instructed students not to evaluate the questions or try to answer them."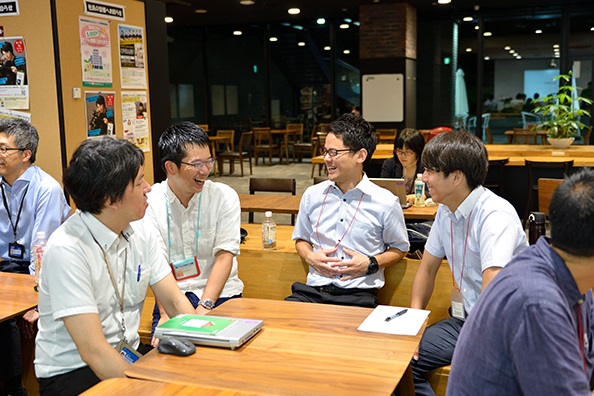 3. Classifying and Modifying Questions to Broaden Students' Ways of Seeing and Thinking
The next task was to classify the questions. Each group discussed their questions and wrote letters next to each one: "O" for open questions that have multiple possible answers, and "C" for closed questions that have only one answer. This produced lively discussion, including observations such as, "it's a closed question at the moment, but if we change the wording like this, it turns into an open question."
"In my actual classes, I had students classify the questions, then change the open questions into closed ones, and the closed questions into open ones. The aim was to give students practice in considering the same question from a different perspective, and develop more profound thinking."
At the end of the demonstration class, Mr. Ikubo asked each group select three questions they considered would be most important in studying the unit.
"In my actual classes, I had representatives from each group present their group's three questions and their reasons for choosing them. I thought it was important to share each group's learning and awareness with the whole class."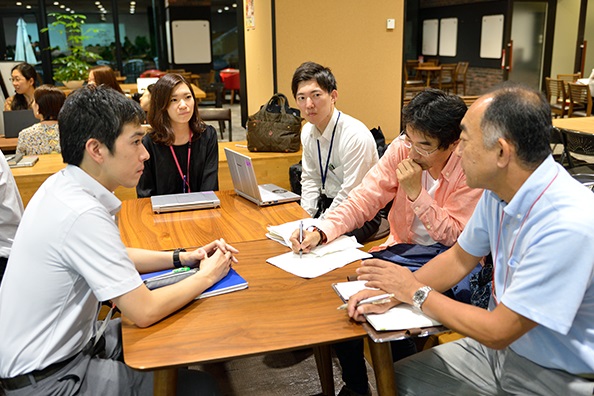 4. The Key Point when Setting a Question Focus: Planting Doubts in Students' Minds
After the demonstration class, there was a workshop involving a question-and-answer session between Mr. Ikubo and the participants, chaired by Mr. Shogo Minote, who is conducting student-centered class improvements at the Koganei Municipal Maehara Elementary School, Tokyo. Notably, participants asked Mr. Ikubo's about specific points of emphasis in "question-making." One question, for example, was: "Do you need to provide students with some kind of standards by which to select important questions appropriately from among the many questions produced in the question-making process?" Mr. Ikubo responded:
"I don't provide any standards in my classes: students can sort out which questions are important and which are not. In the 'question-making' class for each unit, I get them to select the three most important questions, and I feel that through this process they are gradually improving their ability to make choices for themselves."
Mr. Ikubo also exchanged opinions with participants on how to set a "question focus" that draws students' interest. He agreed with a participant who suggested using something that students would want to argue against.
"In my case, the 'question focus' is not itself a question, but rather a definitive statement. This is because I want students to think, 'is that actually true?' or 'that can't be right.' I believe that casting doubts on the 'question focus' is the starting point for engaging actively with the learning content."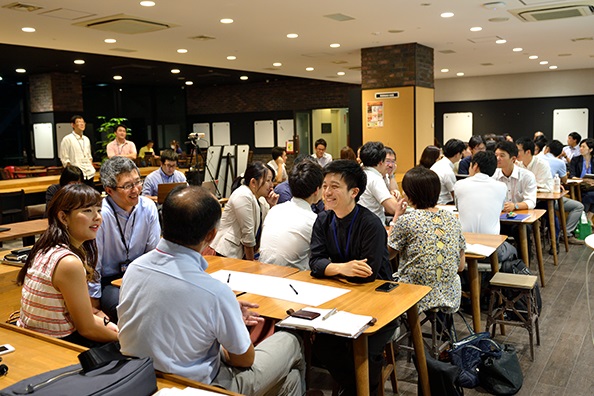 The aim of this series is to create opportunities for teachers working within metropolitan Tokyo to improve one another's teaching practice. We hope that it prompts participants to think about their teaching while they enjoy pursuing dialogue from a child's standpoint and various expert perspectives. The first session involved a demonstration class on "morals, dialogue, and ICT" by an elementary school teacher, and in the second session a junior high school teacher conducted a demonstration class on "science, question-making, and exploration." Why not experience future classes for yourself and join in the discussion? We look forward to your participation.