*Editor's Note: The original article was posted in Japanese on March 27, 2020.
As a teacher at a kindergarten in Beijing, here I would like to introduce the efforts and arrangements that we have made at our school . Taking into consideration the physical and mental health of children, our kindergarten has recommended play activities that can also be enjoyed at home so that children will have fun every day even if they cannot attend kindergarten.
The Start of Support for Home Activities
A majority of parents, even those who work at home, spend about three hours a day playing with their children and supporting school activities and learning. In order to effectively use this time together, instruction from teachers has become necessary.
First, kindergarten teachers searched the internet for possible handicrafts, songs involving hand movements and gestures, picture books, etc., for play at home and then suggested various activities. Using SNS, they sent daily messages to the parents of children in all their classes, providing written explanations of the activities along with videos and images. Parental response, however, was not quite what had been expected. Many of them shared photographs and videos of their child's particular way of playing (postcards, handicrafts, blocks, Legos, etc.) with parents of classmates, so although the parents appreciated the teacher's efforts, there was little feedback on the home activities recommended by teachers.
What was the problem with the home activities that teachers had recommended? Were the activities helpful or useful for many of the families? Do children really like such activities? And what kind of subsequent support should be given? A group of kindergarten teachers conducted an interview survey with parents to assess needs at home.
Feedback from Parents
The results of the survey indicated that most parents did not feel that the daily activities recommended by the teacher were a burden. Unlike at school, at-home activities recommended by the kindergarten are not required, so the information was meant to be helpful for parents and children who might need it. While few in number, there are some parents who find the activities to be somewhat of a burden. The reasons given include: "I'm too busy and don't have the time." "My child is being looked after by grandparents who are not familiar with digital media." "It's difficult because I have more than one child at home now." Many parents feel that support from the teacher would help, but other parents disagree and their comments point out some problem areas: "My child has his own way of thinking and doesn't need support from the teacher." "My child is not interested in support on that subject." "The support provided is not interactive enough."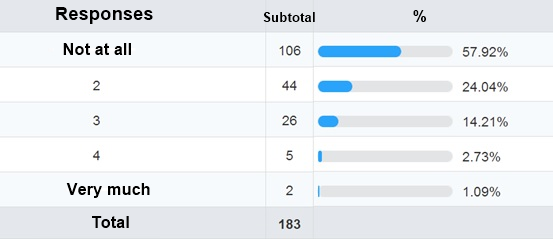 Table: "Do you consider daily at-home activities assigned by the kindergarten teacher to be a burden?"
Regarding the contents of support in activities, those recommended by the teacher that involve or require drawing and handicrafts are the most favored by children. The children often watch a video of the teacher while they exercise and play indoors, conduct simple experiments, sing and dance, and engage in other activities. Children tend to become excited and learn while playing when their own teacher appears in the video rather than when watching someone they don't know. Furthermore, in addition to teachers, parents can also see images of other children shared by their parents in the same class and many children will feel like they want to also try the same activity.
Regarding the method of providing support, children appear to respond best to images and video. If the activities are communicated in writing, the parent must then read and communicate the content to the child each time. For parents who are busy with work, this is not efficient. It is, after all, important to show children the actual activity so they can grasp it intuitively, or tell them about it, and for parents, it is necessary to communicate in writing what the activity requires and the educational goal.
Besides playing with their parents at home, some children want to "visit their teacher" or have an "on-line chat with their classmates." It is clear that some parents worry that staying at home will affect the development of the child's social skills, and it is important to support opportunities for communication.
Improving Support
Feedback from the parents indicated that the circumstances and needs of each family were different. As such, we considered each child's development on an individual basis and provided individual support in response. Furthermore, we improved the support activities for families who participated in the study for the first time so that the activities could be easily accepted by children. The following are some areas that were improved.
When using SNS to communicate about family activities, avoid the morning hours when working parents are the busiest and send the message around 10 a.m.
Communicated content should primarily consist of video and images that can be intuitively grasped by children. To prevent a negative effect on eyesight, the video should not be longer than three minutes. As for communication with parents, post a separate message on SNS regarding the educational aim of the activity.



Figure: A kindergarten teacher filming her activities at home.

Illustration: yanyan
Source:https://mp.weixin.qq.com/s/HANkSmdSQktERZMc6eA_Mw



Make time to chat with people in real time while watching a video online. Children talk about daily life and introduce their work while looking at the faces of their teacher and friends, and will listen seriously to what their friends are talking about. Children play the role of teacher and teach everyone something, too. Teachers take part in online activities with the children three or four times a week, and by spending time with about 5 students together, real time, it is possible to have an effect on social development in children. Of course, this session is not mandatory, but only offered to those families who are interested. The time can also be limited to 30 minutes or less and after the video chat at the end of the session, everyone does some eye exercises together.
Individual online home visits. Teachers make an online visit to the student's home, in particular, to homes where parents are busy or children have special needs. They check on the child's condition and give parents advice on education.
Weekend support. In families where the parents are busy with work, the teacher resends material for the entire week on the weekend. This material includes the recommended videos that parents and children use to have an enjoyable weekend.
It has not yet been decided when kindergartens will reopen, but the desire to return to life as it was before is shared by everyone. More than two months have passed since winter vacation. Kindergarten teachers and students are still not able to meet directly, face-to-face, but they are eagerly looking forward to the day when they can. Even if we can't see one another, we are all still connected on a daily basis. As kindergarten teachers, we are working to provide various kinds of on-line educational support. We may not be able to fight COVID-19 directly as doctors do, but we will continue our persistent efforts as teachers.