[About this series]
Recently, we are seeing increasing global interest in ECEC (early childhood education and care). Against such a backdrop, Benesse Educational Research and Development Institute (BERD), which supports the operation of Child Research Net (CRN), has been conducting longitudinal research throughout Japan, focusing on children's "attitudes of learning to learn." BERD considers the "attitudes of learning to learn" as important social and emotional skills such as curiosity, collaborative skills, self-assertion, self-restraint and perseverance, all of which are lifelong skills that should preferably be developed starting from early childhood (for more details, please click here).
This time, BERD has decided to conduct a cross-national survey in order to examine the development process of the "attitudes of learning to learn (social and emotional skills)" and environments necessary to nurture such attitudes in early childhood. Prior to this survey, researchers from BERD and CRN have visited several ECEC facilities and families in Asia and Europe during the period between 2016 and 2017. They observed and interviewed the actual life-style of parents and children as well as the initiatives of facilities and families to develop the "attitudes of learning to learn."
The reports will be on the current conditions of early childhood education, parents and children, and interactions with children in each country through the eyes of the researchers. Please understand in advance that the examples of facilities and families they will describe in this series are meant to introduce the efforts and initiatives they observed during the survey visits and are for reference only.
Introduction
China has 114 years' history of ECEC. The system has gone through dramatic transformations along with changes in the times and society. In particular, the year 2001 is said to be a turning point in China's ECEC. During that year, the Ministry of Education issued the "Guidance for Kindergarten Education (trial version)" and introduced play-based learning in ECEC. One of its objectives is to solve the issue of kindergartens "functioning as elementary schools." The guidance introduced a new child education system providing five learning areas instead of the previous eight learning subjects, and suggested kindergartens prepare their curriculum content according to the developmental progress of children. This guidance became an important policy for educating children in early childhood in China. The "Guideline for Learning and Development of Children Aged 3-6" issued in 2010 are supplemental to the above guidance. The guidelines describe children's learning and development in five areas (health, language and literacy, social development, science and mathematics, and the arts) and activities in four domains (learning, physical exercise, play and daily habits). The guidelines also explain specific methods to develop children's "attitudes of learning to learn" while focusing on play-based learning in ECEC. In this way, the guidelines serve as an important guide for on-site practitioners.
The two kindergartens we visited in Shanghai are both public facilities. It can be considered that their policies were established based on the above guidance and the guidelines.
The main features of these kindergartens are shown below (which have been summarized by the author by reference to their brochures and websites):
Kindergarten attached to a national key university in Shanghai
An international kindergarten in Shanghai
Overview
Established in 1952 as a first-class public kindergarten (Note 1).
Established in 1949 as a role-model grade public kindergarten.
Philosophy
(Educational objective)
Creating a diversified education environment where children can experience various things, and developing children's self-assertion, autonomous action, richness in character and the fondness for reading.
Developing children who are open-minded, respect diversity, have a sound body and mind, have good daily habits, help each other, enjoy studying, retain the spirit of the Chinese people, and are global citizens.
Characteristics
(1) The kindergarten has a favorable natural environment which enables children and parents to experience outdoor activities such as raising small animals and growing vegetables.
(2) Since the kindergarten is a university-affiliated facility, ECEC research outcomes can be directly put into practice.
(1) A global kindergarten where both international classes and domestic classes carry out their activities in the same playground.
(2) As a model kindergarten, pioneering initiatives are encouraged.
Size
490 children aged between two and six years
Classes of Chinese children: 13
International classes: 8
500 children aged between two and six years
Qualification and expertise of teachers
60 teachers; 75% of them are aged 40 or below. All teachers are qualified; 8% with master degrees, 75% with bachelor degrees.
All teachers are qualified with a master degree or a bachelor degree. Many have received awards from the national or local government. 76% have expertise in English, arts, etc. 95% have computer literacy.
* Please note that the above kindergartens should not be considered as a representative or a typical example, but for reference only.
1. University-affiliated kindergarten: Children who are the "second-generation elites"
We first visited a kindergarten attached to a key university in Shanghai. The kindergarten is rated as the first-class public kindergarten, and the majority of those enrolled are children of university officials and faculty staff. The director of the kindergarten greeted us with a smile. In general, visitors are required to be screened by a security camera in the security room with their face photos registered in advance. However, we could enter the kindergarten without being screened, because the director accompanied us. Their security system to ensure the safety of kindergarten children is much stricter than what we see in Japan.
Entering the building, we saw a large kindergarten yard with various playground equipment such as a climbing frame with a dragon head or a long rope-based equipment called the "Great Wall." These are used to strengthen children's arm and leg muscles. The director told us that physical skills of children in Shanghai are declining nowadays, which is why they have implemented the equipment for children to strengthen their arms and legs.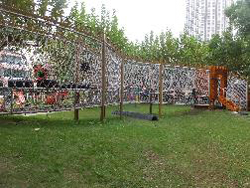 Play equipment called the "Great Wall." The equipment can be used for children of different ages. The upper part is used for older children and the lower part for younger children.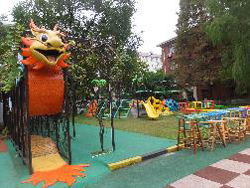 A climbing frame with a dragon head, which was chosen based on the children's votes.
●Inspiring children's interest in traditional Chinese culture and building their identity as Chinese●
When we entered the building where childcare rooms were located, we saw a Jiangnan-style landscape painted across the wall. As we walked further, we also found several decorations in the motif of traditional Chinese arts. The library was also designed with a unique feature of the Jiangnan district, which felt very relaxing and comfortable for me since I am originally from Shanghai. Besides the interior decorations, the activities of the kindergarten also reflect traditional culture and arts. Calligraphy classes, a popular activity for cultural enrichment among children in China, are offered free of charge once a week to children attending the kindergarten. One of the parents who is a calligrapher and a volunteer from a calligraphy association provides lessons.
The Ministry of Education issued the "Guidelines for Perfecting the Education on Excellent Traditional Chinese Culture" in 2014. The guidelines aimed to promote the integration of traditional Chinese culture into school education. In response to this, kindergartens started to offer education that inspires children's interest in traditional Chinese culture and builds their identity as Chinese. The international kindergarten also offers such education, which I will discuss later.
Traditional decorations within the kindergarten
| | | |
| --- | --- | --- |
| | | |
| A Jiangnan-style library | | A calligraphy room |
●Children's activities with parents●
The attending children's parents are university officials and faculty staff; therefore, the kindergarten maintains a group of professional parents as a valuable resource. We were shown two examples of activities that took advantage of this. One is a flowerbed in the kindergarten yard always filled with flowers in all seasons. This flowerbed was created by a botanist, who is the grandfather of a child attending this kindergarten. He selects flowers for each season, and plants and grows them with the children.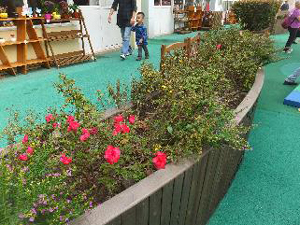 A flowerbed created by a botanist, a grandfather of a child attending the kindergarten
Another activity is to make science kits by children with their parents in the laboratory room. The kindergarten hosts a science experiment competition once a year. Parents and children will determine "what kind of experiment they will do and what kind of tools they will use" and demonstrate the experiment in front of an audience at the kindergarten. The winning experiment kit will be displayed in the laboratory room and may be used by other children as well.
2. International kindergarten: Nurturing the spirit of the Chinese people and fostering children as global citizens
This international kindergarten is located in the area where foreign embassies gather; therefore, one-third of the children attending the kindergarten are foreign nationals. The slogan of the kindergarten hung on the wall of the corridor says "zhōng guó xīn de shì jiè xiǎo gōng mín (To become a global citizen with the spirit of the Chinese people)," which represents the educational goal of the kindergarten.
To nurture the spirit of the Chinese people, the kindergarten undertakes the same initiatives as explained above, that is, providing children with opportunities to see, feel and experience traditional Chinese culture and arts. There are several activities where children wear traditional Chinese clothing as in the ancient times, and learn calligraphy, ink painting, and how to play traditional music instruments.
The international kindergarten, like the university-affiliated kindergarten explained above, efficiently provides education that nurtures Chinese cultural identity, and at the same time, educates them as global citizens. Because almost half of the children are foreign nationals, the kindergarten also provides bilingual education in Chinese and English. During free-play time, children can freely choose from various activities such as traditional calligraphy, playing music instruments, creative arts, and learning English vocabulary using an interactive whiteboard.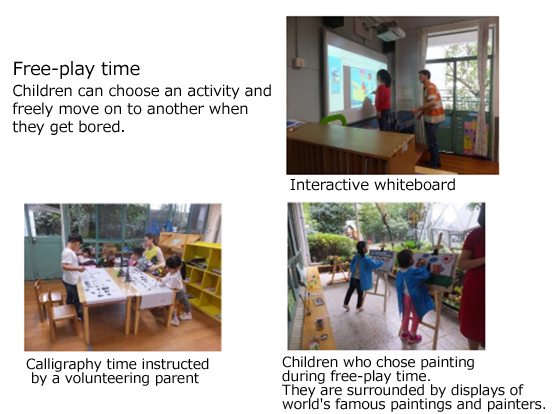 ●Pioneering initiatives as a role-model kindergarten●
We met the director of the international kindergarten who was a very sweet woman, qualified as a special ranked teacher (Note 2) and highly motivated to take new challenges.
First, we were escorted to the science room. This room had a large round table equipped with telescopes and experiment tools, which created an innovative atmosphere. The room was previously an attic room used for storage, and remodeled into the science room following the current director's suggestion. In the corner of the room, there were some models of rockets and space ships created by a parent-astronaut. The director proudly explained to us that "It is important to let children see and feel real science." It appears that parents are actively involved in the activities of the kindergarten.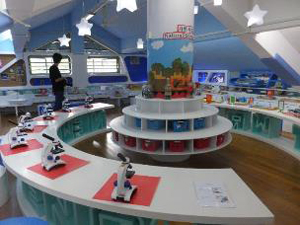 Models of rockets and space ships created by a parent-astronaut (left and right photos).
Next, we were taken to the kitchen where we found innovative ideas. This modern and high-class kitchen had just been completed and was not yet used. Not only its appearance, but its functions were also outstanding. The height of the kitchen counter could be adjusted to the children's height using remote control. Several video cameras were installed which record the process of children's cooking.
By recording the process of cooking, kindergarten teachers can obtain feedback, and use the records when reporting the cooking activity to their parents. We heard that this is the first such initiative in Shanghai.
We found that many of the interior decorations and children's works in this international kindergarten reflect the traditional Chinese culture and arts, just as in the university-affiliated kindergarten explained above. We also observed one activity where children wearing traditional ancient clothing played traditional music instruments.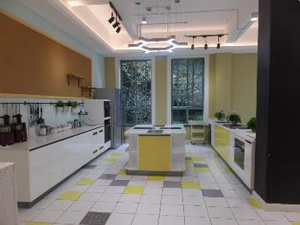 A kitchen with video cameras installed.
Conclusion
◆Play-based learning in early childhood education established, but issues to be addressed remain
It appears that play-based learning in early childhood education has been well-established in Shanghai, although there are gaps between regions and between facilities.
A typical day in a public kindergarten
| | |
| --- | --- |
| 7:30-8:30 | Arrivals |
| 8:30~9:15 | Free-play time |
| 9:15-9:30 | Morning snack |
| 9:30-10:00 | Learning activities |
| 10:00-10:45 | Play time, activities in separate rooms |
| 10:45-11:00 | Free-play time |
| 11:00-12:00 | Lunch, strolling and free-play time |
| 12:00-14:30 | Naptime |
| 14:30-15:00 | Snack |
| 15:00-15:30 | Outdoor/group activities |
| 15:30-16:15 | Independent learning, selective curriculum |
| 16:15-16:30 | Free-play time, dismissal |
Currently, public kindergartens in Shanghai are legally required to ensure "40 minutes of group activities, and about two hours of play activities (including physical exercise and free-activity time) during a full day schedule. Their schedule is apparently different from that of the kindergarten that my son attended about 15 years ago (Note 3).
The content of play activities has changed dramatically as well. Kindergartens are now offering "play activities that focus on the development and interest of children" instead of "play activities determined by teachers" which were practiced a decade ago. Children can freely choose a play activity during free-play time. I feel that this is a big advancement for kindergartens in Shanghai although some improvements are needed.
However, there are still issues to be addressed. Children who spend their time in kindergarten where play-based education is provided will have to face the intensive study programs of elementary schools. Therefore, it is important for teachers in China to find an effective way to make the transition from kindergarten to elementary school and resolve the gaps between these two stages. In this regard, children's "attitudes of learning to learn" will be a key for such transition and we need to examine how to develop the attitudes of learning to learn in ECEC and utilize them for intensive study in elementary school and afterwards.
◆Implications for the future
Since China and Japan are neighboring countries, there have always been interactions between the countries regarding ECEC. Recently, the Chinese government promotes play-based learning and a number of educationists from China have visited Japan. They are earnest about learning practices and theories in Japan.
However, when we think rationally, we will notice that Japan has many things to learn from China as well. In China, the central government places emphasis on ECEC, and increases the educational budget annually. They dynamically and boldly conduct experiments and reforms. Although there are gaps between regions and between kindergartens, innovative initiatives have been strongly encouraged everywhere. It is surely useful to visit famous kindergartens in Europe and Northern Europe to observe their education practices; nevertheless, I feel that it is time to look to our neighboring countries in Asia that have the same Confucian culture and find a way to provide better education for our children.
In the next post, the actual conditions of children and their relationship with parents in families in China will be reported.
---
Note 1: In China, a very strict system is employed to evaluate the quality of kindergartens. These kindergartens are rated according to their quality ranging from a role-model grade, first grade, to a second grade. The evaluation is carried out by professionals of ECEC based on both facilities and human resources, such as the building, teachers' educational background, curriculum, daily activities, parents' feedback, etc.
Note 2: Special-grade teachers are those at elementary schools and junior high schools awarded by the Chinese government for their expertise and excellent performance.
7:30
Arrival
8:00
Breakfast
8:30~12:00
Lessons for songs and mathematics (including break and

play time

)
12:00
Lunch
12:40-15:00
Naptime
15:00-16:30
Lessons (Montessori education, music, etc.)
16:30-17:00
Dinner
17:00
Dismissal
---
References:
1. "Guidance for Kindergarten Education (trial version)", 2001, the Ministry of Education
2. "Guideline for Learning and Development of Children Aged 3-6", 2010, the Ministry of Education
3. "Guidelines for Perfecting the Education on Excellent Traditional Chinese Culture", 2014, the Ministry of Education