* Titles and affiliations are as of the time of the conference.
Presented at Third International Conference of Child Research Network Asia (CRNA) held in Jakarta, Indonesia, September 25-27, 2019.
In aim to discuss the environmental factors surrounding children, from media usage to NGO-operated institutions, two brief presentations were given. Professor Sakakihara started the session by giving his talk on "Digital Media and Neurodevelopment," followed by another presentation from Associate Professor Maulana Kusumah of The University of Jember, titled "The Mode of Social Engineering for Early Childhood Assistance in Vulnerable Community."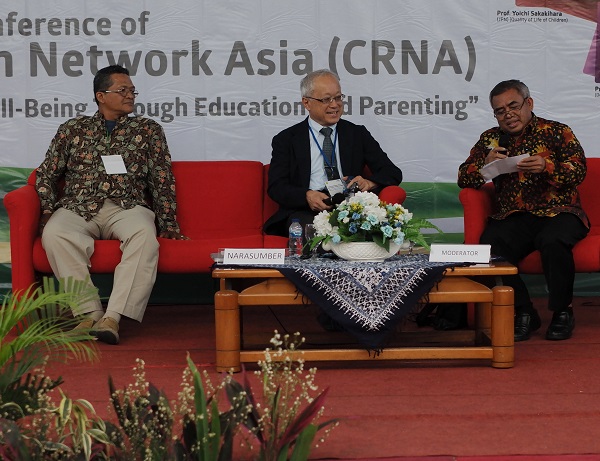 Digital Media and Neurodevelopment
Yoichi Sakakihara
M.D., Professor Emeritus of Ochanomizu University, Director of Child Research Net, Executive Advisor of BERD
My talk is about digital media and neurodevelopment. This is a long term research. I will present evidence and summarize my findings regarding smartphone use and screen time.
Why is media such a source of concern? When we look at the media technology change chronologically, in 1200 it was painting, followed by the Gutenberg press, radio in 1925, television in 1950 and so forth. I was born in the age of only TV and radio. Now preschool age children in Japan watch TV and use mobiles, handling them easily. Pediatricians and educators know that the first voluntary movement of child development is indicating, reaching, etc. Now another movement needs to be added: the swiping movement! Because of this accessibility, the effects need considering.
Media are important for child development and eliminating them is not realistic. Environment is important in shaping children's brain development. Media can have various effects on physical development like vision, obesity, agility and sleep. There are also effects on behavior and psychology like aggression, hyperactivity, concentration, compassion, language and social development. High levels of media exposure may alter brain function and structure.
There are three pathways through which media influence child development; the exposure itself, the reduction of other activities, and the contents (like violence). Children's interaction with their mother and others is important for their development, but prolonged TV viewing will reduce time for such interactions. There is an old but famous experiment by Greenough which showed that a rich environment results in superior neuro-connection brain development.
As an example of such brain development, American infants can discriminate between L and R by three months, but not in Japan, due to similar pronunciation. Japanese infants at the age of 12 months still cannot discriminate the difference between R and L, but American babies can because of the change in their parents' voice inflection.
NHK (Nippon Hoso Kyokai: Japan Broadcasting Corporation) conducted a cohort study on the effect of TV viewing from age 0 to 5. At age zero, the length of watching TV ranged between two to three hours. But looking at it closely, TV viewing can be divided into four different categories. Watching with full attention; viewing while doing something else; background TV, like when children play in the room while parents are watching; and details unknown. Focusing on the details of how children are viewing TV is an important factor; example, in a paper published in the U.S.A., researchers considered the total time when the television was on. We should be cautious about this because among those who answered "two hours," most could have been background TV and the actual amount of time they watched TV could have been just 30 minutes.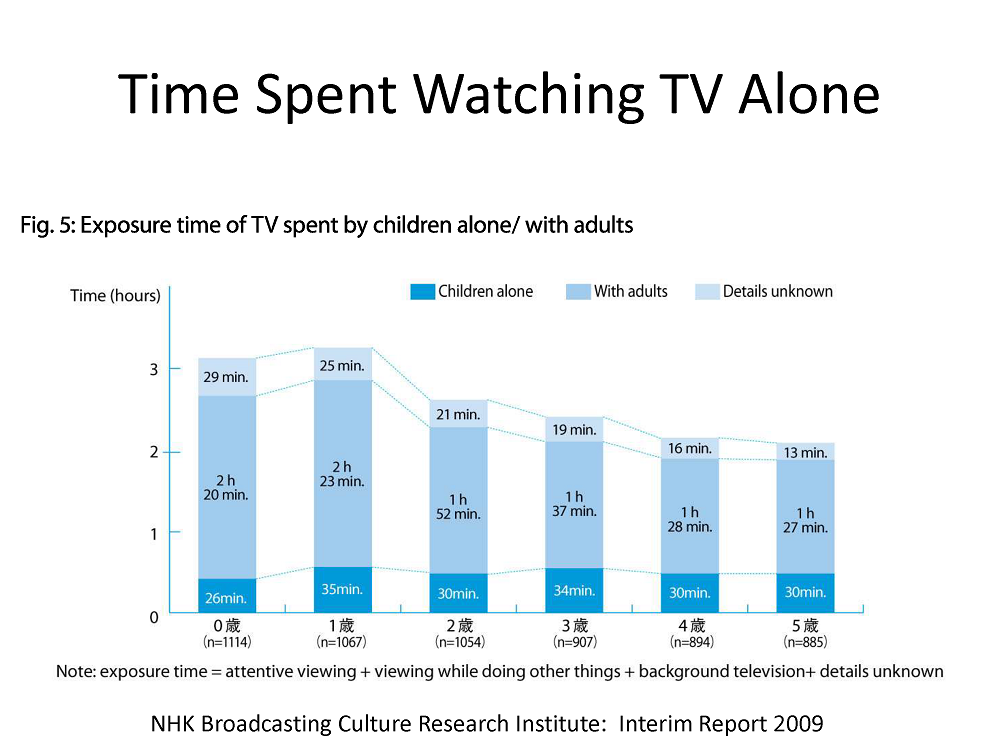 Click to enlarge
Above is the time spent watching TV alone. Again, most of the time infants watch TV with their parents. Watching TV alone and watching it with parents are different although the TV is on in both cases. The American Academy of Pediatrics suggested parents should limit screen time to no more than 1 to 2 hours of quality program per day. They also recommended removing TV from the children's bedroom.
Christakis said in his study, early TV exposure can worsen the problem of inattention in children. This surprised me, because I work with children with attention disorder and autism, but have never heard of cases where TV exposure made their symptoms worse. Another study by Stevens and Muslow showed no meaningful relation between TV exposure and symptoms of ADHD. Statistical analysis found very low correlation.
A paper from the American Pediatrics Association analyzed the association between TV viewing and irregular sleep time among children less than three years old. They concluded that TV viewing time is associated with an irregular sleeping schedule. They speculated that long TV hours, irregular sleep time, and irregular meal times are related to parents who are unable to do time setting. This is an indirect association via parental attitudes. That is the important thing. If parents are aware of the effects of irregular sleep time, this won't happen. Regarding aggressive, violent media content, Professor Rich of Harvard University noted that between 1947-1974 there was a 93% increase in the USA murder rate. In the same period in South Africa there was a 7% increase. After 1975 when TV was widely introduced, murders increased by 130% in South Africa. He concluded that watching violent scenes contributes to increased aggression/violent behavior; it can cause a 'mean world syndrome,' where the world is felt to be cold, unkind. Desensitization may occur, when nothing is felt even though violent scenes are viewed. These things should cause concern.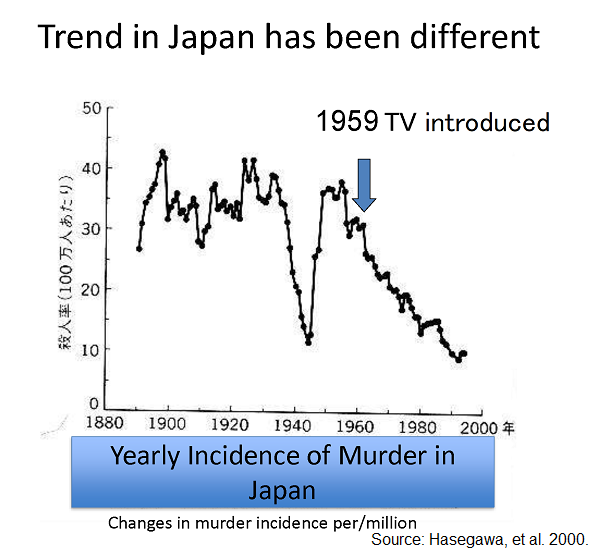 Now let's look at some data from Japan. This is the yearly incidence of murder in Japan, showing a decrease after TV was introduced. So, the earlier assumption does not relate. After TV was introduced in Japan the incidence of violent crime was also lower. So, there is no close connection between violent media contents and actual violent crime.
In a very important paper, Zimmerman FJ, et al indicated that TV exposure is not independently associated with language development when adult-child conversations are controlled. This means those who watch TV longer may have delayed language development, since they will have less time to have two-way conversations with their parents. By including factors such as interaction with parents, and mothers in the study, it has shown what really matters. In a current compilation by Pediatrics, Professor Radesky published a paper titled, 'Mobile and Interactive Media Use by Young Children: The Good, the Bad, and the Unknown.' It says that the effect of digital media is not necessarily negative, and there have been some positive results from smartphone use.
Another paper published in 2014 indicated a positive relation but the effect of smartphones, TV and other media on child development is still unknown, so it needs more study. We have not reached a conclusion yet. There have been some scientific studies on the relationship between TV watching time and ratio of brain cell and brain fiber. There is a slight association between them, but we can't really score a CAT scan, so this is a study that may or may not have clinical impact. Although there is some statistical relationship, we cannot draw conclusions from it.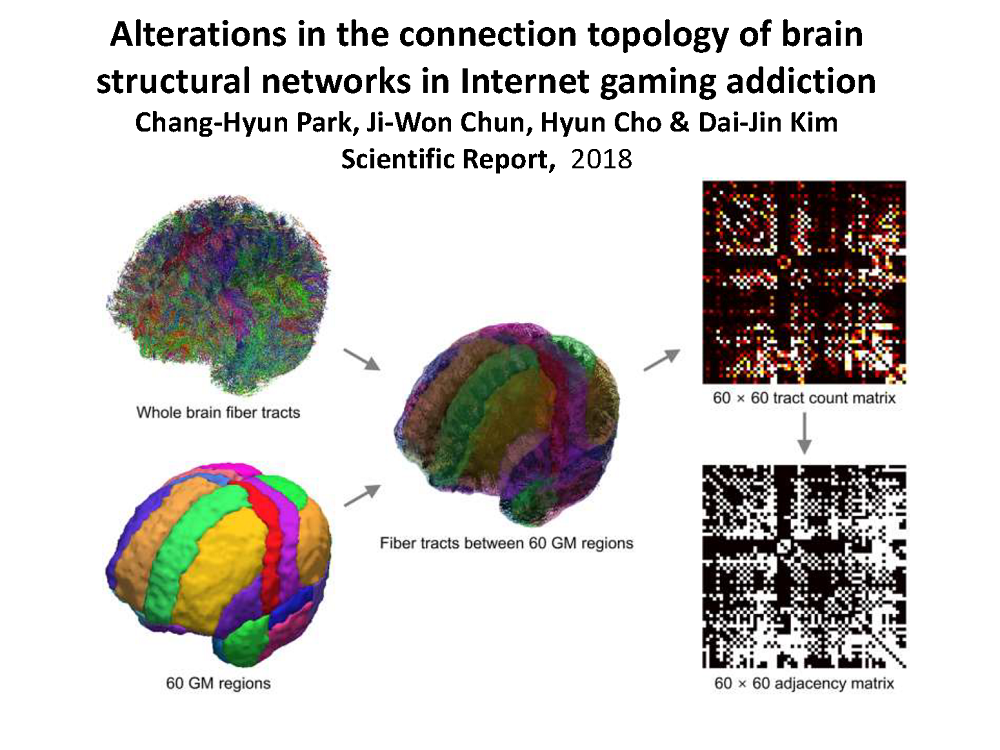 Click to enlarge
This is a color study by a Korean colleague on Internet gaming addiction disorder and connectivity of the brain. It concludes that this connectivity might be negatively affected by the addiction.
Summarizing what is known:

Excessive screen time might impede language development by reducing interaction between small children and family members.
Relationship between early and long viewing time and later development of attention problems is controversial.
The long-term effect of media contents on child development is also controversial.
What needs to be known:

Effects of smartphone or tablet device on child development
Effects of media exposure on brain structures and its functions
Educational benefits of digital media
Brain mechanism underlining the development of Internet Gaming Disorder
Children are always thinking of something. How they think, comes first from a stimulus pattern, transferred to perception, images, memory and concept, then they speak or perform action.
---
Reference:

Christakis, DA, et al., Early Television Exposure and Subsequent Attention Problems in Children. Pediatrics. April 2004; 113(4): 708-713.
Hasegawa, T., Hasegawa M., Sengo nippon no satsujin no doukou [Tendency of murder cases in post-war Japan]. Kagaku 70: 560-568, 2000.
NHK Broadcasting Culture Research Institute. Interim Report 2009. Better Broadcasting for Children Project 2010.
Park, C., Chun, J., Cho, H. et al. Alterations in the connection topology of brain structural networks in Internet gaming addiction. Scientific Report 8, 15117 (2018).
Radesky JS, Schumacher J, Zuckerman B. Mobile and Interactive Media Use by Young Children: The Good, the Bad, and the Unknown. Pediatrics. Jan 2015; 135(1):1-3
Stevens, T., Muslow, M., There is no meaningful relationship between television exposure and symptoms of attention-deficit/hyperactivity disorder. Pediatrics. Mar 2006 ;117(3):665-72.
Zimmerman FJ, Gilkerson J, Richards JA, Christakis DA, Xu D, Gray S, Yapanel U. Teaching by listening: the importance of adult-child conversations to language development. Pediatrics. 2009 Jul;124(1):342-9.
Thompson, DA., Christakis, DA. The association between television viewing and irregular sleep schedules among children less than 3 years of age. Pediatrics. Oct 2005;116(4):851-856.
The Mode of Social Engineering for Early Childhood Assistance in Vulnerable Community
Maulana S. Kusuma
Associate Professor, Department of Sociology, University of Jember
If a window is broken and left unrepaired, people walking by will conclude that no one cares and no one is in change.
Soon, more windows will be broken, and the sense of anarchy will spread from the building to the street on which it faces, sending a signal that anything goes.
(Broken window theory, Wilson and Kelling, 1982)
My research
Entering the 21st century, there are almost 1,000 Indonesian child assistance agencies, but are they useful? These agencies' attention is mostly on children in the vulnerable community, both socially and ecologically, as a risk society. The early child faces much more of a threat at a vulnerable community (VC) than regular ones. The vulnerability can be related to the social and dangerous situation. Vulnerable children face a high risk of disaster and those with risks due to harmful environmental conditions, such as low slum areas, garbage disposal sites, dangerous areas such as living and playing near a railway or a port bay. Also, parental absence, such as offsprings of migrant workers and otherwise neglected children, is vulnerable.
Four NGOs, such as Tanoker, Swayanaka, Kampoeng Batja, and Rumah Literasi, became the data source. The researcher collected data through a baseline assessment of these social organizations enrolled in an early childhood program at vulnerable communities. Researchers analyzed data from participant observation and based on narratives about the organization's history from the informants. The goal was to expand social engineering and early childhood assistance by focusing on these organizations' social activity and strategies.
Tanoker is an institution engaged in social empowerment, mainly to assist the children of migrant workers. In this region, more and more people are leaving the area to make a living or go abroad to become migrant workers (TKI or TKW in Indonesian). Children left behind by such parents are not well cared for them. There are no positive activities sufficient to support their growth and development process. This organization tries to capture the social problems of the children of migrant workers. It became a study and played community for children in Ledokombo and was named Tanoker (meaning cocoon in Madurese). Tanoker uses traditional games as a medium and learning arena for children. The egrang (bamboo stilts) game is the main icon of this community, which has become a place to foster a culture of peace. It also celebrates nationalism and humanism through various games, dances, drama, and songs/music. The children are asked to play and be happy; they modify stilts into a dance with creativity. Mud play turns into tourism. Crafts develop economic empowerment. The first trigger was the stilts that this agency did manage to address the problems of this vulnerable aspect of Indonesia.
Swayanaka Indonesia focuses on education. University students come to this community to care for vulnerable children. Volunteers went to the village and identified problems and problematic children. The agency conducted a program, and then the kids could attach to volunteers and construct social values. The organization focuses on the education, health, and development of early childhood. Assistance is carried out to solve children's problems and facilitate children's space to develop each child's potential. The target of the program is the children. Swayanaka developed the following two strategies: First, assist villages in finding the leading causes of problems and then find solutions to unravel the issues. This organization has several target villages, which became fostered villages. Second, establishing cooperation with other communities, other organizations, and stakeholders. For example, at Swayanaka Regional Jember, they conduct a network of assistance. This activity helps to get more inspiration for ideas and input from other communities. It helps to solve problems that occur through sharing or mutual aid when needed.
Kampoeng Batja was established by a retired teacher, Iman Suligi, as a reading park in 2010, but its beginnings go back to 1978 as an institution designed to increase literacy. The initiator institutions have an extensive book collection and want to help the surrounding community. In its development, the institution became a home reading place for anyone, especially children. It promotes home reading into a pleasurable experience. There are also activities like reading, drawing, and religious practice, such as reading the holy Qur'an. There is a program called Wisata Literasi (Literacy Tourism), in which child participants are invited to explore the contents of Kampoeng Batja. They are encouraged to tell stories, play with educational games, and draw. Another program is called "Anjali" an acronym for Anjangsana Literasi (literacy visits). In this program, Suligi and his team visit schools to introduce literacy. Other activities are free drawing with chalk and blackboards. This activity is the most popular with children who visit. They are invited to explore the ability to draw as they prefer. The arena for reading and craftwork, and drawing using chalk and blackboard, develops imagination because they can erase designs if they don't like it.
The Rumah Literasi (Literacy House) is a community organization dating back to 2014, which carries the slogan of "DON'T ASK BEFORE READING" (Pantang Tanya Sebelum Baca). It made the Rumah Baca (reading house) into the center of the movement. Rumah Baca becomes an arena for developing children's imagination. Rumah Literasi makes children as subjects in action. Rumah Literasi takes effort by penetrating the world of children through the growth of their vision. The manager of this community organization has an idealism that considers that children can create an object without real data support. The children are free to think about something without being bound by standard rules, which may not follow their wishes and tend to be boring. Such ability enables the child to develop various other positive skills. For example, the ability to experiment stimulates the desire to create and invent their programs. This ability of imagination can be encouraged through reading habits. Therefore, the Rumah Literasi includes a Rumah Baca (reading house) and a Taman Baca (reading garden). Based on these ideas, the Rumah Literasi initiated the "The Movement of 1000 Reading Houses." It also developed the concepts/views of the Desa Literasi (Literacy Village). This vision is an effort to increase literacy at a village community level, which reaches out to programs and technical activities. Rumah Literasi takes action by working their way through the children's world to promote their imagination abilities. The reading park came about as people's demand became formalized as an early childhood education center.
In conclusion, I would like to emphasize what each organization has promoted in children through their activities.

Tanoker builds artistic creativity.
Swayanaka Indonesia nurtures attachment.
Kampoeng Batja promotes reading and games.
Rumah Literasi promotes reading and discourse, leading to discussion.
These four organizations are essential for us to promote the development of social and emotional skills and motor cognition in children. These social practices carried out at these organizations bring changes, and children become more sociable, providing them with social values.