In recent years, the use of digital media has been steadily increasing in the settings of early childhood education and care. Under such circumstances, Child Research Net (CRN) hosted an online symposium under the theme of "Children and Digital Media: Latest Research Studies and Practices in Early Childhood Education and Care". The symposium was broadcast live in two languages (Chinese and Japanese) on Monday, February 17, 2020. Numerous questions were received, not only from people in Japan but also from viewers in China, which reflects a high level of interest. This is a report on the outcome of speeches and discussions on that day.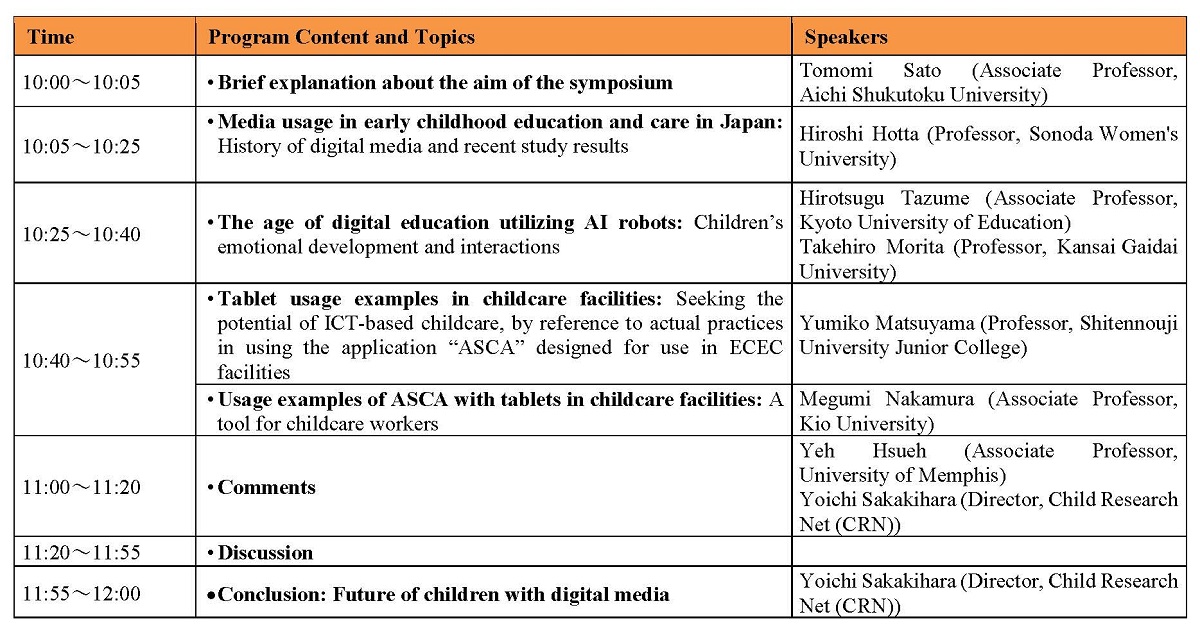 Click image to enlarge
[Speakers]
Hiroshi Hotta (Professor, Sonoda Women's University)
Hirotsugu Tazume (Associate Professor, Kyoto University of Education)
Takehiro Morita (Professor, Kansai Gaidai University)
Yumiko Matsuyama (Professor, Shitennouji University Junior College)
Megumi Nakamura (Associate Professor, Kio University)
Hsueh Yeh (Associate Professor, University of Memphis)
Yoichi Sakakihara (Director of Child Research Net (CRN); Professor Emeritus of Ochanomizu University; Executive Advisor of BERD)

∗ The above speakers are listed in order of speaking.
∗ Associate Professor Tazume and Professor Morita provided their presentation using video recordings.
∗ Associate Professor Yeh Hsueh participated in the symposium using an online video-conference system.

[Moderator] Tomomi Sato (Associate Professor, Aichi Shukutoku University)
(in Japanese)
The scope of media usage is steadily expanding in childcare facilities
First of all, Associate Professor Tomomi Sato from Aichi Shukutoku University explained the aim of the symposium. She has been working on the opening of the symposium with CRN and took the role of moderator on that day. Associate Professor Sato said that the use of digital media has deeply penetrated in society and become a part of children's daily life.
She also added, "Recent studies have been actively carried out to enhance the quality of early childhood education and care by introducing the use of digital media to childcare facilities. We decided to host this online symposium to provide opportunities for opinion exchanges between researchers and general participants, not only among researchers. By doing so, we hope to explore the potential of digital media usage in childcare facilities."
Next, Professor Hiroshi Hotta from Sonoda Women's University introduced the history of digital media usage in early childhood education and care in Japan. In past studies he has made pioneering efforts in this field. He explained that the first use of digital media was in and around 1988, when computers began to be used as children's toys and has since evolved to the use of tablet devices. At the beginning, childcare workers and parents were reluctant to use digital media for children. After developing curriculums for childcare workers and students and disseminating information to parents regarding the use of digital media, their motivation was positively influenced. Regarding the outcome of recent studies, Professor Hotta explained the results of "Research on the use of tablet devices in early childhood education and care in its dawning age," which commenced in 2018. The results revealed the actual usage status of tablet devices in kindergartens across Japan. Professor Hotta said, "The use of tablet devices for children has not yet become generalized; nevertheless, the current scope of usage is steadily expanding in childcare facilities, for example in childcare/education and information exchange with parents."
The potential of AI robots that may enhance cognitive abilities through interactions
The next speakers were Associate Professor Hirotsugu Tazume from Kyoto University of Education and Professor Takehiro Morita from Kansai Gaidai University. They introduced their latest research study, which focuses on the experimental use of AI robots in kindergartens. Their presentation was carried out using video recordings.
The robots used in their research is called "RoBoHoN," a humanoid-shaped robot that stands 19.5cm tall, developed by Sharp Corporation.
This can, among other functions, respond to its owner's voice. When RoBoHoN was tentatively placed in a class of 5-year-olds during free play time, the children gradually started talking to and questioning RoBoHoN. Professor Morita said, "Children quickly recognized and learned the conditions and rules for how to use RoBoHoN. They even chose the words which were more likely to elicit responses from RoBoHoN." When children were asked to explain to RoBoHoN what they did during free play time, they adjusted their speech on observing the response of RoBoHoN.
Associate Professor Tazume expressed his expectations towards the potential of AI robots, saying, "These children's attitudes could be part of their development of cognitive ability, that is, digital media literacy. Due to recent technical innovations, the adaptability of AI robots is increasing. Consequently, we will see an expanded influence on children's development."
Using the application "ASCA" to support children and childcare workers in childcare facilities
There are also efforts to develop applications that assist effective practices and evaluations using tablet devices in early childhood education and care. One of these is "ASCA", an application that supports children's learning and childcare workers' assistance. ASCA has several features, including a camera function focusing on security and an album function to record photographs tagged by childcare workers.
Professor Yumiko Matsuyama from Shitennouji University Junior College, who is engaged in the development of ASCA, introduced a case study utilizing ASCA. One kindergarten placed tablet devices in the nursery room in order to let children use them freely. Children took photos of what they were interested in or had discovered, and showed these photos to their peers to convey their ideas and feelings. Furthermore, when looking at photos of morning glory flowers taken by children, childcare workers noticed that the focus of each photo was different, depending on children's interests. This could help childcare workers gain a more in-depth understanding of each child. Professor Matsuyama noted, "Children are using the tablet as a tool to express their ideas and feelings. Childcare workers told me that they can get a better understanding of what children are interested in or fascinated with, which helps them in childcare planning. They also make use of tablet devices to communicate and cooperate with parents."
Using the tablet application "ASCA" in reflection that enhances objectivity and concreteness
Associate Professor Megumi Nakamura from Kio University is also engaged in the development of "ASCA" and presented some case studies in the symposium. One kindergarten introduces the use of tablets and offers one tablet for each third-grader. The kindergarten also focuses on the enhancement of information morality among children using tablets.
Childcare workers are trying to teach normative behavior when using tablets by attempting to encourage children to think about the importance of acting from the other person's perspective. They also teach children the importance of security by using a password with an illustrated artwork. Children are encouraged to take photos of what they think is valuable and explain to their peers why they think so by using these photos. Associate Professor Nakamura noted, "In the development process of cognitive skills as well as socio-emotional skills, the use of tablets can be a tool to enhance the synergy effect of these skills."
Another kindergarten introduces the use of tablets and provides one of these for each childcare worker. They take photos of children every day and place a tag on each photo based on the "Ten Goals for Education" *Note. Then, they have a weekly discussion of the outcome and create documentations for posting. Using tablet devices in reflection helps the childcare workers enhance their objectivity and concreteness as well as developing an independent-minded attitude, which has created an effective cycle of reflection and comprehension.
* Note: The term "Ten Goals for Education" refers to the ten goals expected for children by the end of their childhood, such as "Healthy mind and body," "independent-mindedness," and "cooperativity." These goals are explicitly stated as an important education factor along with the revision of the Course of Study for Kindergarten, the Childcare Center Guidance, and the Instruction Procedure for Centers for Early Childhood Education and Care in 2017 and enforced since April 2018.
Collaborative research between researchers and childcare workers is of great significance
Next, Associate Professor Yeh Hsueh from the University of Memphis provided his comments on the presentations made by the previous speakers through an online video-conference system. Associate Professor Hsueh accorded high respect to Professor Hotta's large-scale research regarding the use of various media for children over the years, saying that he now fully understands the history of media usage.
Professor Hsueh also noted that he is very interested in the study on the use of AI robots and acknowledged the positive effects of interactions with AI robots on the development of children. Then, he pointed out future challenges, saying, "For infants, it is also important to communicate with facial expressions, because they indicate feelings that cannot be expressed in words. I would like you to consider the possibility of interactions beyond language, along with the advancement of robotics technology in the future."
For the study on the use of "ASCA," he expressed appreciation for the outcome, focusing on the attitude of researchers and childcare workers observing and reflecting on the activities of children using tablets, which, as a result, enhances the quality of early childhood education and care. He commented, "Childcare workers can obtain feedback in supporting children through the use of the application. This interactive learning could produce certain insights useful for children, childcare workers, and parents." He is also interested in the positive effects of the application usage, such as children's learning information morality and rules regarding the use of digital media.
Effects of digital media usage on children's literacy and emotional developments
Next, five researchers in the symposium took part in a panel discussion (namely, Professor Hotta, Professor Matsuyama, Associate Professor Nakamura, Associate Professor Sato, and CRN Director Sakakihara). A large number of questions were received, from viewers in China as well as those in Japan. The question most asked was "Will the use of digital media make children passive or addictive?" In response to this question, Professor Hotta explained, "Many kindergartens are very careful with the use of digital media, ensuring interactive communications by encouraging children to work on individual play together. It is also desirable for families to encourage children to work on play or tasks together."
To questions regarding the effects on children's emotional development, CRN Director Yoichi Sakakihara answered them thoroughly. He first mentioned that numerous television studies revealed the fact that the use of television may cause delayed speech or emotional insecurity due to longer viewing and fewer conversations associated with TV viewing, but not due to TV viewing itself. He then pointed out that "The effects of tablets on children are not conclusive, but there is a significant difference between passive television viewing and interactive tablet use. However, while tablets can enhance children's active behavior, it may be difficult for them to stop playing a multiplayer game with someone, and this is something we should be careful about."
For questions regarding security and management methods for tablet devices, Professor Matsuyama replied, "We prevent information leaks by only connecting to the LAN within the kindergarten. It is also necessary to ensure that childcare workers do not use the tablet in private."
Questions were also received from viewers regarding information sharing with parents. Associate Professor Nakamura explained by indicating examples, "We show parents the photos and "Ten Goals for Education" to describe their child's development. We also share the advancement of children with their parents, by showing videos and photos using a tablet during an interview with parents, and more recently, playing a documentary video at an exhibition, which recorded the process of creating a work by children through collaboration."
Developing appropriate applications is necessary for more effective usage
All researchers agreed that further development of applications for children is necessary to promote the use of digital media. Professor Hotta said, "Adults can delete or ignore inappropriate words, but children have no such literacy skill. It is necessary to address the development of applications for children as well as the enhancement of media literacy."
Professor Matsuyama also pointed out similar challenges: "It is necessary to manage the use of tablets by adults; however, it is also expected that applications will be produced which can be used by children actively and safely." Associate Professor Nakamura showed some tips on children's active use of tablets, saying, "I do think restrictions are necessary, to a certain extent. Having said that, I think it is important to seek out and have discussions with children on how to utilize tablets."
At the end of the panel discussion, Associate Professor Sato, who served as the moderator, noted: "It is expected to find a better way of using tablets that can enhance the quality of early childhood education and care and help teachers gain a deeper understanding, instead of only seeking convenience."
Conclusion
It can be said that the use of digital media in early childhood education and care is still in its primary stage of development. CRN Director Sakakihara concluded, saying, "There is a significant difference in media literacy levels among childcare workers and parents. The status of infrastructure and facilities also differ depending on each ECEC facility. Furthermore, there is the issue of how to manage content.
Nevertheless, we took a huge step forward today, by sharing the latest research results and various future challenges arising from them."
We at CRN will continue seeking the potential of digital media usage in early childhood education and care through collaboration with a number of researchers, and providing the latest updates to our readers. Please keep your eyes on us!