1. Neo Digital Natives and outline of this paper
The concept of Digital Natives as advocated in the United States indicates a generation born and raised in an environment where the Internet and PC are easily available and have been familiar with digital information devices since their birth. Meanwhile, those who were born before the 1970s and try to gain knowledge of digital information devices and put them to use are referred to as 'Digital Immigrants.' Hashimoto et al., 2010, argue that an internet generation unique to Japan has appeared because of the wide dissemination of original cell phones also known as Galapagos cell phones, dividing Digital Natives into three large categories: the 76 Generation (born in the 70's), the 86 Generation (born in the 80's) and the 96 Generation (born in the 90's). They basically suggest referring to the 96 Generation and succeeding generations as Neo Digital Natives.
The 76 Generation were born around 1976 and tend to have higher internet literacy using the PC as a device, featuring a great many internet entrepreneurs and engineers produced from this generation. The 86 Generation were born around 1986 and began interactive information transmission with powerful cell phones devices. The 96 Generation were born around 1996, the so-called multi-device generation who have mastered the use of multiple devices according to their needs. They grew up in an environment featuring various devices including music information terminals accommodating videos, portable game devices that can be connected to the Internet, and smart phones with various complex functions, and intuitively select them and use them. Thus the marked difference in media literacy of each generation depends on the device of first contact or the preferred choice.
Turning to the situation in the field of childcare, numerous facility principals and middle level childcare workers such as chiefs are Digital Immigrants, while young childcare workers and parents belong to Digital Natives or Neo Digital Natives, and children are undoubtedly Neo Digital Natives. Though the level of media literacy of each generation differs, the common importance might be to take the initiative in the use of ICT as a tool. It is extremely important for childcare workers, parents and children to position ICT according to the necessity and purposes in their future instead of simply dealing with ICT as consumption behavior in a commercial base. It is considered that the key is the awareness toward information, or MediaAwareness1 (hereinafter referred to as MA). In childcare, the wishes and thoughts of childcare workers are reflected in the environment as the aims of activities. As part of their environment, children make choices and decisions in the positioning of ICT tools in their play and activities, or the purpose of their use. Mutual increase of MA among childcare workers, parents and children is expected to be identified during the process.
This paper reports actual cases where digital devices are basically positioned as tools for childcare workers, however, their use varies among the research participating facilities. In some of the facilities, children can freely use a digital device when necessary, while in other facilities, children can use one according to their needs, though childcare workers are basically the sole operators. This indicates the change of status as a tool in examining the use of ICT in early childhood education in accordance with the flexible changes of activities due to the interaction of what childcare workers want children to experience and what children want to experience, leading to the development of childcare practices. Here lies the marked difference between early childhood education and school education where the main use follows the learning goals within the subjects of fixed schedule.
2. Use of tablets in shared experience activity (Case example at K, the social welfare corporation)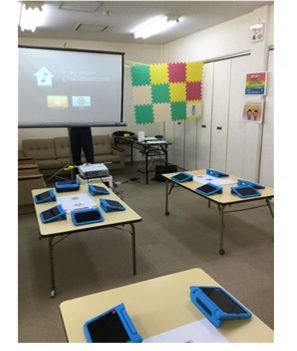 Figure 1: Room for activity with tablets
At K, the social welfare corporation which is its umbrella organization, 45 mobile terminals were purchased (40 for children, 5 for childcare workers) for use at the daycare center. The intention is to develop awareness of information ethics from early childhood, as safety education. Childcare using tablet terminals was held for the oldest age group as shared experience activity. This is based on the annual activity plan, once every two weeks, 30-45 minutes each. In the annual plan, activities were designed to expand the experience in stages; introduction -> sharing -> creation -> trial and error. The core aim at each stage was for children to have more awareness of information ethics by themselves while thinking during the activities. At the facility, tablets for each child and a projector were installed in a playroom or meeting room, etc. separate from the childcare room because the time for tablet use was designed as part of the shared experience activity. However, activities were always held in groups of five or so, and always accompanied by interactive discussion (Figure 1). As for developing awareness of information ethics, what was valued was thinking with children while using an application2 and making rules through sharing opinions, rather than the childcare workers teaching children.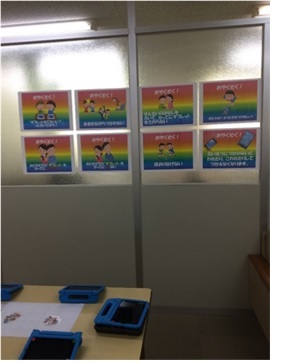 Figure 2: Sharing rules
We thought it was important for children to find answers by trial and error in such cases as "How can I turn on the tablet?" for the first time, "Which application can I use?," "What shall I do when I'm in trouble?," etc. and share the findings among them. The significance of using ICT in the field of childcare is for children to take the initiative in mutual learning through trial and error, urged on by a sense of necessity. The aim was placed on children developing an attitude of 'think in activities' and the awareness that tablets are tools which children actively use by learning rules in exploratory way from the beginning, helped by the interactive and immediate nature of tablets. During the activity process when various questions arose and conflicts were born, the repeated experience of 'thinking in other's shoes' led to creation of normative consciousness. In order to share the results of the discussion in class as rules, the rules were displayed on the wall to become fixed rules (Figure 2). During the process, dialogues came about using words from 'the feeling to be understood,' and by experiencing various types of delight, such as delight when understood, delight when understanding others, etc., children were observed to have active interaction with the environment and their inner recognition toward information became acute. Childcare workers reported that the sense of thinking together with children increased because the tablet terminals were new childcare material for the childcare worker as well. Moreover, children who usually did not talk much showed a more assertive attitude in expressing their opinions and they were taking more initiatives. This experience also leads to confident interaction with others in their daily lives. The application used here was developed in the research group to which the author belongs and intentionally equipped with a log-in function in order to develop sensitivity toward information security as a part of safety education from early childhood.

Figure 3: Log-in screen
First, children experience the process of logging in so that they can understand the importance of passwords in their own way even as young children. At this point, they start to wonder, "Why are passwords necessary (the secret picture serves as a password here)?" "What happens if others discover your password?" and as they speak out their own opinions, they develop their basis of 'attitude when handling information' at school age and after (Figure 3).
Moreover, the aim was not to carry out repeated training in operation of tablet terminals or applications, but to acquire operational skill as a result of using tablet as a tool in the scenes when the child "wants to communicate," or "wants to make it known." They take their own photos to be used in the log-in screen, register it with an application, and record their voice of self-introduction. They operate the terminals intuitively by the visual operation screen called a GUI (Graphical User Interface), and mutually teaching to proceed with the registration. Furthermore, they gain experience in various fields; in the language field of 'communicating with words,' the human relationship field of 'thinking in other's shoes' and in the field of expression to 'express their feelings.' Needless to say, such experience can be achieved in early childhood education without the use of tablets and applications. That said, it is considered that direct experience can be enhanced and non-cognitive ability can be developed when childcare workers capture the process of MA in children becoming apparent and sharper when they use and experience tablet terminals that have been familiar with since early childhood.
Children take photos of their precious and favorite items with the camera function of tablet terminals. A lot of happy feelings exist there, which become the driving force for expression. When their thoughts are visualized, empathy is expanded among other children and childcare workers, which strengthens their desire for more communication and more expression. Childcare workers see and empathize with the feelings of children shown in the photos taken by them, and further assist them to expand their feelings in childcare activities. It was also observed that children shared new suggestions and findings through mutual communication.
The Course of Study for Kindergarten and other guidelines were revised in 2018. It says 'Integrated instruction through play' is given, particularly in early childhood. Continuously doing activities aligned with the aims of the field are encouraged in their shared experience activities. It was observed that children demonstrate their qualities and abilities such as an aptitude for learning that was developed in shared experience activities even in 'play,' which is supposed to be a spontaneous activity for children. 'To understand how to use tablets' or 'to be able to use an application' is not particularly important in early childhood education. What is important is to actualize their thoughts with tablet terminals or experience collaboration with others. It can be said that tablet terminals are no different from traditional childcare play equipment or educational materials. Or it can be said that they are a part of the environment. It is easy to create interactive involvement using tablet terminals, so it is a tool which helps draw out more autonomy among children. This time, cognitive skills and, social and emotional skills are mutually developed in the process of collaboration, presentation and sharing. It was an 'activity in which tablet terminals were positioned' as a tool for mediation (Figure 4).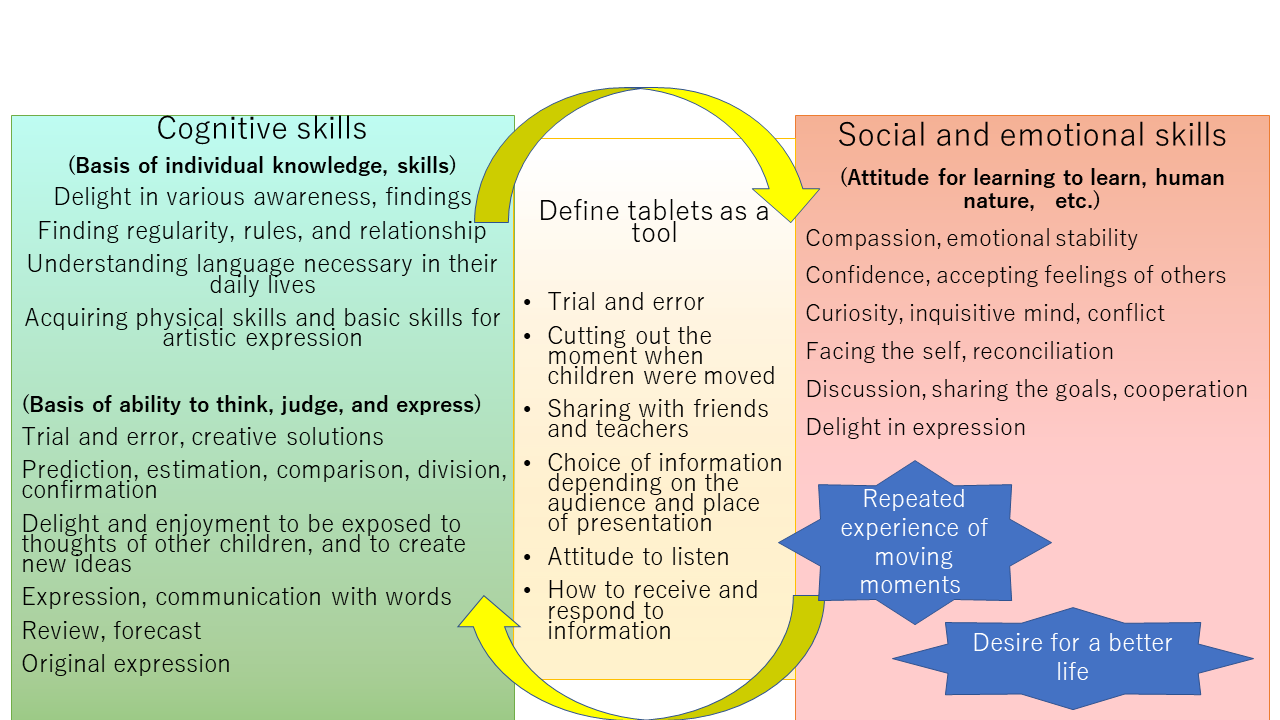 Figure 4: What was developed in the process of collaboration, presentation and sharing
3. Visualization of childcare to use in making documentation (Case example at municipal K Kindergarten, K town, Nara prefecture)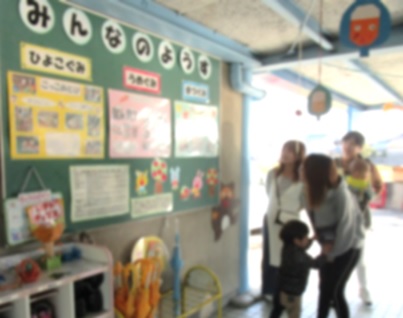 Figure 5: Postings for parents
Practice at K Kindergarten started from use by childcare workers who positioned tablet terminals as recording tools. The tablet terminals were used to make monthly postings to be displayed on the wall at the entrance hall by childcare workers, to share the actions of children with their parents (Figure 5). In doing so, the core perspective when observing children was the "Ten Goals for Education 3" newly presented in the revised Course of Study for Kindergarten in 2018, using quality/ability as viewpoints. Childcare workers noticed that visualization of interest/concern and trial and error of each child was necessary to grasp the children in such a way. First, the teachers tagged the photographs of children taken during childcare on a daily basis with the 3 qualities/abilities4 and 10 goals for classification, in order to identify the 10 goals underlying in children's daily behavior. This procedure revealed the view of children and the way of capturing qualities/abilities by each teacher. When the teachers shared them among themselves, a new awareness came about, and a reconstructed posting piece was made for each class. As the posting piece was made to be shared with the parents, activities in class were displayed with photographs rather than focusing on each child. As they repeated posting, the posters developed into posting whatever activity children were enthusiastic about at the time, instead of at every event. It was becoming close to a so-called documentation. Here, the teachers did not learn and practice 'how to make documentation.' It developed into 'sharing project base information as sharing with parents continued.' It can be said that the use of an application resulted in highlighting 'children's behavior as they are involved with objects, people and things or their feelings.'
In addition, teachers repeatedly asked questions such as "Which scenes do you remember?", "How was the involvement of environmental structure or childcare workers?," "How would it be if we ponder on it?" and "How can we relate it to childcare of the following day?" when childcare workers use tablet terminals as a tool of reflection to review the childcare. When reviewing, teachers chose the scenes they remembered first, then made their review while looking back at specific scenes such as how the involvement of environmental structure or childcare workers was, etc. Through this procedure of review, they gain objective and empathic reviews from their co-workers, which enable them to analytically make a deeper consideration. This offers opportunities to raise their awareness, and by sharing it with their co-workers they gave hints to the key their childcare activity of the following day, leading to a new environmental structure (Figure 6).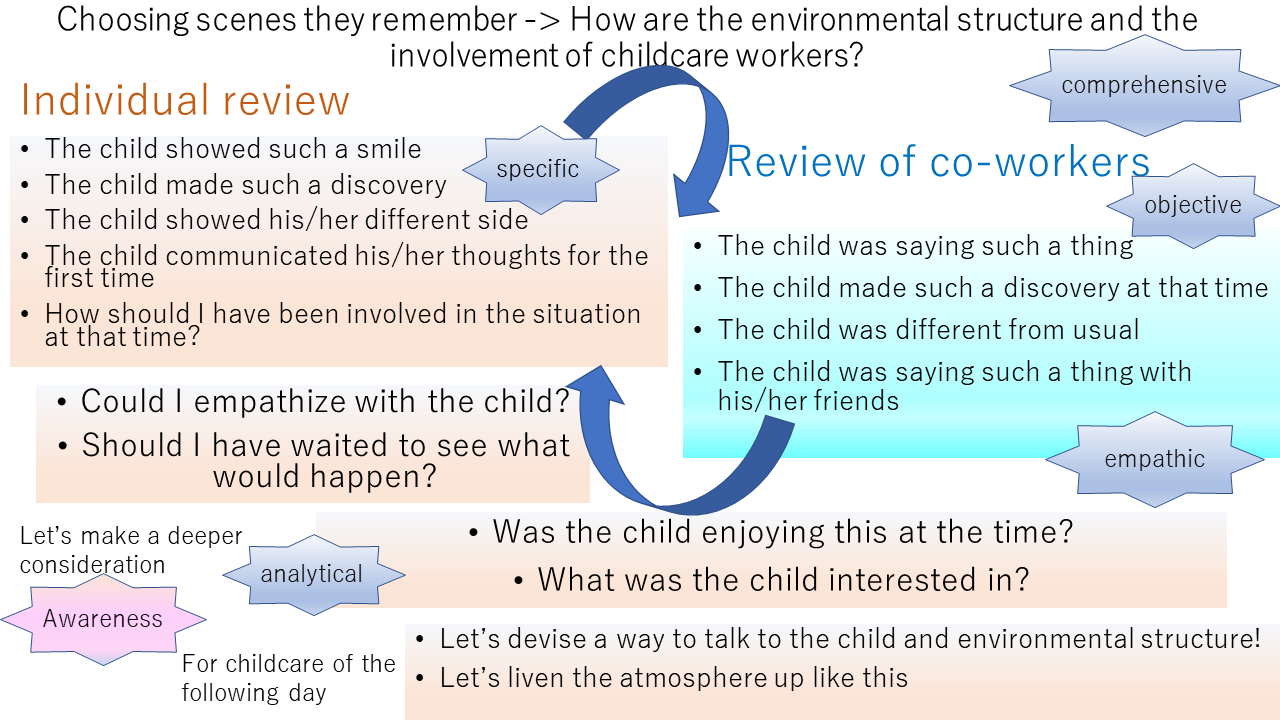 Figure 6: Reviewing process
As a result of using tablet terminals, numerous comments came from the childcare workers saying, "It means a lot when we can visualize what we could not see till now, and become aware by sharing." At this stage, the tablet terminals changed from an information sharing tool to a reflection tool in the minds of childcare workers themselves, indicating the increase of MA among them. Active learning is the point of focus in early childhood education as well, and proactive, dialogic and deep learning is considered to be important. In this case, it is precisely active learning that took place in curriculum management, and the tablet terminals and applications took on a role of assistance.
In addition, a change was observed in the awareness of childcare workers as they handled tablet terminals in childcare practice. A lot of them were 'reluctant to allow use by children during childcare hours' at first. However, as the childcare workers began to use tablet terminals daily and to position them as a tool for childcare and reflection, finding the benefits on their own, their feelings changed, thinking 'it may be all right for children to use one' as a tool to enrich childcare. It was the moment when the MA of childcare workers themselves became more sensitive and a more beneficial way of use was developed on their own. When tablet terminals were positioned as a part of the environmental structure under such awareness, the childcare workers noticed that the children were aware of MA on their own, and became newly aware of the viewpoint of children. When this happened, they became more aware of the proactive, dialogic and deep learning of children, and restructured them in documentation. This flow was accelerated by the use of tablet terminals. When the MA of the childcare workers themselves becomes more acute, they develop the ability to find MA within children from the visualization of children as information. As a result, they can analyze the thoughts of children from there. Neo Digital Native children are familiar with digital terminals such as smartphones at home as a part of their daily lives before they start kindergarten. In the field of childcare, however, the terminals are not considered as mere educational toys. Instead, an environment is developed where the terminals attain status as a tool for children to take the initiative in play, and it becomes possible for them to support children while the inner MA of children is sensitively considered.
4. Expectation for childcare of 21st century
I would like to bring up 'Participation' as the key word for future expectation, a concept emphasized by the OECD. I think we need to have a system where children themselves take the initiative and participate in childcare as their own personal issue. Up until now, documentation has been prepared mainly in the hands of childcare workers. What is wrong with children preparing documentation on their own? A portfolio tends to be an individual development record. In childcare in Japan, 'development as a group' also bears importance. Therefore, I would like to carefully develop the viewpoint where children actively participate in preparing documentation, compiling learning and the growth of individuals and their class as a group. As for evaluation, I think it is also important to take a stance whereby the participation of children and parents does not aim for satisfaction evaluation but confirming the direction of development together. In doing so, I would like to keep proposing systems through apps that can automatically but flexibly organize information such as portfolios and documentation that creates a record of growth for individuals and their class as a group, taking advantage of digital technology without complicated work by children and childcare workers.
---
---
References:
Yoshiaki Hashimoto, Ritsuya Oku, Yoshihide Nagao, Toru Shono, A Birth of Neo Digital Natives - How Japanese Net Users are Different, Diamond, Inc., 2010.