Media coverage worldwide were inundated with articles related to COVID-19 in 2020.
It was not until the beginning of February when measures against COVID-19 began to be mentioned in Germany. Up till then, incidents in Wuhan, China, had been considered as someone else's problem. As the German citizens became aware of the spread of infection and the collapse of medical care systems in Italy, they began talking about it.
After that, infection spread in Germany as well, and the government did not waste any time before imposing lockdown. The infection was expected to spread quickly in Europe where borders are adjacent in exchange for convenience of distribution and tourism. When the lockdown was declared on March 16, all commercial facilities, entertainment facilities, schools, and childcare facilities etc., were closed. The only exceptions were for supermarkets selling daily necessities.
A lot of citizens became driven by suspicion. I faced discrimination because of being an Asian for the first time in over 30 years of my stay in Germany. I was given hostile looks by a passing woman as she spat out "Chinese are truly dirty. Don't come near me." An Asian friend experienced being shouted at "CORONA!" and was pointed at in a train.
The people who treated me with a discriminating attitude were mainly elderly, and fortunately those who usually communicated with me were relatively young. I would like to believe young people do not have much sense of discrimination in Europe where cross-cultural understanding and diversity are goals of childcare and educational policy.
As for the atmosphere in the city, it was intense at supermarkets on the day before the lockdown, as if outbreak of war were imminent. I felt the importance of education at that time as well. Germans tend to be relatively cool and considerate to others. Still, swayed by groundless rumors, panic buying emptied the shelves of toilet paper, flour, and pasta.
Children must have experienced a fairly large amount of anxiety as they were witnessing such situations in their daily lives and were obliged to stay home. The impact of COVID-19 on the field of childcare began then, due to the unprecedented lockdown.
Childcare practice from the beginning of lockdown to its easing (early May)
I work at a complex facility of a kindergarten and an afterschool care in Munich in the state of Bavaria. When all the childcare facilities were closed due to lockdown, we, the staff, worked at a facility with no children from March 16, the day lockdown started. No children came during the first month amid the confusion.
Even during the lockdown, acceptance of children was permitted if their parents were engaged in the social infrastructure. There were a few applicable children in each class, so we did not expect the situation of no children coming to the facility. It was revealed later that parents were highly cautious about COVID-19 because nobody knew anything about it, and parents watched their children at home by operating staggered working hours.
Two sisters - one in kindergarten and the other in afterschool care - started coming in the middle of April. Their parents are both healthcare workers. It was strange to hear only the voices of these two girls in the empty facility. We were divided into teams, one to provide childcare and another to clean and organize the childcare environment. We carried out our duties while maintaining the recommended social distance of 1.5m.
In addition, we were encouraged to take turns in working at home on two days out of five days a week to avoid close contact among the staff. This went on until the end of May when the lockdown was eased. I spent time at home in reading childcare related books and writing letters to those children who were obliged to stay home. We enclosed pictures for coloring and games in the first batch of letters, In the second batch, we enclosed a picture book written about COVID-19 from the viewpoint of children. To our message of "Please write to the kindergarten when you cannot attend," most of the children wrote back to us. Cute pictures with written notes of "I want to go to kindergarten soon," "I hope to see you," and "Please don't get sick." arrived at the kindergarten. We put them up in the hallway, which cheered us teachers up.
Childcare practice from easing of lockdown (early May) to its complete lifting (mid-June)
When easing of lockdown began in early May, children gradually started coming back. In anticipation of this easing policy, the Education Bureau instructed us to "keep fewer children than usual in one class" at the end of April. We were required to make different class arrangements from the beginning of May.
There are 44 children in total, making up two classes at the facility I work for. Usually there are 25 children in one class in Germany, but my facility was certified as an inclusive facility to accept children with disability, so the maximum number is kept lower.
Before the onset of COVID-19, we accepted these 44 children in an open childcare system. In open childcare, children can play with anyone at any place in the facility. They were divided into two classes for convenience of office procedure—i.e. Yellow Class and Blue Class. All the teachers take care of all the children, and teachers rotate the places where they are in charge.
However this usual "taking care of 44 children together" was unacceptable as the COVID-19 measure mandated suppressing the numbers of people to make physical contact. This meant we had to change from open childcare to classroom childcare, a 180-degree conversion. We also decided to go for a three-class system to reduce the number in any one class.
The facility was originally built for two classes so we had to discuss what we could do with the third class. A sub childcare room, which is smaller than the main childcare room and the building block corner in the hallway, was allocated as the childcare room for the third class. Since the room was smaller and was difficult to use, the newly established orange class was operated with 12 children while the other two classes had 16 children each.
We discussed from scratch on the arrangement of children and teachers for the three-class system. Since we had the discussion at the end of April, we were lucky the teachers already knew the children's preferences, hobbies, and friends quite well, as the school year starts in September in Germany.
First, the teachers were divided into three teams. As might be expected, teachers who got along well together combined to make groups, which would have a positive effect on the classroom management with a convivial atmosphere. Those three teams decided where to allocate each child. Needless to say, compatibility among children was considered, and the relationship between teachers and children was also considered to provide the most comfortable environment for the children. Teachers are professionals, but we are also human beings. It is natural for us to get along better with some children more than others. I think it is important for children to be understood by teachers with whom they hit off well.
Three-class childcare began like this. Only 10 children or so came at the beginning of May, so the childcare started with about three children in one class. We were careful to avoid contact with children in other classes. To minimize the chance of passing each other in the bathrooms and hallway, children could go out of their classroom to wash their hands, etc., only after adults made sure there was no one else around.
Children in the oldest age group were allowed to come to kindergarten at the end of May, and 80% of the children enrolled came back. We had a high ratio of older children this year*1.
We needed more consideration in eating style as the number of children increased. Before the onset of COVID-19, children would take as much as they wanted from big platters in buffet style. But now children are being served by a gloved teacher who asks them "Do you want to eat a lot? Or just a little?" Children do not move around the classroom to get their food.
As for dining tables, we made sure children were 1.5m apart in early April. In July, Instruction regarding COVID-19 from the Education Bureau was revised, and we were allowed to eat at a regular distance.
A sleepover event was customary for the oldest age group, which was one of the events that were cancelled because of COVID-19. Other events that would pose a high risk of congestion were also cancelled, such as the summer festival and field trips on a bus. Even though we had to cancel events, childcare in the classrooms was substantial, beyond our expectation. Childcare was provided for fewer children who were intentionally grouped to be with those that could get along well. There were fewer conflicts. Children came up with original ideas and could expand their play in the environment. They could not play dynamically in a large space, but seemed to play in a focused manner, making the best of the restricted space and figuring out a way to do it on their own.
Changes after the lifting of lockdown in mid-June
We were enjoying the comfort of childcare in small numbers in June. As the lockdown was lifted, another instruction was issued to deal with COVID-19 and we were required to change from three classes to two. This was because we had management problems. Until then, we had somehow managed with just enough teachers because shorter childcare hours were accepted due to COVID-19. At our facility, regular childcare hours from 7:00 to 17:30 was changed to 7:00 to 16:00. However, the lifting of lockdown obliged us to provide regular childcare again, and we had a problem of teacher shortage. Not only children but also teachers were prohibited from moving between classrooms. So we had three patterns of work shifts for the three classes during the open hours starting at 7:00 till closing time. The work shift arrangement we managed to run when the open hours was until 16:00 became impossible once it was extended to 17:30 due to the staff shortage.
We started the childcare in a 22 x two-class system in July, still avoiding contact with the other class.
Another change was that wearing masks became mandatory for teachers, while children were still exempt from wearing them. Until June, it was only compulsory to wear a mask in stores and when using public transportation, and was exempted at schools and childcare facilities because seeing the teachers' facial expression was considered to be important for children. However, finally in September, it became mandatory even at childcare facilities.
Unlike in Japan, wearing a mask is not habitual in Germany. Before the onset of COVID-19, it was such a rare sight that when a Japanese tourist was seen wearing one, people would turn their heads to look at him/her. However, mask wearing was encouraged as COVID-19 spread, and now you can see people wearing various types/colors of masks in town.
Mask distribution from the Education Bureau was very speedy. By the following week of the onset of lockdown, 200 thin disposable masks were delivered to the facility. In April, seven white cloth masks per person were distributed. And in June, more stylish masks with the Munich city emblem and face shields were delivered.
The masks distributed in December had a clear plastic part in the middle, sandwiched between two cloth parts. This was made so the children could see the mouth or expressions of teachers, but is not popular among teachers since it makes you look silly.
Mask that shows the mouth of the teacher
Even though the masks are officially distributed by the Education Bureau, there is no regulation to wear the distributed ones. So teachers wear whatever they like. We usually receive chocolate and Stollen from children's parents as presents at Christmas time, but this year we received a lot of handmade masks instead.
We devised a way to minimize contact with the other class when we went back to the two-class system. It was to have staggered lunch times and snack times. Time to use the washroom was taken into consideration to avoid overlapping. In addition, we decided how we could share the children's favorite "building block corner" located in the hallway. The Yellow Class would use the corner from Monday to Wednesday morning. Wednesday afternoon is the time for thorough disinfection. Then the Blue Class would use the corner on Thursday and Friday. As for the use of the playground, the Yellow Cass would use the courtyard, while the Blue Class would use the backyard, thus eliminating contact.
Because of these restrictions, kindergarten life was a little cramped for children who until last year had been able to play in any room or area in the kindergarten under the open childcare system. We introduced the new method after we told them why we were taking such measures and we had their agreement. Similarly, we explained when we had to restrict the numbers of people in gym and teeth brushing, or why we could not do cooking. Also we have more strolling time in childcare in place of reduced exercise time. It may be because the children understood the explanation of teachers about the COVID-19 measures. Or it may be because children are flexible by nature. Whatever the reason, there was no confusion to mention.
Gradual entry to childcare - our biggest concern
Since March when lockdown began, parents were allowed to enter only the 1m x 6m area in the entrance. Moreover, the number of parents permitted to come in at the same time was limited to three.
Two large desks are placed at the entrance and cordoned off, with elaborate no entry marking. It looks so typically German. They do not care to make it look cute or friendly. The focus is on practicality.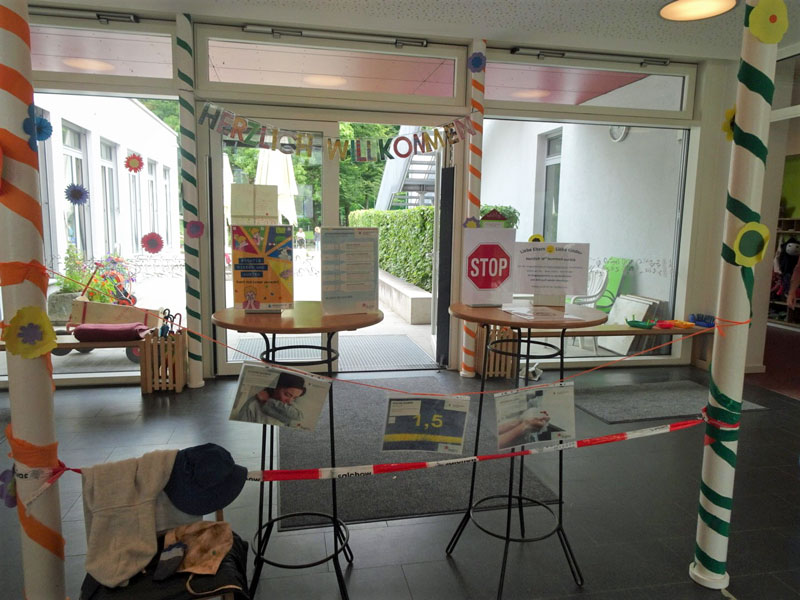 Entrance
Before the onset of COVID-19, it was usual for parents to come into the classroom together with children and help them to switch to indoor shoes or take them to the bathroom. Also it was our daily routine to talk about their children or have a little chat with the parents when they went home. We did it when parents came to pick up children as well. However we had to simplify all this process of coming and pick-up time routine in order to minimize contact between the teachers and parents as well as contact among parents themselves.
The biggest problem caused by prohibiting parents from entering the premises is the gradual entry period into childcare. In public kindergartens in Munich, this process is carefully done, taking as long as six weeks. In the case of working mothers (fathers*2), the vacation time for this gradual entry period is guaranteed. Parents take an average two-week vacation from work and stay at the kindergarten during the time of childcare.
The way to make gradual entry is judged according to the behavior of children on the first day, so each child may go through a different process. In Germany, the daycare facility is for children younger than three years of age, and the kindergarten is for children from three to six years old. Each child will inevitably move to kindergarten on his/her third birthday and start the gradual entry period. For instance, a child who has experienced daycare and is used to group activities may not have a separation problem from the parent. In such cases, we ask the parent to wait in the entrance area. And the child will go home in about two hours no matter how well he/she blends in with the kindergarten and has no problems on the first day. If the child shows anxiety about separation from the parent, we ask the parent to come in the classroom together. From the second day, we extend the time for the child to be away from the parent in the facility by 30 minutes, and then one hour. When a child starts crying because of the anxiety of separation from the parent, teachers generally tend to try to distract the child, but we do not force the child to stay, and call the parent to pick him/her up.
We were worried what would happen to this gradual entry period requiring such close contact. As a matter of fact, it went smoothly to a certain extent because most of the new children had experienced daycare centers. Restricted activities in classroom style childcare in closed space might have worked better for them. In addition, some families had decided not to send their children to the kindergarten because of COVID-19. This childcare environment with fewer children might have contributed to settling down the new children.
An open childcare system may be still harder for three-year-olds because they need to choose a place to play in or a toy to play with within the big facility. The COVID-19 experience taught us to re-confirm the necessity for paying more attention in the gradual entry period procedure in the open childcare system. In order to build a relationship of trust between the kindergarten and the families, which is likely to be reduced because of COVID-19, we designated two teachers in charge of children applicable for the gradual entry period for close communication with the parents. Moreover, all the staff shared the process of gradual entry period at weekly staff meetings to provide the children with good support.
Actually, there were two cases in which the gradual entry did not proceed smoothly; children's anxiety about being separated from their mothers is considerable, lockdown due to COVID-19 is disrupting the smooth gradual entry period because children repeatedly go back to staying home. We have told such families, "this year is special so let's be flexible about the gradual entry period, even if it takes longer than the customary six weeks. Our goal is to have your child come to our kindergarten happily every day." We proceed together while we share such common understanding.
Coping With COVID-19
The soft lockdown that began in late November was changed to a full-scale lockdown on December 16. Schools and childcare facilities that were open during the soft lockdown phase are now closed again. However, we accept children of essential workers due to their urgent necessity, so there are around six children in each of the two classes coming to the facility. As there is no end of the COVID-19 crisis in sight, the deadline of lockdown, originally set at January 10, 2021, was simply extended to the end of January, and again to mid-February.
The current situation is unstable, but we just need to figure out the best way in each and every moment in the frontline of childcare while getting accustomed to the new normal lifestyle.
Not everything is bad in the COVID-19 pandemic. I think we can clearly see what is important, what is necessary. I expect that useless meetings and unnecessary things will no longer exist in the future. We all bear in mind to give carefully arranged childcare right now to provide children with safety and security that will persist after the COVID-19 crisis settles down.
We are planning to send fun letters to children staying home this week again.
---