Creating Childcare Environments
I have described and given explanation about several types of childcare environments in my previous articles "Technique 01" through "Technique 05" on the topic of "Creating Childcare Environment." I tried to convey the importance of "self-build" where childcare workers create play equipment and spaces by themselves in their childcare facilities, at times asking children's fathers to take part in the activity. To actually build a childcare facility, however, it is necessary to rely on professional builders for the majority of the design and construction processes, although childcare workers may be able to work on interior designs and apply finishing touches by themselves. In this session, I will explain the importance of trying to understand each separate part of the construction process instead of leaving everything to professional builders.
The meaning and value of shapes
My supervisor once gave me a gift voucher to make a custom-made shirt, and since then, I have always worn such garments. When it came to making a choice for each part of the shirt, I realized that I had to learn and understand the meaning of each shape and part of the shirt, for instance a mandarin collar that does not require a necktie. I also realized that some commercial products have certain meanings and values, which we tend to overlook. (While I was writing this article, I realized that the above findings were what my supervisor had tried to make me aware of by giving me the tailor-made shirt voucher).
In the 1970s, the "commercialization of residential housing" (the sale of so-called "ready-built housing" which has a ready-made room layout determined by architects) became very popular in Japan. Among them, I specially noted the layout designed based via a process of elimination, incorporating factors most people do not dislike, such as placing a Japanese-style room close to the entrance (Note 1). It is a concern that once we get used to an environment consisting of "something we do not dislike," we will consequently fail to understand or forget the intrinsic nature of the environment. Nevertheless, I saw some advertisements for ready-built houses in free-standing inserts that were well designed. I do not mean to imply that the concept of commercialized residential housing is flawed, it is just that I want to draw attention to the importance of understanding the meaning and value of each part of the environment. Self-build and custom-built housing together contain the process to understand the meaning and value of the shape of things, which will lead to good usability and emotional attachment.
The same things can be said to apply to the construction of childcare facilities. It is my desire that people involved in childcare will talk thoroughly with the architects to gain understanding of the ideal childcare environment for each kindergarten and day-care center, by reference to the workshops I have introduced in my previous articles "Technique 01" through "Technique 05." Photographs 01 through 03 show the construction process of a German kindergarten (kindergarten name: Waldorfkindergarten Marburg). In general, childcare workers have a tendency to consult architects about interior designs only. However, in this example case, the childcare workers held discussions with architects not only about interior designs, but also regarding the entire layout of the kindergarten. In this process, the kindergarten provided these childcare workers with a good opportunity to think about their childcare environment.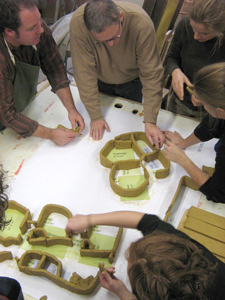 Photograph 01: A workshop for childcare workers to discuss the entire layout of the kindergarten with architects


Photograph 02: Discussion based on the design model.
The above designs and photographs in Photos 01&02 were provided by plus+bauplanung GmbH Hübner-Forster-Hübner-Remes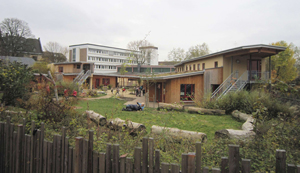 Photograph 03: The completed kindergarten "Waldorfkindergarden Marburg" (taken by the author)
Building a childcare facility that supports the development of children
As I have explained previously, when creating a childcare environment it is necessary to consider the risk posed by adult-specific values and perspectives. Reflecting the opinions of staff members who are involved in childcare is important; however, each member may wish to design their assigned area to be the most comfortable and manageable. However, some of their requests may be fulfilled while others may not, given the limited conditions of construction.
I once participated in the design of a childcare facility in an area that had suffered devastation caused by the Great East Japan Earthquake. In this region, we were only allowed to construct an L-shaped building as shown in Figure 01. At the beginning of the basic design phase, we tried to take in as many proposals from the staff members as possible. We first placed the kitchen in the corner of the L-shaped zone according to the request of the kitchen staff. The locations of the entrance and the hall were determined based on the location of the kitchen. As a result, the only remaining place of a suitable size for the children's napping area was right next to the shoe-rack. In the end, we held discussions to determine the priority of each function and changed the room layout accordingly.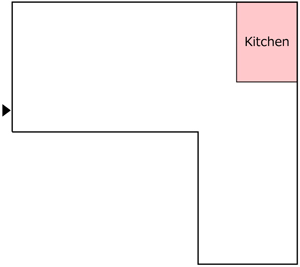 Figure 01: Location of the kitchen in the first layout plan
* After tracing the outline of the final plan, just the kitchen area was highlighted in this figure.
It is very important to call for ideas from everyone involved in the childcare facility. Nevertheless, it is necessary to carefully consider the living habits and activities of children, such as where they eat or sleep; otherwise it can result in an extremely undesirable situation. We should always remind ourselves for whom we construct a childcare facility and create a childcare environment (such as a playroom, a dining room, etc.).
It should also be kept in mind that kindergartens, day-care centers and Kodomo-en (general facilities including kindergartens and day-care centers) are preschool facilities. Kodomo-en are said to be childcare facilities that operate in the "best interests of children." However, what can they offer to children as an environment prior to attending school? I always expect to create an "environment where all children can develop and acquire social skills" in the process of constructing a childcare facility.
It is my humble hope that all people involved in childcare will hold thorough discussions to gain understanding of the meaning and value of childcare environment when planning the construction of a childcare facility and re-considering the childcare settings. In this way, they will be able to realize a custom-made childcare environment.
---
(Note 1)
Reference: "Sumai wo Yomu--Gendai Nihon Jyukyo Ron (Understanding our housing: Modern theory of Japanese housing)", Shigebumi Suzuki, 1999, Kenchiku Shiryo Kenkyusha
Other reference documents regarding childcare architecture methodologies:

"Shakaisei wo Kakutoku Dekiru Kuukan Zukuri (Creating an environment where children can acquire social skills)", Masayuki Sato, pp.143-144, Shinkenchiku June, 2011 (Special topic: Space for childcare)
"Chiiki to Tsunagaru Hoiku Shisetsu (Childcare facilities linked to local communities)", Yoshiji Takehara, Masayuki Sato and Motomi Nanba, pp.36-41, Shinkenchiku April, 2013 (Special topic: Designing a place to grow together)
"Shoushika ni Kotaeru Hoiku Kenchiku he no Kitai (Expectations for childcare architecture responding to the low birth rate)", Masayuki Sato, pp.72-73, Shinkenchiku June, 2014 (Special topic: Childcare settings per community)
"Zadankai Korekara no Hoiku Kenchiku (Panel discussion: Childcare architecture in the future)", pp.122-126, Kindai-kenchiku June, 2014 (Special topic: Construction and planning of childcare facilities)