Creating Childcare Environments
Along with the current issues of childcare facilities in Japan such as the unification of kindergartens and daycare centers and the large number of children on waiting lists for childcare, I came to think about the minimum standards for childcare facilities and the standards for kindergarten establishment. In particular, I have been focusing on indoor environments in childcare settings. At first, I looked at childcare facilities in Northern Europe that provide sufficient space for each child. I visited Europe several times, although I was often asked "Why are Japanese people interested in such things?" By doing so, I eventually became interested in the view of people in Northern Europe regarding outdoor environments for children.
Taking children from cities to the countryside
Photo 01 shows a place which is visited everyday by children at two public daycare centers in the city of Copenhagen, the capital of Denmark. The two buildings in the center of the photo were previously a residential house and a horse stable, and they are now used as a childcare facility by each daycare center. As you see in the photo, the buildings are surrounded by several acres of wooded grassland. Children spend five and a half hours from before 10 am to after 3 pm there. It takes about 30-40 minutes from the city center by car. Children of each daycare center visit the place by bus (it is just like children gathering at a facility in central Tokyo and visiting Akiruno or Takao in the suburbs of Tokyo). The other day I had the opportunity to visit the main building of the daycare center that uses the former horse stable as a sub-facility in a suburb of the city. The daycare center has spacious childcare rooms in the building, but the other rooms are occupied by some companies and families for different purposes. The building has a courtyard with flagstones, giving the impression of an artificial environment (see Photo 02). It is valuable for children to spend time in cities being taken care of by various types of adults. Nevertheless, it is noteworthy that the daycare center provides a natural suburban environment for children where they can play freely. Some Japanese facilities adopt a similar approach, using a main facility and a sub-facility. However, childcare facilities in Denmark provide outdoor environments for children on a much bolder and larger scale. It is obvious that they are making efforts to create the best possible environment for children.
Photo 01: A place in the suburb of Copenhagen where children at two daycare centers visit by bus regularly (left)
Photo 02: The courtyard of the building, looking through the window of the daycare center (right)
Helping children get used to staying outside alone
Photo 03 shows the outdoor sleeping space and outdoor sleeping cots (Krybber) placed in a public childcare facility in Denmark. The outdoor sleeping space has a roof and louvered walls. As you will gather from the pile of withered leaves on the floor in the photo, it is a kind of open air room. Children under the age of three take a nap there. This system is not unusual and can be seen in other public childcare facilities. A Japanese lady, who had immigrated to Denmark with her children fifteen years ago, served as Danish interpreter for me. She told me that when she first found her child asleep on the outdoor sleeping cot on a freezing snowy day, she thought "Oh! my child will surely die." In Japan, this custom could never be popular because Japanese people fear their children will come down with a cold or worse. However, since I am originally from Akita Prefecture (northern part of Japan), I remember that when I came to Tokyo I thought to myself "People here wear light clothes in winter!" People in Akita would think "It is no problem to stay out in the cold as long as we wear warm clothes." Probably this idea is similar to the custom in Denmark referred to above. It seems that childcare workers in Denmark help young children get used to staying outside by putting them in separate outdoor cots as alternative to wearing heavy clothes, which may also develop their ability to stay alone.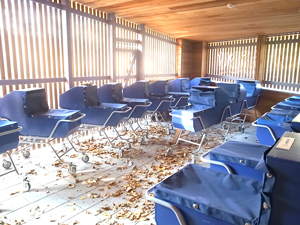 Photo 03: Outdoor sleeping space and sleeping cots (Krybber) for young children in Denmark
Giving opportunities to enjoy staying outdoors
Photo 04 shows children having snacks outside the childcare facility in late June. Having snacks outside takes place as a daily routine in all of the childcare facilities I visited. Because the afternoon sun in late June is strong, a large parasol was placed beside the children during the snack time as shown in the photo. The use of the large parasol is part of the childcare facility's measures for helping children enjoy staying outdoors. One day in November, I visited a childcare facility in Denmark. The high temperature of that day was nine degrees and I was wearing a down coat. Children were having snacks outside the facility, and the temperature at that time must have been lower than nine degrees. I suppose that some Japanese childcare facilities have outdoor snack time, but in Denmark, it is common practice for all public childcare facilities to have outdoor snack time, which is another point to note. When I walked around cities in Northern Europe, I often saw restaurants and cafeterias with outdoor seating as shown in Photo 05. The climate in Northern Europe is probably similar to that of Hokkaido, the northernmost prefecture of Japan. In midsummer, we often see outdoor beer gardens in Odori Park in Sapporo, the prefectural capital of Hokkaido. However, in Northern Europe, we see restaurants with outdoor seating anywhere at any time, not only in midsummer. As observed above, children in Denmark learn how to stay and enjoy the outdoors through their everyday activities.
Photo 04: Children having snacks outside the facility (left)


The original image has been partially modified. Photos 03 and 04 were taken at the public childcare facility "Børnehuset Bøgen."

Photo 05: A restaurant with outdoor seating in Northern Europe (right)


The photo was taken in Sweden in June.
I often hear childcare environments in Northern Europe being highly praised, however, I do not think we should simply copy or mimic their practices, because our culture, social system and background are completely different from those of Northern Europe. Nevertheless, it is worthwhile to consider the value of their childcare approach, in order to dispel stereotype perceptions and ideas in Japan and to let Japanese childcare facilities think of ideal childcare environments based on their actual circumstances. When childcare workers can renew and update their view and perception of outdoor environments for children, they may change their view on indoor environments as well.
When I travel abroad, I always think that Japanese people should become more impressionable. I recognized that my Japanese friends who traveled with me became more responsive to what they encounter than when they were in Japan. I wish Japanese people could react more strongly to various things. For this reason, I think it is important for adults to consider providing a "real environment" for children instead of a "pseudo environment tailored to the needs of children". Outdoor activities afford children more access to nature than indoor activities do; therefore, it may be easier to achieve a "real environment" through outdoor activities.