Creating Childcare Environments
I am a researcher specializing in environmental behavior studies, focusing on children's environments. I have studied architecture and learned how to capture environments. Based on such knowledge, I am currently working on research activities that assist childcare workers and owners of day-care centers and kindergartens to be architects (who can develop and create ideal spaces).
Understanding the whole picture and obtaining objective perspectives
Figures 01 and 02 show pictures of a childcare room, which I observed in Sweden. These pictures are of a childcare worker sitting in a chair in a position that allows her to see all activities of children within the room. My point is not that this is typical in Swedish childcare centers, but I want to tell you that this is quite rare in Japan. I came across the same style in childcare rooms several times in Northern Europe.
Figure 01: A childcare room and children's activities viewed by a childcare worker (left)
Figure 02: A floor plan suggesting the positional relation between a childcare worker and children in the childcare room (Planar view of Figure 01) (right)
Some readers may think that the childcare worker should not just simply sit there observing the children, but should directly interact with them. What I would like to convey here is that it is important to discover "ordinary" practices, which are often overlooked in our daily lives, from overseas cases, rather than simply trying to follow such examples. In the above case, we can ascertain their attitude toward childcare. From my experience in observing several childcare facilities in Northern Europe, I think that this attitude is supported by the tradition of individualism, which values individual freedom of behavior. Another thing we should learn from the above case is that the childcare worker was trying to capture the entire space of the childcare room, which helps her to constantly monitor each child's activities, instead of letting them play on their own without supervision.
Developing the layout of childcare rooms
As a matter of fact, having studied architecture, there are sometimes floor/layout plans with furniture arrangements for childcare facilities in Japan that feel somewhat awkward. These floor plans can be found on websites and brochures of kindergartens and daycare centers. The scale sizes and aspect ratios of these rooms and furniture are sometimes different from reality. This type of figure is called a "Childcare Environment Map" at training courses for childcare workers, and is something they must learn during their course. At some schools, students simply draw in rooms and furniture within a large square on paper. There are various styles of childcare rooms in the field of childcare architecture compared to those of school architecture. Unfortunately, such variations are often not reflected in a childcare environment map. For example, I have seen cases where the actual childcare room was square, but the environment map was drawn rectangular. As a result, a layout plan created based on such a map is unachievable.
When I am involved in childcare facility research or layout changes, I always use an actual floor plan (see Figure 03). I sometimes draw a faint projection line in 90-cm units as the Japanese space standard (the standard tatami mat size is 90 x 180 centimeters) in the floor plan.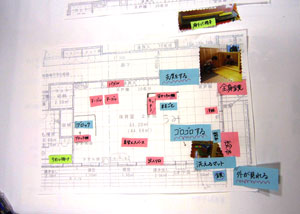 Figure 03: A layout plan for childcare rooms, on which childcare workers place post-it notes
(Minami-Oizumi Niji-no-iro Daycare Center)
By simply drawing the arrangement of furniture on the actual floor plan, we can achieve a realistic furniture layout plan. Figure 03 shows a furniture layout plan, on which childcare workers place post-it notes for furniture arrangements. At this point, it is also important to add targeted keywords on the floor plan. These keywords represent the objectives of environmental change in the childcare room. For example, in Figure 03, keywords for children's daily routines such as "Prepare" and "Lie around" are written in. With this floor plan, childcare workers can objectively observe the childcare environment of the childcare room, by comparing the play zone with the living zone and identifying the specific roles of each zone in practicing childcare. By doing this they can ascertain the advantages of each zone, which may be overlooked in the actual childcare practices, and design a well-balanced space within the childcare room.
* I will discuss the workshop for childcare environment studies using floor plans in future articles.
Developing the spatial ability to foster the individual abilities of people
In Japan, childcare rooms are often small, and items of furniture are often placed along the wall to get as much space as possible. However, according to the above case in Sweden and our studies (see Note 1), it is revealed that the advantage of a "big" childcare room for childcare workers is not "to be able to see a large area," but "to be able to see more children's activities." For this reason, I suggest that childcare workers and owners of childcare facilities should sometimes try to place furniture perpendicular to the wall, instead of putting it along the wall (see Figure 04).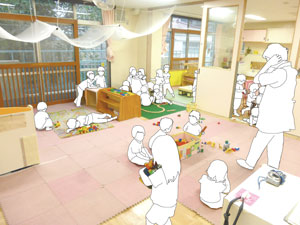 Figure 04: A layout plan developed by childcare workers in childcare environment studies
(Shinagawa-ku Koyamadai Daycare Center; photo taken/edited by Saki Aso, Sato Laboratory)
Another suggestion is to consider making use of vertical space in addition to the use of horizontal space, such as setting up a loft (play equipment) (see Figure 05). The advantages of setting up a loft are to capture the childcare environment of the room as well as to increase its floor space for childcare.
* I will discuss other advantages in the articles to come.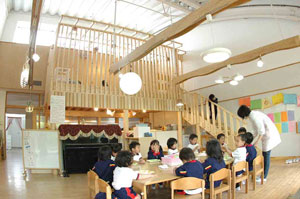 Figure 05: A loft set in the childcare room
(ECEC center Kodomomura; Kurihashi Sakura Kindergarten)
The use of space suggested in an architectural design usually includes the use of vertical space as well. A cross-section diagram is used for such a purpose. In the diagram, it is important to convey the attractive use of vertical space that cannot be achieved with the use of horizontal space. People who are not good at architectural designing are usually not good at offering cross-sectional diagrams. Therefore, I assume that it is important to develop the "spatial ability" including the ability of using vertical space for childcare workers who wish to acquire the ability of creating good childcare environments. I came up with a hypothesis about the development of spatial ability for childcare workers by creating various horizontal and vertical aspects surrounding them, which will eventually help them develop the ability to create good childcare environments. Currently, Naoki Inaba, one of my graduate students, is working on this hypothesis, and we are looking forward to his conclusive results.
---
Note 1) "A study on the required space of childcare facilities considering actual childcare practices and living situations as well as the development of physical, mental and spatial abilities", Masayuki Sato et al., March 2009, Research Report sponsored by the Health and Labour Sciences Research Grant (research to promote political sciences)