The First "Geijutsushi Dispatch Program" Sponsored by a Local Municipality
Takamatsu city launched a program incorporating art into childcare in autumn 2009. Under this framework, artists work together with small children as "Geijutsushi" in day-care centers, kindergartens and Early Childhood Education and Care centers (ECEC center: kodomo en) to support them in following their interests and fully expressing their ideas in an artistic way. With the help of the artists, more and more children are now able to express themselves freely, creating a warm atmosphere where the artists cherish and admire the free-minded expression of children.
Once a week, Geijutsushi, who are experienced artists, are sent to day-care centers, kindergartens and ECEC centers to create a learning environment where children's sensibilities and creative talents can grow. They do not hold ad hoc workshops or sessions to produce work for exhibitions; rather their engagement is similar to providing childcare on a year-round basis in that they warmly watch over children's growth from an artistic standpoint.
This program is based on the Italian "Reggio Emilia approach" of early childhood education, which is highly regarded recently. As the first such program by a Japanese local municipality, it has received much attention from childcare workers.
| | |
| --- | --- |
| | |
| Every child is an artist | Anything can be playful |
Launch of "Geijutsushi at Day-care Centers"
"Archipelago," a local non-profit organization, is entrusted by Takamatsu city to run the program. The NPO is involved in various activities of art and community development in the prefecture and Setouchi islands. It served as the supporters' secretariat of the Setouchi Triennale 2010 on a voluntary basis.
The program started from a single project proposal prepared by a member who was studying the Reggio Emilia approach and wondering if something similar couldn't be done in Takamatsu city. The proposal suggested that young artists studying at university participate in childcare in Takamatsu city as a way of enlivening the community. The program is also designed so that every child attending a day-care center in the city will have equal opportunity to experience expressive and creative activities with the artists.
The year before Setouchi Triennale 2010 was held, Kagawa prefecture, including Takamatsu city, began incorporating the arts and culture into urban development. It was then that the government launched such as job creation schemes as "Employment Measures in Post-Financial Crisis Japan" and "Hometown Employment Reproduction Special Fund Project." These policies were dependent on local support and securing funds, which were crucial to realizing the projects.
Although the Geijutsushi Dispatch Program, in the beginning, was subsidized under the framework of the national government scheme on a temporary basis, the local government decided to take over with its own financial resources. Now in its fifth year, the program sends the artists to 133 facilities in total. Currently, 16 artists with a variety of expertise are actively involved in childcare across the city.
Anything Can Be Art!? The Extraordinary World of Art
Activities with Geijutsushi can be dynamic fun. Incorporating ideas from both the artists and children, they transcend such conventional rules as "don't make a mess," "stay in line!" or "everyone should do the same."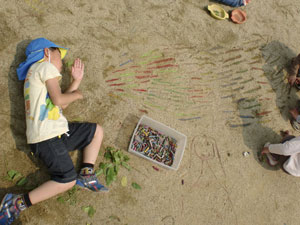 Everything around us becomes a piece of art.
Top: The playground is a huge canvas.
Bottom-left: Summer pool turns into an art work Bottom-right: Try expressing yourself in the woods
For example, when the children experienced pat-dyeing with freshly picked indigo, whose seeds they had sown in spring, their comments expressed what they felt through their five senses: the smell of plants, the color of the dye sinking in, and the feel of the end-of-summer breeze. A hole in drawing paper similarly stimulated their imagination. It became literally anything representing the world of each individual child --thunder at night or a hungry caterpillar. They also brought back to life an old chair left in a corner of the day-care center by remaking it and naming it "Catherine" with much affection.
| | |
| --- | --- |
| | |
| Smells like leaves! | Flags pat-dyed with indigo |
| | |
| --- | --- |
| | |
| A renovated chair named Catherine | Drawing with a hole |
Geijutsushi are good at stimulating children's interests by using a wide variety of materials to turn everyday things or places into a space for art. The children see them as someone who always brings something new and creates fun moments with them and who always looks at them from a different perspective than their parents and day-care center teachers. "When will they come next?" Children are always looking forward to the weekly activities with them.
Process rather than results
The activities at each facility do not necessarily set goals in advance. Therefore, unformulated and open activities often pose a great challenge as the children, Geijutsushi and day-care center/kindergarten teachers, discover something new and learn from the materials and themes without knowing where everything is heading. People often ask the objective of a session, but such a state of uncertainty actually makes the activities a lot more fun. Most of all, many incredible happenings have proved this to be true.
For instance, after looking at the children's drawings, one of the Geijutsushi wondered what the children would do if she brought something surprising. How would they draw it? One day, she brought a large raw cuttlefish to use as a motif. The surprised children timidly started to touch it. As they rolled it over and over, out came jet black squid ink!
Based on this experience and direct observation, the children's sketches showed the cuttlefish's suction cups, the skin, and ink. Smaller family cuttlefish were drawn swimming aside the main cuttlefish in the middle of the paper. Children responded to the motif in their own unique way and successfully expressed their own "encounter with a common cuttlefish" in drawings.
A cuttlefish comes to kindergarten!?
Top-left: "Oooh, yuk!" but intriguing Bottom-left: "Found a cuttlebone in the middle!"
Bottom-right: Cuttlefish vigorously swimming on the kindergarten's wall
The activities of Geijutsushi value process over results. Just as art has no correct answers, children come up with all different answers to a single question. They create an environment where they can fully unfold their unique imagination and creativity, without limiting their potential. Observing and supporting children's liberal inspirations, admiring and cherishing what the children have expressed also foster such an environment.
Children's language and actions are also recorded to document the process of their interaction with Geijutsushi. The records are compiled and shown in an annual exhibition and publications. The artists also take part in a variety of events to bring the community and children together, such as the Umi Akari (Ocean and Light) Project of the Setouchi Triennale organized in July 2010 and a tie-up with Takamatsu-Kotohira Electric Railroad Co., Ltd. in July 2011. These activities by Geijutsushi using art as a medium may help empower children who will play a vital role in society in the future.
Exhibition at Takamatsu City Museum of Art
"Kotoden Kodomoten" - the tie-up project with Kotohira Electric Railroad Co., Ltd.
"Umi Akari Project" Setouchi Triennale 2010
Heading Towards "Takamatsu, the City where Geijutsushi Work"
In 2013, Takamatsu city formulated a comprehensive strategy called the "Vision to Promote a Creative City." This strategy aims to promote policies on industry, manufacturing technology, sightseeing, culture and sports in an integrated manner, thereby contributing to enhancing the city's brand image and showing the attraction of "the Capital of Seto."
This Vision also places importance on children. With that in mind, our activities at Archipelago aim to cultivate "Takamatsu-ness," that is, features common to the city that are not found in big cities, to pass them down to future generations, and to make more widely known the fascinating people and generous, broad-minded culture of Setouchi.
It would be wonderful if we could eventually promote the Geijutsushi program as part of the "Takamatsu brand" with pride. It is our mission to foster the program so that someday, our city will be known as "Takamatsu, the City where Geijutsushi work", just like Reggio Emilia, our model city.
In our work, our aim is to see the day when each and every day-care center, kindergarten, and ECEC center will be staffed with Geijutsushi as a matter of course. Children are the future of Takamatsu city, bustling with art, and this future is full of potential.