1. Toward improved design of day care environments
This study began in June 2010 as a joint project of the University of Tokyo's Graduate School of Interdisciplinary Information Studies, Misawa Homes, and the Misawa Homes Institute for Research and Development. The focus of the study was to propose a learning-centered space that would work toward implementing improved design of day care environments*1.
The study used findings from research on day care spaces as a reference and conducted seminars for researchers on children's environments, created a study group with day care staff as well as carried out observations of free-play time at a day care facility. Observations were conducted over a period of a month by two observers at K day care center in Tokyo for approximately one hour during their afternoon free-play time each week. These activities highlighted two points of consideration.
Firstly, there seemed to be a lack of variety in the types of sociodramatic play that emerged during free-play time. Two rooms were used by the day care staff at the observed day care facility including a space for physical activities with a balance beam and slides, and another space established with blocks and playhouse toys. The staff adjusted the materials and toys prepared on a daily basis based on their observations of the children. The observed sociodramatic play consisted of making paper swords and play fighting as well as playing house with toy kitchen utensils and vegetables. Sociodramatic play from infancy through childhood develops critical sociality, and is the subject of increasing research.
Secondly, there appeared to be a lack of variety in medium-sized toys and materials for indoor play. Recently there has been an increase in day care facilities without an outside yard, and while time is made for walks to nearby parks, the time spent inside has increased and supporting indoor play is considered highly crucial. Having researched the materials and types of play however, it appears that while there are many that prompt physical activity, there are very few that enrich indoor play. Furthermore, there seems to be little research which develops play materials and demonstrates their effectiveness.
Based on the analysis above, the development of medium-sized play materials to support sociodramatic play began.
2. Sociality that is aided by sociodramatic play
Many studies exist from diverse perspectives on the topic of sociality. This study focuses on the definition of "social understanding" as explored by Project Spectrum. Project Spectrum is an early childhood curriculum developed and implemented by Howard Gardner and David Feldman's research team*2.The curriculum is based upon Feldman's non-universal theory and Gardner's theory of multiple intelligences, and has been refined for practical implementation through activities and assessment. Feldman and Gardner discuss 8 domains: mechanics and construction, science, movement, music, mathematics, social understanding, language, and visual art. "Social understanding," as one of the areas, is further organized into three key abilities that are present in social exchanges and interaction. These key abilities include understanding of self, understanding of others, and assumption of distinctive social roles (Table 1)*3. Activities suggested to foster and enhance further appreciation of these key abilities include sociodramatic play with clothes and props, a model 'classroom' setting with dolls that have photographs on them for play re-enacting school, a television-shaped box to play news reporters, and so forth*4. The social interaction that is generated through these types of play is thought to have a relation to the development of social understanding.
Likewise, on the assumption that sociodramatic play will prompt the development of social understanding, this study created materials that would foster an environment that encourages social interaction.
Table 1. Social Understanding
1) Understanding of Self

identifies own abilities, skills, interests, and areas of difficulty
reflects upon own feelings, experiences, and accomplishments
draws upon these reflections to understand and guide own behavior
shows insight into the factors that cause an individual to do well or have difficulty in an area
2) Understanding of Others

demonstrates knowledge of peers and their activities
attends closely to others
recognizes others' thoughts, feelings, and abilities
draws conclusions about others based on their activities
3) Assumption of Distinctive Social Roles
 Leader:

often initiates and organizes activities
organizes other children
assigns roles to others
explains how activity is carried out
oversees and directs activities
Facilitator:
often shares ideas, information, and skills with other children 
mediates conflict
invites other children to play
extends and elaborates other children's ideas
provides help when others need attention
Caregiver/Friend:
comforts other children when they are upset
shows sensitivity to other children's feelings
shows understanding of friends' likes and dislikes
3. Development of the "Town Play Kit"
The "Town Play Kit" includes a cardboard post office, station, hospital and bakery buildings each measuring 1.2 square meters, as well as a cardboard mail delivery truck, mail delivery bike, train and ambulance.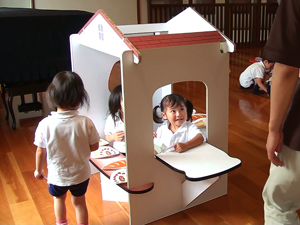 During the development process, a prototype was set up and observed for 4 days at the N day care center in Chiba prefecture. It was observed that communication among children was encouraged through play that used the kit. However, while the children appeared to be enjoying themselves, the "roles" required for sociodramatic play to occur were often ambiguous and a majority of the children did not reach a point where they had made a "plan."
Garvey organizes the structure of sociodramatic play using three factors: "role," "plan" and "object/things."*5 In sociodramatic play, the role that is being played requires recognition from the other participant whose role must also be considered; a "plan" of shared play with the other participant is developed, after which a variety of stories are developed together through simulation using "objects/things."
With this as a reference, the following functions and objects were added and modified.
【Instructions for day care staff】
In interviews, day care staff made requests regarding the purpose, aim, and use of the kit. This led to the creation of "Points for Caregiving," a set of instructions to be used when the kit is introduced.
【Kit Improvements】
Interior design:designing the interior walls of each building to clearly define the building's purpose and social context to children.
Example 1) Medication counter in the hospital: Installation of physical props and illustration in the interior design to promote its function as a pharmacy. Allows for acting out the dispensing of medication to patients.
Example 2) Oven: Installation of a drawer-type oven. Allows for acting out the making bread at the bakery in addition to selling the bread.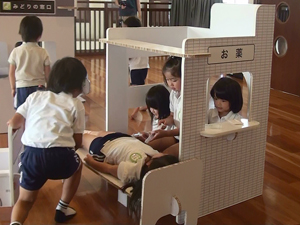 Station Sign:Installation of signs for "Meguro Station," "Bread Forest Station," "Postal Valley Station," and "Hospital Front Station" on each of the four buildings to promote awareness of the role of stations. A route map is displayed on the interior of the Meguro Station building as well as on the inside of the train. This allows the train to make its way around each station building.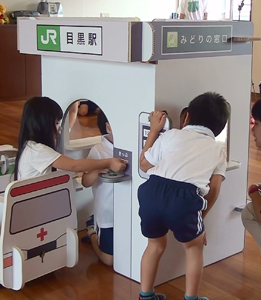 Mail box::A mail box was installed at each of the four buildings to allow the mail delivery truck and bike to deliver letters and other mail to each building.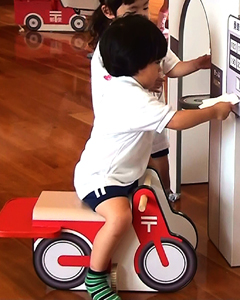 【Hats for roles】
Hats were created to clearly identify the roles of stationmaster, baker, nurse and mailman.
4. "Town Play Kit" Evaluation
To study the effects of the "Town Play Kit" on generating social interaction that would lead to social understanding, an evaluation was prepared and conducted. For a period of 7 days (2 days of free play, 5 days of kit introduction) between February and March 2012, the kit was introduced and subsequent observations were carried out at K day care center in Tokyo. Children's conversations during free play and while using the kit were compared using a children's conversation protocol. The environment for free play was set up by day care staff in 4 areas with different types of play: wooden blocks, Legos, slide, and balance beams.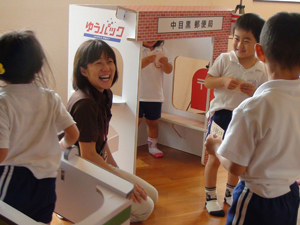 The collected conversation protocol was classified and used to analyze the findings. According to Sawyer (1997), improvised social exchanges through sociodramatic play can be analyzed in terms of the response to proposals (acceptance, rejection and extension), the frame level that demonstrates the degree to which one is immersed in the theme of play, and the specific nature of the child that demonstrates the degree to which he or she influences further development of the play*6. This study focuses on "the emergent" nature of the child during social interactions as highlighted by Sawyer, as well as the effectiveness of capturing the process of collaborative and creative development of play that emerges through complex social exchanges. Sawyer's "proposals" and the subsequent categories of "responses" (acceptance, rejection and extension) were used as a framework of analysis to draw conclusions.
Firstly, as the kit required sharing a theme during play, the frequency of children's "proposals" was found to increase with its introduction, which was not necessarily the case during free play. Furthermore, it was evident that the frequency of children's "proposals" increased the longer the kit was used (Table 2).
In regard to the "responses," there was an overall increase following the introduction of the kit. Interestingly, when "responses" on the second and fifth day of implementation were compared, it was found that the number of "acceptances" and "rejections" decreased and "extensions" increased. It appears that with an increase in the number of times that the kit was used, there was a shift from the simple choice of "acceptance" or "rejection" to bringing in individual ideas in response to "proposals," thereby "extending" the play.
Table 2. Children's Improvised Exchanges
Post Office Protocol Example
Proposal
C1
Please deliver 2 parcels to the bakery
Response
Extension
P1
I'm putting in a letter
Acceptance
P2
Letter
Extension
C1
How much will it cost?
Extension
P1
Nothing
Acceptance
C1
Nothing? That's cheap. Is that zero yen?
Extension
P1
Yes. It will be delivered by car.
Acceptance
P2
OK, parcel. Off you go!
C: Customer, P: Post Office Staff
Hospital Protocol Example
Proposal
C1
I have been injured.
Response
Acceptance
D1
Where?
Extension
C1
My head
Extension
D1
Head? If it's your head, what should I do? Well, then let's give you an injection in your head
Rejection
C1
Ah, why?
(The patient runs away to the bed)
Extension
D1
Well, in that case, I'll give you medicine, It will make you better.
(The doctor hands some medicine to the patient.)
C: Patient, D: Doctor
Station Protocol Example
Proposal
C1
Mr. Stationmaster
Response
Extension
S1
You're going to Meguro?
Acceptance
C1
Yes, Meguro.
Extension
S1
If you're going to Meguro, go that way....
Acceptance
C1
OK.
Extension
S1
The train has arrived over there, so please board quickly over there.
C: Customer, S: Stationmaster
Bakery Protocol Example
Proposals
B1 B2
Welcome! Welcome! It's delicious!
Response
Acceptance
T1
I am hungry.
Extension
B1
We have some cookies.
Extension
T1
What do you recommend?
Extension
B2
How about ______ chocolate?
Correction
T1
What? What kind of chocolate is it?
Extension
B1
White chocolate
Extension
T1
I'll have one of them. How much is it?
Extension
B1
Well, they are all free!
Extension
T1
All free? Really?
I'm going to have a picnic with this.

B: Baker, T: Teacher
Based on the above exchange, it was found that using the "Town Play Kit" deepened social interaction. With continued use of the kit, the stories in sociodramatic play developed as individual ideas were combined with the suggestions of others.
5. Pursuing a rich environment for child development
Research on the "Town Play Kit" continues, currently examining the day care activities that used the kit with the teachers and focusing on developing activities. These activities consist of using the kit's buildings and transportation, having the children decide the theme, having the children think about what objects are needed and creating them to actualize sociodramatic play. This process has highlighted some issues including the factors needed in children's play and learning, the lack of diverse experiences available to children, and in particular, the lack of connection to the local area for children who stay at the centers for long hours. Discussions with teachers have begun to examine how to incorporate the local neighborhood into the day care program through actual outings in the neighborhood, opportunities to observe activities in the neighborhood, and opportunities to understand and learn about the activities of adults in the neighborhood through the use of images and storybooks.
Providing an enriching environment is not simply a matter of providing a hard environmental infrastructure--consideration also needs to be given to how the environment may influence the nature of children's experiences and how essential experiences become part of children's lives. To ensure a rich environment for the children of future generations, both the hard and soft aspects of the environment need to be considered.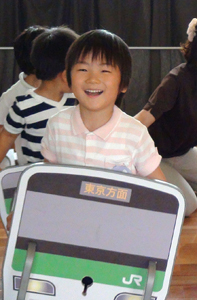 ---
*2 Building on Children's Strengths:The Experience of Project Spectrum (Project Zero Frameworks for Early Childhood Education、Vol 1)、Teachers College Pr、1998
*3 Project Spectrum : Preschool Assessment Handbook (Project Zero Frameworks for Early Childhood Education, Vol.3), 1998
*4 Project Spectrum : Early Learning Activities (Project Zero Frameworks for Early Childhood Education, Vol 2) , 1998
*5 Catherine Garvey/ Takahashi Tamaki (1980) Go kono kōzō: kodomo no asobi no sekai. Sodachiyuku kodomo zerosai kara no kokoro to kōdō no sekai, Saiensu-sha