Universal Pre-Primary Education in Bangladesh
Overall Status of ECD (Early Childhood Development) Education
Bangladesh Multiple Indicator Cluster Survey 2009 reveals that about 23% children of 3-5 years enrolled in preschool in 2009. According to Annual School Census 2009, a total of 1,066,978 children are receiving pre-primary education (PPE) services in 2009 through different provisions. However it needs to be noted that this number does not cover the PPE services provided through ministries other than Ministry of Primary and Mass Education (MOPME) or through NGOs which are not providing services in collaboration with MOPME. There are other government organizations under different ministries other than MOPME as well as NGOs, private institutions are also providing pre-primary education but they vary in terms of objectives of education, methodology, teaching learning process, teacher's training, content of the lessons and school environment, etc. In terms of quality and standards, most of these services are unstructured, not maintaining a minimum standard and do not consider the developmentally appropriate pedagogy for the children.
To ensure the quality preschool education and coordinated efforts of service to age appropriate children, an 'operational framework for pre-primary education' was developed in collaboration with government and non-government organizations approved by 'Ministry of Primary and Mass Education' in 2008. 'Operational framework for pre-primary education' developed short-term and long-term plan for effective implementation of the pre-primary education program. To standardize the collaborative effort of the government and NGOs, a common curriculum for pre-primary education is planned to be developed by National Curriculum and Textbook Board (NCTB) with the support of related experts from both government and NGOs as NCTB is solely responsible for developing all types of curricula and textbooks from primary to higher secondary level of education. As curriculum development and Teaching Learning Material development are time consuming and rigorous work, before developing a standard common curriculum and teaching learning materials, NCTB is requested to develop an interim package including textbook, teachers' guide and other teaching learning materials (charts, exercise book, etc.) following the good materials and practices of different organizations.
NCTB with the support of experts from other government and non-government organizations developed an interim package which has been provided free of cost to all government primary schools (37,622 schools) in 2010. The rest of the primary schools like Registered Non-Government Primary Schools (RNGPS), community schools, experimental schools and approved NGO schools are also supplied with interim packages free of cost for pre-primary students in 2011, and these are about 25000 schools in number. A single teacher and headmaster from these schools are also provided with six days' comprehensive training for promoting and conducting ECD (Early Childhood Development) education in their school. But no extra teachers are appointed and no extra classrooms are built specifically for pre-primary students. Therefore, almost all the primary schools have introduced pre-primary education but facing enormous difficulties without adequate teacher and classroom in implementing ECD program in their school.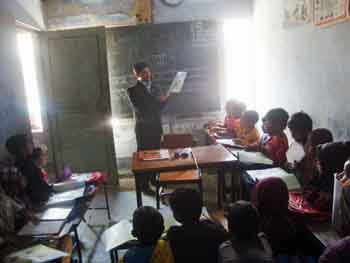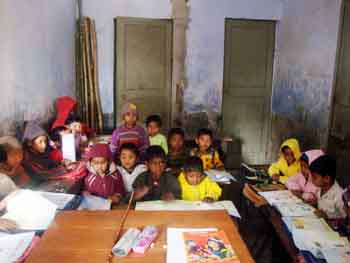 Rural govt primary school
Curriculum and Material Development for Universal Pre-primary Education:
The process which is followed to develop pre-primary curriculum is a model for public-private partnership or GO (government organization) or NGO (non-government organization) collaboration in Bangladesh. An expert committee was comprised of specialists from both GO and NGOs to conduct the whole process of curriculum development. Almost all of the curricula developed and practiced by different GO and NGOs in Bangladesh are reviewed along with curricula of 11 other countries from South Asia, East Asia, Africa, Europe and America before developing pre-primary curriculum. National Education Policy 2010, which explicitly and categorically emphasized introducing pre-primary education for children of age 5-6 years, was consulted. Noteworthy guidelines in respect of objectives, process, content, teaching learning activities were illustrated in the Education Policy 2010.
A competency based national pre-primary curriculum was developed and approved by the Ministry of Primary and Mass Education in June, 2011. Competencies have been set in such a way that these are developmentally appropriate, activity oriented, inquiry and problem solving based, creativity enticing, imagination and innovative idea encouraging. The core principles of the national curriculum for pre-primary education are defined as -
Child Centeredness
Children as Active Learners
Family Involvement
School as Responsive Social Institute
Inclusiveness
Local Culture, tradition and heritage based learning environment
Relationship among child, teacher, family and community
Immediate Environment (family environment, social environment, natural and physical environment where children grow up)
Environment Friendliness
Values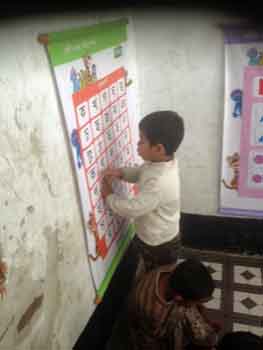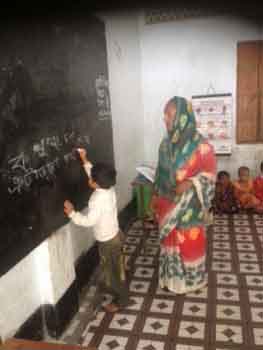 Suburban govt primary school
The national curriculum for pre-primary education also comprehensively addressed the following issues -
Teaching-learning process - Activity based, fun oriented, inquiry promoting and problem solving strategies are spelled out as learning experiences of the children where teacher would acted as a facilitator, and the classroom environment would be child friendly along with attractive teaching learning materials.
Assessment Strategy: Criterion Reference test would be the basis for assessment. Criteria are defined in the curriculum. There is no formal summative examination for the children. Assessment comprises of - (i) Assessment of achievement by the children based on the expected competencies, (ii) Assessment of learning environment and (iii) Assessment of curriculum, teaching learning materials, teaching-learning strategy and teaching-learning capacity.
Inclusiveness: four areas of inclusiveness have been separately addressed in the curriculum as (i) Gender (ii) Children in risky environment, (iii) Ethnic Children and (iv) Special needs children.
Stakeholders from both GO and NGOs have unanimously expressed their satisfaction with the newly developed pre-primary curriculum as most of the issues raised by different stakeholders are minutely addressed in the newly developed national pre-primary curriculum.
Based on the newly developed pre-primary curriculum, Teaching-Learning Materials (TLM) is in the process of development by National Curriculum and Textbook Board (NCTB). In Bangladesh, NCTB is the sole authority to develop curriculum and textbooks for the whole nation to bring uniformity in terms of quality and quantity of the materials and teaching learning experiences. With the support of relevant experts both from GO and NGOs, NCTB is now in the process of developing teaching learning materials for the children. NCTB is supposed to complete developing the materials for pre-primary education by 2013 so that these materials may be introduced from January 2014.
Way Forward:
Government has realized pre-primary education as the integral part of its education system. The interim package including a textbook, teachers' guide, alphabet charts, exercise book have already been distributed to all government, registered non-government, community and approved NGO primary schools at free of cost. Initial training pondering specially on pre-primary education has been provided to all relevant head teachers and class teachers for an initial start of pre-primary education in all primary school. All the primary schools have already started introducing pre-primary class with their own facilities using their premise and existing teacher.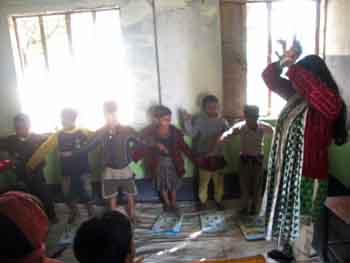 Suburban govt primary school
To build a robust pre-primary education system in Bangladesh, the following initiatives are taken into account under 'the Third Primary Education Development Program (PEDP3)' which is a five year sector wide program covering pre-primary to grade five education -
Teaching Learning Materials including 'National Pre-primary Curriculum', 'Student resource book', 'Student work book', Teachers' Guide, relevant charts, cards, illustration based story booklets etc. are supposed to be made available free of cost to all primary schools from January 2014;
Gradually, all the primary schools will be furnished with a new classroom for pre-primary class;
Every primary school will be provided with a new teacher for pre-primary class;
All the pre-primary class teachers along with the head teachers and all other officials related to pre-primary education will be bestowed with pre-primary curriculum dissemination training for quality implementation of ECD;
Pre-primary education module is integrating to 'Diploma in Education Curriculum' which is mandatory for all primary school teachers;
To ensure the access, equity and quality in pre-primary sector, 'Implementation plan of GO-NGO Collaboration Guideline for Universal PPE in Bangladesh' approved by MoPME is going to be materialized from 2013.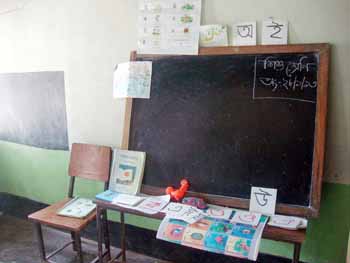 Suburban govt primary school
---
Reference:
Ministry of Education, 1974 "Qudrat-e-Khuda Education Commission Report"
Ministry of Education, 1988 "Mafizuddin Ahmed Education Commission Report"
Ministry of Education , 2010 " National education Policy 2010"
UNESCO, 1990, "World Declaration on EFA", Jomtien, Thailand
UNESCO, 2000, " The Dakar Framework for Action"
Rights of the Child (1989)
the Millennium Development Goals (2000), UN
National Children's Policy (1994), Ministry of Woman and Children Affairs, Government of Bangladesh
National Plan of Action for Children (2004-09), Ministry of Woman and Children Affairs, Government of Bangladesh
Education for All: National Plan of Action II (2003-2015), Ministry of Primary and Mass Education
Third Primary Education Development Program (PEDP3 2011-2016), Program Document, Directorate of Primary Education, Dhaka, Bangladesh
Bangladesh Multiple Indicator Cluster Survey (2009), Progotir Pathey 2009, Bangladesh Bureau of Statistics & UNICEF.
Annual School Census (2009), Directorate Primary Education, Dhaka, Bangladesh.
Operational Framework for Pre-primary Education (2008), Ministry of Primary and Mass Education, Dhaka, Bangladesh.