Universal Pre-Primary Education in Bangladesh
Background:
Early childhood care and education (ECCE) has become an increasing concern of the present world of education. Early childhood may be denoted as the duration of a child's life from conception to age of eight. This duration is very crucial for a person's life as this is the foundation of the physical, cognitive and emotional development of a person. Besides, most of the development in the brain takes place during this time. National and international bodies are showing greater awareness to ensure universal ECCE and steps forward with a lot of initiatives.
Early childhood education has been considered increasingly important since the independence of Bangladesh in 1971. Qudrat-e-Khuda education commission was the first education commission of Bangladesh formed in 1974 which recognized the importance of early childhood education and recommended its introduction in the country. Mafizuddin Ahmed education commission which was formed in 1988 also recommended introducing early childhood education in the form of a baby class attached to government primary school and also encouraged the establishment of kindergarten and nursery school. But none of these proposals was fully brought into action. The present government, in the very commencement of its tenure formed an education commission led by Honourable National Professor Kabir Chowdhury to prepare National Education Policy for the nation. Based on this commission's report, "National Education Policy 2010" has been announced. This policy categorically emphasizes introduction of pre-primary education: 'a one-year pre-primary schooling must be introduced for 5+ children. Later, this will be extended up to 4+ children'. As demand for and awareness of early childhood education has been increasing day by day, a number of institutions are also enhancing the ECD(Early Childhood Development) education they provide in the form of baby classes, nursery & kindergarten schools, play group, day care centers and religious preschools. Nonetheless, most of these institutions do not have an age appropriate curriculum or teaching learning materials and teaching learning environment at all.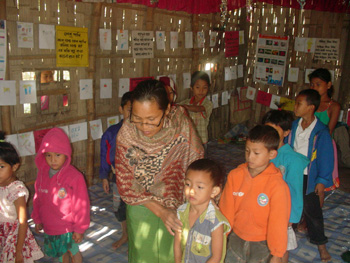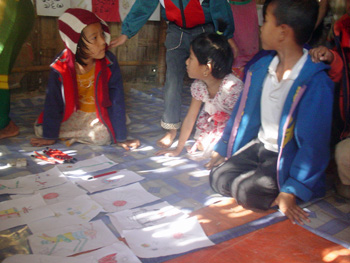 Pre-primary school at a rural village
National and International Pledges
As a part of a comprehensive approach to achieve Education for All (EFA), both the World Declaration on Education for All (Jomtien, 1990) and the Dakar Framework for Action (2000) have accentuated the importance of Early Childhood Care and Education (ECCE).
Besides EFA commitment, there are other international and national charters, policies or conventions which have been signed by the government of Bangladesh related to ECCE. These commitments relate to the U.N. Convention on the Rights of the Child (1989), the Convention on the Elimination of All Forms of Discrimination Against Women (1979) and the Millennium Development Goals (2000) adopted by the United Nations. ECCE is somehow implied in all these international documents in the form of child rights and responsibilities of state, international and national communities and the individual.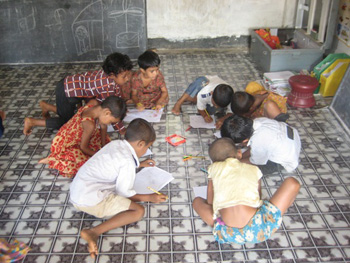 Pre-primary classes at government school run by a NGO
Bangladesh is a signatory country to all these international initiatives. Several national policies and programs have adopted the issues related to these international pledges. The major national policies and programs which have indicated strategies and actions related to pre-primary education formulated by government include the National Children's Policy (1994), The Poverty Reduction Strategy (2005-08), National Program of Action for Children (2004-09), Education for All: National Plan of Action II (2003-2015) and The Third Primary Education Development Program (PEDP3 2011-2016).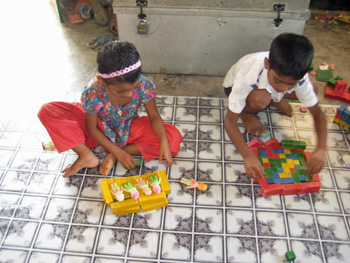 Pre-primary classes at government school run by a NGO
Government Initiatives:
Informal baby classes have existed for pre-school age children of less than 6 years along with government primary school from long ago*1. The major objective of operating baby classes in primary school is to acclimatize children with the school environment as most of the children in Bangladesh are first generation students*2. There is no possibility of introducing these children to any form of academic environment in their family or community life. This causes a huge number of dropouts as these children most often fail to progress with the class in grade-I with other students. In 1994 by a circular of 'Primary and Mass Education Division (PMED)' of government, government primary schools were encouraged to organize 'baby classes' in their premises. But, there were no provisions for employing full time teachers or providing a regular curriculum to support the initiative. Basically, baby classes are operated to accustom children to the school environment in lieu of orienting the children according to child development aspects.
There was also another initiative from PMED called 'the Integrated Non-formal Education Program (INFEP)' from 1991 to 1997 in which there was a provision for introducing ECD*3. A curriculum and teaching-learning materials were developed and about 63,000 children were facilitated in ECD activities by that program.
Other than Ministry of Education or PMED, organizations under Ministry of Women and Children's Affairs (MoWCA) like 'Bangladesh Shishu Academy' (BSA) launched the ECD project with financial and technical support from UNICEF and Plan Bangladesh during the period 2001-2005 to empower caregivers to create safe, secure, stimulating and enabling environments at home for age-appropriate nurturing of their children. The project succeeded in raising awareness among the key stakeholders of the importance of early childhood development and care. In response to the lessons learned in the ECD project, the Government of Bangladesh extended the project in the name of Early Learning for Child Development (ELCD) for the period 2006-2010 with a particular focus on early childhood interventions through the establishment of early learning centers. The project served about one million 3-5 year old children and their families in the disadvantaged areas during the project period.
Islamic foundation under 'Ministry of Religious Affairs' operates a project named 'Mosques based child and Mass literacy Program' where this organization runs about 20,000 pre-primary centers. This center's main aim is to teach religious issues along with some literacy education. Therefore, how much of this initiative may be defined as developmentally appropriate for the child is a big question.
The National Education Policy introduced in 2010 stipulates the gradual introduction of one year of pre-school for 5-6 year olds, which has also been incorporated under the scope of PEDP3.
Efforts of Non Government Organizations (NGO):
There are many private and non-government organizations working on early childhood education. About 20,000 kindergarten schools are serving ECD for children of age 3+ which are basically run privately (DPE 2008). Almost all the kindergarten schools do not follow a specific curriculum and the academic activities which are practiced in the kindergarten are basically rote learning activities. These are not considered as developmentally appropriate pedagogy and learning experience for the children of that age.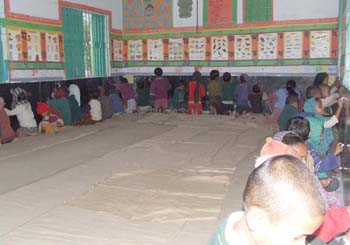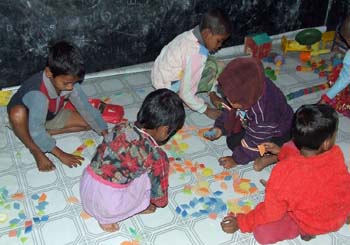 Pre-primary classes at government school run by a NGO
In Bangladesh, Early childhood development initiatives gained momentum from the late nineties as NGOs and developing partners became involved in providing ECD education. Save the Children, GSS, BRAC, VERC, PLAN Bangladesh, Dhaka Ahsania Mission (DAM), FIVDB are the major NGOs which provided ECD education. Other than these NGOs, there are many other local and small scale national NGOs which are also providing pre-primary education in different corners of the country. As there is a growing demand for formal early education, many private organizations, NGOs and the government are initiating more and more programs to enhance the delivery of ECD education. As the number of organizations is increasing, there is a growing demand for establishing a coordinating organization with the purpose of being a forum for sharing information and experiences, increasing cooperation and building capacity of stakeholders regarding Early Childhood Care and Development. In response to the need, a network of government, non-government, UN and donor agencies named as 'Bangladesh ECD Network (BEN)' was formed in 2005 to promote ECD in Bangladesh. ECD Resource Centre at IED, BRAC University has been the Secretariat of BEN since its inception. About 200 different types of service providers from government, non government and international institutions are enrolled with BEN.
---
*1 Most of the children in baby classes were between 5-6 years of age.
*2 First generation student here refers to a child who is the first person of that family to attend school and receive a formal education.
*3 INFEP were conducted in non-formal settings.
---
Reference:
Ministry of Education, 1974 "Qudrat-e-Khuda Education Commission Report"
Ministry of Education, 1988 "Mafizuddin Ahmed Education Commission Report"
Ministry of Education , 2010 " National education Policy 2010"
UNESCO, 1990, "World Declaration on EFA", Jomtien, Thailand
UNESCO, 2000, " The Dakar Framework for Action"
National Children's Policy (1994), Ministry of Woman and Children Affairs, Government of Bangladesh
National Plan of Action for Children (2004-09), Ministry of Woman and Children Affairs, Government of Bangladesh
Education for All: National Plan of Action II (2003-2015), Ministry of Primary and Mass Education
Third Primary Education Development Program (PEDP3 2011-2016), Program Document, Directorate of Primary Education, Dhaka, Bangladesh
Bangladesh Multiple Indicator Cluster Survey (2009), Progotir Pathey 2009, Bangladesh Bureau of Statistics & UNICEF.
Annual School Census (2009), Directorate Primary Education, Dhaka, Bangladesh.
Operational Framework for Pre-primary Education (2008), Ministry of Primary and Mass Education, Dhaka, Bangladesh.