A difficulty against Idea of Animals in our Lives

Compared to Western countries where people have learned how to live with dogs so much better than some other countries, life in Japan lags behind in this respect. That might be due to historical differences between hunting people and an agricultural people. For instance, based on the situation in pet shops and/or health centers, we know that, about 160,000 dogs and 240,000 cats are put to sleep every year.
For a school to have a dog, it is important to have raised the status of dogs and ensure people understand dogs as clever animals, not as unsanitary animals or ones that might attack people. In other words, it was necessary to overcome the conventional idea of animals and their place in our lives.
For all that, when trying to raise the status of dogs, I did not, however, follow my own ideas, but took the advice of dog experts and veterinarians. Not only have dog experts and doctors detected the cause of allergies, but they also know how to take good care of the dogs and dispense medicine. Preventing the dogs coming into contact with saliva, the main cause of allergies, has helped the dogs, as well as feeding them healthy and nutritious food.
However, professionals try to keep from giving the dog too much care, so the help of veterinarians, dog trainers, and such professionals is very valuable in making the lives of dogs more natural and also in preventing health problems.
Having a Dog in Class

The goal of having Buddy in class was also meant to send a message to the education system that it is natural to have a dog in class. Students have often raised and fed rabbits, chickens, and other animals, which are housed outside separately instead of in the classroom. Students were often asked to volunteer to feed the animals and clean the animal houses outside in shifts. Without supervision by teachers and adults, the students did not seem to be able to have fun caring for the animals outside or to form good relationships with them.
Dogs, however, are easier to communicate with and they have a presence that other animals don't have. It was also thought that dogs in the school could improve animal education overall. Well-trained dogs could possibly stay in the classroom close to the students. Nevertheless, this also made people wonder if a dog in the classroom wouldn't distract the students. Would students be able to focus in class? What should one do what if the dog barks loud? Other negative views were voiced, but these concerns did not become problems as first expected.
The classroom with a dog has been visited by many education professionals, who felt it was surprisingly comfortable. The students remained focused while Buddy rested in his bed in the back of the class, some good distance from the students. Buddy has become a large presence in the classroom as children found that that dogs have a keen sense of smell, and hear very well, too, so all know that loud noise can greatly disturb the dog and cause stress. Also, the dog's presence makes the students feel safe in the classroom at the same time. Buddy comes to school every day and the students know that, so they are also aware that any disruption can cause problems.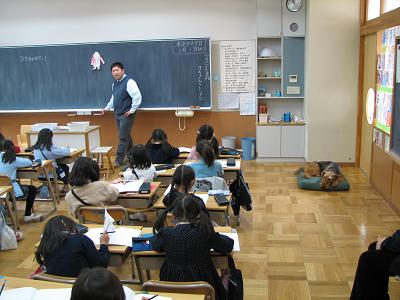 Having a dog in class does not cause students to become distracted. On the contrary, the warmth of an animal creates a sense of security and has a relaxing effect that actually increases concentration in class.
One first grader drew a picture of a scary dog that resembled an angry gray wolf. I asked the student the reason and found out that the student was very frightened of dogs after having been chased by a dog in the past. After Buddy arrived in the classroom, however, the student's drawings turned into soft and beautifully colored images. Buddy had changed the child, and that difference was shown in the drawings. I detected a big difference between the image before Buddy came to class and the image after.
Having a dog in the classroom has dramatically changed the children's feelings towards living things in a positive way, and the dog has become a special friend of the students in the classroom.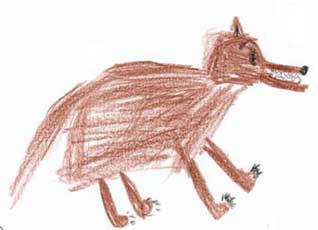 ¡¡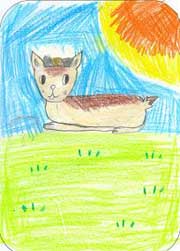 In the Animal Assisted Education program, the dogs do not come to school to participate in special events, but become a natural presence in the classroom where they spend time with students every day. Naturally, it's becoming normal to see dogs walking in the hallways in the buildings, and that is the key to making this program even more effective.
Activity of "Buddy Walkers"

Thirty children or more in grade six formed a volunteer group, which they called the Buddy Walkers, in order to help Buddy feel a part of school life. The Buddy Walkers take turns feeding, cleaning Buddy's room, walking Buddy during recess and breaks, training and so on every day.
Among the activities of the Buddy Walkers, visits by Buddy and children to welfare facilities such as rest homes for the elderly have an especially high educational effect. Children visit these facilities with Buddy and communicate with the elderly there. Although Buddy is just there and does not perform or do anything, Buddy's presence contributes to the lively conversation. Buddy's presence also motivates the children to participate in such volunteer activities. He also mediates communication with the elderly whom the children are meeting for the first time.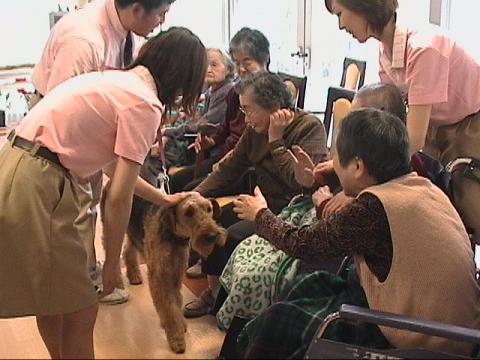 Increasing Children's Motivation

Having Buddy as a part of the class has also had an effect on security and relaxation in places besides school. While camping in Karuizawa in summer, an environment different from Tokyo, a child in the fourth grade became homesick. At the night, she had a light fit of asthma and her tears would not stop. Talking did not make her feel better, so I took her to Buddy and had her feed Buddy a snack and play ball with Buddy. Her asthma gradually settled down and she became calm while playing. I think this might have had also something to do with her liking dogs. During the four-day camp, she was able to overcome homesickness by glancing at or interacting with Buddy when feeling anxious. Moreover, Buddy contributes to motivating children to try something new or different such as participating in school events and school trips.
"Today I looked at the school website with my mother and my sister because my sister wanted to see Buddy. After looking that Buddy's page, we came across a drawing that I had sketched and a composition that I had written, which surprised me. At night, my father printed the page out while I was sleeping. Seeing the paper makes me want to draw in a much better way. And it makes me feel full of love for Buddy even more. Next time I would like to draw Buddy more and her puppies, too, and give the drawings to her. (T.M., Grade 2)
The above is a diary entry of a student in the second grade. I included one of drawings that student sketched of Buddy during class. It shows her love for Buddy and delightful surprise that her pieces were picked. It even tells us of her desire to draw better in order to give a drawing to Buddy. This is just any other day, like any other, but the Buddy's presence has heightened the children's motivation to learn or try something new.
School is fun because Buddy is there. I want to go to school because Buddy is there. I want to try some volunteering activities because Buddy is there. The school dog has become a source of power for the children.