The Media Environment of Young Children
The current environment surrounding children includes electronic media such as television, videos, video games, and personal computers. Some products for young children may not be suitable for their development. We should consider about the media that support the development of young children carefully.
Media as a Communication Medium
Face-to-face dialogue is important during early childhood. Therefore the media should prompt that kind of dialogue.
Early childhood is said to be an important developmental stage in which "triadic relations" are formed. A "triadic relation" is, for example, when a parent and the child view the same object together and share their feelings about it. Through playing with toys and reading picture books and forming a "triad relationship," the parent and child develop dialogue and this aids the child's developmental process. Toys and picture books will change together with the times and new media will appear with the progress of technology. By making good use of the interactive nature of computers, we realize the possibility of a new form of communication that is different to the picture books or toys that we are familiar with today.
The author examines the use of media for this possibility and introduces our activities in this paper.
Development Research in Digital Story-telling
Previous studies have been done with a focus on how to improve the narrative skills of young children. Narrative (narrative production) in early childhood is the process of creating one's own world with what one has actually experienced or indirectly experienced through television, videos and listening to stories. It is an important activity not only for linguistic development but is also related to semantic signification of the self.
I developed two kinds of software. In one of the software, a parent and child create a story together on tablet PC*1. The other is an online community site where this activity can be recorded and shared in real time*2. The former is software that aims to foster the child's story-telling and the latter aims to improve the parents' encouragement skills in order to foster the child's narrative skills.
The details of each are as below.
"PeKay's Adventures"
In this study, software was developed with the aim of supporting narrative production that begins to actively develop in children from around the age of 5 and a half years. It aims to stimulate narrative production in young children, increase speech variety and assist contextual integration. The forms of support were derived from findings of previous studies on the development of narrative production in young children and studies on narrative production support, and then incorporated as system functions.
The software "PeKay's Adventures" is based on the above concept. It consists of three situations or scenes: Prologue, Development, and Solution. In Prologue, the parent reads aloud to the child, relating a problem that must be solved by the protagonist (Picture 1-a). In Development and Solution, the child can proactively create his or her own story (Picture 1-b). The child does this by operating the buttons while viewing the screen. The buttons can change the facial expression of the characters in the story as well as control the movements of the characters and the settings of the scene.
To examine the effect of this software, we conducted a comparative experiment with 5 year olds using a story-telling activity utilizing paper crafts. The results showed that using software functions for narrative production stimulated speech output and increased its variety. In particular, through the function of adding character expressions, an increase was seen in speech related to the emotions of the characters, which is considered difficult to achieve during the early stages of child development. Also, improved integration of the context of the story made it easier for the listener to understand the story as well.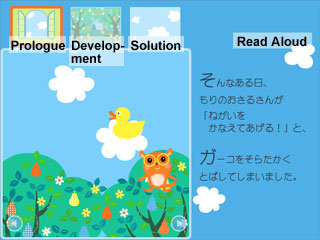 Picture 1-a "PeKay's Adventures" Prologue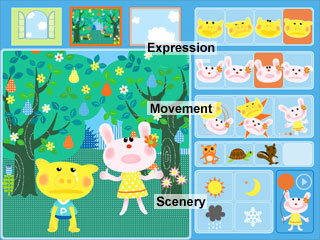 Picture 1-b "PeKay's Adventures" Development/Solution
"Oyako de Monogatari"
This study focuses on the role of the parent in the child's story production. In previous studies regarding acquisition of narrative skills, there were parents who verbally encouraged the child to elicit details of his or her story and those who did not. Studies have shown that difference in this behavior of the parent influences the development of the child's narrative skills and also how they think. This system, "Oyako de Monogatari", which supports and improves the parent's ability to elicit details and promote narrative skills in their child, was created for this reason. Verbal encouragement to elicit more details in the child's story-telling includes constraint-free questions and prompts such as "What happened then?", "What did they do?", questions and prompts to obtain specific contextual information (5W1H), reactions such as "yes/and?/tell me more" and also repeating what the child said. In previous studies, Yes/No questions were classified as questions that would stop children from proactively telling their story.
"Oyako de Monogatari" is a web application and can be used on the internet at home to create stories. The process of parent and child creating a story is recorded on camera (Picture 2-b) and the parent can watch the video and look back on their behavior (Picture 2-c). At the same time, parents can share the video with other parents and children (Picture 2-d). This "on-line workshop" system allows parents to learn through the above activities.
Twenty-seven parent-child pairs participated in an evaluation experiment to study effectiveness. By reflecting on oneself on video and observing others, parents improved the verbal encouragement skills that elicit details of narration from their child. In particular, responses such as "yes/and?/ tell me more" and repeating the child's output were significantly elevated. Mothers whose skills of elicitation especially improved showed a tendency to not only look back on their performance and take into account good points from other parents, but also establish objectives for themselves each time.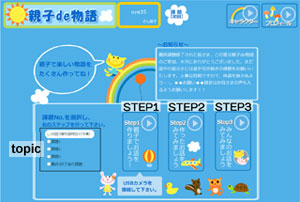 (a) "Oyako de Monogatari" top screen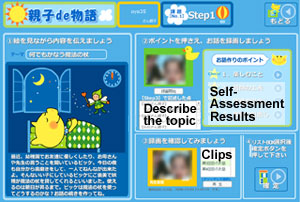 (b) Step 1 story creation screen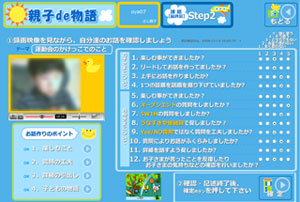 (c) Step 2 story evaluation (absolute standard) screen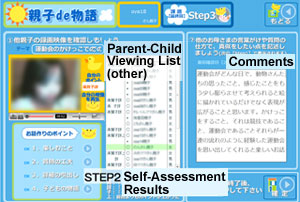 (d) Step 3 story evaluation (relative standard) screen
Picture 2 "Oyako de Monogatari" screen structure
The Future of the Media Environment
This paper has introduced two developmental studies on support of children's activities using computer media. These studies make consideration that a child does not use the computer alone and value that media encourage face-to-face dialogue between parent and child. Through the interactive elements of computer media and on-line community functions, dialogue that did not occur when reading a picture book is enabled. Furthermore, for parents who do not feel comfortable communicating with their child or who have difficulty securing time to communicate, this kind of media environment can also support them in starting and maintaining a dialogue.
The above demonstrates that using technology appropriately with child development in mind will make for a better media environment. Technology will progress more than ever. It is necessary to continue to examine a valid way of using media technology from the point of view of aiming to enrich the environment of the child.
---
*1 Tomomi Sato (2008), "Development of Software that Supports Young Children's Narrative Productions", CiNii Articles, Vol. 32, No1, pp. 33-42.
*2 Tomomi Sato (2009), "Development of the System which Supports Parental Styles in Eliciting Narratives from their Children", CiNii Articles, Vol. 33, No3, pp. 239-249.
---
The contents of PeKay have been provided from Tamie Asakura (
Good Grief!
)