1. Outline of Cafesta
Cafesta
is a portal site that boasts an enormous membership of over 14.4 million. Free and open to anyone, membership is diverse, ranging from elementary and junior high school students to parents and adults in their thirties and forties. Once you sign up, you are given an
avatar
and your own site (MyHP). The
avatar
becomes your alter ego in Cyberspace and
MyHP
is a site equipped with a diary and bulletin board. The members can change the image of their
avatar
, create and edit
MyHP
, visit and post messages on other members'
MyHP
and communicate with other members through a chat line, instant messaging and group activities.
2. Registration
Generally, registration on the Internet requires a mail address and this applies to the
Cafesta
, too. Registration on
Cafesta
is completed with the input of ID and mail address. The members use a nickname instead of an ID.
3. Avatar
| | |
| --- | --- |
| Soon after registration you are given an avatar. Displayed while the member performs activities on the site, the avatar functions to introduce the member and enable self-expression. Avatars are divided by gender. At first, male and female avatars have little difference between them, with a simple hair style, T-shirt and jeans, but members can arrange their appearance by buying items like hair style, clothes, props and adding backgrounds. Exchanging items among members or introducing an avatar to other members is also encouraged. Avatars are able to take on six facial expressions: usual, laughing, crying, frustrated, angry, or worried. Members can change these expressions according to their mood at the time. | Figure1: Avatar |
4. Communication
With registration, members receive his/her own site,
MyHP
, in addition to an
avatar
. They can then join or form their own club with others who share common interests. Members can also use the site's other functions that promote communication: the chat line, BBS and instant messaging.
5-1. MyHP
MyHP
is equipped with numerous functions such as a top page, profile, diary, BBS, photo album,
My menu
(favorite pursuit item), access counter and
trace
.
Members can write everyday events in the diary and post articles on personal hobbies or interests (music, cooking recipes, book reviews and so on) on
My menu
. In BBS, members can have one-on-one conversations. The contents of each category are easily edited so that members can make his/her site original. Backgrounds are also changeable. Visitors to
MyHP
can both post comments on the articles and recommend articles to other members.
Trace
automatically records visitors'
avatars
.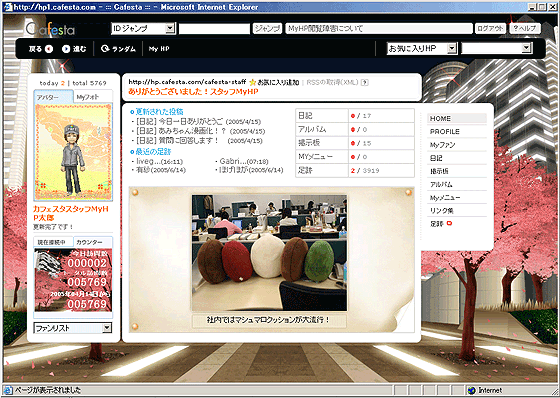 Figure2: MyHP
On
MyHP
, individual members basically communicate privately. This communication is symmetric and two-way (fig. 3). It is rather common for more than one member to post comments on an article however, even in this case one-on-one discussions proceeds in parallel with other one-on-one discussions on the same article.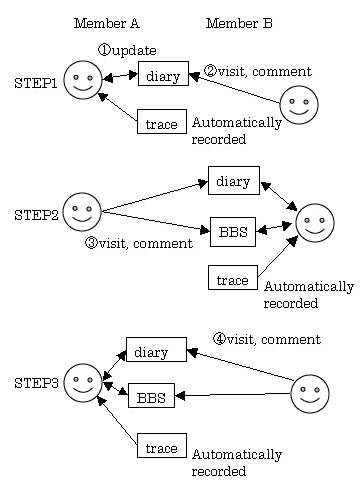 STEP1
Member A updates the diary on his/her
MyHP
. Visitor B reads the diary and posts comments, which are recorded automatically on
Trace
.
STEP2
Member A visits member B's
MyHP
by retracing in reverse order and posts comments on his/her diary or BBS. A's visit is also recorded automatically on
Trace
.
STEP3
Discussions develop through ongoing mutual visits and posted comments.
Figure3: Communication on MyHP
MyHP
has features that allow the date to be specified like a diary, for example, and other different communication formats. Although all features function similar to a BBS, due to the daily changing nature of the diary, the most recent article in the diary is highlighted and topics constantly change as it is updated. If members want to continue to discuss topics, articles are often posted with a future date. The content with a future date is placed at the top of the diary, which encourages visitors to read and post their comments, making discussion more active for a longer time.
Other features emphasize content over the posted date.
My menu
enables members to write articles on a specific theme and visitors can post comments on each article. BBS communication is the most appropriate when members want to discuss a topic not in the diary or prefer one-on-one communication. However, since newly threaded messages push previous message toward the back, these functions do not necessarily promote continued conversation.
Members can earn
Cafesta points
by visiting other
MyHPs
and posting comments. By saving a certain number of these points, members can receive a gift coupon that can be exchanged for items. Mutual visits and posting comments are not only a way to deepen exchange with other members but also a way to get
Cafesta points
for participating in these activities.
5-2. Circles
Circle
is a feature that allows members to participate in group activities on
Cafesta
. Members who share common interests can use a warehouse that stores images, a conference room, questionnaire and so forth. Those functions are not available on
MyHP
. Based on a membership system, members are classified as "owner," "vice-owner," "honorary member," "general member," "associate member," etc. Members can then limit the number of other members who can browse specific contents to a particular membership category. Owners have the authority to prescribe an age limit and expel members. In comparison with one-on-one communication on
MyHP
,
Circle
enables multiple communication with many members.
5-3. Chat and instant messaging
Chat
and
instant messaging are
real-time communication tools that are different from the diary and BBS where communication proceeds at irregular intervals.
Chat
is divided into two types, one-on-one communication and discussion with more than two members. Since
Chat
is held in segregated place-the chat room-it tends toward closed-door, small-group discussion compared with the diary and BBS. Members also vary in their attitudes about using it. Although
instant messaging
has a similar function to
chat
, it enables group conversation since members can chose conversation partners in advance.
6. Conclusion
Cafesta
is a portal site where members have one-on-one non-real-time communication by using
MyHP
, non-real-time communication of more than two members using
Circle
and real-time communication with one or several members on
Chat
.
Avatar
, which play an important role as the member's double, have many items and members can change them to create their ideal
avatar
. Members can chose the most suitable communication function from the diary, BBS,
My menu
and so on according to topics' characteristic.
Cafesta points
are given in proportion to the frequency of members' activities, which enables them to buy items to improve
avatars
and
MyHP
. Acquisition of these points and the number of visitors to
MyHP
and the comments encourage members to enhance communication among themselves.