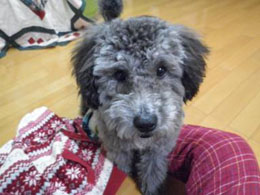 Hello!
My name is Marble.
I am 7 months old (about the age of an elementary school kid).
I am a silver toy poodle, and my family is all silver.
Today, I will introduce a typical day in my life!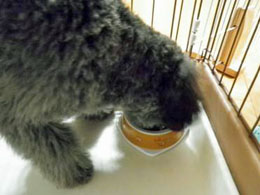 When I wake up, my owner gives me breakfast.
I am always hungry, so I jump around to get food.
However, my owner wants me to be patient, so I will sit and wait patiently.
My owner will be happy to see me being patient and give me food.
Very delicious!!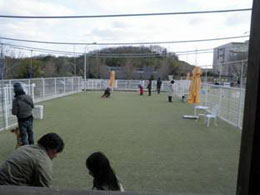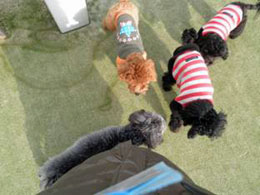 After I finish my breakfast, I go to a place where my friends are.
It is called a "dog run".
There is a place for small dogs and a place for big dogs.
I am very scared to play with big dogs, so I play with small dogs.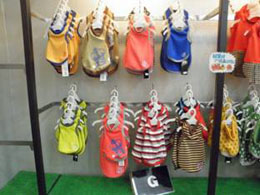 After I play with my friends, I go clothes shopping!
Most of the clothes are for girls, but some of them are for boys.
(I heard my owner wants me to dress up in girl's clothes. NEVER!!)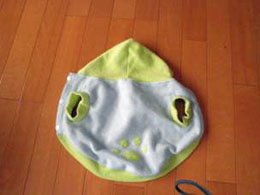 My owner bought me this.
Hmm...
I want cool clothes!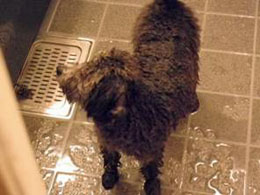 I am taking a bath.
I don't like water, but my owner says that I have to be clean to be a handsome dog.
Yet, once I am taking a bath, it feels like sleeping.
However, I hate drying my hair.
The hair dryer is too loud, and sometimes my owner puts the hair dryer too close.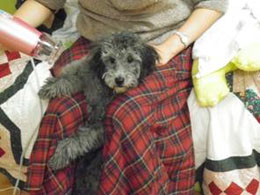 I love to eat delicious food and play with my friends.
However, I especially love to be with my owner.
My job is to make my owner smile when she is tired!
.
Child Research Net would like to thank the Doshisha International Junior/Senior High School, Haruka Fukunaga, student and author, for permitting reproduction of this article on the CRN web site.