[Hong-Kong] Child Support System in Hong Kong and the Implementation of a Comprehensive Pre-Primary Education

Implementing the Pre-primary Education Voucher Scheme
Pre-primary education in Hong Kong is entirely in the hands of independent organizations and is under the laws of market competition. Tuition fees and institutional size vary greatly among institutions. Just, for example, let's see the comparison of two kindergartens: Yew Chung International School of Hong Kong's (YCIS Hong Kong) Threes and Fours Programme, founded by a single individual in 1932, and St. Anthony's Anglo-Chinese Pre-School & Kindergarten, founded in 1965 in Hong Kong Island Central. YCIS Hong Kong has only morning classes and full-day classes. In the 11-month-long academic year, tuition fees for the morning class is HK$35,574 (≈ ¥366,000) and the full-day class is double that. On the other hand, St. Anthony's Anglo-Chinese Pre-School & Kindergarten has morning, afternoon, and full-day classes. For the 12-month calendar, the morning classes cost HK$15,048 (≈ ¥154,800), afternoon classes are HK$13,920 (≈ ¥143,200), and even the full-day classes are HK$31,920 (≈ ¥326,390). If one looked at full-day care, the former example will cost an annual (11 months) ¥720,000 and the latter (12 months) less than half of that. Although the former has "international" in the school name, both institutions are schools for Hong Kong children and are early childhood programmes of distinguished schools.
As explained in the first half, in households with small children it is not uncommon to hire foreign maids. There is little difference in costs between enrolling the children in a pre-primary school and hiring a maid. A high percentage of households choose to raise their children in the house while very young, but in the 1-2 years before starting primary school over 90 percent of households send them to kindergarten. To allow all children to start primary school on equal footing, the Pre-primary Education Voucher Scheme was started in 2007, aimed to provide pre-primary services to all children scheduled to enter primary school. On top of 9 years of mandatory education, the three years of upper secondary education was made free at public schools in the following year. This can be seen as Hong Kong's response to the world-wide movement of "sustainable education" and "starting strong."
There are some important elements to the Pre-primary Education Voucher Scheme:

(1) While there are no income limits, it is necessary to go through an application process, which incurs a small fee.
(2) The Pre-primary Education Voucher Scheme is not limited to Hong Kong citizens (Hong Kong Permanent Residency Status holders) but is also available to parents and legal guardians of all children of the appropriate age living legally in Hong Kong.
(3) Vouchers are applicable to kindergartens offering local curriculum.
(4) Institutions participating in the Voucher Scheme are subject to conditions such as an upper limit to their tuition fees.
As (2) includes all foreign residents, guidelines and application papers are provided in multiple languages. (3) excludes schools running under foreign curricula. In the former example of YCIS Hong Kong the school has a British-based curriculum and thus cannot participate in the Voucher Scheme. (4) also automatically excludes kindergartens with high tuition fees. Some kindergartens chose not to participate to avoid government regulations (refer to Hong Kong's Education and Government Regulations section below), even if they do use the Hong Kong curriculum. It can be said that the government provides aid where necessary while still leaving room for free will for both the kindergartens and the parents.
The distribution of kindergartens under the Pre-primary Education Voucher Scheme is uneven among regions. In Kowloon City District, which includes the highly competitive Kowloon Tong area, the ratio of participating and non-participating kindergartens is roughly equal, while in other districts the ratio ranges from 2:1 to 3:1. Currently vouchers are worth HK$16,800 (≈ ¥172,800) and are available from K1 to K3 for a period of three years at the longest. When parents submit their vouchers to participant schools, the value of the voucher is subtracted from the tuition fee. The remaining difference is charged to the parents as their tuition fee. In the example of St. Anthony's Anglo-Chinese Pre-School & Kindergarten mentioned above, tuition fees are lower than what the voucher covers and children will be able to attend a half-day class for three years with no charge. In Hong Kong, school districts system applies only to public primary schools and above and thus parents are able to choose freely among kindergartens regardless of region.

Kindergartens and nurseries in independent buildings are often surrounded on all sides by a high wall. Banners advertising the establishment are hung from the wall especially in recruiting seasons. However, many establishments are located in small rented spaces in commercial or residential buildings and do not have a yard, or if they do, have only a rooftop.
Child Care Support for Low Income Households
Other than the Pre-primary Education Voucher Scheme, there is also the Kindergarten and Child Care Centre Fee Remission Scheme (KCFRS), another education support system which has a strict income-review board. KCFRS is a tuition fee reduction/exemption measure that one can apply for if the voucher is not enough to cover tuition fees. (Vouchers were raised to HK$16,800(≈ ¥172,800) from HK$16,000 (≈ ¥164,600) starting from the 2012/13 academic year.) The tuition aid differs between half-day and full-day classes and is issued separately from the vouchers. Currently, in 2012, the maximum aid is HK$19,500 (≈ ¥200,580) for half-day classes and HK$31,500 (≈ ¥324,000) for full-day classes. School lunch aid is also issued at HK$420/month (≈ ¥4,320/month). Hong Kong's tuition aid is issued directly to the establishment and parents do not receive cash directly. Any fees left uncovered are charged to the parents.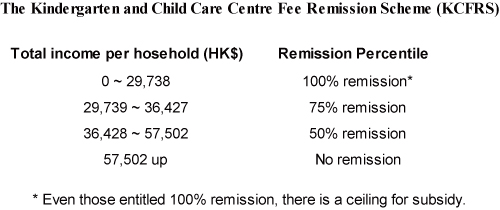 To be eligible for KCFRS every source of income for the household including the incomes of siblings and grandparents' pensions must be totaled and declared, and pass an income review.
Hong Kong's Education and Government Regulations
As stressed above, Hong Kong's pre-primary education is completely run by private hands. It wasn't until former Governor of Hong Kong Lord Chris Patten's administration (1992-1997, the last Governor before the return to China) that the government began to take a more active interest in regulating pre-primary education. Beginning with subsidies for non-profit establishment, a budget for training pre-primary teachers was secured for the first time. Before regulations it was possible to work at pre-primary institutions after finishing lower secondary education but the education reform started requiring teachers in pre-primary institutions to be certified. Educational reform aimed to raise educational standards continued after Hong Kong's return to China with increasing subsidies and in-service staff training opportunities. Currently the aim is to have all teachers in pre-primary institutions certified at least.
Public disclosure of information is progressing with the implementation of the Pre-primary Education Voucher Scheme. In addition to tuition fees, available classes, curriculum, and educational policy, accessible information now includes teacher/staff credentials and the ratio of certified teachers, the range of salaries of the principal and teachers/caretakers, and length of service in the institution. However, some institutions such as expensive schools that already advertise themselves as having high standards and international schools' kindergarten sections choose not to provide information for the government's public disclosure, perhaps because they are not included in the Voucher Scheme. Subsidies are provided for in-service training for teachers, which highlights the government's efforts to somehow regulate the completely private pre-primary education. If the operating standards of participating institutions are deemed lower than the government's specifications then the institution will not be able to participate in the Voucher Scheme in the following year, which encourages the conservation and improvement of educational standards. On the parents' side it means that they can anticipate a certain level of education from participating schools.
The Hong Kong Special Administrative Region of the People's Republic of China is aiming to build up an educational system of high standards while catering to the various needs of Hong Kong residents, such as allowing Hong Kong natives to receive education other than the local curriculum. Public education is provided at no cost, and those who want foreign education are free to do so at their own cost. To secure a strong public school system it is best to bring up all schools up to a level set by the government. In a situation where the educational language is Cantonese and children start learning Standard Mandarin Chinese and English as subjects in primary school, the pre-primary model of "learn through play" may not be enough and preparation for study in primary school necessary in the pre-primary stage. The Hong Kong style of childcare support, where whether the necessary support is given to those in need is used as the benchmark, has many aspects Japan can learn from.
---
This article is based on the presentation given at one of the 5th "Child-Study Lecture Series" organized by Shiraume Gakuen University on 21st of January, 2012 entitled 'Language Policy in Hong Kong after Its Return to China - English education in pre-primary.' The content has been revised and specially written for this website.
---
References:

The Government of the Hong Kong Special Administrative Region: Education Bureau http://www.edb.gov.hk
The Government of the Hong Kong Special Administrative Region: GovHK http://www.gov.hk/sc/residents (site for Hong Kong residents)
Ichimi, M. et al, (2006). "Current Status and Issues in Early Education in East Asia" Final Report, JSPS Grant-in-Aid for Scientific Research [Scientific Research B].
Nishimura, F. (2012). "The Preschool Education Voucher Scheme in Hong Kong: Pursuing Equity for Children," Wako University: Bulletin of the Faculty of Human Studies, No.5, (March).
Aruga, K., Mizuno, K., and Yamada, M. (2006). "The Child Care Support of Hong Kong," Studies in Humanities and Cultures Nagoya city University, No.6.
Naruhodo Atlas 2012 World, Shobunsha
Hong Kong Education Commission (September, 2009) "Learning for Life Learning through Life - Reform Proposals for Education System in Hong Kong."