[Hong-Kong] Child Support System in Hong Kong and the Implementation of a Comprehensive Pre-Primary Education

Background
June 2012 marked the 15th anniversary of Hong Kong's return to China from the United Kingdom. The terms of the return included a 50-year period of "One Country, Two Systems," where Hong Kong has an independent political system and a high degree of autonomy in all matters except foreign relations and national defence. Regarding the education system, educational reform began in the year after the return with the Mother Tongue Education Policy and is progressing slowly but surely through many aspects of education from pre-primary to tertiary education. On top of the Cantonese spoken locally and in schools, Mandarin Chinese was added and the integration with Mainland China seems to be moving quickly. Hong Kong's birth rate is expected to drop below 1 down to 0.99 (UN2005-2010 estimates)*1 and it has become the area with the lowest birth rate in the world. The number suggests a rapidly aging population, but in reality the younger age groups have not shrunk. The workforce of 20~60-year-olds has remained at a steady level since the peak of the early 1950s.
According to the 2011 Population Census, the population of 0-4 year-olds has increased slightly more than that of 5-9 year-olds (Hong Kong Population Census 2011). One reason for this is that the number of babies born to Chinese women in Hong Kong is growing at a rate to overtake the number of babies born to Hong Kong women. Although Hong Kong was officially returned to China, a border still exists between the mainland and Hong Kong and Chinese citizens cannot cross to Hong Kong freely. However, babies born in Hong Kong are automatically issued a Hong Kong permanent ID and are granted the right to live and be educated there, regardless of whether their mothers entered from the mainland illegally. This does not mean that parents without permanent residency status are allowed to live in Hong Kong without repercussions, but 90% of mothers from the mainland who gave birth in Hong Kong wish to let their child continue living in Hong Kong.*2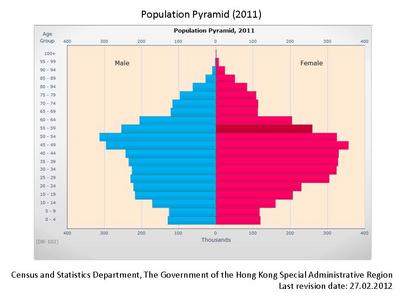 Enlarge
In the 150 years of English rule, an educational system unique to Hong Kong took shape. The colonial government did not promote local education and most schools within the mandatory education level (primary, secondary) were founded by voluntary groups. Even now the government runs only a fraction of all the schools in Hong Kong. To make up for the lack of publicly funded education, the government provides subsidies to privately run schools to cover operating fees, allowing them to function as public schools. Below mandatory education, in reality all pre-primary institutions such as kindergartens and preschools are left in the hands of the private sector.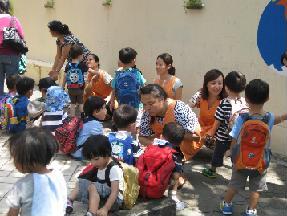 Relatively new preschool institution
Harmonisation of Pre-Primary Services
Similar to Japan, in Hong Kong child-care centres and kindergartens are under the vertically-segmented administrative system, but the reform proposal, "Learning for Life Learning through Life - Reform Proposals for Education System in Hong Kong" published in 2000 recommended the harmonisation of pre-primary services. (This harmonisation of pre-primary services has a different background from the unification of the kindergarten and nursery school systems seen in Japan.)*3 In 2004 age divisions for child-care centres (0-3 year olds) and kindergartens (3-6 year olds) were made clear. In September 2005 a new form of pre-primary service began; the Kindergarten-cum-Child-Care Centre, where the services of child-care centres and kindergartens are incorporated into one establishment for 0-6 year olds. However, in actuality there are very few joint institutions for 0-6 year olds. Most schools simply add extra classes for 2-3 year olds below the 3 years of kindergarten education.
Table 1: Pre-primary Schools in Hong Kong
| Establishment | Age Group | Classes operated | Governing Agency and Related Legislations |
| --- | --- | --- | --- |
| Kindergarten | 3−6 year olds | K1, K2, K3 | Education Bureau, Education Act |
| Kindergarten-cum-Childcare Centre | 2−6 year olds | Pre-K, K1, K2, K3 | Various offices under the control of the Education Bureau, 3 years old and over are covered by the Education Ordinance, under 3 years old are covered by the Preschool Education Ordinance |
| Childcare Centre-cum-Nursery | 0−3 year olds | | Social Welfare Department, Child Care Services Ordinance |
| Centre for Temporary services | 0−6 year olds | | Social Welfare Department |
Replicated from Mariko Ichimi (2006) with permission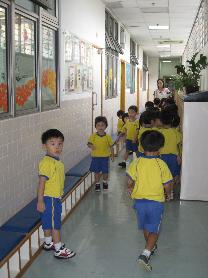 Many kindergartens have T-shirts and shorts as a uniform
As of 2012 there were only 27 childcare centres for 0-3 year olds. In the list of pre-primary services published by the government, kindergartens and joint establishments are divided according to region, and the only details are whether there are classes available for 2-3 year olds and childcare services for toddlers aged 2 and under. This can be taken to mean that parents are less interested in the differences between kindergartens and joint establishments and more concerned about whether "pre-primary education vouchers" (explained in the second half) are accepted in those institutions.
In double-income (or alternatively single-income) households with small children, it is not uncommon to hire a live-in foreign maid called an "ai (ah-ee)." Therefore parents who need childcare for their children are in the minority. In contrast to the 27 childcare centres the total number of pre-primary institutions is 951 (as of 2011), of which 86 are internationally affiliated institutions (Table 2: Number of Schools in Hong Kong). Standard kindergartens are separated into morning and afternoon classes, but it is also possible to enter both classes and receive full-day childcare. However, it has to be noted that popular institutions do not provide any full day classes and are completely divided into morning and afternoon classes.
With half-day childcare, there is overwhelmingly more demand for morning classes than afternoon classes. Popular establishments cannot meet the demand for morning classes so they allocate the extra numbers to the afternoon class. Full day children are entered into both classes and if there are too many children for the morning class the excess is routed to the afternoon class. This process may be through priority rankings or through drawing lots depending on the institution. Hong Kong has many private institutions of activities for young children (such as drawing, athletic activities including swimming, English classes, etc.) and many half-day children spend the other half of their day participating in those classes. The reason morning classes are more popular is because it is easier to attend those activities after morning class.
The majority of Hong Kong women chose to work even after marriage. Children in child care centres are usually picked up by their aies or a grandparent, and mothers coming to pick their children up are the minority.
Figure 2: Number of Schools in Hong Kong, Years 2011/2012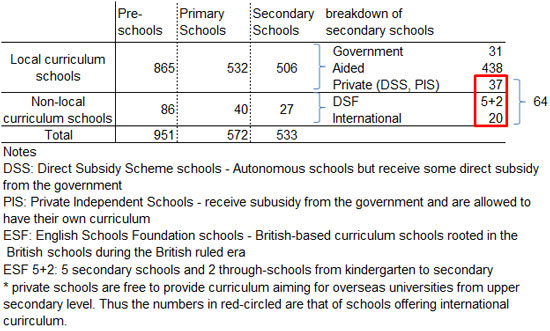 Source: Prepared by the author from EDB information
---
This article is based on the presentation given at one of the 5th "Child-Study Lecture Series" organized by Shiraume Gakuen University on 21st of January, 2012 entitled 'Language Policy in Hong Kong after Its Return to China - English education in pre-primary.' The content has been revised and specially written for this website.
---
Footnotes:

1. Figures vary among sources. The figures used were taken from World Population Prospects: The 2010 Revision, 2005-2010 estimates. Requoted from Naruhodo Atlas 2012 World (Shoubun-sha).
2. Hong Kong Government Census and Statistics Department, Hong Kong Monthly Digest of Statistics (September 2011) http://www.censtatd.gov.hk
The Census and Statistics Department conducts many statistical tests, but just for this issue follow-up studies on the Chinese women who gave birth in Hong Kong were also published.
3. In case of Hong Kong, the movement was born from the fact that distinction between kindergartens and nurseries became unclear as many kindergartens started to offer full-day care (children can be registered for both morning and afternoon classes) and not from the lack of institutions of full-day care. The government seeks the convenience of parents and efficient use of public funds.
---
References:

The Government of the Hong Kong Special Administrative Region: Education Bureau http://www.edb.gov.hk
The Government of the Hong Kong Special Administrative Region: GovHK http://www.gov.hk/sc/residents (site for Hong Kong residents)
Ichimi, M. et al, (2006). "Current Status and Issues in Early Education in East Asia" Final Report, JSPS Grant-in-Aid for Scientific Research [Scientific Research B].
Nishimura, F. (2012). "The Preschool Education Voucher Scheme in Hong Kong: Pursuing Equity for Children," Wako University: Bulletin of the Faculty of Human Studies, No.5, (March).
Aruga, K., Mizuno, K., and Yamada, M. (2006). "The Child Care Support of Hong Kong," Studies in Humanities and Cultures Nagoya city University, No.6.
Naruhodo Atlas 2012 World, Shobunsha
Hong Kong Education Commission (September, 2009) "Learning for Life Learning through Life - Reform Proposals for Education System in Hong Kong."