>>Basic Data of Republic of Korea

Early childhood education and care (ECEC) in the Republic of Korea has a history that is over 100 years. The first kindergarten called Pusan Kindergarten was established in 1897 and Taehwa Christian Child Center, the first child care center, opened in 1921 during the colonial period.
With a wave of social and economic growth, rapid expansion of the need for early schooling continued until the late 1980s and early 1990s, which led to a bifurcated system of education and care: (1) child care for families at lower socioeconomic levels and working mothers and (2) kindergarten education for middle and upper income families. The former provided a full day program from birth to 5 under the supervision of the Ministry for Health, Welfare and Family Affairs which was basically more concerned with care than education. And the latter provided a half-day program for 3 to 5 year-olds under the jurisdiction of the Ministry for Education and Science which focused primarily on education rather than care.
Therefore the system of early childhood education and care in Korea has developed in two distinctive ways: kindergartens for education and childcare facilities for babysitting. Table 1 below compares kindergartens and childcare facilities.
<Table 1> Types of Early Childhood Education and Care Services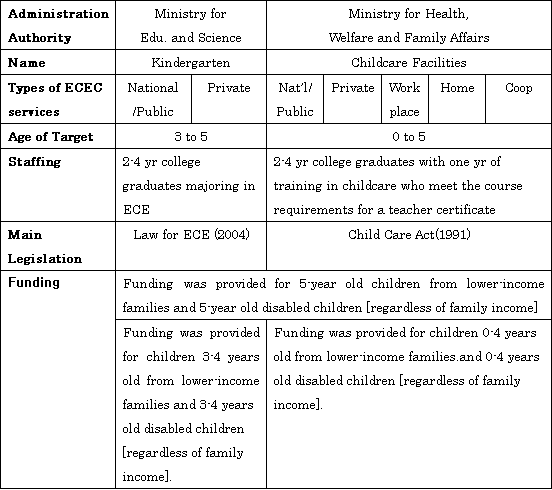 However, this distinction has become blurred in practice in terms of hours of operation, programs or distinguishing characteristics while still under the parallel administrational system. It is because kindergarten began to run full-day programs by including "care" with the Early Childhood Education Promotion Act since 1992. And a child care centers have tried to provide education in addition to care in order to compensate for its lack of educational programs. Generally speaking, more children up to age 4 have begun to attend childcare centers than kindergartens, whereas more children attend kindergartens than childcare facilities at age 5 (UNESCO IBE, 2006).
Table 2. Early Childhood Education and Care Service Enrollment by age (2005) (No: %)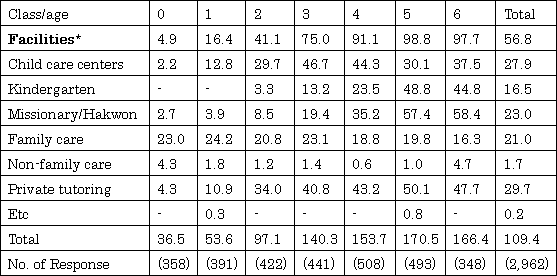 *Double response result Source: Korea Institute for Health and Social Welfare
In spite of this actual integration, there is still a sharp conflict of opinion between both parties on a few administrative issues, for example, the age of targeting children and use of the specific term, "care," in the relevant law. With these controversial issues, the government tried to consolidate each individual community's interest by reforming efforts with pan-national support in order to reach a consensus between both parties over a decade. But, so far, the result has not been successful. It is said that the current situation of ECEC in Korea is not so favorable in practice, but the establishment of an advanced ECEC service i.e. the integration of kindergartens and childcare centers is now underway, both in practice and in principle.
Incidentally, ECEC policy-making has given little consideration to recipient needs over the more than 100 years of ECEC history in Korea: What kinds of services do young children and their families really want to have provided? More care than education? Or vice versa? The voices of young children and their families were not, unfortunately, included in the process of reforming ECEC policies and systems, which is the most crucial element for a successful reform of ECEC. What they want is a place of safety and security in which children are well "edu-cared" by a qualified teacher. When we begin to realize this simple, but critical principle, hours of operation or the age of targeted children does not matter so much. Furthermore, as both educators and caregivers, we are willing to agree to the new policy of integrating kindergarten and child care for the benefit of children's lives.
For a successful ECEC policy and enforcement, it is necessary for us to refocus on young children and their families not as recipients but as "co-constructors" of the services. The focal point of ECEC should be families and children and meeting their needs. Otherwise, there will be only a superficial argument between policymakers and educators.
---
Related articles

Child Centered Education: Cultural differences that Affect Childcare Practices
The Early Years of Children in Ontario, Canada
Female Employment and Institutionalized Childcare in Germany
Children's Preferences and Creating Kindergarten Environments