Introduction to this Series
This series features an innovative attempt in "Reader Participatory Joint Research," in which you are invited to take part in our research and discussion by sharing your opinions on similarities and differences among Japan, China and Korea. Your participation moves our research forward.
In this rapidly globalizing world, Japanese living abroad amounted to 1.18 million last year. By place of residence, China ranked second to America, with 140,000 people, and the number is still on the rise, according to statistics by the Japanese Ministry of Foreign Affairs. The number of foreign residents in Japan reached 2.10 million as of 2011, among which Chinese accounted for the largest proportion with 670,000 people, according to statistics by the Japanese Ministry of Justice. Today, it is possible to hear Chinese conversation here and there in Tokyo. On the other hand, China's economic development has burgeoned, particularly since the implementation of its reform and opening-up policy. China has become the second biggest economy in the world, and it is assumed that its economic power will no doubt overtake the American economy substantially by 2060. Such a context therefore poses the question of how to get along with other countries where there is a strong willingness to study abroad, yet a difference in values.
Together with Jiang Yingmin, an educator from China, and Toshiya Yamamoto, a psychologist from Japan, we have conducted a research series in East Asian countries, mainly in Japan, China and Korea. Our focus was on the features of child-rearing and education in these countries, differences in the way of thinking from country to country, and how the difference in ways of thinking is linked to child-rearing and education. We have also initiated an exchange of views among students from these countries. In the discussion, they found surprisingly large differences in attitude and at the same time unexpected similarities, which serves as a great opportunity for them to reconsider the way they understand each other. Simply put, it was an exciting and interesting attempt. We thought it would be a waste to keep such an interesting activity only to us researchers!
We created this series so that we, both readers and researchers, can enjoy this activity called "participatory research." Your participation is most welcome.
Be a joint researcher!
First, read the question posed and think over how you feel. Feel free to comment on your views.
Take a look at other students'opinions from China (or Korea) and Japan on the topic, and share your further thoughts.
We, researchers, will go through all the comments and questions posted and design and conduct another brief study on Japanese and Chinese students (and on mothers and the general public, if possible), based on the new question that has emerged from the online discussion. The results will again feed into the first step, and in this way, the process is repeated.
We hope to deepen our understanding as we repeat the above process and you readers share questions and opinions about yourself and others, which will feed into our new research. The first topic is friendship, so let us look at the data collected from university students from China and Korea, asking "what if this happened in a friendship?" We sense that cultural differences are expressed in the way interpersonal relationships are built; what do you think?
Now let's start. Please check the box closest to your opinion.
Twenty-two university students from China and 17 Korean students studying in China answered the questionnaire. The results are as follows. Compare the difference between your answers and theirs, and let us know what you think.
Results
University student C and E are close friends. C's tuition fee was due the next day, but his/her parents had not yet sent the money. Borrowing the money from somebody was the only solution that C could think of. After worrying a great deal, C decided to borrow money from close friend E.
If I were C, I would... 1. do the same as C did. 2. never borrow money from E.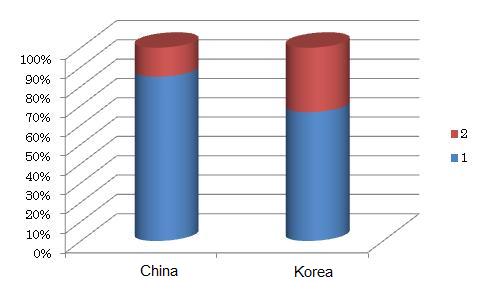 The majority of the respondents, both Chinese and Korean, would borrow money from the close friend. Chinese students seemed to strongly favor the idea.
If I were E, I would... 1. lend the money. 2. not lend the money.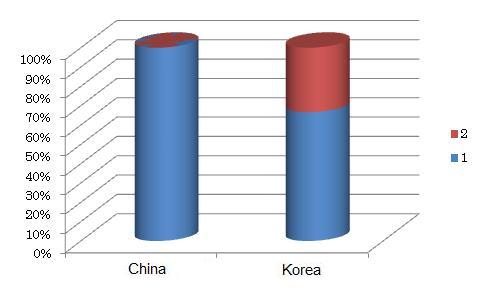 As for Q2, the majority of respondents answered that they would lend money. While all the Chinese students answered that they would lend money, slightly fewer Korean students did so.
About C's decision, I... 1. understand. 2. do not understand.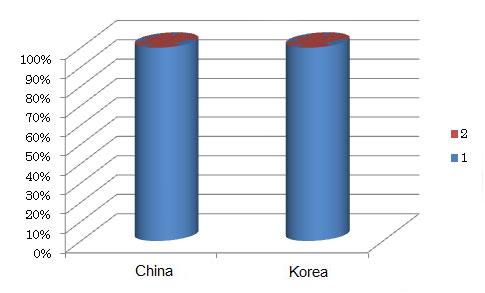 On whether they could understand C's decision to borrow money from E, all the respondents, both Chinese and Korean, answered that they were able to understand the decision.
Differences in Pattern
Now let us combine the answers and compare them between the two countries. For example, <1> represents the students who answered all the questions positively, <2> answered Q1 negatively but the rest positively, <3> answered Q1 and Q2 negatively but Q3 positively, and <4> answered all the questions negatively.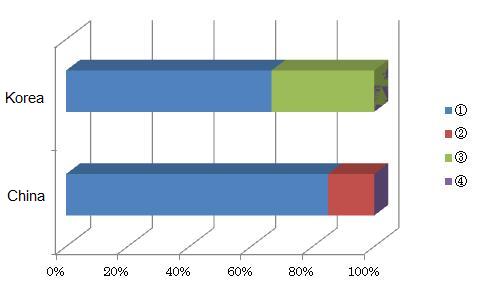 <1> Would act like C and lend money. Understandable.
<2> Would not act like C, but lend money. Understandable.
<3> Would neither act like C, nor lend money. But understandable.
<4> Would neither act like C, nor lend money. Not understandable.
Examined in this manner, among both Chinese and Korean students, <1> (I would borrow or lend money if asked, and the act was understandable) accounted for the majority, but the percentage is higher among Chinese students. The difference lies in the fact that all the remaining Chinese respondents would not borrow money but would lend it if asked, while among Korean students, one third would neither borrow nor lend money. However, there were no students from either country who could not understand the act of borrowing money from a close friend.
Your comments may be posted in the next issue. Please indicate if you do not wish to make your comments public. We will review your questions and then design the next research, which will again be shared with you.