* Titles and affiliations are as of the time of the conference.
Presented at Third International Conference of Child Research Network Asia (CRNA) held in Jakarta, Indonesia, September 25-27, 2019.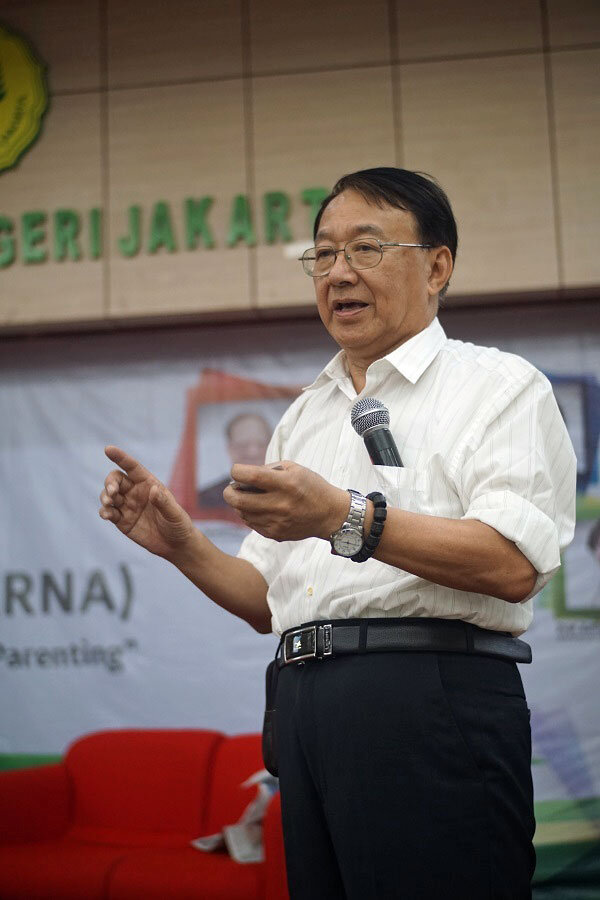 Throughout the world, wherever children are short of money or resources, they will create their toys by themselves using anything to hand. For example, an Asian child or a child in Africa will use cardboard, because it can be found anywhere. Likewise, educators must be creative. Learners and makers alike need the ability to play.
Let me address the issues of today in the digital era. First, nowadays children watch the same TV programs, read the same books, browse the same websites, play the same games, as their parents. Second is the digital kids. I found out that children in different cultures behave similarly. They gaze at devices from a close distance within 20 cm, and have limited hand-on experience that prohibit them from becoming sensitive children. Digital kids with too many AV and indirect (not direct, concrete, tangible experience) will become insensitive and passive learners. Third, in the past, children played with real objects and participating peers, nowadays kids don't do this anymore. We had children overloaded with audio visuals and lacked real-life experience. Their learning experiences is limited and unbalanced, and they are passive learners. Fourth, hand-made toys are vanishing. Children's toys are ready-made, nothing is created by themselves. As we know, when doing something with our hands, brain power is used. If the hands are not used, the heart and mind turn off. Devices are detrimental for people.
How do we change that? Art education is not about teaching art, but educating through art. Art is the means to an end. Similarly, with play education, it is education through play. Using play to help children develop. From years of research in New York City, I found out that traditional things are very important. Cultural heritage is very important and a useful resource. How can this be used to educate children?
Four roles and functions of play study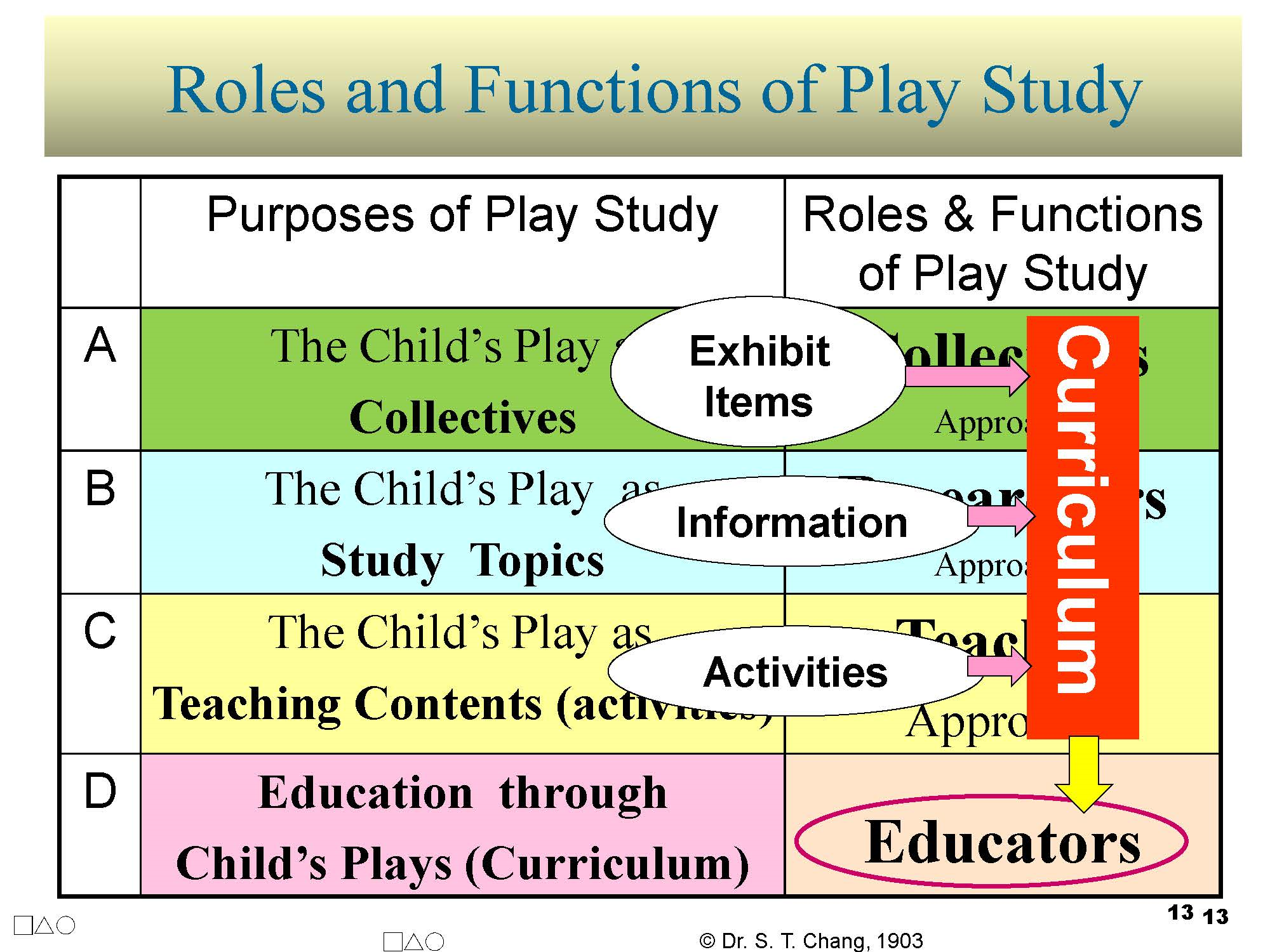 First is the Collector's approach like putting toys in museum. The Researcher's approach focuses on studying the information behind the toys. The Teacher's approach shows children how to make toys and relate to them. The Educator's approach uses the findings from the other three approaches to form character. Then educators use a curriculum to design and discover things together for educational purposes. We can now begin to talk about the advantages of this approach. However, not all traditional things are suitable for teaching children, some are too complicated.
Now, I want to teach you something from a long time ago. The simple basic form of the ETI* Paper cup. Only three folds. Maybe you know this already. It can be made differently. One is the ETI cup and ball game. Second, we can make a foldable paper cup. Since you can hide this cup, it is better than using paper cups. Third, we can turn the cup into a kopiah hat (Turkish cap). Then we can make a sequence of different size cups into a Russian doll (matryoshka). These are what I taught teachers, how to create different things from one simple design.
This is also a paper play. Can everyone get a sheet of newspaper? Let's do a newspaper story of four people in a group.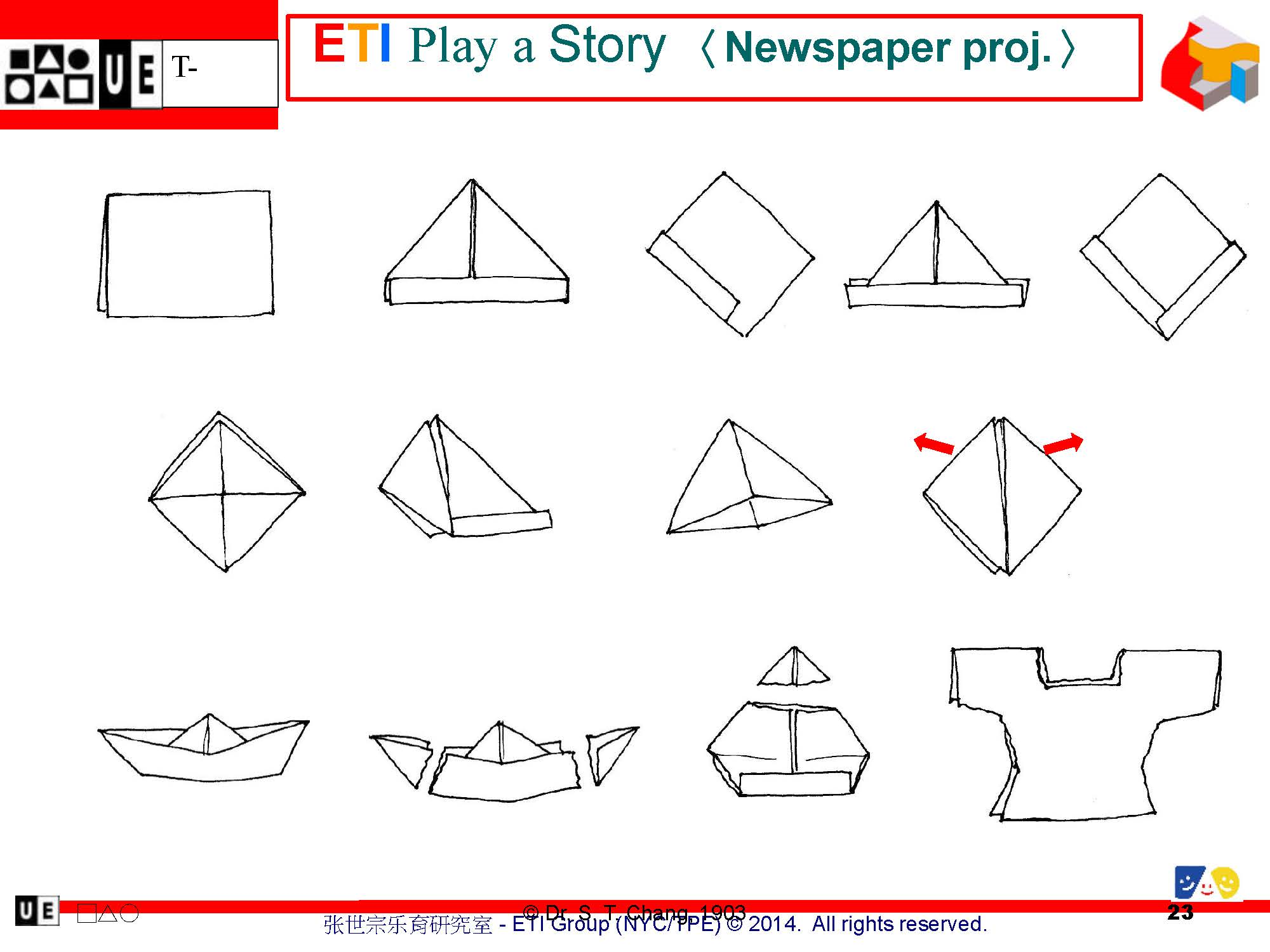 Make an open side on the bottom, fold a triangle to the center. Repeat on the other side. Open the end at the bottom. The third step is to fold one side of the bottom up. It looks like a hat, but don't wear it, it will tear. Now turn over and fold the end up again. In Taiwan, everyone wears this. Open, fold and pull up again, it looks like a firefighter's helmet or like a Japanese warrior. Fold again, then it can be a sailor, Napoleon. Now open it, the side becomes square again. Pull up, and it becomes a Robin Hood hat. Open, then it becomes a square again. Pull the sides open, it becomes a boat.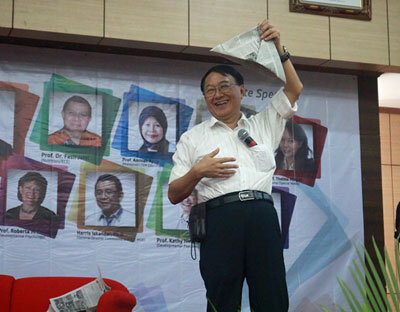 I train educators to do this. Most importantly, we must also think as children. We are creating roles, making a storyline, role-playing, performing a play and making a story book using our minds. Now this is my story as an example.
Create a Story: Bawan's Adventure Journey
Scene 1. Bawan is an orphaned aboriginal boy of Orchard Island who has to decide what he wants to be in the future. Should he be a warrior, farmer, firefighter, sailor, or go to Mexico?
Scene 2. He's in a boat, waves push his boat onto a rock, the bow breaks, then tear this part of the newspaper, and make two more tears, then Bawan's boat is sinking.
When it opens it turns into a shirt.
Everyone can join in now. Please make groups, so each group can make a story. I would suggest to my students to do the same with different versions. Use your own keywords, to perform a play.
These activities involve creating roles, a story line, speeches, role playing, performing a small play, then afterwards making a picture book as an art project. How many skills do we learn from this project? They are creative thinking, literate art, drama in education, performing art and picture art. So many skills are learned from a piece of newspaper becoming an educational tool. It is a great idea.
Students are active learners. If we make a picture book as a mother, you can tell a story through paper folding to a kid.
Next, I will share an idea with you. Those who work with hands are passionate, skillful crafters, those who work with hands and the heart are hobbyists, makers. Those who work with hands, the heart and brain are artists. Children are artists, always creating something new. We should learn from them.
Card game
Please form groups of four, using the paper as tables to play a card game. Sit around the piece of paper. Let's start the game.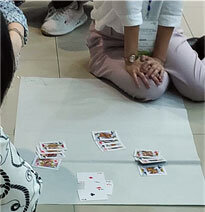 For the first game, please take 16 Ace King Queen Jack sets. All Aces, all Kings, all Queens, all Jacks. Put away the rest. We will make a story. Let's begin. Four Kings come to see a show. Make them into a square, North, South, East and West. They all bring their Queens. And their guards to protect them (Jacks). The princes sit on the top rows (Aces).
Turn the picture side over, so you can't see the numbers. Shuffle the remaining cards. It is up to you how many times you shuffle. Then divide the pile from the upper left to down right.
"In the middle of the show, a blackout occurred. In the dark the princes were scared and running"
Turn the cards over and you will find that all will group; all Aces, all Ks, all Qs, all Js. How come this happens? It's magic.
Now please return to your seat and get one piece of square origami paper. This is easy, I want to introduce one way if there is no tool. If you change perspectives, you see a new world. Discover is to see what others see.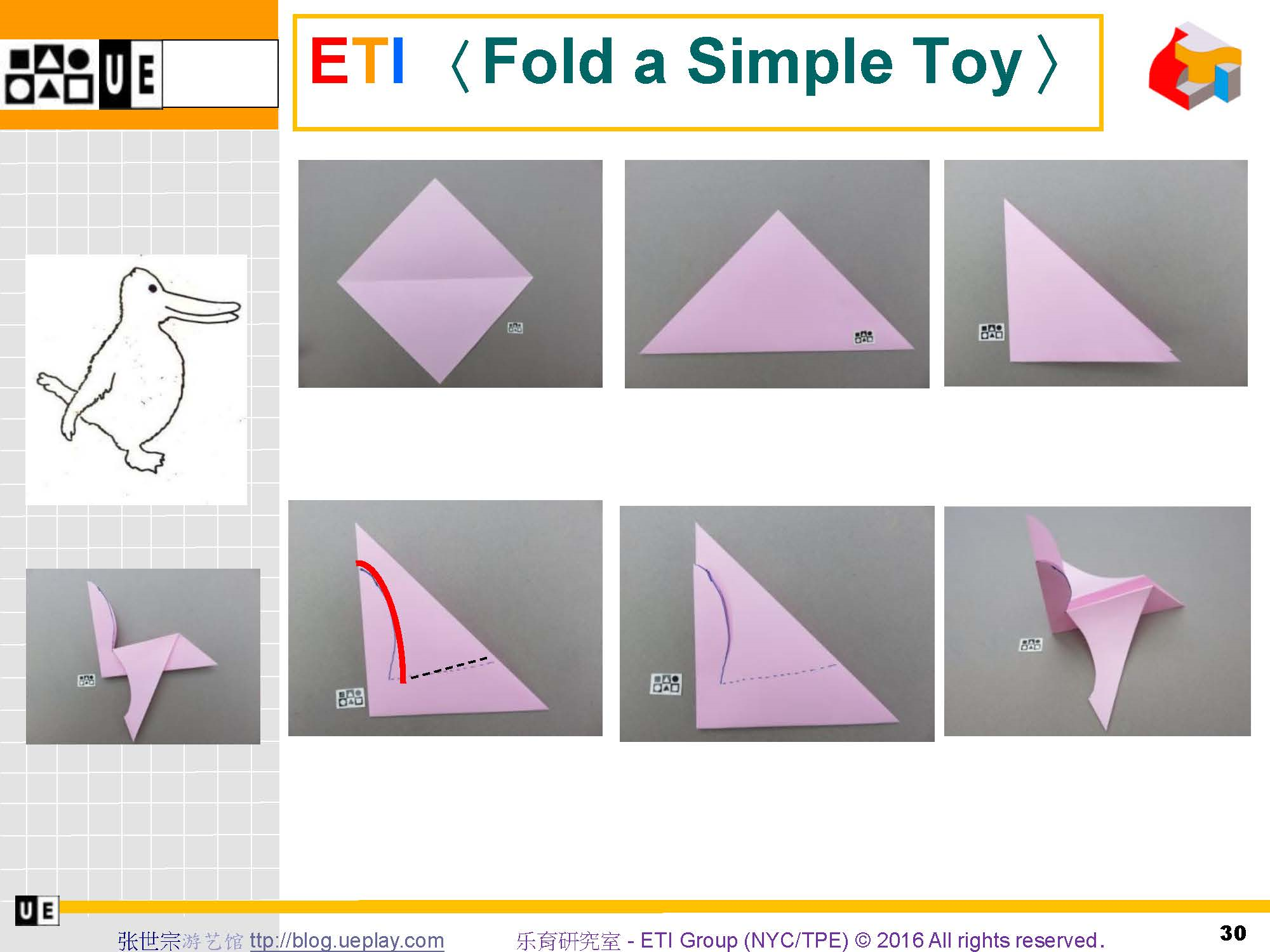 Now I will show you how to make a toy from easy material, like origami paper. Fold to a triangle, then to a 90 degree triangle. Tear one part, fold one line, open and hold. Now you will get a vertical duck, but when you look at it horizontally (turn 90°counter-clockwise), it will look like a rabbit. Likewise, when you look at the Tangram figures (2sets), you will see 2 men scene, now just turn it 90°counter-clockwise, now you will see a man pushing an one-wheel cart. What we perceive depend largely on our points of view.

As adults, we often look at things from a view point of 5 to 6 feet high. However, if you kneel down to look at the same things from the child's point of view, there is a new world for you to discover. In reminding, we need to see things from the child's eyesight, and touch their hearts.
To conclude, I'll introduce to you a quote here as follows:
"Discovery consists of seeing what everybody has seen and thinking what nobody has thought."
(by Albert Szent-Georgi)
---
* Edu-Teque International (also known as - ETI Group) is a design consultant firm established by Prof. Chang in New York.
---
References


Good, I.J. 1962. The scientist speculates: An anthology of partly-baked ideas. Heinemann.