Presented at the "First International Conference" of CRN Child Science Exchange Program in Asia held in Shanghai, China, March 4-5, 2017.
---
Moderator: Yoichi Sakakihara (Director, Child Research Net, Vice President, Ochanomizu University)
Panelists: Nianli Zhou (Professor, East China Normal University), Haruo Kimura (Principal Researcher, Child Research Net), Aiping Liu (Senior Researcher, Child Research Net)
Titles and affiliations are as of the time of the conference.
Nurturing "Attitudes of learning to learn" (Aiping Liu)
Children are born as biological beings and subsequently grow up into social beings. Therefore, it is important to address the issues of children from the perspectives of both natural science and the humanities. Specialists in various areas, educators and parents should hold discussions and cooperate in conducting research, based on the opinions of doctors and neuroscientists from the perspective of natural science. Also important are the opinions of specialists in social science, economics and education from the perspective of the humanities. Dr. Noboru Kobayashi, a well-known pediatrician, first proposed the concept of "Child Science" which addresses child issues in an interdisciplinary and integrative manner. In 1996, he established the Child Research Net (CRN).
Over the past 20 years, CRN has been committed to research activities related to Child Science.
At this point, I would like to introduce the history of CRN to you. During the first ten years after the establishment of CRN in 1996, we were engaged in the development of a new learning model based on Child Science. One result of our efforts was a series of activities under the theme "Playful Learning" which are intended to promote creative learning through play. Please look at the logo in Figure 1, which consists of a question mark, an exclamation mark, and a heart symbol. The question mark is meant to encourage people to ask questions. As children, we tended to be full of curiosity and often asked adults "why?" and "how?" After growing up, we seldom ask such questions. Why is this? Is it because we have fewer questions to ask? The answer is probably that as adults we may be more reluctant to ask questions because we feel embarrassed to do so. Our workshop offered hesitant adults opportunities to ask, think seriously and practice. Through the versatile experience of play and craftwork, the participants would be able to find the answer to their question, "why?". On finding the answer to what one seeks, one experiences excitement and happiness. The heart symbol and exclamation mark on the logo indicate such emotions. We consider "playful learning" as the process of voluntary learning "Construction, Interaction, and Reflection." Several events were hosted across Japan, which were highly acclaimed among parents and children (Fig. 1).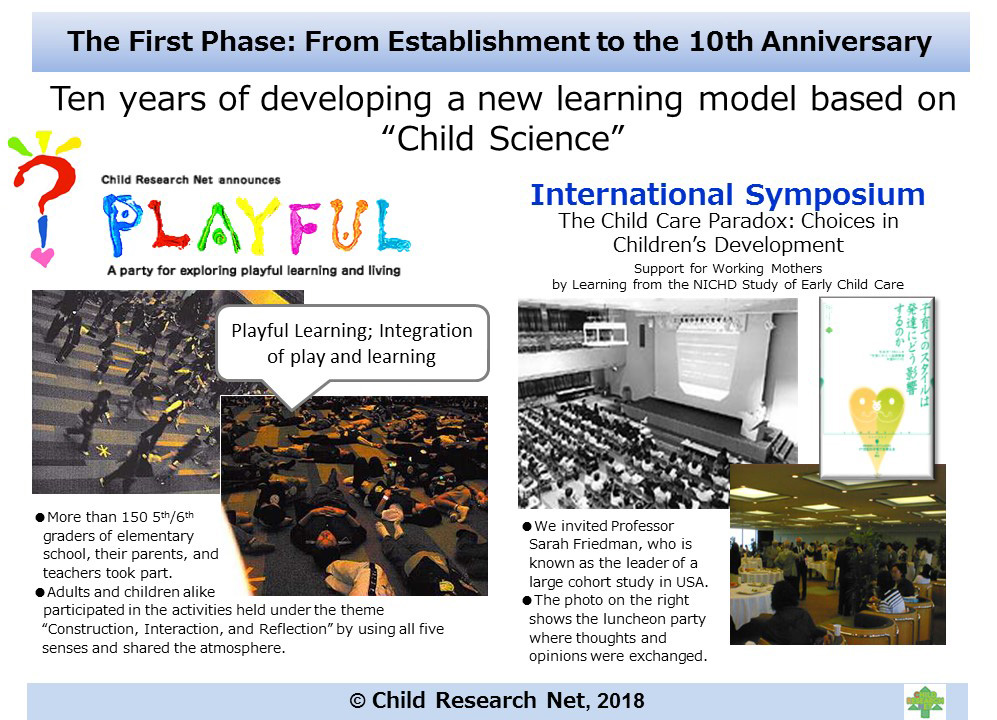 Click image to enlarge
Figure 1
The ten years from 2006 to the present have been the years of development for CRN. Various initiatives have been instigated to promote Child Science across Japan. More recently, our efforts were extended to East Asia, and ten conferences of the "Child Science Exchange Program in East Asia" have been hosted in collaboration with Mainland China, Taiwan, South Korea and other Asian countries (Fig. 2).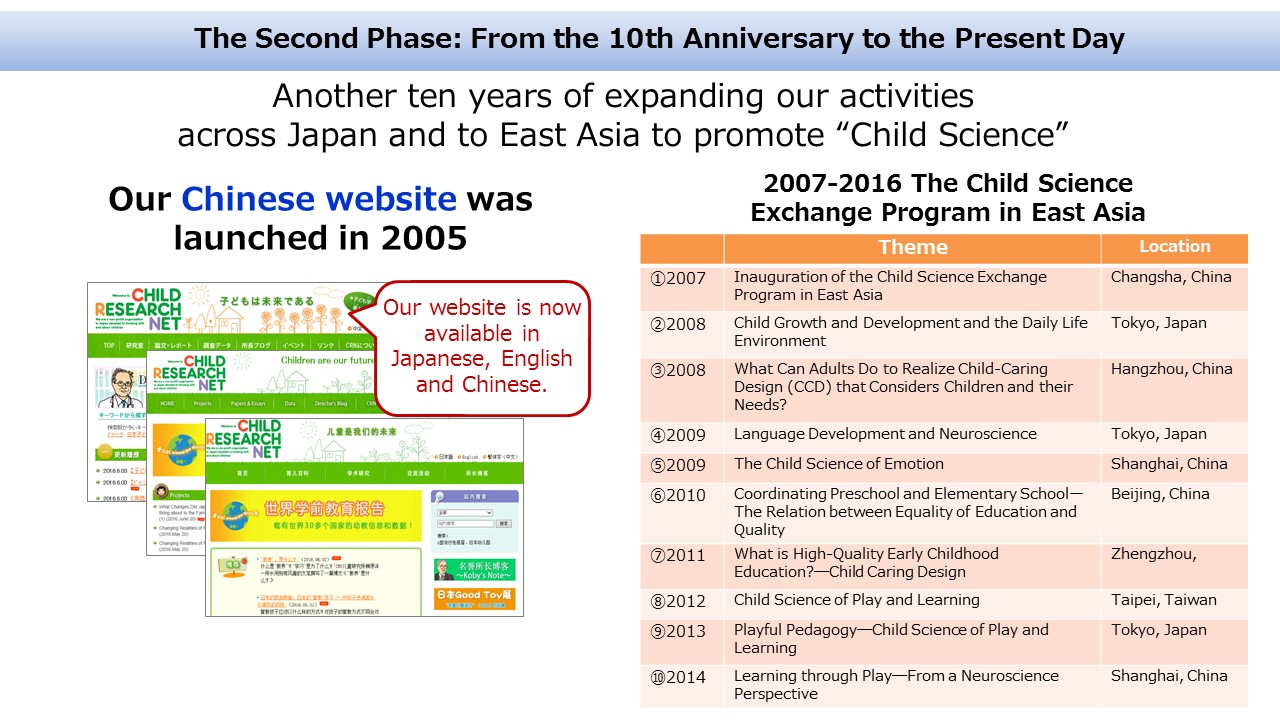 Click image to enlarge
Figure 2
In the past several years, we have conducted comparative studies focusing on preschool education in Japan and other countries under the theme of "Early Childhood Education and Care (ECEC)."
Dr. James J Heckman, who was awarded the Nobel Memorial Prize in Economics, insisted based on his research results the importance of "non-cognitive skills" such as motivation for learning, making efforts, maintaining patience, etc., in addition to "cognitive skills" such as IQ. The Organisation for Economic Co-operation and Development (OECD) defines such skills as "social and emotional skills," while the Benesse Educational Research & Development Institute defines them as "Attitudes of learning to learn." The attitudes of learning to learn consist of the abilities of Self-assertion, Self-restraint, Collaborative skills, and Curiosity, such as expressing one's own feelings, listening to others, or positively challenging things. It is said that these skills are important factors that determine the success of a person over the course of his/her entire life. The stage of early childhood is important for developing "Attitudes of learning to learn," which may be greatly affected by the family and educational environment of a child. Now, I would like to discuss the "quality of early childhood education and care (ECEC)." (Fig.3, Fig.4)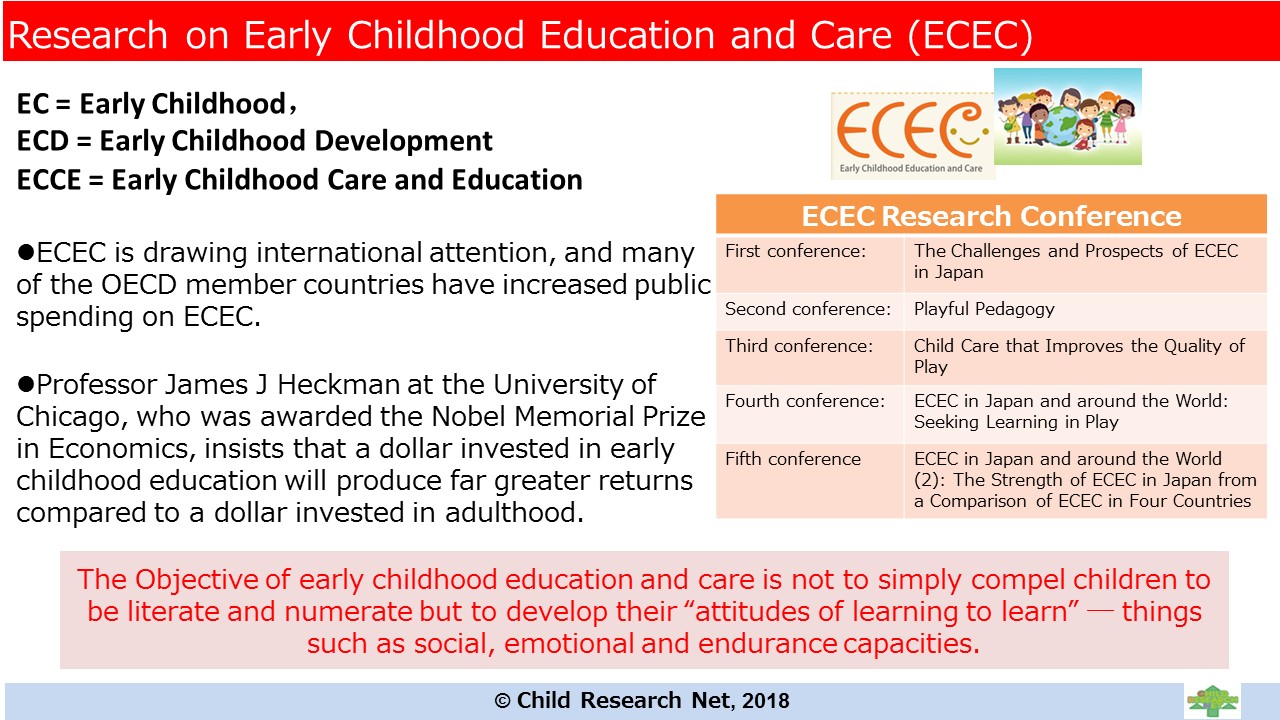 Click image to enlarge
Figure 3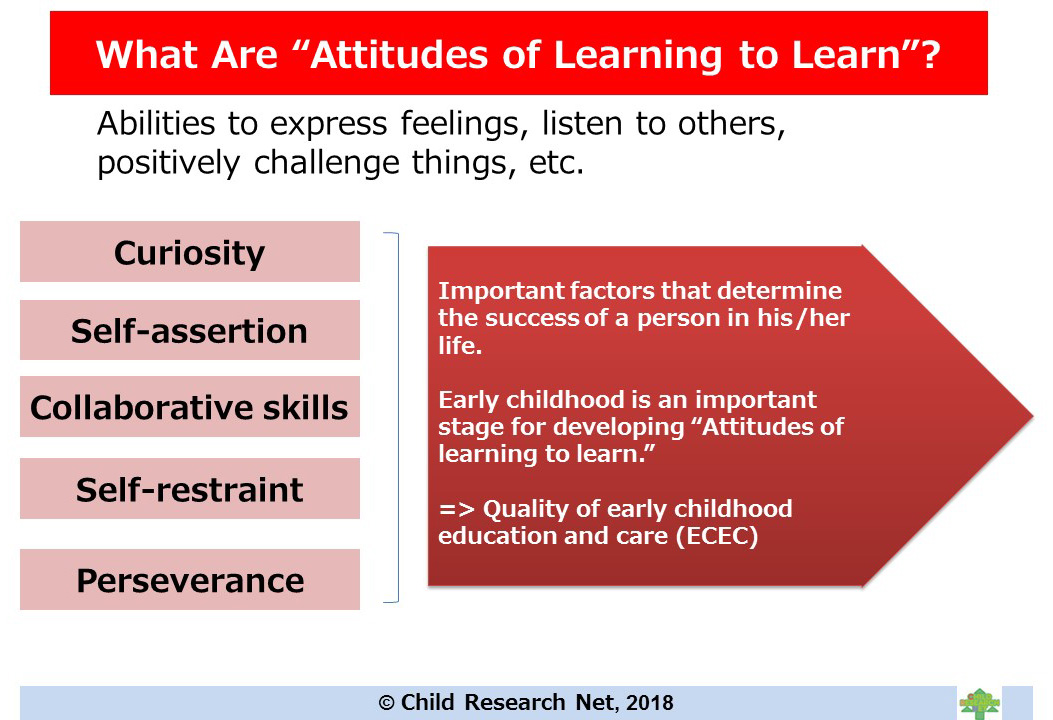 Figure 4
We examine various factors that determine the quality of ECEC and think about forward-looking examples overseas. What characteristics can be expected for quality ECEC? What kinds of cultures and social backgrounds did advanced overseas philosophies and practices originate from? CRN has created an original matrix chart, summarizing the advantages and disadvantages of overseas practices as well as implications for Japan's ECEC based on data collected from Italy (Reggio Emilia and Pistoia), China (Shanghai), New Zealand, Japan, England, South Korea, the Netherlands and Sweden. The data compiled includes the basic system of ECEC, adults' views on children and education, actual conditions of child-rearing and education (modes of practice, daily schedules, relationships between practitioners and children, relationships among children, involvement of parents, etc.) in each country/region. This matrix will serve as a useful tool to help us analyze advanced examples of ECEC when we obtain new data from other countries in the future. In addition, by summarizing and documenting the current conditions of ECEC, we can find clues to improve the quality of ECEC, and seek possible methods to develop "Attitudes of learning to learn."
Thank you for your kind attention.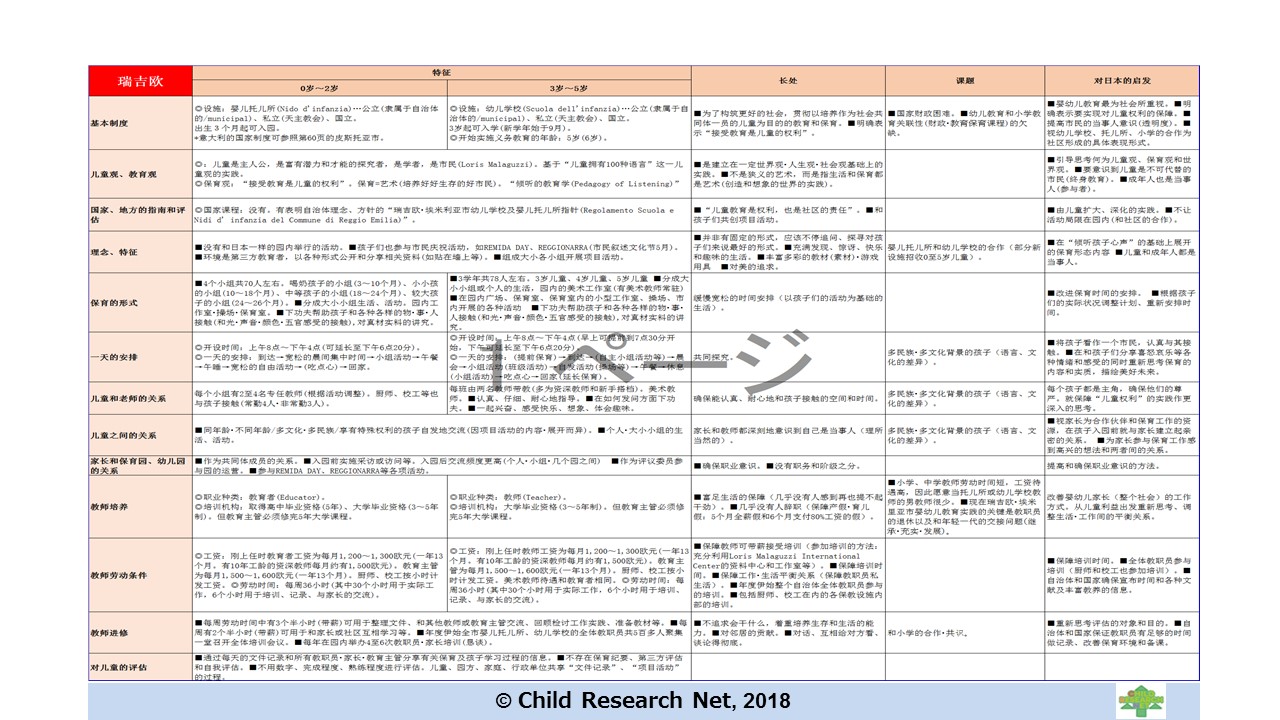 (The above snapshot is an example of the matrix chart explaining the details of ECEC being conducted in Reggio Emilia, Italy)