Presented at the "First International Conference" of CRN Child Science Exchange Program in Asia held in Shanghai, China, March 4-5, 2017.
---
Moderator: Nianli Zhou (Professor of East China Normal University)
Presenters: Yi Wen (Executive Deputy Director, Sichuan Research Center for the Early Development and Education of Children Aged 0 to 3 Years), Hong Wang (Director of Regional Administration Dept., Shanghai Pu Tuo District Early Childhood Education Guidance Center)
Issues in Parenting Education Provided in Parent-Child Classes (Yi Wen)
Nowadays, there are numerous studies and initiatives that are attracting attention in the education field, and childcare and early childhood education for children aged zero to three years are among these challenges.
First of all, I will explain about the types of childcare facilities. There are two kinds of education facilities for children aged zero to three years. One kind looks after children including "yīng ér yuán (day-care center)" and "jiā tíng jiào bǎo yuán (in-home childcare facility)" for children aged three years and under in Sichuan Province. "Jiā tíng jiào bǎo yuán" is a small childcare facility offered at home under the mantle of a business that mainly looks after children on behalf of their parents. The other kind provides parenting education. These facilities do not look after children on behalf of their parents; instead, they offer parenting support through various parenting education programs. In general, this support is provided in the form of "parent-child classes" offered at kindergarten twice a week; privately organized parent-child education facilities; maternal and child health centers; and other popular education facilities. These two types of facilities have different objectives and activities. I will now examine these differences in more detail.
The first type of facility is available all the time, day and night. They mainly look after children without the participation of their parents. Thus, the relationship between the facility and its users is quite simple. In this case, effective child education is required. The second type of facility provides parenting education through parent-child classes. These classes are offered several times a week, lasting about 20-30 minutes. The relationship between the facility and its users is very complicated. The main objective of these types of facility is to provide effective education for parents. As such, these two types of facility have different natures. The facilities providing parenting education are different from those looking after children. Children's play activities at childcare centers and those at parent-child classes are not interchangeable and cannot be discussed on the same level. From the research survey which we conducted at these facilities, we found that parents had a good deal to say about the facilities. First of all, there is a shortage of good teachers. Parents complained that teachers of parent-child classes had skills below their expected level. Second, despite the various types of play offered in class, the parents said they could not see the effectiveness of them.
Now, let's think about the targets of parent-child classes offered by parenting education facilities. The targets are both the parents and children, but which of them has more importance? If the emphasis is on children, will the classes provide a sufficient and substantial stimulatory effect to the children's development when they are offered only twice a week? Can the children develop and improve their overall skills through these classes? Unfortunately, it seems that it is not the case here. Actually, the development of children depends on family education. If the main targets are placed on both the children and the parents, we will face considerable difficulties in the course of education, because these targets are fundamentally different. Parents and children have different learning desires and demands, and it is difficult to respond to them in equal measure. On the other hand, if the main target is set on parents, parent-child classes can provide opportunities for them to seek meaningful education, improve child-rearing skills, and practice what they have learned at home. In this case, we will need to focus on the past experiences of parents and the effects of parenting education provided for parents, while making sure that the education targets and plans, assessment methods, and the allocation of teachers will be arranged exclusively for parents.
Second, we need to determine the contents of education programs. Many parents lack knowledge regarding childcare activities. Since our target is these types of parents, we can provide them with some advice on childcare activities in the class. In addition, we need to provide individual instructions for each parent because every individual child is different. Third, I will explain the activity structure of the parent-child classes. Currently, the activities of parent-child classes are overly broad and numerous, resulting in classes which lack individual instructions for parents to effectively reflect their learning at home. Teachers only provide general instructions in each lesson, but do not provide guidance for parents about the effects of parent-child interaction at home. Now, how can this structural problem be solved? The first solution is to individually focus on the fields of cognition, behavior, language and social skills. There are two advantages to be gained by determining these fields. The first of these is to help parents understand the development level of their child in each field. The second is to help parents learn education methods suitable for each field. There are different methods to determine parent-child activities in each field.
The second solution is to find "learning elements" in everyday life. The daily life of children consists of various habits such as eating, sleeping and getting changed. For example, if a child likes to help his mother hang out washed socks among other housework tasks, how can we expand and develop the activity of hanging out washing in his daily life? Parents need to understand that there are numerous learning elements in everyday life, even when hanging out washing. Teachers should assist parents to learn such elements as well as methods to utilize them.
The third solution is to utilize "materials". Almost everything found in our daily life can all be used as learning materials, but parents are not aware of that. Teachers should teach parents, through parent-child classes, that even a single bottle can be used as an item of learning material. It is our responsibility to help parents understand that education is not limited to the confines of the classroom but our daily lifestyle is a true field of education.
The fourth solution is to teach behavioral skills in "daily settings". Young children will experience various settings in daily life, such as the hospital where they are vaccinated, supermarkets, subway trains, buses, etc. We can assist parents to understand how they can help and teach children in such settings.
Small Toy, Big Wisdom—Research on the development and use of family toys for children aged one to three years (Hong Wang)
Toys are very important tools for preschool children in every development stage, in particular, those aged one to three years. We found some issues after observing the daily activities of parents and children. First of all, parents do not understand the meaning of toys accurately. We can see it from their behavior; for example, they do not recognize that the things surrounding them or are familiar with can be used as toys. Second, parents do not sufficiently understand the development level of their children. This is obvious as a great many parents do not choose appropriate toys for each developmental stage of their children, or fail to attract their interest with such toys. Third, the comprehensive development of their children is not properly considered; instead, the educational functions of toys are emphasized, and the importance of developing skills other than intellectual abilities is disregarded. Fourth, the effects of mutual interactions between toys, children and parents are undervalued.
Our Early Childhood Education Guidance Center has been addressing the above issues under the theme of "Research on the development and use of toys for children aged one to three years." We determined the following two definitions for toys: toys that are created for children and to be used by children; and toys that are common objects in daily life, and contain "environmental materials" that were not produced as toys. We also determined the following definition for family toys: toys that satisfy the psychological and physiological needs of children aged one to three years and can be used and played with at home.
We conducted related surveys targeting 120 households and noticed that parents tend to choose toys based on utilitarian values. As shown in the following survey data, about 50 percent of parents evaluated toys as "educational functions." In fact, in a follow-up survey, we came to realize that the majority of parents choose educational toys. Meanwhile, the choice of method to understand how to use toys was uniform; the majority of parents rely on explanatory leaflets, while 34.17 percent of them rely on books and magazines. Therefore, the way of using the toys lacks creativity, which narrows the age-span of use.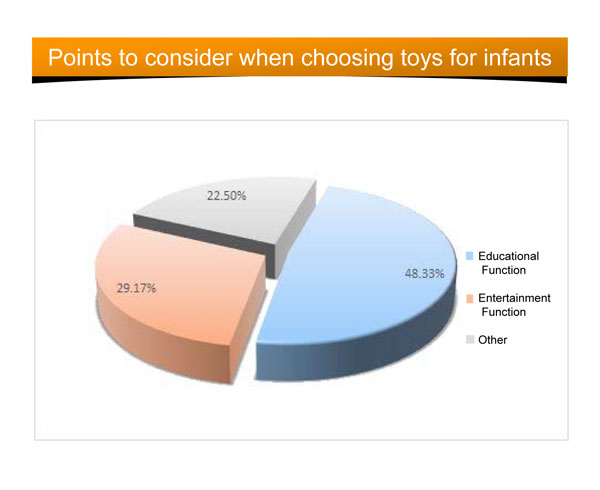 Based on the results of our questionnaire surveys, we proposed some new ideas for the development of toys. First of all, we examined some factors considering the following three points: effective use of toys; methods to naturally use "environmental materials" as toys; and effective choice and application of toys. For example, by giving different jigsaw puzzles to children, we can develop their cognitive skills. Giving toys made of different materials will enrich their sensuous experiences, while giving toys with different spatial structures will improve their spatial cognition skills. Likewise, different types of jigsaw puzzles (for example, each piece shows one picture, or multiple pieces compose one whole picture) will help children perceive the relationship between the parts and the whole, thus improving their eye-hand coordination.
Second, for the methods to voluntarily use "environmental materials" as toys, we proposed the following ideas: gradually focusing on things surrounding us and voluntarily use daily goods/unnecessary goods as toys. When using things surrounding us for children's play, we need to consider their cognitive and developmental stages, and by gradually introducing them into their play, will promote their well-balanced development. Take clothes-pegs for example, they can be made of different materials, such as plastic, wood, etc. and come in various sizes. When children use these pegs to play the "feeding little fish" game or to make a green caterpillar using pegs as its legs, they can achieve a balanced development most effectively in a relaxed daily environment.
Third, for the choice and application of toys, we proposed choosing toys that are enjoyable and appropriate, and with which children can learn by trying different ways. It is generally understood that by giving toys with which children can learn by trial and error, we can satisfy their curiosity, capture their interest for extended periods of time, and improve their cognitive skills. If toys are enjoyable, they will be fascinated with them. Regarding appropriateness, it is difficult to determine whether we should give all the accessories that come with the package to children, since there are so many nowadays. Many parents tend to give the whole package fully equipped with accessories, but not all of them are necessarily suitable for children.
After researching the use of toys, we realized that the factor of mutual interactions between toys, children and parents is missing. Therefore, we will examine the different combinations of interactions between "children and toys," "parents and toys" and among "parents, toys and children" to promote parent-child play activities at home by leveraging new ideas and approaches.
In fact, experiences in the daily life are fundamental for children's play and behavior, and prerequisites for the mutual interaction between children and toys. Furthermore, parents' recognition and attitude towards toys will affect children's perspective towards toys. We suggest that parents who have children aged one to three years should try to utilize things surrounding them as much as possible. Things found in children's daily environment can be the most effective tools to enhance natural and balanced development.
When choosing toys, parents should confirm the current development level of children to some extent as well as the value of toys in advance. We would suggest that parents earnestly play with children, learn through trial and error with them, enhance their development, and hence, grow together with them.