"When I move to music dancing my spirits lift." You can quote me and a host of other ballroom dancers who add that when they dance, they forget about the day's cares and just enjoy. Dr. Oz, a current American heath proponent who has his own TV show and writes syndicated columns, says that dancing inhibits the onset of dementia because one learns to coordinate thought patterns to muscle responses. Dancing benefits health in many ways. It's a sport one can do throughout life and it's fun.
In Europe and parts of Latin America, learning to ballroom dance starts in grade school. The U.S. and Canada have discovered the benefits of ballroom dancing and are incorporating such programs in more and more schools. Increasingly parents want their children to learn ballroom dancing.
Dancing Classrooms NYC, founded by Pierre Dulaine in 1994, is a non-profit organization engaged in teaching ballroom dancing to 5th and 8th graders. Their literature states: "The dance is a tool for getting the children to break down social barriers, learn about honour and respect, treat others carefully, improve self-confidence, communicate and cooperate, and accept others even if they are different." It "changes the lives of the teachers and parents who support these children." (www.dancingclassrooms.com/Page/NYPrograms/)
Part of the credit for the recent popularity of ballroom dancing goes to Masayuki Suo's 1996 Japanese movie Shall We Dance?, which is still acclaimed. In that movie a middle-aged man discovers that ballroom dancing fills a need for something missing in his life. Mad Hot Ballroom (2005) is a movie about 6,000 kids from 60 schools in New York City who learned ballroom dancing and competed for achievement awards for their schools. One teacher wrote about the program that she wanted each child to feel that he/she mattered--to feel "I'm worth it!" Dance partners learn to adapt to each other to become successful. You must learn to observe your partner well and accommodate to their level of skill, physical dexterity and moods. It teaches respect for others no matter how different they are from you. You can view a trailer of this movie on the internet. (Google: Mad Hot Ballroom Trailer)
Ilsa Abraham, a former social worker, and Bob Rutherford, a former school principal brought the idea to Canada and founded Join the Dance Canada in 2006 when 70 Toronto schools and 5,000 children joined the program. During their year in the sixth grade Emily and Amour were partnered to participate in the Toronto Harbourfront School ballroom dance program. For ten weeks they learned the tango, meringue, foxtrot, swing, waltz and rumba. They were required to learn about the country of origin of each of the dances, to learn dance terms and to keep a journal, which was graded at the end of the term and became part of their mark in athletics. They were also asked to teach each of the dances to someone else. Emily said that her mom was eager to learn.
"How about your older brother?" I asked.
Perhaps her answer was a typical little sister response. "He wouldn't be interested. We didn't talk about dancing," Emily said.
"How did you feel when you were chosen to represent your school dancing the tango?" I asked.
"I knew we would do well. My mom signed me up for jazz dancing when I was little, and Amour is out-going so I knew we would do well," Emily said matter-of-factly.
Amour said that he was surprised to be chosen. "I've known Emily so long and we were being dramatic so I guess they chose us." He said that he likes to compete with his friends to be the winner in games, so he was eager.
Their class met twice a week and was taught by an accomplished dance instructor hired by the school. The two also practiced during lunch hour.
Both of them said that the tango wasn't their first choice in which to compete. Emily would have preferred the merengue and Amour would have liked to do the swing. Both of those dances are livelier than the tango which calls for style and attitude. The ballroom tango, they learned, originated among the lower classes in Buenos Aires, Argentina during the 19th century. Women wore full skirts and men wore gaucho costumes with high boots and spurs which necessitated several movements that are a part of today's tango.
I asked what the most memorable part of the program was and they both enthusiastically reported that dancing in the finals at the Palais Royale with all of their classmates and family members clapping and cheering them on was thrilling. The Palais Royale on Toronto's lakefront was designed in the Art Deco style by the architectural firm of Chapman, Oxley and Bishop in 1922. Perhaps its most popular period was during the 1930s when couples danced to the music of the big bands including Duke Ellington, Count Basie, Paul Whiteman and the Dorsey Brothers. The building was renovated in 2006 and since then has employed stellar bands and young performers for dancing extravaganzas. Dancing at the Palais Royale must have seemed like being on a Hollywood set to the Toronto students.
"And how did you make out?" I asked.
"We missed winning by two points," Amour said.
"I wanted to win for our school," Emily said.
"But it was okay. It was fun, so it was okay," Amour added. (Dancing with partners) "You get to know your classmates."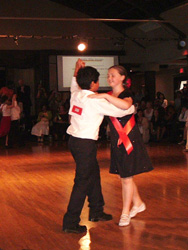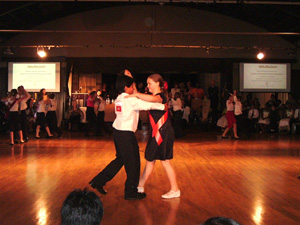 Sixth grade students Emily and Amour dance the tango
I'm a proponent of ballroom dancing, but there are other popular styles of dancing that you and your kids might enjoy: hula dancing, square dancing, folk dancing, belly dancing, ballet, hip-hop, jazz and native dance. Choose a style and let's dance.