General data
Country: Republic of Uzbekistan
Capital: Tashkent.
Area: 447,400 sq km.
Population: 24,416,000
Ethnic groups: Uzbek 80%, Russian 5.5%, Tajik 5%, Kazakh 3%, Karakalpak 2.5%, Tatar 1.5%, other 2.5%.
Religions: Muslim 88% (mostly Sunnis), Eastern Orthodox 9%, other 3%.
State language: Uzbek
General compulsory education: 9 years
Main produce: Cotton



(c) Copyright 2003 UzPAK
The education system
Preschool education - ages 0 - 6
Primary education - 4 years, ages 6 - 10
Secondary (general) education - 5 years, ages 10 - 15
Secondary specialized education - 3 years, ages 15 - 18
Higher education (Bachelor's degree) - 4 years, ages 18 - 22 approx.
Graduate education (Master's degree) - 2 years
Post-graduate education (Ph. D.) - 4 years

Introduction
As an independent state, Uzbekistan had to face various issues connected with economic, social and cultural development. One of the burning issues of a new born country in 1991 was training of highly qualified specialists in various fields.

The political changes that followed the declaration of independence, the transition to the market economy and the introduction of the concept of democracy into the society could not leave the existing Uzbek education system unchanged. Moreover, the new challenges faced by the country at the initial stage of its independence raised a strong demand for dynamic, open-minded and proactive generation of specialists, who could contribute to the country's speedy evolvement as a valuable member of the international community.

In connection with this, a number of educational reforms were implemented, that covered all areas of the education system on all levels. This included the change of curriculum in educational institutions, introduction of a new grading system in schools and universities, creation of new higher educational institutions and introduction of new departments in existing ones to train for the specialties that did not exist before, such as management, marketing, etc.

The system of education before the independence
The standards of education prior to 1991 were quite different in Uzbekistan than those used nowadays. The structure of the education system was represented by:
Preschool education - 7 years, ages 1-7
Secondary school education - 10 years, ages 7 - 17
Higher education - 5 years, ages 17 - 22.
Post graduate education and scientific research - 3 to 6 years, ages 23 -

Apart from this, there were technical schools that provided vocational training, however, their quality and prestige for attendance was not that high. The grading system in all educational institutions was on the scale of "5 to 1", "5" being the highest and "1" the lowest mark. Entrance examinations as well as end of term examinations were either in oral or written form, there was no testing system.

Educational reforms implemented after the independence
The Ministry of Higher and Secondary Special Education together with the Ministry of People's Education under the supervision of the Cabinet of Ministers of the Republic of Uzbekistan, and according to the Presidential decrees addressing the issues of education, introduced the following changes into the system of education of Uzbekistan during the past 10 years:



Uzbek language was accepted as state language. As a result, the number of subjects taught in Uzbek in schools increased, so did the number of Uzbek schools in comparison with Russian schools, especially in rural areas.
Cyrillic alphabet used in Uzbekistan for the past 70 years was replaced with Latin alphabet for two reasons:


-Latin was the alphabet long before Uzbekistan became a part of the former USSR;
-Latin alphabet is used in many countries at present, and the government saw this measure as helping the process of integration of Uzbekistan into the world community.

Special trainings for adults to learn the new alphabet were carried out at their working places. For the students of secondary schools and universities the change was easier, since they all knew Latin alphabet from their foreign language classes. As for elementary school students, all their books were re-written with the new alphabet, which meant for them Latin would be the only alphabet of Uzbek language they know, it would be a totally different generation of children born and educated in independent Uzbekistan.
The 8-year compulsory education was extended to 9 years.
10-year secondary schools were divided into 9-year general education and 3 years of secondary specialized education. The positive side of this reform was that the secondary school students were given an opportunity to choose between pursuing an academic study or a vocational training after 9-year compulsory education. For this purpose, Academic Lyceums and Professional Colleges were set up, the former providing a deeper study of science, economics or law, preparing the students for the university study; and the latter enabling them to continue studying the subjects of general education, at the same time obtaining a profession, should they choose to work rather than study at university after they have completed their secondary specialized education.
Acceptance of children to elementary schools from the age of 6, using a special entrance examination to determine the level of knowledge the child received in preschool kindergarten. The examination requires a thorough preparation as it has questions about the history of the country, basic knowledge of mathematics, the ability of the child to memorize short poems and retell stories.
Total revision of school curriculum, introduction of new subjects of study: economics, ethics and enlightenment (study of national culture), environmental studies, AIDS/HIV study.
Abandoning written and oral examination for end of term testing and accepting the new testing methods such as multiple-choice questions.
Changing from "5 to 1" grading system to gaining a certain number of units system, taken as a model of developed countries similar to "A to E" system, "A" being the highest, and "E" being the lowest mark.
Abandoning 5-year university education and separation of higher education to 4 years of Bachelor's and 2 years of Master's studies. Introduction of 4 year PhD study.
Collaboration with Turkey, USA, Germany, Great Britain, France and Japan in providing grants and scholarships to Uzbek students for pursuing their graduate and post graduate studies and research activities abroad, for learning and bringing back foreign technology and know-how for the development of Uzbekistan.
Why pursue development through education?
The above facts point out that Uzbekistan views its education system as one of the most important aspects of its development, something that would bear great fruits in future. Of course economic development, improvement of social infrastructure are inevitable and come first when speaking of improving the status of a newly independent country, nevertheless, the state paid a great attention to the education. Why was that so?

The answer to this question lies both in history and culture of the Uzbek people. Many people around the world are becoming aware that Uzbekistan, situated in the heart of Central Asia has a rich past, was a cradle of civilization and produced many great scholars of the Orient that are known world-wide. So when the country became independent, the first thing was to realize it's great past, enlightened with education as early as in the 15th century, with developments in science, literature, economy and foreign relations.

Secondly, the ratio of young people in Uzbekistan is considered to be one of the highest in the world - 35% of population is below the age of 14. Having such a large number of young people places both hopes and concerns for the future of the country, raises certain issues be considered and dealt with. And the first issue that faces the children is providing them with quality education, helping them become good citizens.

Thirdly, Uzbek people like children and the idea of big families. Since the majority of population of Uzbekistan (60%) lives in rural area, the birthrate is quite high, and continues to grow, which means that the younger part of population will continue to increase, demanding more attention to the issues concerned with their lives and experiences.

Finally, Uzbek people believe that the seeds of good character, wisdom, kindness and hardworking attitude in life, are sawed in early childhood, therefore it is very important that the children are provided with a quality education beginning at the level of primary education. There is an old Uzbek saying "a tree grows the way you take care of it", meaning, whatever ideas you put into a young mind of a child, will determine his or her future life and character.

The primary education in Uzbekistan - the richest experience in a child's life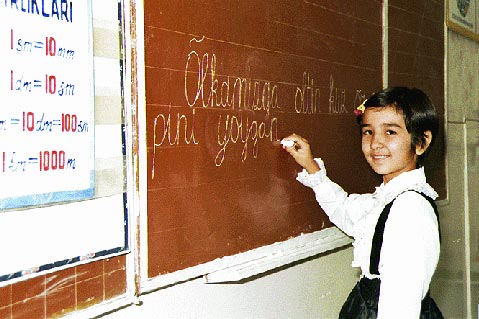 (c) Copyright 2003 UzPAK

Naturally children have an inborn interest to observe the surroundings and possess such a degree of curiosity that makes their life a totally unique experience. Their natural curiosity is especially strong in the early years, serving as a favorable stimulus to develop learning skills in them.

For many children in Uzbekistan starting to attend elementary school means becoming an "independent" person, no longer in kindergarten where the rules are much more strict and they are under supervision all the time. Elementary school on the other hand means more freedom, gives children a chance to do things on their own. Going to school by themselves, paying attention in the class, learning so many new things, remembering the names of the teacher and classmates - people outside the family circle or the street where they grew up, getting along with the neighbor at the desk, and many other little, yet very important encounters children face on a daily basis gradually shape their character, will and outlook.

Since the elementary school is planned for 4 years, accepting the children at age 6 and teaching them until they are 10, the subjects are spread out throughout this period according to the level of the development of children. Each year becomes more difficult, subjects more complex, and class activities and testing more variable, however the type of subjects taught almost stays the same. Topics covered within the subjects carry more information in them and require more participation in the class.

It should be noted though, for the purpose of giving the children the feeling of a belonging to a certain group with a certain teacher, the class (of maximum 30 students) stays together throughout the whole 4 years of primary education. In elementary school, all subjects are taught by one teacher, so that she (most of primary school teachers in Uzbekistan are females) can monitor and see the progress of each child and give individual attention in all areas taught in the class.

Many schools in Uzbekistan operate under two-shift schedule: in the morning and in the afternoon. Elementary school students go to school in the mornings around 8 o'clock and stay in class up until 12 pm. A basic day of an elementary school student is comprised of:

-learning the alphabet and reading
-writing and grammar
-mathematics
-and one of the following classes: drawing, music, clip art, nature study and physical education.
Each lesson lasts 45 minutes. Alphabet, writing and mathematics are taught everyday. The latter five subjects are varied and taught once or twice a week and serve as a rest, a play, less formal and less strict classes. During these classes children can relax from reading and writing that require a lot of attention and concentration from them, which can be quite tiring at the initial stages of attending school.

In the first year of elementary school
There is a subject called the Alphabet, but it doesn't mean simply learning the letters. This subject comprises development of vocabulary, speech, memory and knowledge of the surrounding world.

The writing class focuses on a clear and correct handwriting, which children learn from basic exercises of trying to draw a straight line or circles, rectangles, etc. After learning to write single letters, children learn to write words and comprehend their meaning.

Simple mathematics is also introduced in the first year of elementary school. In this class children learn to distinguish money banknotes, learn the numbers, and study simple calculating formulas such as adding and subtracting.

Nature study is a mixture of geography, biology and zoology, to give the children a general idea about the surrounding environment. Physical education is of course inevitable for a healthy development of children. As for music, drawing and clip art, these classes focus on the development of imagination in children and on discovering and fostering their talents. These five classes are probably mostly favored by children because they are taught in a manner of game play, and there is not much homework for this type of lessons.

In the first two years of the elementary school
There is afternoon stay for children whose parents work until late and generally prefer that their children spend more time in school. This "extended stay" at school is carried out by the assistant teacher and lasts another four hours. During this time children have a meal, take nature walks, do their homework and play games outside in the schoolyard that develop them physically and mentally.

In the second and third year
In addition to the previous year's classes, the subjects of Reading, Russian and Uzbek languages are introduced. This curriculum stays the same throughout the third year as well. Reading covers the subjects of family, friendship, school, what is good and bad. This gives the students a stimulus to be good persons in life and teaches them how to behave in various situations. In language classes simple grammar is taught and enlargement of vocabulary pursued. The testing includes dictations, short compositions, re-writing of read stories with the children's own words.

In the fourth year
The subject of History and a foreign language is introduced. At the beginning it is the history of Uzbekistan, which in later years followed by world history and history by time periods. As for foreign language, Uzbek schools, unlike Japanese, provide a variety of languages ranging from English, French, German, to Arabic and even Urdu in some schools.

Since the population of Uzbekistan is diverse and represented by many different nationalities, the idea of internationalism is stressed from the beginning to ensure a peaceful and friendly coexistence in future. This is especially dictated by the current feelings of globalization that involves all the countries around the globe. Along with this, however, the Uzbek heritage, culture, traditions and knowledge of the great leaders, scientists, scholars and heroes of the past is taught thoroughly to give the children a feeling of pride for the country they are born in and nurture patriotic feelings in them.

There are both Uzbek and Russian elementary schools, i.e. parents can choose and place their children in either school depending on the child's will and parent's interest in whether all subjects should be taught in Russian or Uzbek. In rural areas the number of Uzbek elementary schools is bigger than in urban areas. This maybe because most of non-Uzbek citizens are concentrated in larger cities, or due to the fact that in the past 70 years prior to independence, there was a bigger tendency to found Russian schools in big cities, while language and tradition was kept better in rural areas.


Remarks and conclusion.
Since my article focused on primary education, I did not touch other years in a life of an Uzbek child within the chain of the whole education system. However, I should say a few words about preschool education.

Since most of women in Uzbekistan work full-time even if they have small children, the system of kindergartens, which include nursery within them is well developed. All age groups have different activities and start mastering various skills while in kindergarten. However, lately, primary education has become too dependent on preschool education. There are special exams for children to enter elementary school, which puts pressure on the parents and children at the same time. This elementary school tests require already the basic knowledge of basic arithmetic, and in some cases knowledge of alphabet or even reading.

The idea of going through an exam to "qualify" for elementary school creates a feeling of obligation in children. In the time they want to play after kindergarten at the age of 5-6, they have to study under the supervision of their parents or grandparents. This gives children a notion that the elementary school is going to be all about work and no fun. Of course, once they start going to school, meeting new friends, learning new things, a whole new world opens to them, but the road to that is becoming stressful.

It would be better if elementary school exams didn't include questions about history, or geography and the like, because it is unreasonable to expect a child to remember the facts the importance of which he or she doesn't comprehend yet. Most parents start to wonder what the elementary school is for, if not giving the basics of ethics, culture and history. However, it can be argued that in the old education system parents totally depended on schools for their children's education. They did not spend enough time with their children. Just attending parent's meetings and paying attention only to such matters as nutrition, hygiene and manners of a child. Now, parents are becoming actively involved in all stages of education of children, and the role of teachers is becoming less monitoring and more guiding.

Reference:
http://www.tashkent.org/uzland/educate.html - Education in Uzbekistan
http://www.mno.edu.uz/uz/index.html - Ministry of Public Education of the Republic of Uzbekistan (in Uzbek)
http://www.uzgallery.uz/ - Uzbekistan today: a site covering the topics of culture, traditions, science, technology, economy, geography and education; represented by the works of photographers.
http://www.gov.uz/ru/uzbekistan/population.shtml - State Authority Portal of the Republic of Uzbekistan - a site covering the topics of population and labor, geography, economy, international relations, investments, education and science of the country at present.
http://uzland.narod.ru/russian/location.htm - Country data (in Russian)
http://www.unescobkk.org/education/ece/policies/uzbekistan.htm - UNESCO site on early childhood education
http://www.language.iastate.edu/REEES/home/uzb.doc - Uzbekistan Education Profile
http://www.euroeducation.net/prof1/uzbekco.htm - Structure of Educational System of Uzbekistan
http://reference.allrefer.com/country-guide-study/uzbekistan/uzbekistan36.html - Uzbekistan: country study and guide. Covers the subjects of population, language, religion, education and health
http://www.bibl.u-szeged.hu/oseas/uzbek.html - Educational developments in Uzbekistan