Five Teenagers in One Ontario Community Died by Suicide During Four Months in 2016--Parents, Friends and Mental Health Advocates Ask Why and Search for Preventative Measures
Woodstock
The edge of town was predictable. I passed gasoline stations, hotel chains and fast food restaurants with familiar names. Down the side streets were rows of one-story white vinyl-clad, single family homes, all with neatly tended postage-stamp sized lawns. I passed churches with towering spires, and Dundas Street, which appeared to be the main business street, then found I was in an older part of town. There appeared to be blocks of streets with sidewalks and curbs in front of heritage mansions, sometimes flanked by newer large-scale houses, all with well-groomed grounds. Large parks shaded by decades-old trees seemed abandoned at that time of day.
Main street of Woodstock, Ontario, a farm community (left)
One of 36 churches in Woodstock community (right)
I had decided not to seek interviews with the teachers and community leaders whose names I learned from newspaper articles. I wanted to feel the atmosphere, talk with community people not paid to deal with mental health to see what was on their minds. Having arrived, I had to discover a way to meet people.
I parked on Dundas Street and found a tavern where I could eat lunch. It was likely that the waitress would visit with me since it was well past the usual lunch hour, but the gal in this tavern was attending to eight or nine customers, so she didn't have time to get acquainted. I eavesdropped on the nearby tables. Two women in their late forties talked about the difficulty for single women to get bank loans; two other women were using their computers while eating; a senior couple ate with little to say to each other; and a young couple laughed and talked as they finished the meal. I was touched by the thoughtfulness of the busy waitress, who rushed to open the heavy front door for me when I left.
Outside I sat on a sidewalk bench to look at some literature. Maybe someone would stop to ask if I needed directions. Three school girls, giggling and walking arm in arm, passed me and one girl turned to watch as I stood to take a picture of the Old City Hall. I guessed that no one from around here takes pictures of that relic. I had to get bolder and when a young man looked my way, I asked him where I could learn about the culture of Woodstock. He pointed out the museum building and said I could learn the history there, but he wasn't sure what I wanted. I decided to level with him and told him I was writing about youth suicide for an internet journal and wanted to know how the community was dealing with the five recent deaths. I explained that I didn't think youth suicide was just a local issue, and that I hoped that readers would see the problems of the young people in their communities after reading my story.
City Hall on Dundas Street, Woodstock (left)
Museum in Woodstock (right)
"No one is going to discuss that with you," he said, sounding aghast. "They don't know you."
I must have sounded pathetically in need of a saviour when I asked, "What about you? Could you tell me what you think? Some young people were quoted as saying that the community doesn't listen to their needs. What did they mean?"
"Well, if you know anything about small communities you know that when something happens it's all over town within minutes. I don't know any of the families that were involved, but I'm sure word got around. You've got to understand that this is a well-established community--many families are descended from the first settlers. If there is something they value it gets done. They have the means and know-how. I can see how some feel they are not taken care of--feel they are left behind."
I asked if the community had welcomed any Syrian refugees, mentioned that I'd seen a Chinese and an Indian restaurant and asked if there are many Asians in this community. And I mentioned that I hadn't seen one black person.
"Not one Syrian family. Not one," he said, sounding sad. "The Indian restaurant is new. The Chinese one has been around, but that's the only Asian influence, and when I was in high school there was one black guy. Only one. But times are changing. With the high cost of homes in Toronto and other cities people are buying homes here and taking the train to commute. We go away to university and meet new people. Things are changing."
We promised to keep in touch.
I headed to a Tim Hortons coffee shop. In the past I've taken a table near someone eating alone, and before long we'd start a conversation. I chose a place next to three senior couples who had pushed tables together. The men wore tailored short sleeve shirts without ties, were balding with rosy cheeks, and looked a lot like my uncles from Ohio. The women were proper, wearing jackets and carrying tidy new purses. Across from us above a mantle was a large screen showing a video. The first scene displayed a message, "We thank our farmers," and the following scenes introduced historical information and then gave the month's horoscopes. Not one of the seniors seemed to notice my arrival. The men's voices carried. They were discussing disability pensions and old ways. "Why I was up and in the field by seven every day," one man said. "Had twelve acres plowed before I stopped for lunch."
Another man told about a farmer he knows who has 200 cows to milk two times a day, all by machine. "The milk goes straight to the tank without a human hand."
"Like a factory. Just like a factory," the first man answered. "Things are changing."
When they got up to leave, one couple glanced my way. I spoke up. "This community reminds me of the farm community where I grew up in Ohio. All my uncles were farmers. Were you a farmer?"
"Yes, yes, I farmed," the man smiled and replied.
"Grain or dairy?" I asked. "I used to run a cream station. You'll know what that was." (Farmers with small farms brought their cream into town and sold it at the cream station where it was used to make butter.)
"Dairy," he said, smiling and perhaps identifying me as one of his kind. "My son's taken over now."
His wife had stood behind his chair for a while, but now was slowly walking toward the door.
"Has this community taken in any Syrian refugees?" I asked. "How are they settling in?"
"I guess we did. Don't hear anything. I don't want those terrorist guys." His voice was calm, but he clenched his mouth and shook his head decisively.
"Certainly," I responded. "The aim is to take refugee families who have lost everything. You remember how we mistrusted the Japanese during war and thought they were all bad. After the war I went to Japan to teach. I was taken in like a daughter or sister to live with Japanese families. I found we had so much in common. We weren't strangers any more. We really liked each other."
"We made a big mistake all those years ago bringing the Negros from Africa," the man said. "I guess the cotton farmers benefitted, but we're told that some mistreated the Negros and now we are paying for that. All those riots in the U.S. We brought it on ourselves and now we are paying. That President [U.S. President Obama] hasn't done one good thing in all his years."
I could not let that comment pass. "But, don't you think that the American Congress failed to pass all of his progressive ideas just because he is black?"
"Things has got to change."
"Yes, I agree that change is coming."
He pushed back his chair and stood. "I've enjoyed talking with you."
"It's too bad we didn't have your wife in on the conversation. She's been very patient."
He nodded his head in a goodbye gesture and left to join his wife who was passing the time looking at a noticeboard.
I understand this community. People are law abiding. I'd noted how polite and accommodating drivers were at the many four-way stops, how thoughtful the waitress had been, the kind young man who wanted to help me, and the farmer who was too polite to send me packing when I brought up painful matters. They are hard-working people who help each other and until now have had little opportunity to mix with people of different cultures. They have felt secure in a place they know so well, where their religious affiliations and family values mattered and little changed as one generation took over from the preceding generation.
Georgian style family home in Woodstock (left)
Victorian home in Woodstock (right)
I sympathize with the people of Woodstock who must forgo a lot that had been familiar and adjust to new ways. They are like so many communities in our industrialized world, struggling to adjust to a new order. Families have moved far from their relatives, into the new subdivisions or to cities and live next door to strangers from a different culture. Often they participate less in activities centering around their religious faith or find interpretations of their faith different from their beliefs. Life centers around work. Children go home to an empty house since the cost of housing requires that both parents work. They are given cell phones, lap tops and TV to entertain themselves; however, we are social beings and need the fellowship of kindred spirits. We all need to feel that we belong and are accepted. Mandy Bailey tried hard to be a typical teenager to belong, Ashleigh-Rae Thomas, Trevor White, Mark Henick, and Hope Witsell all wanted to be good enough to belong, to be loved and accepted.
My early depression was precipitated by the loss of friends because I had just returned from living in Japan to attend nursing school, and all of my former friends had moved on including my boyfriend. When I went to my doctor for my annual physical, he asked if I was happy, and I started to cry. I'd held in my loneliness for a time, studying and trying to make new friends even though the girls living near me in the dorm were younger, and we seemed to have nothing in common. I began to doubt that I'd made the right decision to become a nurse, but what could I do? I missed my father who had died. He would have known how sad I felt, and then I remembered that when he died, none of my high school girl friends came to see me. I suppose they didn't know how to console me, but I needed them and they'd abandoned me. There was a flaw in my character. Who could love someone like me? Talking every week with my therapist helped me express those sad feelings and made me feel better. Gradually I found pals with some of the older girls in my class and later was even chosen to be class president. Looking back, it seems that those matters were too trivial to bring on such sadness, such a longing to have my life end. I can empathize with those five students who ended their lives. The sadness compounds until you feel you can take no more. Henry Wadsworth Longfellow's poem, "The Rainy Day," written when his wife died, brings consolation when I feel low. "The day is cold, and dark, and dreary;...My life is cold, and dark, and dreary;...Behind the clouds is the sun still shining...Thy fate is the common fate of all, ..."
Woodstock is in the process of learning how young people feel and discovering what they need; and following that, to help each young person find a passion and give them opportunities to participate with others in interest groups so that they feel less isolated.
I have faith in the Woodstock community. As my young friend said, the people here can get things done. The front page of Snapd Woodstock (Woodstock.snapd.com), the local free newspaper, shows pictures of residents who are involved in the United Way fund raiser for local projects. Another picture shows men who are staging a charity drive at the local golf club. Inside the paper Mayor Trevor Birtch writes about World Suicide Prevention week, listing many organizations offering opportunities for people in the community to learn about suicide causes and prevention. The next page featured "Healthy Mind, Healthy Spaces" described lectures from Mike McMahon of CMHA and other events in support of Mental Health. Fanshawe College and The Rotary Club were also fundraising. A large ad titled "Speak Up for Kids" reminds readers that October is Child Abuse Prevention Month. Winsafe Corp. gave a large sum in order to fund Dialectical Behavioral Therapy, an evidence based program for teens and their parents to support building skills to regulate emotions. Paul Cliff, Owner and Publisher wrote about the bike ride to raise funds for Mental Health. I am convinced that the Woodstock community is trying hard to help all children feel less isolated, to feel that their lives are meaningful and that they belong.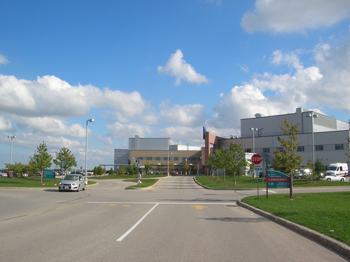 General Hospital in Woodstock on the outskirts of town near new subdivisions