Ramadan Kareem (Have a generous Ramadan)!
Everywhere in Dubai during Ramadan, the month of fasting for Muslims, we hear people greeting one another saying "Ramadan Kareem!" The word "Ramadan" attracted attention among Japanese people when Kintaro Osunaarashi, the then sumo-wrestler from Egypt, bravely stepped into the sumo-ring during his fasting period. Nowadays, we often hear about Ramadan.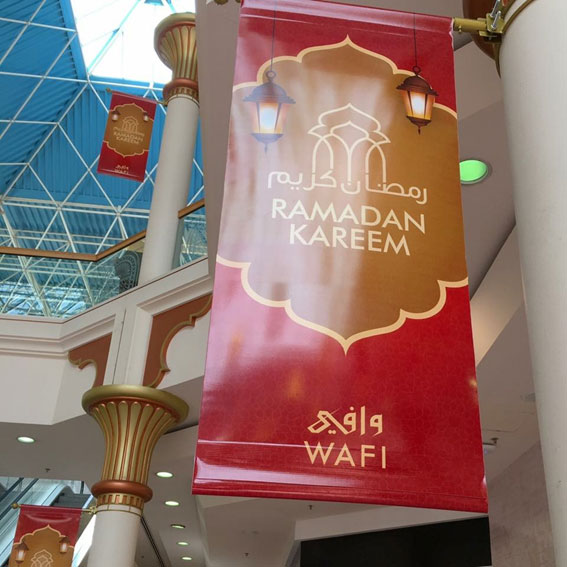 Wafi City Shopping Mall with a "Ramadan Kareem" banner.
Ramadan is the ninth month of the Islamic Hijri calendar, commemorating the time when Allah revealed the Noble Quran to the Prophet Muhammad. During this "holy month," Muslim people fast from sunrise to sunset every day, fully abstaining from eating and drinking. In this report, I will introduce how people living in Dubai spend Ramadan when the religious atmosphere becomes most apparent during the year.
Ramadan begins earlier by eleven days each year
In Dubai, people's secular daily lives are based on the Western calendar (solar calendar), while religious events and holidays are determined using the Islamic Hijri calendar. The Hijri calendar consists of twelve lunar months according to the waxing and waning of the Moon. The duration of a lunar year is about eleven days shorter than a solar year. Therefore, the starting point of Ramadan is brought forward by eleven days each year.
I experienced Ramadan for the first time in Dubai in 2014, when Ramadan took place between June 29 and July 27. In 2017, Ramadan occurred during the summer solstice period (before and after June 21). As the longest day of the year falls on the summer solstice, the duration of fasting time in that year became longer and more arduous, particularly for Muslim people living in the Northern Hemisphere.
| Year | Starting date | Ending date |
| --- | --- | --- |
| 2014 | June 29 | July 27 |
| 2015 | June 18 | July 16 |
| 2016 | June 6 | July 5 |
| 2017 | May 27 | June 25 |
| 2018 | May 17 | June 15 |
| ⁝ | ⁝ | ⁝ |
| 2022 | April 2 | May 1 |
| 2023 | March 22 | April 21 |
Observing the Moon with the naked eye
Ramadan starting eleven days earlier each year is confusing enough for non-Muslims, but what is more disturbing is that the accurate starting date of Ramadan is not announced until just before the event. It is something of a cultural shock to us foreigners. This last-minute announcement is because Ramadan should necessarily start on the day of a new moon. The Moon Sighting Committee consisting of religious scholars will observe the Moon with the naked eye at a high altitude. Only when a new moon is confirmed, can the Ramadan start date be announced. The start of Ramadan is sometimes pushed back one or two days the planned date due to adverse observation conditions such as bad weather. It is quite difficult for me, being Japanese, to understand how people still use this decades-old method, that is, observing the Moon with the naked eye, and the fact that the schedule of such a significant religious event can be changed so easily.
The same applies to the end of Ramadan (i.e., the new moon). What's more, the Eid-al-Fitr (national holiday) right after Ramadan, a sacrifice festival (Eid al-Adha), and a long holiday season (similar to Japan's Golden Week holidays) will follow. The starting dates of all of these are also determined by the Moon Sighting Committee according to their observation of the Moon. Therefore, if you want to plan a long vacation during these holidays, you may end up not being able to decide until the last minute, depending on the Moon's phases.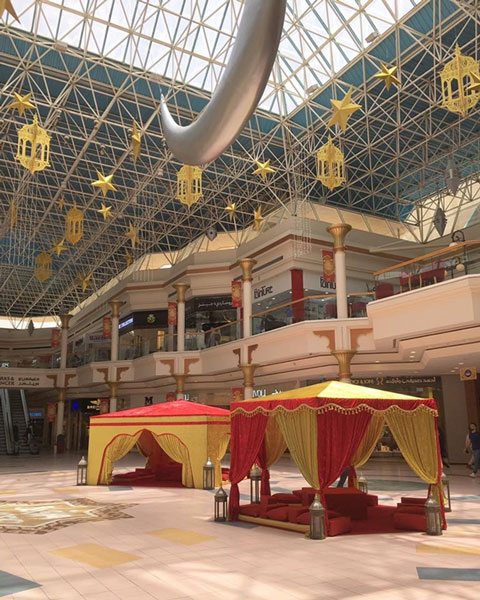 A majlis tent is often seen during Ramadan.
Dates and Arabic coffee are served after sunset.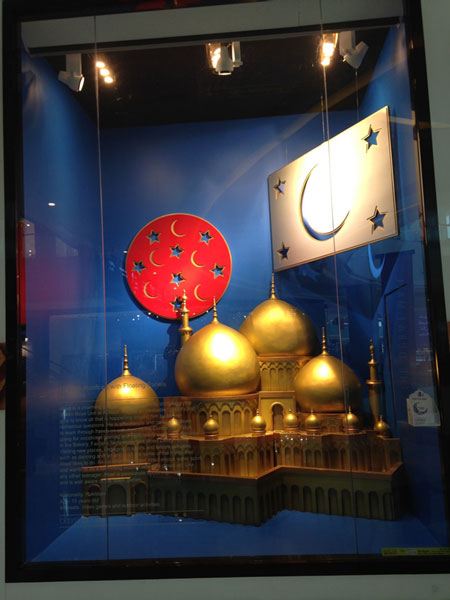 During Ramadan, we often see moon-motif decorations in shopping mall displays.
Restaurants during Ramadan
During Ramadan, Muslim people fast from sunrise to sunset every day, abstain from eating and drinking, and thank God for every grace in their lives. They need to abstain from not only food and drink, but also tobacco products, luxury goods, and physical gratifications. Most restaurants, including fast food restaurants and cafeterias, as well as amusement parks, will be closed until sunset.
Muslims who are traveling, pregnant, menstruating, or experiencing serious illness during Ramadan, as well as aged people, babies, and infants, are allowed to be exempt from fasting. However, those exempted Muslims who are traveling, pregnant, or menstruating during Ramadan should resume fasting for the number of non-performing days later, when they become able to do so. Muslim children are not obliged to fast. Usually, they start fasting for just a few hours by imitating adults. When they reach around ten years old, they will enter a full fasting mode.
  

Cafeterias during Ramadan (Dubai Mall).
Dubai, a tourist city, has several restaurants open during Ramadan for foreigners in downtown areas and large shopping malls such as Dubai Mall. Their serving styles vary every year. For example, in 2017, a food court in Dubai Mall set up partition walls to conceal people having meals.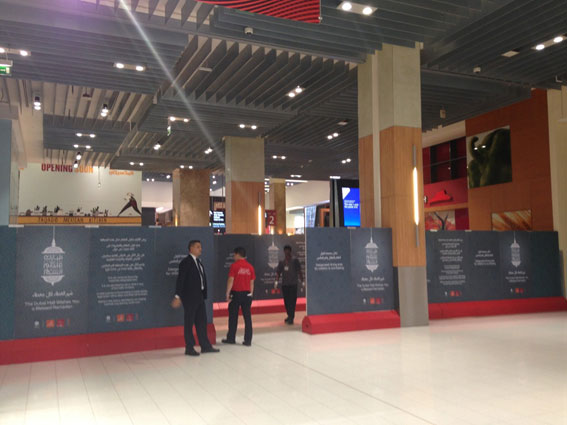 Food court entrance in Dubai Mall with partition walls to conceal people having meals.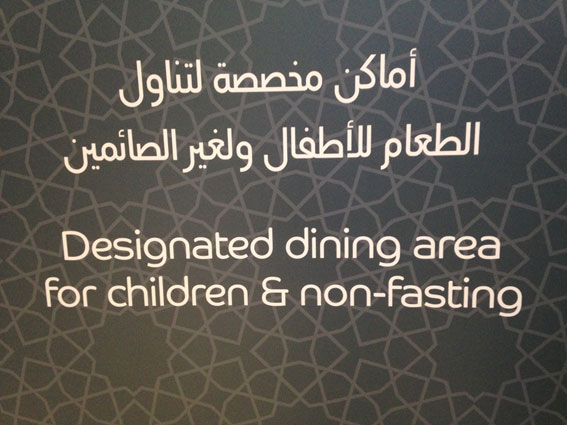 The sign indicating that the area is for children and non-fasting people.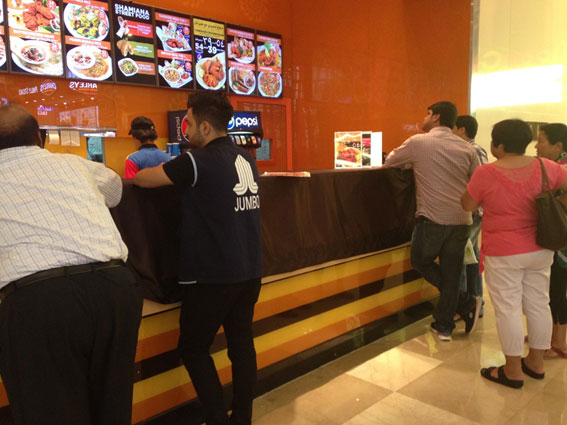 Food showcases are covered with a black cloth at the food court in Dubai Mall.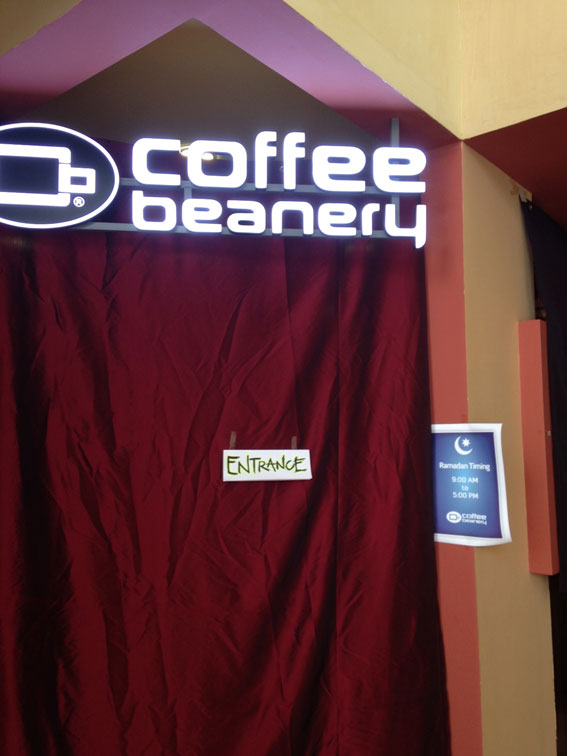 Food court in Dubai Healthcare City covered by curtains while serving meals and drinks.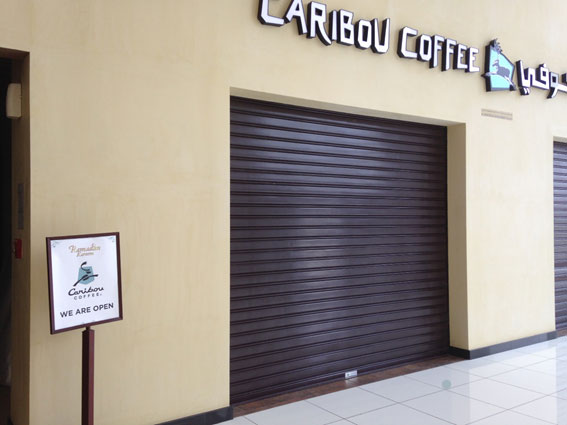 Despite its closed look, the sign says "We are open" at a food court in Dubai Healthcare City.
Everything is in the Ramadan mode
Ramadan also significantly influences the daily lives of non-Muslim non-fasting people. This influence can be observed even before Ramadan starts. Celebratory events with food and drink (such as birthday parties and social gatherings) should be brought forward and conducted before Ramadan. Therefore, many people rush into ceremonial parties such as children's birthday parties, farewell parties, and convivial parties. Once Ramadan starts, non-Muslim people will switch their lifestyle to a discreet mode. They avoid going out and stay at home during the daytime. If they do have to go out, they drink water in restrooms or obscure places, trying not to draw attention to themselves.
In the United Arab Emirates (UAE), most offices reduce their working hours (usually eight hours) to six hours during Ramadan. For example, the working hours of my husband's company shifts to 8:00 to 14:00 for local employees. Because many companies set their closing hours at 14:00, a commuter rush occurs between 14:00 and 15:00 during Ramadan. Fasting Muslims can become severely frustrated from their triple endurance of hot weather, hunger, and insufficient sleep. The chaotic rush hour can seem like a nightmare with echoing beeps and honks.
Japanese schools in Dubai offer an educational session to be aware of Ramadan and its implications before it starts. Students are given detailed instructions about Ramadan, its meaning, and how to behave during Ramadan.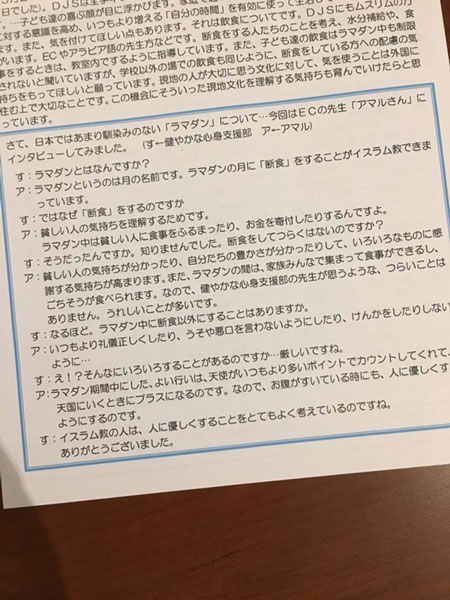 A letter from the Japanese School indicating, "When living in foreign countries, we should respect the cultures and customs that local people cherish."
Considering the local school staff, students are told, for example, to drink water or eat lunch in the classroom (usually, they can eat lunch at any place within the school), avoid drinking water on a school bus, and so on. In the UAE, schools' finishing time is officially set at 13:30 during Ramadan. Therefore, children at Japanese schools go home at 14:00 every day for one month. Enrichment lessons are temporarily suspended or conducted at an earlier time during Ramadan. In other words, Ramadan allows children to reset their busy lifestyles and enjoy a relaxing time by swimming, playing, and reading books at home.