The Second East Asia Child Science Conference was held on April 19-20, and hosted by Child Research Net (CRN), G-COE of Ochanomizu University and the Benesse Institute for Child Sciences and Parenting. The subject of the conference was "Approaches of Child Science to Child Growth and Development and Living Environment." This event was announced to the public on our website and those of other child-related societies, and more 200 participants attended the two-day conference.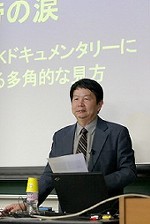 The first day opened with an address by Dr. Noboru Kobayashi, Director of CRN. This was followed by a keynote address by Professor Jiaxiong Zhu of East China Normal University with the Chinese perspective on "Tears of Little Emperors," a recent TV program about China's only children which aroused much attraction. Over the next two days, six professors and researchers from both Japan and China gave presentations. Each day ended with a symposium made up of presenters from both nations.


Regardless of the country, it is impossible to discuss education without considering history and cultural background. It is important to know our differences, to learn about them and respect and understand them. I believe that the perspectives of Child Science can contribute much to the exchange between Japan and China and build strong relationship.