In the summer of 2011, I moved to Berlin from Japan with my family. Our son was 3 years old and, from that time until the summer of 2014, attended a German-English bilingual pre-school. This is a report based on observations and interviews with teachers at the pre-school, focusing on "Interaction between teachers and children." The topic is associated with the research of Child Research Net (CRN), "Early Childhood Education and Care (ECEC)."
At the third ECEC Research Conference held in Tokyo in February 2014, great value was placed on play in early childhood education*1. It was also stressed that the teachers should make efforts to grasp the unique circumstances of each individual child and support him or her in order to increase the quality of play.
Regarding play in Japan, Shimada (1992) describes its history in education as follows*2: "Although 'free play' was highlighted in the Childcare Guideline issued by the Japanese government in 1948, it ceased to appear after 1956. However, the government's approach to playtime was reconsidered, and the teachers' guidance through play was once again highlighted in 1990, so that the importance of play has been re-established."*3 In the current editions of New Educational Guidelines for Kindergarten and Childcare Guidelines for Day-Care Centers, both issued by the Japanese government, importance is placed on the instruction and care with the focus on play initiated by children*4*5.
On the other hand, how is play defined in Berlin? The Berlin Education Program states its case as follows: "Play is initiated by children. Through play, children develop social skills, enhance their imagination, and acquire the ability to cope with reality. Teachers should not lead play nor introduce play from the perspective of education. Play is an activity without any specific goal, and most definitely, it should not be a tool to accomplish goals set by adults." *6
The pre-school attended by my son follows the city's guideline and encourages free play. However, I was initially perplexed, because under the name of 'free play', it seemed that the teachers just left the children as they were, not getting involved with them at all. At least in the day-care center where my son was in Japan, caregivers seemed to be more engaged in the children's activities. However, an interview with teachers followed by an observation of my son's pre-school in Berlin opened my eyes to a different perspective.
It was the Easter holiday week, and fewer children and teachers than usual were in attendance at the pre-school. There were 12 children between 4 and 6 years of age and two teachers, one German and the other American on this day. In addition, it was a "toy day" when children were allowed to bring their own toys from home so that they were surrounded by various kinds of toys and enjoyed themselves.
Here is an example of the pre-school's daily schedule. Most of the time, children follow this schedule, unless they have special events.
| | |
| --- | --- |
| 8:30 | Breakfast |
| 9:00 | Free play |
| 13:00 | Lunch |
| 13:30 | Cleaning up and tooth brushing |
| 14:00 | Quiet time: Most children do not nap but sit or lay on a mat quietly. Sometimes they have a story time with teachers. |
| 15:00 | Snack |
| 15:30 | Free play - dismissal |
| 17:00 | Close |
The room layout of the pre-school is as shown below. Children from the age of 4 to 6 spend time here while children from the age of 1 to 3 are catered for by another facility in the neighborhood. Nonetheless, they are not separated by age within the facility.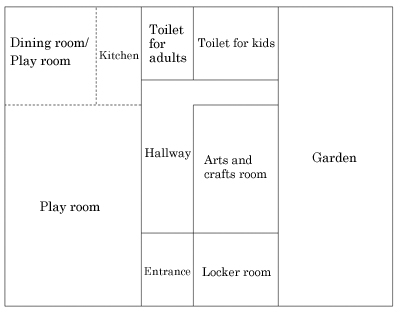 In this facility, children were playing in the following groups:
Group 1: Arts and crafts with a German teacher (2-3 boys and girls)
Group 2: Drawing with an American teacher (1-3 boys and girls)
Group 3: Playing with trains and model railroad layouts (1-2 boys)
Group 4: Playing with glowing toys in the dark hallway (3 boys and girls)
Group 5: Playing with dolls (2 girls)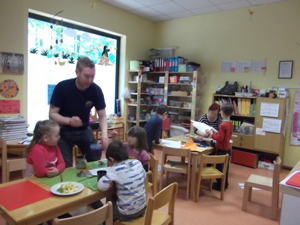 Group 1 and 2: Arts and crafts group and drawing group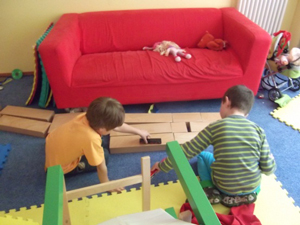 Group 3: Playing with trains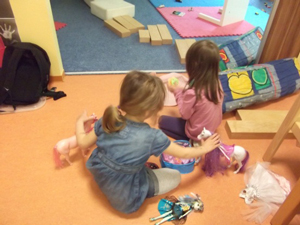 Group 5: Playing with dolls
As time went by, these groups changed accordingly. Some children moved from one group to another while others remained in one group. According to the teachers, the circles of the children are flexible to change. Current "favorite friends of mine" can become the "favorite friends of others" within one week or so. However, there is a tendency for girls to play with particular friends. Also, children with a strong imagination tend to play unaccompanied, devoting themselves to their own world.
Although teachers were present in some groups (Group 1 and 2 above), since this is "free play", they did not positively encourage children to do anything until they came to the teachers and said, for example, "I want to do work in the wood shop." The German teacher simply sat in his chair and kept on writing numbers on colored paper and cutting out pictures. He drew pictures while he was doing chores as well. Children gathered around him to draw or do arts and crafts, but when they felt satisfied or started to take interest in other things, they simply left to join another group or created a new group for a new activity. As a result, the flow of children seemed to be free and flexible.
While I watched, a girl came up to the American teacher saying "I want to paint." Then the teacher asked her, "OK, so what do you need?", and then helped her with the requisite tools for the painting activity. Once she started painting, the teacher asked her one question after another such as, "What is this?" or "What is this number?", to develop the conversation and to bring out her vocabulary. This teacher said, "Teachers are not supposed to take initiative but are to support children's individual initiatives by assisting activities or offering tools. It is very important to let the children take the initiative. Moreover, we usually leave children alone when they are involved in their activities and in their own world."
However, the teachers will immediately intervene if they see any dangerous situation developing. During this interview, one game escalated into a slight level of commotion among some of the boys. A teacher intervened and calmed them down, separating the boys. The German teacher kept an eye on the children in the play room while the American teacher checked the other rooms and hallway regularly as he did other chores.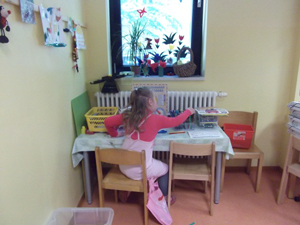 A girl drawing by herself
One of the questions on my mind was how the teachers dealt with children who didn't want to play with others, and who couldn't successfully integrate into a group for some reason. A teacher said, "Of course we pay special attention to those children who have just joined the facility or whose language ability in German or English is still limited. However, we basically observe them and neither interfere individually nor change our approach to each child. This is because we would like to foster their independence and to value their self-initiative. This will lead to "problem solving skills" which is essential in elementary schools. Our duty is to support children to be independent in various situations."
Looking back, there was a time when our son stayed on a sofa in the pre-school all by himself, looking sad, and we were slightly worried by this situation. Teachers invited him to some groups saying: "Look, what are they doing? Let's go and check them!" or "They are drawing in that group. Do you want to try that, too?" But if my son said "No", they did not push him and just left him alone. Sometimes I was wondering why the teachers didn't simply take him to a group.
After a couple of months, however, our son started to talk about other children at home and he seemed to enjoy his time more in the pre-school. Moreover, he became more positive about participating in activities even outside of the pre-school with other children that were new to him. It is possible during that period that he was learning the way to mingle with others and to enjoy himself. We were very glad to see him overcome the situation on his own.
Thus, it was my impression that the teachers in Berlin did not ultimately guide playtime but instead, they supported the children's initiative to create play situations. In fact, these children seemed to pursue their interests by trial and error and to develop their own personalities. The most suitable means of interaction between teachers and children varies according to the environment and characteristics of the children. However, it was quite a meaningful experience for me to observe the interaction between the children and the teachers, and to see how the policy of pre-schools in Berlin worked.