| | | | |
| --- | --- | --- | --- |
| | Year 2000* | Year 2002 | Year 2004 |
| Canada Population | 30,770,000 | - | 31,946,300 |
| Maternity Leave | 49,372 | 53,974 | 56,648 |
| Paternity Leave | 31,837 | 116,762 | 126,587 |
| Adoption Leave | 361 | 1,368 | 1,632 |
| Canadian Births | 327,107 | 330,523 | 337,856 |
| Paternity Leave Rate* | 9.70% | 35% | 37% |

*Year= July1, 2000 to June 30, 2001.
*Paternity Leave Rate=Estimated percentage of insured fathers of newborns who took parental leave.
*There is no data about uninsured fathers who take paternity leave.
There is a 2-week unpaid waiting period before insurance benefits begins to be paid. Earnings, for example, vacation pay, severance pay - made during the 2-week waiting period will be deducted in the first 3 weeks for which benefit is otherwise payable.
The basic benefit rate is 55% of the average insured earnings up to a maximum of $413 per week. The insurance payment is taxable income, meaning federal and provincial taxes will be deducted. If the applicant is a low-income family-net income up to a maximum of $25,921 per year - with children and applicant and spouse receiving a Canada Child Tax Benefit, the family is entitled to a higher payment as a Family Supplement.
The following three case studies show how the program works for fathers.
Case1: Lisa and Marty
Lisa and Marty, a couple in their mid and late 30s, have their first child, a three and a half month old daughter, Lindy. Marty works for a paint manufacturing company and is eligible for paternal leave. Lisa is a self-employed Massage Therapist and has no coverage. They live in a small community in rural Ontario. When I visited them Marty handed me a coffee and said I should join Lisa and Lindy in the bedroom where Lindy was nursing. Baby was comfortable in mother's arms. "I was going to ask the nurse how to introduce the nipple but she latched right on," Lisa said, obviously pleased that her daughter instinctively knew where lunch came from.
Although both Lisa and Marty have siblings, neither of them had been around babies. In preparation they took a prenatal course together. "I was reluctant to go to class," said Marty, "but Lisa persuaded me and I'm glad I did. We get together with the other four couples, share experiences." They also took a course in hypnotic birthing which Lisa said worked. "I had no drugs during the 12 hour labor and delivery. It struck out the fear." During the birthing Marty held one leg and Lisa's Mom, a nurse, held the other as two midwives and a nurse supervised. They chose a hospital with family accommodations. The suite included beds for each parent and baby and an adjoining bathroom. "Exotic. I couldn't sleep. I kept listening to hear if Lisa and Lindy were breathing," Marty described the birthing and time following. "I held her as soon as she was delivered. Lisa was shaking."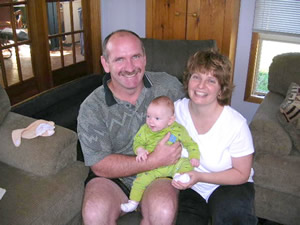 Marty, Lindy and Lisa
When asked how he decided to take paternity leave he answered, "I was worried about money. One guy said it would cost us about $10,000, but Lisa said it was important for the baby even if we got into debt. She persuaded me, "Marty said with a grin. "I still worry, but I'm glad I took time off." A temp is filling in for Lisa, but she has no income. For paternity leave Marty gets the maximum $413 government insurance per week less taxes bringing the payment to $355. That doesn't quite cover the cost of their mortgage and realty taxes. "If you don't have savings, you can't do it," Lisa said. "Marty could work and make up to $50 per week but his company didn't offer part time work." Their big hassle was getting the payments started. It took over a month in spite of constant phone conversations with government officials verifying that everything was in order. Turns out the government required an original record of employment, not a photocopy. It was a hardship. Lisa will return to work in three weeks and Marty will take over full-time for several months. Marty described his day. "Lindy wakes up between 8:30 and 9:30. I hear her pretend cough. She's sleeping on her tummy and I turn her over. She laughs. I change her diaper as Lisa goes to the washroom. While Lindy is breast feeding, I make Lisa's breakfast. I thought I'd get so many things around here done, but there isn't time." Lisa finished feeding and sang as she put Lindy on the bed. "She sings too," Lisa told me. Sure enough, baby was murmuring a rhythmic sound as daddy approached to change her, and hearing daddy's voice, Lindy turned her head and smiled broadly.
Case2: Jan and Ian
Jan and Ian have a three month-old son, Jamie. Ian is in his early 40s and Jan in her early 30s. It's their first child and they haven't been around any wee ones. Ian is an insured Tool and Die specialist for General Motors and Jan has just quit her job as a bookkeeper to be a fulltime mother until their son starts school. They own a bungalow in Oshawa, a small city. Over the phone Ian told me he was allowed in the birthing room at Oshawa General Hospital during the 22 hour labour but then had to go home and return for visits. "I was in shock - all sorts of emotions, relief that everybody was okay," Ian answered my question about the actual birth. "We decided that I'd take leave when we were three or four months pregnant," Ian said. "Family and friends were supportive. Even the older fellows said they wished they'd had the chance when they were young."
In answer to my question about finances, Ian said that his company adds to the government $413 per week payments up to 90% of his full salary for three months, then "I'll go back to work. " "Any surprises?" I asked and Ian said he didn't realize a new baby would take so much time. "How do you help out?" I asked. "Everything," Ian answered. "Feed him, change him, and give him a bath. Jan breast fed him for two months, now we both make the formula. Jan gets up through the night, and I look after him for three or four hours in the morning while Jan sleeps. Jamie and I get to know each other." Jan came on the line. "He has his father's temperament, looks like him," and I could feel their beaming pride across the phone lines.
Case3: Dana and Jim
Dana and Jim invited me to their rental apartment to meet Mattao, their first born who is now a walking, dancing, talking 22 month old boy. Mattao was in his highchair but he grunted to be lifted down and came to show me his toy guitar. Both parents are in their late 30s. Dana baby-sat as a teenager and Jim played with toddlers in his family. Jim is a Nurses' Aid in a Government of Ontario rehabilitation hospital and was eligible for paternal leave; however Dana does contract work and is not covered by the insurance program. In Jim's case, the hospital topped up his benefits so that he got 93% of his full salary for three months and that was sufficient. After three months he went back to work.
The baby was born at Mt. Sinai Hospital in Toronto. Jim attended the birthing and cut the cord. "It was the best day of my life," he said, the awe registering on his face. "Amazing. Such a good feeling. He was so small." When asked what his family and friends thought of his decision to take leave, he said. "Cool. The nurses encouraged me. A buddy also took it." Asked about parenting he said, "We've always done things together - more harmony, equalizing. We learn what he wants together. We were both ready to be parents." Still it was a surprise to discover how much there was to do. Dana breastfed for a year. "Any surprises?" I asked, and Jim told about Mattao getting a urinary tract infection at age three weeks and having to be hospitalized. "It was a shock," Jim said. "I had to realize that babies get sick. I love him." It was a worry but "I had to have faith" that he'd get well. Dana was nodding agreement and Mattao was squeezing my hand and pulling me to visit some of his toys.
The following three case studies show why some fathers do not take parental leave.
Case4: Kimiyo and Yuji
Kimiyo and Yuji's baby, five months old Kei, was born by Caesarian Section. Being self-employed Yuji can not get Employment Insurance (including insured parental leave) and Kimiyo is an uninsured stay-at-home mom. For five days while Kimiyo and Kei were hospitalized, Yuji meagerly supervised his staff who worked long hours so that he could be with Kimiyo and Kei. He couldn't be away from full-time work longer. Things would have been rough had not grandma come from Japan to look after three year old Kisho and walk him to nursery school.
Case5: Nadia and Frank
Nadia and Frank's first baby, Michael, is two months old. Both parents were eligible for parental leave. Frank, a construction manager, said that they wanted to have a parent at home with the baby for a year before Nadia went back to work so they opted not to split the time between them. "I change diapers, feed and give Michael a bath. It would be nice if we both could take off for a year, but since we can't ---. And I work for my father-in-law (who is past 65), and I couldn't expect him to manage on his own."
Case6: Kathleen and Rick
Kathleen and Rick's daughter, Cordelia, is nine months old. Rick, a newspaper columnist, explained that though both he and Kathleen were eligible for parental leave, they wanted Kathleen to have a year off with baby and their one- and- a- half year old daughter, Agnes, so he opted not to collect insurance. "Many guys take only three or four months, so the wife can have the rest of the year, but I do a lot of my work at home anyway." He scheduled himself to assume baby care after we spoke so that Kathleen could have time for herself. The program mandates that the father's job must stay open. I asked Rick if he thought some guys would be afraid that they would be moved to another position or miss out on promotions while they were off. He thought is wouldn't be a problem if they were away only two or three months.