(Continued from the
Part 1
)
There were no photographs with natural expressions
The photographer, Ryoji Akiyama, traveled the country of China widely including the northern parts such as Harbin and Beijing, coastal areas such as Shanghai and Guangzhou, and Chengdu and Kunming in the interior. He further traveled to Hohhot in inner Mongolia, also Urumchi and Turfan in the Xinjiang Uygur Autonomous Region for the photobook. Members of the China Photographers Association, a nation-wide photography group, cooperated with the project. When Akiyama arrived in town, the arrangement was already made. Branch staff would welcome and lead him to the filming location where selected children for the project were waiting for him.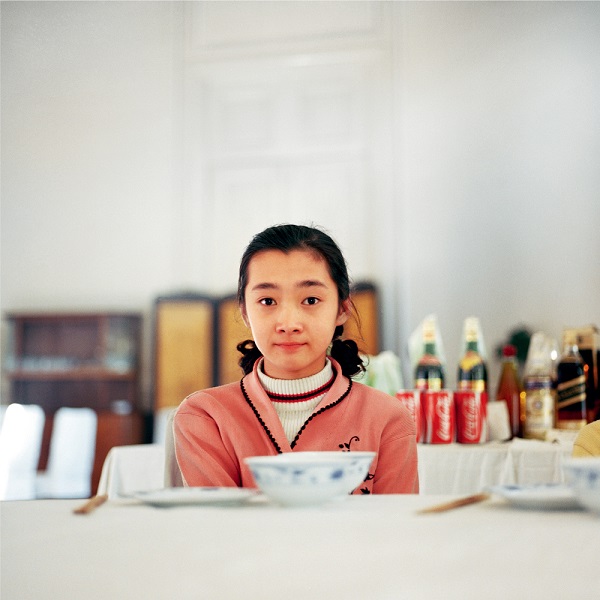 ©Ryoji Akiyama
"Girls were ready, wearing make-up, beautiful outfits and bows in their hair without fail. I could see that they were prepared for filming and of course I took photos, but it was not so exciting to photograph a scene which was set up in advance. I also walked around the town on mornings and evenings by myself, and photographed children I met," says Akiyama.
Aiping Liu, a senior researcher at CRN, was in elementary school at the time when Akiyama was shooting photographs for the photobook. According to Liu, photographs were not common back then, and people would pose when their pictures were taken. Her remaining photos all show facial expressions that are found in a commemorative context. Adults at that time requested children to be amenable in photos. They had no idea to portray children in natural ways such as with frowning faces, laughing or yawning. She says that is the reason Akiyama's photobook is precious because it is filled with children with natural expressions.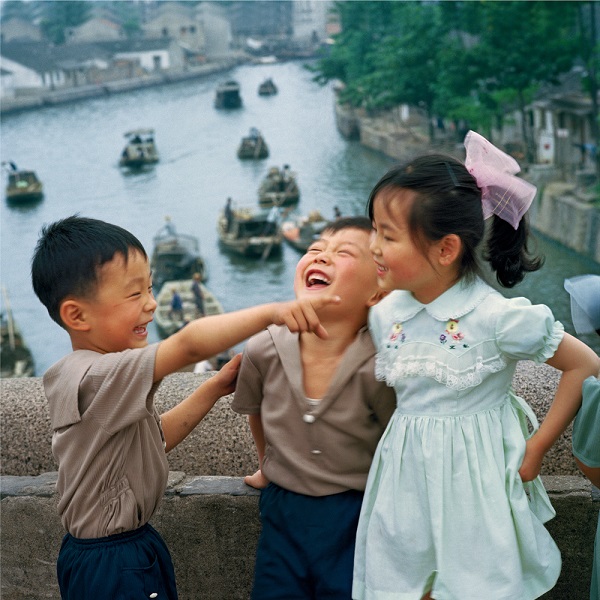 ©Ryoji Akiyama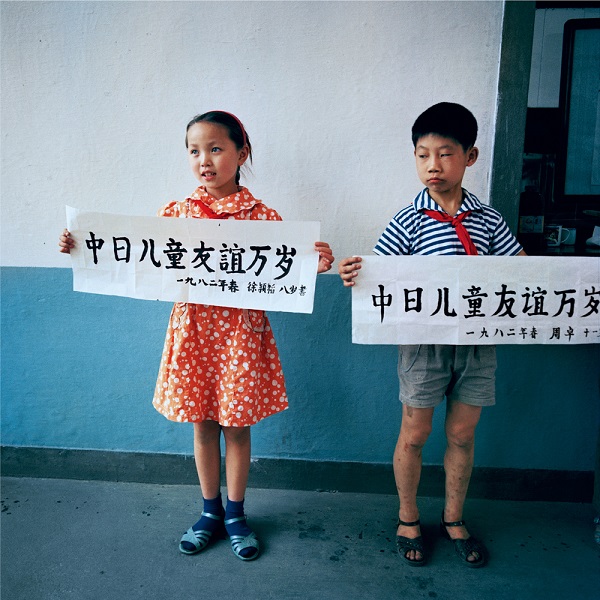 ©Ryoji Akiyama
The photos taken by Akiyama are snapshots of children in China in plain everyday surroundings. They ought to be nothing exciting for us to look at since we see them everywhere. So why are they attractive? Akiyama makes visible the vibrant expressions that we tend to overlook with our naked eyes, by pinpointing and freezing the momentum in the photo with his camera.
"A child drinking coconut juice," "Children coming to watch airplanes," "A boy studying on a sidewalk into evening," "A girl with a red shawl "....They stand out when we see them in the photobook but are all ordinary scenes that would blend into everyday life without Akiyama's eyes as a photographer capturing them.
We see the best of human beings in children
Akiyama originally started as a photojournalist in his career, but realized that it wasn't suitable for him and decided to take a different path as a photographer.
"I went to shoot photos of starvation in Bihar, North India, after I resigned from Asahi Shimbun," he recalls. "Those photos were published in Asahi Graph. A woman commented saying that she was greatly moved in the 'Voice' section of the Asahi newspaper. It did not feel right. I realized after returning from India that I only took photographs and did not do anything more. I was taking photographs of people in India who were starving and suffering while I myself had a place to stay, which were not just cheap motels but were also hotels with air conditioning, a shower and a Coca Cola to drink. I came back, put my name on the photos and presented them. I felt a sense of guilt. I understand the importance of photojournalism and there are great predecessors such as Robert Capa and David Douglas Duncan but I felt maybe it is not me who needs to do this."
"Nĭ hăo xiăo péng yŏu -- Chuugoku no kodomo tachi [Hello, little friends -- Children in China]" came en route for Akiyama while finding the style in which he could only shoot. He was seeking photos that are different from photojournalism which focuses on social issues such as war and famine, or fine art photographs that explore the representation of beauty.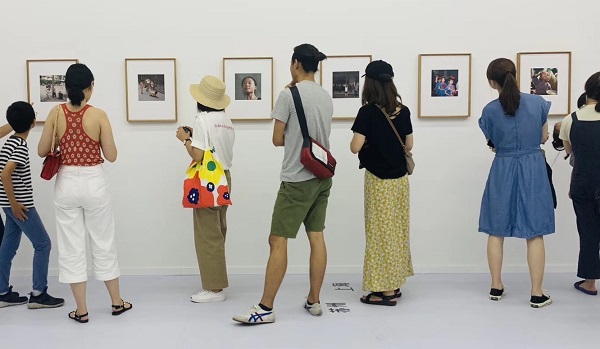 Book launch exhibit at Chengdu
"A long time ago I traveled to Kyoto with an American photographer, Lee Friedlander," Akiyama continues. "He said to me that many photographers went to Vietnam during the Vietnam war, but no one took photos of the lives of ordinary people in Saigon city. The photographs showed an American soldier holding a gun to the head of Viet Cons and none of them were about how ordinary people lived there. It struck me, if I had gone to Saigon, I would have taken such photos. I think I want to capture human beings in my camera. Children are the best subjects for photographing because they show the best of human beings."
Not only older people who reminisce about the past but also the young who wish to become professional photographers came to the book launch and signing event in China. Unlike in Japan, many youngsters ask questions at such venues in China. How can I be a photographer? What is the most important thing to pay attention to when taking photographs? There are no fixed answers because you have to answer case by case, but Akiyama once gave some simple advice: "Look around carefully."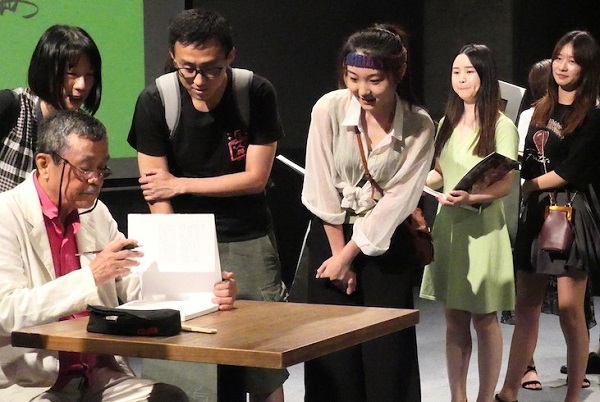 Book launch and signing event in Chengdu
Chinese people say that "those days that do not return are stored" in Akiyama's photobook. I believe those days with children are still among us although the ambience may not be the same. Perhaps young Chinese photographers will document the expressions of those children in the new age with their cameras in the future.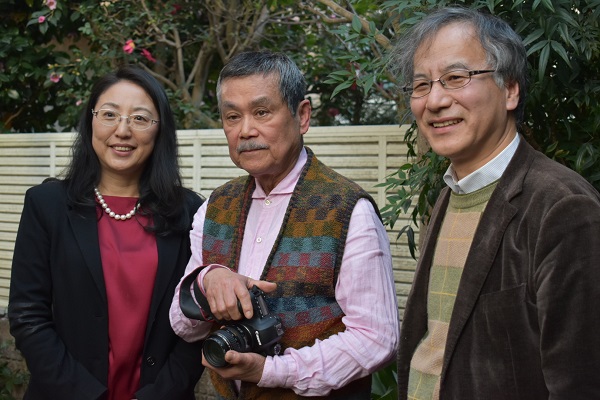 From left: Aiping Liu, Ryoji Akiyama, and Makoto Kinoshita.
Photo by Miyako Akiyama (daughter)
Interviewer/Writer: Makoto Kinoshita, Secretary General, Japanese Society of Child Science