The content of the Japanese education system, from kindergarten through high school, is dictated by the national curriculum guidelines, which typically undergo extensive revisions about once every 10 years. During 2007, there was extensive debate and discussion as educators considered the next wave of revisions. These discussions will form the basis for reforms that are due to be implemented over the next year or two. In this section, we will consider the current trends in the Japanese education system, and the impact that these trends are likely to have on students and their parents. In addition, we will discuss the implications that changes in Japanese education will have for Benesse Corporation.
(1) School education is currently undergoing major reform
The national curriculum guidelines currently in effect were adopted in 2002. At the time, there was concern that Japanese children spent too much of their time studying, and the emphasis of reform was placed on relaxing and easing this burden. Total school hours were reduced, the content of the curriculum was reduced, and more difficult topics were postponed to higher grade levels. However, these reforms do not appear to have benefited children, in practice. Although Japanese children have a reputation, and an image, as some of the most studious children in the world, in reality the declining birthrate in Japan has eased competition for places in top schools. As a result of these factors, a rising number of children have stopped studying altogether. Not only have their school hours decreased, but many also no longer do enough studying at home. Consequently, their academic performance has begun to drop off noticeably. Japan's ranking on international tests of scholastic ability, such as the OECD's Program for International Student Assessment (PISA), has been declining year by year.
The dramatic drop in scholastic performance prompted a sense of crisis at the Ministry of Education, Culture, Sports, Science and Technology (MEXT), which began taking numerous steps to try to improve performances. In 2007, MEXT carried out nationwide achievement tests for students in elementary and junior high schools, for the first time in 43 years. These tests were intended both to provide a clear picture of children's educational ability and to provide a basis for developing new educational guidelines. In January 2008, the Central Council for Education, a group that helps the Japanese government develop education policies, issued a report entitled "Regarding Reform of the National Curriculum Guidelines," which sketched out policies for future reform of the education system. This report was used as the basis for the revised national curriculum guidelines which MEXT communicated to all elementary and junior high schools, in March. The new guidelines place great emphasis on "zest for living" (ikiru chikara)--a new educational buzzword--and mandate four basic changes: (1) an increase in the total number of lesson hours, (2) increases in the extent of subject matter covered, (3) English language-related activities in elementary schools, and (4) increased instruction in "moral values." Furthermore, the focus of education is not simply to have children memorize basic information, but to help them develop the ability to apply the information that they have learned. These new national curriculum guidelines are scheduled to be implemented at elementary schools in 2011 and at junior high schools in 2012 and some portions of the new curriculum will be adopted early starting next year (2009). In this way, Japan is introducing major changes to its educational system and content.
(2) Survey of children--A need for services that address each individual's needs
The policies of MEXT are being combined with the efforts of teachers to reverse the drift away from study of recent years. Benesse Educational Research and Development (BERD) Center has conducted surveys of children nationwide, entitled "Basic Research on Academic Performance," which indicate that during the 1990s there was a steady decline in the number of hours that children spent in education, but that since the start of the 2000s, the number of hours has been rising. An increasing number of students replied that they begin studying early for scheduled tests in school, they pay attention in class, and their attitude towards learning is very diligent. These answers reflect a very desirable trend.
Nevertheless, an international comparison suggests that Japanese children still have less interest in learning than children in many other countries. Figure 1 shows a comparison of attitudes towards studying among children in various cities around the world. When asked whether they "review school lessons on the same day as the class," and whether they "research things that interest them, even if they are not related to lessons at school," a lower percentage of children in Tokyo responded in the affirmative than any of the other cities studied. This indicates that Japan still faces a challenge, in trying to find ways to motivate children to study. In the past, the reason that most Japanese children gave for studying was "to get into a better school." But nowadays, succeeding on an entrance examination is not the only goal that children have for getting an education; indeed, the range of answers is broadening. Considering this trend, it is important that educational efforts be flexible and capable of addressing the needs of each individual student, and essential that learning materials be developed to address not only these needs, but the varying abilities and learning tendencies of each child.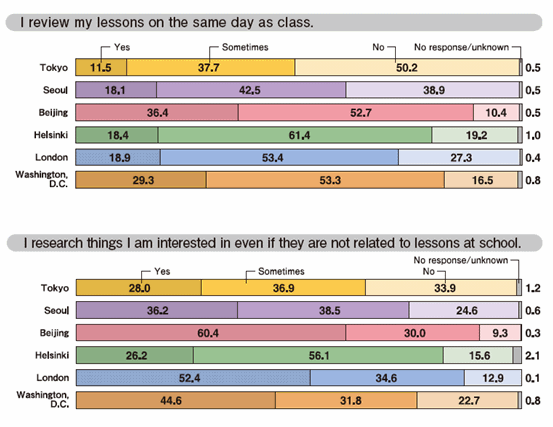 Figure 1: Overview of Study Activities at Home
Source: "Basic Research on Academic Performance--Report on International Survey of Six Cities," BERD, 2006; data covers children aged 10-11

*http://benesse.jp/berd/center/open/report/gakukihon_6toshi/soku/pdf/6toshi_english.pdf
(3) Survey of parents--Rising concern about education
The next question to ask is, how are the attitudes of parents changing, with regard to education? The last revision to the national curriculum guidelines, in 2002, has produced such a drop in educational performance that it has become a major social issue. As a result, parents are placing increased importance on the educational activities their children pursue outside of school. Figure 2 shows the results of a survey taken of parents in the greater Tokyo area. As the data indicates, there has been a steady increase in the percentage of those who say that they "try to remain up to date on matters that relate to my child's education and progress in school," and that they "would be worried if my child was not doing extracurricular activities or attending a prep school." This trend is also apparent in the increasing amount of money that households are spending on educational activities outside of school. As concern about education mounts, parents are investing in their children's education ever more aggressively.
As Japan's birthrate declines, parents seem to be increasingly concerned about their children's education, and this has led to a rise in the total amount spent on educational expenses, per child. A multitude of education-related businesses are competing for that cash flow, by appealing vigorously to parents. Under these conditions, not only is it important to develop high-quality instructional materials which will increase the child's interest and satisfaction; it also is vital to provide services for the parents, offering information and consultation that can generate confidence and establish a foundation of trust. It is therefore very important for an education business to decide how best to offer support to parents.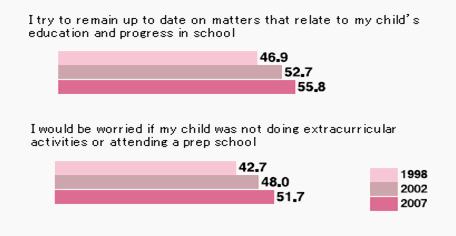 *Figures indicate the sum of respondents who said that the statement is "very applicable" to them, and respondents who said it was "somewhat applicable."
Figure 2: Attitudes Towards Education
Source: "3rd Research Report on Child-Rearing and Lifestyle," BERD (2007);
Survey target: Parents with elementary or junior high school children in the greater Tokyo area
(4) The future of education services
As we have noted, above, changes in the national curriculum guidelines are likely to have a major transformational impact on education in Japan. Measures to improve the scholastic performance of Japanese children are likely to be adopted. Even if children study more diligently than they have in the past, due to a steady diversification of learning needs, it is essential that services be designed to address the needs of each child. Furthermore, as parents become increasingly concerned about their child's education, their demands, in terms of the level of service provided, will also become more exacting.
At Benesse, we are trying to remain abreast of all the changes taking place in the educational environment, and to respond to the many issues parents and children may face, providing services that generate high levels of satisfaction. To this end, we are developing instructional materials adapted to children with varying aptitudes, and materials which help teach children a multitude of different skills. In addition to paper-based learning materials, we have also developed unique new methods of learning, such as educational services that children can access via a computer and educational software for portable video game machines. We are also taking steps to diversify operations and expand the range of education services we offer, to include prep schools and English schools as well as our traditional correspondence courses. In this way, we aim to provide materials and learning methods that suit every individual child's educational needs.
In addition, Benesse is increasing its support for in-school education. In 2007, the company was selected by MEXT to help implement a portion of the nationwide achievement test (by delivering, collecting and marking the tests for elementary school students). We are also increasing the range of services that we offer to schools and local boards of education, by providing learning materials and assessments. This represents an opportunity for the company to expand its operations, both relating to in-school learning and home learning activities. Benesse is actively developing and expanding the range of services that we offer to support learning in both places.
---
This article was reprinted from Annual Report 2008, Benesse Corporation.