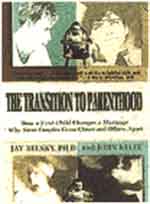 Jay Belsky is Distinguished Professor of Human Development at Penn State University. He is the father of two teenage sons, ages 15 and 17, whom he shares custody for with his ex-wife. Dr. Belsky is a nationally and internationally recognized expert in the field of child development and family studies. His areas of special expertise are the effects of day care, parent-child relations during the infancy and early childhood years, the transition to parenthood, the etiology of child maltreatment and the evolutionary basis of parent and child functioning. He is the author of more than 200 scientific articles and chapters and the author of several books, most recently,
The transition to parenthood: How a first child changes a marriage
(Delacourt, 1994).
Jay Belsky was born 7 July, 1952 in New York City and was raised in the suburbs of Long Island. All through his childhood and adolescence, including weekends and summers spent working in his parents' luncheonette in midtown Manhattan, Jay hoped to attend the United States Military Academy at West Point. After securing a congressional nomination and admission to the Academy, he changed his mind and enrolled in the School of Foreign Service at Georgetown University in Washington, DC. Two years there left him disappointed with the study of foreign affairs and a budding interest in children motivated his transfer to Vassar College. Although his initial goal upon transferring was to become a nursery school teacher, Vassar evoked in Jay a curiosity about research which led him to enter graduate school at Cornell University in 1974 after receiving from Vassar his B.S. along with the college's award for Outstanding Senior Psychology Major. Two years later he had earned his M.S. in Child Development (1976) and two years after that he completed his Ph.D. degree in Human Development and Family Studies (1978).
For the past 20 years Dr. Belsky has been on the faculty of Penn State University where he moved through the academic ranks from assistant to associate to full professor in just 8 years. In 1996, the President of Penn State University made Dr. Belsky a Distinguished Professor. Dr. Belsky has carried out several longitudinal studies focused upon the early years of the family life cycle, concentrating first on the first year of life and especially the interrelation of marriage, parenting and infant development as well as the effects of day care and origins of attachment security, before moving on to carry out work on the so-called "terrible twos", the second and third years of life. Among other things, he is currently involved in a multi-million dollar, multi-site investigation of the effects of infant day care on children's development through the age of 7. Dr. Belsky's work is marked by a focus upon fathers as well as mothers, marriages as well as parent-child relations and naturalistic home observations of family interaction patterns. Dr. Belsky's work has been funded by grants from the National Science Foundation, the National Institute of Mental Health, the National Institute of Child Health and Human Development, the March of Dimes Foundation and the Sara Scaife Family Foundation.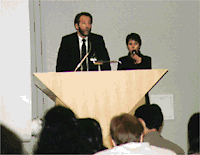 DR. BELSKY'S MESSAGE TO Moms & Dads
The decision for many families as to whether mothers should seek (or continue) paid employment outside the home once a baby is born is one of the most challenging ones which they will ever face. And for too many mothers, sadly, sometimes there is no decision to be made at all, because circumstances simply demand that they continue to work outside the home after giving birth to a baby. Recent research in the United States indicates time spent in nonmaternal child care can lead to somewhat less harmonious mother-child relations during the period 6-36 months, though it is by no means the case the time in nonmaternal child care should be conceptualized as having a major negative effect on mother-child relations. Moreover, evidence indicates that higher quality of nonmaternal child care can actually foster somewhat more positive mother-child relations among those children who are in child care. Higher quality of child care also appears to promote more linguistic and cognitive development (and time in child care does not have any adverse impact on children's linguistic and cognitive development). High quality child care is defined as care in which the child receives supportive, attentive and individualized attention. This does not mean that the child is cared for all by himself, but rather that the caregiver gives the child attention that fits the individual child's needs and desires, while recognizing that not every child needs exactly the same thing. Thus, parents who rely upon routine, nonmaternal care should seek to secure care of the highest quality.