| | | |
| --- | --- | --- |
| | The Trend in Junior High School Students | |
Students Do Less of the Troublesome Study
Studying at home is centered on the textbook, and thinking and studying on one's own is less often done.
| | |
| --- | --- |
| Q | How do you usually study at home? |
Figure 1: Method of Study (Junior High School)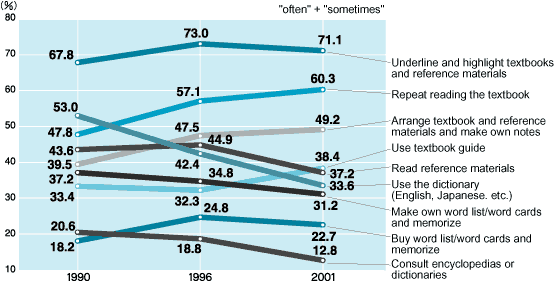 | | |
| --- | --- |
| Q | If you were to classify your method of study, which type will it be closest to? |
Figure 2: Type of Study


Compared to 11 years ago, textbook-centered style of study like "repeat reading the textbook" (12.5% increase), "use textbook guide" (5.0% increase) and the like are on the rise. Moreover, there is a sharp decrease in the tendency to "read reference materials" (6.4% decrease), "use the dictionary" (19.4% decrease) and "consult encyclopedias or dictionaries" (7.8% decrease). Also, styles such as to "try to memorize as much as possible" and "ask the teachers and friends questions" are on the rise, and students who do not think on his/her own about what is not understood is increasing among junior high school students.