| | | |
| --- | --- | --- |
| | The Trend in Elementary School Students | |
Students Like Using the PC in their Study
As opposed to the 25% of children who "very much like" the lessons that are lecture-, workbook-, and worksheet-based, those who like classes that make use of the PC exceeds 70%.
| | |
| --- | --- |
| Q | How much do you like the below-mentioned methods of study? |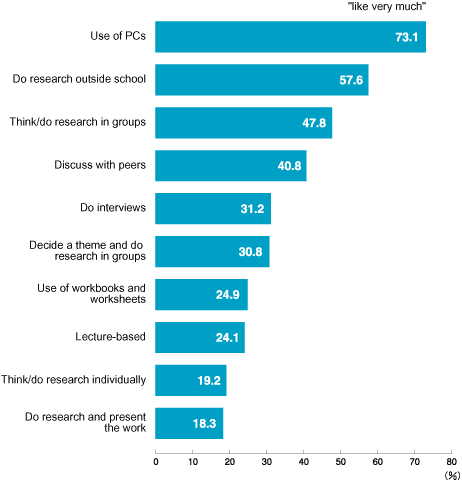 Preferred Methods of Study at School (Elementary School Students)

When asked about their preferred method of study at school, the highest rate of "like very much" was for the "use of PCs". On the other hand, regarding lecture-, workbook- and worksheet-based teaching, methods which have commonly been in use in the past, the number of children who answered "like very much" was small. Moreover, classes in which students "think/do research individually", "do research and present the work", which means the classes to explain one's thoughts to another, and the classes not involving acting in groups were not very popular.