| | | |
| --- | --- | --- |
| | The Trend in Elementary School Students | |
More Students Take their Classes Seriously
The number of elementary school students who properly take notes during class is increasing, while the rate of those who draw cartoons or play with their stationery during classes is decreasing.
| | |
| --- | --- |
| Q | What do you do during class? |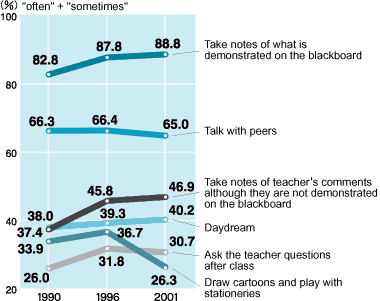 The style of class taking (Elementary school students)

Compared to 11 years ago, while the rate of those who "take notes of teacher's comments although they are not demonstrated on the blackboard" is on the rise, and those who answered "draw cartoons and play with stationeries" is on the decrease, no much change could be seen in the rate of those who replied that they "daydream". This could be understood that students are conscious of seriously listening to the class.