Keep Your Eye On...nicotine patch safe and effective for teens
In a new study, researchers investigated the safety and efficacy of the nicotine patch and nicotine gum for treating teenagers who want to stop smoking. A total of 120 adolescents (ages 13 to 17 years) took part in a double-blind, randomized study for a period of 12 weeks. Participants were given a 21 mg nicotine patch, 2 and 4 mg nicotine gum (N=46), or a placebo patch and gum (N=40). All groups received cognitive-behavioral therapy. The main finding was that the nicotine patch was significantly more effective in helping tobacco-dependent teenagers to quit smoking. At the end of the study and after a 3-monthfollow-up, researchers noted a significant trend showing effectiveness of the patch compared with placebo (p=0.058), and "no significance" for the effect of the gum (p=0.51). Both the nicotine patch and gum were well tolerated and "appeared safe." The researchers highlight the fact that most adolescents with well-established smoking habits continue smoking into adulthood, incurring short-term as well as long-term health consequences, including premature death. They note that many teens would like professional help to stop smoking, after having tried unsuccessfully to quit "cold turkey" at least once in their lives. [Moolchan ET, et al.: Pediatrics 2005; 115:407-414.]

New risk factors associated with suicide in adolescents
A study carried out by the Centers for Disease Control and Prevention(CDC) has identified risk factors associated with attempted suicide in adolescents. Being offered illegal drugs in school, abuse by a boyfriend or girlfriend, gender and ethnicity were found to be significant new risk factors. According to Sejong Bae and colleagues, these findings could have important implications for intervention strategies aimed at identifying and preventing suicide among at-risk adolescents.

The survey sample comprised9,638 high school students (grades 9-12) in 38 states and 19 cities taking part in the CDC 2001 Youth Risk Behavior Survey (YRBS). Variables evaluated included attempted suicide, thoughts of suicide, number of suicide attempts, and result of suicide attempt. Researchers also performed gender-specific analyses and compared patterns of risk behaviors between males and females.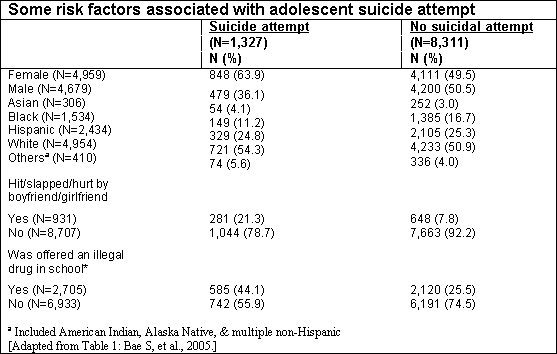 The following risk factors were identified as significant predictors of suicide attempts: gender (higher in females), Asian race/ethnicity, being threatened or injured with a weapon, physical fights in the past 30 days, abuse by boyfriend/girlfriend, forced sexual intercourse, depressed everyday for more than 2 weeks, alcohol consumption, using hallucinogenic drugs or inhaling chemicals to get high, being offered an illegal drug at school, being obese or underweight, and anorexic/bulimic behavior (see table above).

Study results show a higher suicide attempt rate in females (17.1%)in the past 12 months than in males(10.2%). Other gender-specific differences were race/ethnicity in females but not males. For Asian girls, the odds of suicide attempt "were two times the corresponding odds for White girls after adjusting by other factors." There was also a high association between suicide attempt(overall gender) and depression everyday for 2 or more weeks with the depressed group being 4.7 times more likely to attempt suicide.

Many adolescents in this study reported one or more risk behaviors, and a combination of these factors was predictive of suicide attempts in this population. However, the investigators point out that adolescents who reported suicide attempts "...may not fully represent youth who complete suicides" and that long-term studies would be needed to follow up adolescents who report attempted suicide in order to assess "predictors of suicide completion."

The authors conclude that intervention and prevention programs would most likely be effective if the various characteristics of risk behavior between male and female adolescents are taken into account.


Bae S, Ye R, Chen S, Rivers PA, et al.: Risky behaviors and factors associated with suicide attempt in adolescents. Arch Suicide Res 2005;9:193-202.
E-mail: privers@siu.edu.

The Brown University Child and Adolescent Behavior Letter, May 2005
Reproduced with permission of Manisses Communications Group, Inc
For subscription information contact Manisses at:
208 Governor St Providence, RI02906 USA
Phone 1-401-861-6020
Fax 1-401-861-6370
E-mail: manissescs@manisses.com.