Introduction
Three law revisions enacted in 2018 clarified qualities and capabilities that should be nurtured in early childhood education in Japan, expressing them as three pillars--"foundation of knowledge and skills," "foundation of the ability to think, to make decisions and to express themselves and other abilities" and "attitudes of learning to learn and human qualities, among others." The revisions also specified "developments that should be achieved by the end of early childhood," urging efforts to collaborate with elementary school teachers through such means as sharing these developments, thereby promoting smooth transition to elementary school. While the importance of education through the environment remains intact, in order to establish a consistent learning environment between early childhood education and school education, which have two different cultures, the perspective of "nurturing emotional skills" becomes valuable.
Also, the "Course of Study for Kindergartens" enacted in 2018 specifies perspectives for enriching kindergarten education, including qualities and capabilities that should be nurtured, and improvements in teaching aligned with "proactive, interactive and deep learning" in school education adjusted to younger children. It also states that "when using information devices such as audiovisual teaching materials or computers, they should be considered in relation with children's experiences, for example, by providing complementary experiences that are difficult to come by in normal kindergarten life." In other words, it encourages the use of ICT as necessary in relation with children's experiences, thereby enriching such experiences.
Against this backdrop, I introduce how Finnish education policies are working effectively within a system where children's emotional skills are nurtured by society as a whole, and discuss the implications. I also reveal the positioning of media education in terms of ICT usage under the Finnish National Core Curriculum, which was revised ahead of Japan, and examine how media education functions organically in nurturing children's emotional skills as an entire society.
1. Education System in Finland
Basic education in Finland (ages 7-16; applies to elementary and lower secondary schools in Japan), sets seven areas of transversal competences: (1) thinking and learning to learn; (2) cultural competence, interaction and expression; (3) taking care of oneself and others, managing daily life activities, safety; (4) multiliteracy; (5) ICT competence; (6) competence for the world of work, entrepreneurship; and (7) participation and influence, building the sustainable future (see Figure 1). Meanwhile, six areas are defined for pre-primary education (age 6) by combining (4) and (5), and five areas for ECEC (ages 0-6) by further omitting (6).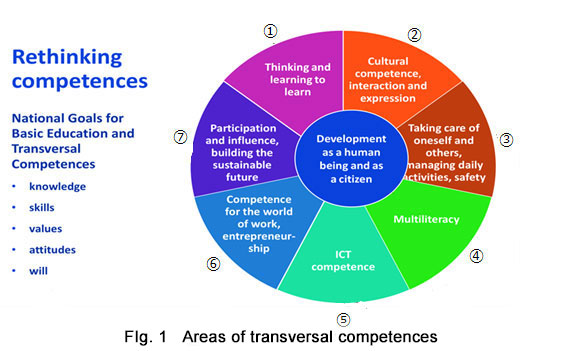 2. Comparing Japan and Finland
I compared the perception of qualities and capabilities, the national curriculum and standards, and media education between Japan and Finland (see Table 1). In Japan, qualities and capabilities are captured through three pillars, and attempts are made to seamlessly connect them from early childhood to elementary school through "10 developments that should be achieved by the end of early childhood" (i.e., a healthy mind and body; independence; cooperativity; budding of morality and social norms; involvement with social life; budding of thinking skills; involvement with nature and respect for life; interest in and sense of numbers, diagrams and letters, among others; communication using words; and rich sensibility and expression).
Table 1: Comparing Japan and Finland
Qualities and Capabilities
Standards/Curriculum
Media Education
Japan
Before Entering School
Foundations of the three pillars and 10 ideal developments
-"Course of Study for Kindergartens"
-"Guidelines for Nursery Care at Day Nursery"
-"Courses of Study and Childcare for Certified Centers for Early Childhood Education and Care" (i.e., facilities integrating kindergarten and day-care functions)
-Separated approach
-Information education at school
After Entering School
Three pillars:
"Attitudes of learning to learn and human qualities, among others"
"Knowledge and skills"
"Abilities to think, to make decisions, to express themselves and other abilities"
"Courses of Study"
Finland
Before Entering School
-Six qualities and capabilities (Pre-primary: preparation for entering school)
-Five qualities and capabilities
(ECEC)
-National Core Curriculum for Pre-Primary Education (2014)
-National Core Curriculum for ECEC (2016)
-Integrated approach
-Schools, families and the community think together
After Entering School
-Seven qualities and capabilities
-National Core Curriculum for basic education