Currently, I keenly feel that what is needed the most is mental health care for mothers and children. Even if physical problems including food, clothing, and housing managed to be solved, their mental health problems are very serious, and they cannot move on unless these problems are taken care of. I was able to get to know the people who provided mental health care for mothers and children at the disaster area, just as I was thinking of asking birth attendants and doctors specializing in psychosomatic internal medicine for help.
We work at the child-rearing support center at the disaster area. A mother I met there had experienced the tsunami and the first floor of her house was submerged. However, her family now lives on the second floor of the house and all the family members are fine. She says such living conditions are "all right," meaning, that is, "it is better compared to the time immediately after the earthquake disaster." The infrastructure such as water supply, the Internet, and telephone service is still inadequate. The conditions are not comfortable for child-rearing. The house is actually evaluated as "fully-destroyed." However, the family was not selected for temporary housing. I strongly felt that it would take time to reconstruct the living environment. The mother has difficulty in her own living environment. However, at the same time, she tearfully said that she was truly distressed by the death of her mom-buddy's two-year-old daughter due to the tsunami. She was caught up in the thought, "Until then, I could see the girl playing with my youngest child every time at the child-rearing support center, but I cannot now. I feel sorry for the girl's family that only my family and our house are fine. I do not know how I speak to the girl's mother." At the suggestion of family members, she saw a doctor specializing in psychosomatic internal medicine. The doctor prescribed an anti-depression medicine andsaying, "Everyone feels the same." The medicine only made her sleepy. She wants to visit the doctor again, but she has no one whom she can ask for taking care of her two-year-old child. She is still vague and uncertain about the future.
Not only are there young mothers in the child-rearing support center, but half of the people are the children's grandmothers. One of the old women, whose daughter had died in the tsunami, now has to raise a two-year-old granddaughter. However, she has never raised children without a lot of support from her relatives and does not know what to do by herself. Her husband is also distressed about taking care of the grandchild and complains to her. This has also become stressful for her, and she does not know what to do. People around her tell her "Do your best," but she cannot. "I am not strong enough," she said.
Examples of possible support for the above conditions are:
Peer support
Grief care
Temporary childcare, Family support
When providing such support, try not to be pushy, but take a passive approach. Never say, "You must be having a hard time." This advice from a staff member of the Kanan child-rearing support center and was impressive to me. I believe one of our important roles as helpers is to provide hope and encouragement to the people in charge of assisting maternal and child healthcare, including the counselors of the local government and facilities.
Current conditions of mothers caring for children as of the end of May 2011
To some extent, the disaster victims at evacuation centers are able to obtain information from support organizations and public institutions easily, and support organizations can reach the disaster victims relatively easily, too.
However, according to my predecessor, counselors of the child-rearing support center, public health nurses, and mothers; the families with small children leave the evacuation center early to try to go back to their half-destroyed home. In addition, the higher the social risk of the family, the harder it is for them to access medical and public institutions. (They have difficulty going out due to their poor mental condition; or because the car was washed away; or they can go out only when the tide is out because the house is flooded, etc.)
In fact, one way that the Primary Care for Obstetrics Patients Team (PCOT) (of the support project for parturient by the Primary Care for All Team "Tohoku Sukusuku Project") can reach the disaster victims is to utilize the network of counselors, public health nurses, and mothers of the child-rearing support center; all of whom have information on the victims before the disaster occurred. However, this has not been implemented at this point.
Difficulties in identifying the needs of people in evacuation centers

Interviewing people under the intense stress of life in an evacuation center is considered to require significant skills. Particularly, it is difficult for short-term dispatched staff members who do not understand current conditions because of less prior knowledge. I was concerned that I might inflict strain and pressure on the pregnant women during such an interview. I felt that an interviewer should be someone who gets close to the disaster victims over a certain length of time.
Circumstances of the child-rearing support center and the needs I perceived during the visit

Circumstances/Backgrounds
The support center is the most accessible and reliable place for the families (mothers and children) with pre-nursing infants
In the city of Ishinomaki, there were originally five support centers and three of them had a nursery school. The other two (in towns of Monou and Kanan) that did not have a nursery school satisfied the conditions for reopening, and they reopened from around April 11. The number of mothers and children who come to the centers are significantly decreasing. However, from June, the centers will be operated under the same schedule as before.
The support centers have often accepted casual volunteers (such as nutritionists, public health nurses, students, and former visitors of the center) from the very beginning. Casual volunteers are still welcomed.
Grandmothers are in charge of child-rearing: Basically, half of the visitors to Monou Support Center are mothers and the other half are grandmothers.
Needs
[Needs of Mothers and Children]
Mothers and children have not been able to visit medical institutions or have their own private time. There are also grandmothers who are "put in charge of child-rearing because their daughters died in the tsunami." They seemed to be suffering from neurosis from child-rearing, in addition to deep depression due to the disaster. Some mothers are filled with self-loathing for taking their frustration out on their children accidentally. Some grandfathers have a problem with taking their stress out on their wives and grandchildren.
>> Temporary childcare centers are needed. Psychological care is needed the most.
[Needs of the Support Center Counselors]
The support center counselors were worried about how they could understand the situations of mothers and children who cannot visit the center and how they could bring such mothers and children back into their social networks so that they can be supported.
>> What kind of support is possible for this problem?
(I strongly felt the support center counselors were proud to be the most attuned to the mothers of this community and to restore the energy of mothers and children by using all the strength possible. I think it is important to support the counselors in taking this initiative.)
Although this was not mentioned, no plans have been made to have the child-rearing support center reconstructed. Establishing a system for public child-rearing support has been postponed. Is the support for child-rearing and families low priority at this point? Through actual support activities, I hope I can convey the message that the symbol of recovery is to develop a community where young families will want to have children.
There are times when I feel tired. However, I am doing my best believing that this distress will be alleviated if we can assemble people and raise money. Although I am just a volunteer, it is my pleasure to visit evacuation centers and have contact with mothers, babies, and infants. It serves as my driving force. Presently, I feel delighted to see ob-gyn doctors and pediatricians continuing to provide support for expectant mothers with a smile. I would like to help their volunteer service continue.
I am very encouraged to have someone who will read this article and with whom I share my experience. As a parent caring for children, I am glad to know that people are sensitive to the reality of mothers in the disaster area. I feel I am not working alone in a step-by-step fashion. So, thank you for reading my report. I would like to take this opportunity to express my appreciation to all of you thinking of mothers who carry an enormous burden on their shoulders.
There are many things that we who in non-disaster areas can do, including talking with people about the necessity of child-rearing support; sending your views to newspapers and posting on Facebook to thrust the issue into the society; questioning the low priority of the support for young families caring for their children; and sending the message that there are many things we can do even starting now. Moreover, just remembering it forever is another way of support. I think there is a way of support by way of not only doing but also being.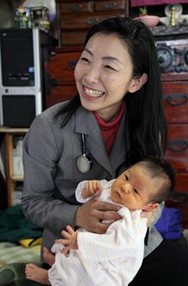 With a baby who was born after the Earthquake