Michi Kawai, the founder of Keisen Jogakuen in Tokyo, regarded her students and teachers like family. No one seemed to be a stranger to her. The way she cocked her head when talking conveyed the impression that she was truly interested in what others had to say, and her actions attested to her willingness to put the needs of others first. I wished to emulate the way she radiated affection and inspired confidence.
Miss Kawai was born in Ise-Yamada, Japan in 1877, the daughter of a Shinto Priest. The family moved to Sapporo, where she studied at the Christian Hokusei School. She was described as a lanky fourteen-year-old boarding student whose strong character and intellect were recognized by Dr. Inazo Nitobe
*
, her teacher. He and his wife, Mary, entertained young Michi at their home throughout her student years, and he prodded her to think of going to study in America. At age twenty-one she received a scholarship to study at Bryn Mawr in Philadelphia, and she joined the Nitobes to cross the Pacific on the Empress of Japan.
Miss Kawai returns to Keisen from a visit to the U.S.
Later she wrote about the families who had welcomed her to the U.S.; her roommate who brought her quartered apples when she was up late studying, and Dr. Elkington who bought her a suitcase when she was enroute to Europe one summer because hers had to be tied shut. She attended a Young Women's Christian Association Conference where she saw how American girls helped each other and became life-long friends. When she returned to Japan that experience inspired her to establish the YWCA in Japan. During the twenty years she worked for the "Y," Michi Kawai made friends with girls from faraway countries. The joy of these associations spurred her to start a school where girls from many countries could learn to know and respect one another. Out of such a school could grow friendships that would lead to real peace on earth. She named her school Keisen-- "fountain of blessings." The school expanded and grew. Today over 3000 girls study at Keisen Junior and Senior High Schools and at Keisen University.
I was twenty-two and enroute to teach English at Keisen in 1950, when our ship, the S.S.President Wilson, arrived at Yokohama. The harbour was crowded with ships loaded with American soldiers and supplies heading to the war in Korea; so our steamship could not dock, and we had to climb down a rope ladder and were taken to shore on a barge. I still remember the first night: the smell of Japanese pickles and fish in the kitchen of my new home; sounds of geta, wooden shoes, clicking against the street outside as I fell asleep. Miss Kawai came to meet me the first day and took me to the dormitory for dinner. She didn't seem embarrassed by my lack of ability to handle chop sticks, even when I grasped a ball of mashed potatoes so hard that the top of the ball pinched off and potato flew across the table. I cowed as the students around the table covered their mouths with their hands to hide their grins.
Every Wednesday afternoon I went to Miss Kawai's office where she dictated letters to her former Bryn Mawr classmates and friends from around the world. She kept their names and addresses in autograph books, the kind used by high school students whose friends wrote poems or good luck messages at graduation time. She would tell me about the people she was writing to - for example, the single mom from Cincinnati who worked as a laundress to support her family and had sent money to Keisen. Miss Kawai marvelled at her generosity. The dictated letter described our Home Coming Day and told about Miss Kawai's personal engagements. Her friends remained friends for life.
When Muriel Lester
**
came to visit from England, Miss Kawai sent me to cook for them. Her secretary had set out the ingredients. With dismay, I surveyed what I found. On the counter I saw hamburger, onions, a can of white potatoes, raw white potatoes and sweet potatoes. What kind of meal could I make with potatoes? I made potato soup, a hash and sweetened the boiled sweet potatoes for dessert. I had assumed that I should leave, but Miss Kawai set a place at the table for me, and I was invited to share their conversation.
Miss Kawai inspired us to do things we didn't know we could do, like the time she asked me to make-over a fur coat she intended to wear on a trip to the U.S. She had found the coat in an American Care parcel. I had never sewn fur. Why did she think I could style a coat to fit her? But I got some advice and remade the coat to her satisfaction.
Eiko Hashimoto Shibatani remembers a time when she was a student. There was no janitor and her task was to mop the hallway floor with a cloth dipped in a bucket of cold water. Miss Kawai walked by, noted what she was doing and said, "Two hands are better than one." She took one of the cloths, dipped it in the cold water and helped Eiko.
Miss Yoshikawa, a fellow teacher, remarked that Miss Kawai let her students find their own potential. Dr. Yoshiko Isshiki wrote, "I felt her a mother to me. In 1937, at the time of Japan and China were to fight, Miss Kawai and other Japanese Christians visited China. She told me how wonderful Chinese women, as well as American friends were. So it gave me, though a child, such impact that I wanted to meet Chinese women. She was courageous for making Peace of the world."
Miss Kawai died in 1953, but she remains an inspiration to me and her legacy of warmth and caring lives on.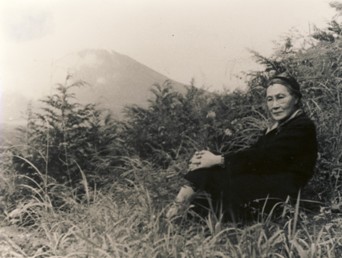 Miss Kawai at Gotemba retreat
References: Marianna and Norman Pritchard. Ten Against the Storm. Friendship Press. N.Y., 1957
Pages 143-156.
Michi Kawai. Sliding Doors. Keisen Jo-Gaku-en, 1950
* Inazo Nitobe (1862-1933) was a Japanese agricultural economist, author, educator, diplomat, politician, and Christian.
** Muriel Lester (1885-1968) was a prominent British Socialist and pacifist who worked in England to improve the lives of the poor.