Facts
Both hospitals are located in the heart of cities and serve local and regional areas.
Both hospitals are affiliated with universities and are training and research institutions.
NCH has 460 hospital beds; Sick Kids has an average daily census of 265 (2003-4 figure).
Both work through local school systems. The NCH school is a branch of the Tokyo Metropolitan Komei School for the Physically Handicapped and Sick.
Kids teachers are employed by the Toronto District School Board. NCH teachers follow prescribed texts; Sick Kids' teachers follow the Ministry of Education curriculum and texts.
In both cases teachers must have teaching credentials plus special education training.
The NCH program covers grades one through high school. The Sick Kids program covers Kindergarten through high school.
At NCH children enroll in the program if they are expected to be hospitalized for one month or more. At Sick Kids children can enroll as soon as their physical condition allows.
At NCH children, who are able, attend a school classroom and others are taught at their bedsides. At Sick Kids most teaching is done at the bedside. The children with epilepsy are exceptions. Miriam Riches, teacher, explained that the classroom is next to the Physicians Research Center so that doctors can observe.
In both cases contact is made with the child's home school. Riches added that when the child goes home, she visits the local school to explain the child's condition to their homeroom teacher. In Tokyo, parents of children with disabilities can participate in an innovative program called Peer Support. Volunteer parents man the station in the hospital lobby next to INFORMATION to answer inquiries. This group of parents and medical specialists meet regularly to discuss their concerns. Mr. Nobuaki Kobayashi, Director, The Supporting Network for Chronic Sick Children in Japan, and his team train local teachers to perform medical procedures, such as suctioning, that a child might need.
Hospital Visits
When I visited the NCH school in Tokyo, children were being treated to Music Appreciation, an innovative program which takes place three or four times a year. More than 30 children arrived at the sunny playroom decorated with their own art work, some in wheel chairs or on carts, many dressed in street clothes which made them feel normal. The leader, a young man with a cello, greeted them warmly and introduced the three young women, dressed in blue or back evening gowns, who would accompany him on the viola and violins. He explained how his instrument made and amplified melodious sounds, and each musician demonstrated the range of sounds their instruments make. Little arms shot up in the air when the leader invited children to put a hand on an instrument to feel the vibrations. The musicians moved from child to child and played. A girl of eight or nine, with a severely contorted body, lay on a cart, but when the teacher held her hand against the cello, her legs jerked up and down and she let out a whoop of pleasure. Children were given a chance to play a child-sized violin. One little girl giggled so much she couldn't concentrate and gave up quickly. A boy of seven or eight rushed forward to make sure his wish to play was recognized. Then it was time for some chamber music. Teachers, holding hands with some of the children, clapped to the rhythm. After the performance Mr. Yoshikawa, head teacher, and three others eagerly answered my questions.
At Sick Kids the teachers were equally enthusiastic. Crawley talked about one student who just turned 18. For six or seven years, three days a week, he'd been at the hospital for dialysis. "When you teach one on one, the student can keep up. He is able to do everything," Crawley said. "He's won math competitions in the York Region several times. He's been accepted to university for next year."
Crawley described French lessons for a group of girls being treated for eating disorders. After reading in French "A Little Princess," a story about a little girl who discovered her self-worth, the girls wrote a story in French about an ugly flower that discovered how pretty she was after getting sunlight.
Teacher Jaline Blaney talked about how going back to school underscores the child's social losses. For example, the child doesn't want pals to see him/her as sickly, notice his/her lack of energy or that he/she wears a wig. She described how one girl took her Bravery Bead necklace to school, and, in a speech, told her classmates how she earned each bead. (Bravery Beads are given to a child when the child undergoes a painful procedure such as chemo therapy, bone transplant, etc.) Another little girl was refusing to attend school and had the courage to return to school after learning about this girl's gallantry.
Crawley and Blaney suggested, "Write about `Disability on Line.'" It's a program instigated by Psychiatrist, Dr. Arlette Lefebvre. Children with disabilities talk on line to each other. Suggestions for my article kept coming from these two teachers.
Annie Appleby, Supervising Principal of the Toronto District School Board, is pursuing innovative technologies which would enable students to access curriculum when the teachers are not available. A webcam would enable the patient to connect with his/her regular classroom. The webcams would be used as a teacher to teacher dialogue during a lesson.
"It's important to have community support," Crawley said. The Sick Kids school has free access to the Toronto Public Library System. Corporate tax laws are somewhat favorable so that the school gets many corporate gifts such as $10,000 for books from a publisher, art materials from an art gallery.
Dedication, innovation and compassion are the hallmarks of educators in Tokyo and Toronto hospital schools. Public awareness will find more support for these programs, which allow children who are hospitalized to deal with their illnesses and also learn, grow, and succeed along with their peers.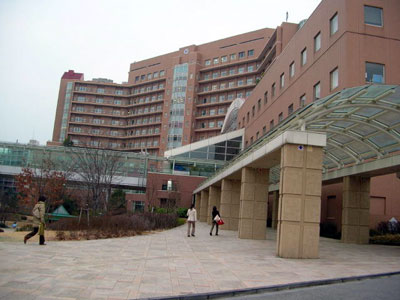 Visitors approach the National Center for Child Health and Development in Tokyo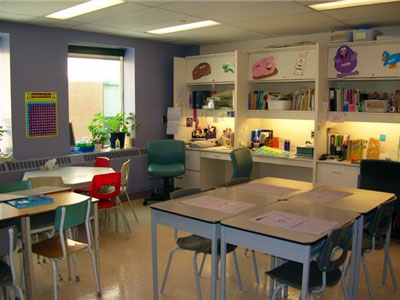 The classroom for children with epilepsy at The Hospital for Sick Children, Toronto