Introduction

Children's University Kawagoe was founded in Kawagoe City, Saitama Prefecture, in December 2008 by teachers of universities in the local community to respond to fundamental questions from children, such as "why do human beings die?" and "why do people start wars?" Children from grades 4 to 6 of elementary school attend these easy-to-understand lectures at local universities for three days during their spring holiday.
So far, nearly 100 Children's Universities have been established, mainly in Germany where they were first established. The leading one in Japan is located in Kawagoe City and run by an NPO. Teachers from Tokyo International University, Shobi University, and Engineering Department of Toyo University give lectures at these universities.
This university has three departments: Hatena (why) Department, Ikikata (how to live) Department, and Furusato (hometown) Department. The name, "Children's University Kawagoe," represents our hope that it will spread across Japan and more children's universities will be established, named after each area.
In explaining how the "Children's University Kawagoe" was established, I will follow the process of how the producer/establisher came to find out about the Children's University.
Producer: An Expert at Career Development

The producer/establisher of Children's University Kawagoe is Ichiro Sakai. After graduating from the Economics Department of Osaka University, he lived in Germany for a long time working for a trading company. As a result, he was familiar with Germany, where the children's university concept originated.
After retiring from a business career in 1996, Mr. Sakai gave lectures and classes in international business administration at Fukuoka International University in Dazaifu City, Fukuoka, and business administration at Den-en Chofu University in Kawasaki City, Kanagawa.
During the dozen years at the trading company, Mr. Sakai was engaged in the employee-training for new employees, section chiefs, department managers, and even directors. During six of his ten years as a university professor, he also gave career guidance and education to students. After leaving the university, he set up the Sakai Career Education Institute in March 2007. As a result, Mr. Sakai is an expert in career education or career development. This career contributed to his founding the children's university where children are educated to become the generation of the future.
Encounter with Mini-Munich

While still at Den-en Chofu University in February 2005, Mr. Sakai attended a symposium in Tokyo, organized by ICCP (Information Center for Children's Participation), where he encountered the Mini-Munich program. It introduced on video how children in Munich, Germany, took part in "town management" by experiencing various occupations through play. "I was deeply moved by the holistic idea that having children come into contact with society through play," says Mr. Sakai.
Mini-Munich was started in 1979, International Children's Year, by the NPO, Culture and Play Space, and supported by the municipal government. They hold it every two years in part of a former Olympic venue (the cycling stadium) for three weeks during the summer holidays, with an average of 2000 children attending per day.
First, children, who are between the ages of seven and fifteen, need to register as a citizen of Mini-Munich at the registrar's office at the entrance. Next, they go to the employment agency to select the work they want to try. In the venue, there are pavilions for various jobs: a toy factory, jewelry workshop, clothing store, pottery center, builder's office, department store, etc. Children can work and earn community currency as a wage, which they can use, after paying an income tax, at a restaurant run by other children or at a game-center.
Mini-Munich also has newspapers and TV stations. Child reporters select topics about the working children or the "city" for the newspaper or TV. Mini-Munich even has its own city government and council, mayor and lawmakers, who are elected by citizens to manage the city. Moreover, it also has a court in case trouble occurs.
As described above, Mini-Munich is really a "city" of children. Impressed by that, Mr. Sakai, a career education specialist, recognized the value of this vibrant career education and citizenship education and began to think about how to allow children in Japan to have such an experience. This was a turning point for Mr. Sakai who then expanded working with college students to children.
Kids City in Sakura City

Soon after, Mr. Sakai learned of "Mini-Sakura" in Sakura City, Chiba, modeled on Mini-Munich. It was established in March 2002 by Ms. Momoko Nakamura, a citizen's activist on children's issues in Sakura City, who had also been impressed by when she visited Mini-Munich in 2000.
Over three days during the spring holiday, "Kids City" is created with the cooperation of the local shopping district. More than 40 kinds of booths are set up in the shopping streets, such as food shops, a handicraft workshop, department store, municipal office, the police, and newspaper publisher. Children receive a "citizen card," apply for a "job card" at the employment agency, and go to the booth where they would like to work. They are paid in community currency according to the time worked, and they can then use this currency for shopping. In advance of this event, children's conferences are held to decide what kind of "city" to create. Professional training to become a maker of handicrafts is also offered. As of 2008, there were nearly 20 civil organizations engaged in such activities to conduct children's cities across Japan.
A University Creates "Kids City"

Stimulated by these efforts, Mr. Sakai began to consider setting up such a children's city hosted by Den-en Chofu University where he was working then. Since most of the children's cities were operated by civil groups, it was the first one organized by university. He thought it was the duty of university and could be a contribution to the community.
Mr. Sakai invited students belonging to his seminar (marketing & community business) to make up a project team. Mr. Sakai, as a professor, set the following educational goals for his college students: 1. understand working and living; 2. learn to think for oneself; 3. acquire knowledge of social, professional activities; 4. develop interpersonal relationship skills; 5. acquire social skills and social morals through this project. These are the very abilities that college students lack today.
On the other hand, as educational goals for children participating in "Kids City", he proposed: 1. creating the value of work through working experience; 2. developing interpersonal relationship skills through cooperative working; 3. enhancing thinking ability and developing potential through spontaneous activities; 4. cultivating social/civil awareness by creating a city; 5. acquiring economic awareness by using community currency.
Through this project of city creation, it is possible to promote the development of both college students and young children at the same time.
Making Full Use of Marketing Theory

The city was named as Mini Tamayuri, combining "Tama" and ("Yuri" of) Yurigaoka, the ward and district where the university is located. First, University students did field work at Mini Sakura in Sakura City, to prepare for the opening of Mini Tamayuri at the campus festival in September. Professor Sakai applied his specialty, marketing theory, in leading his students in market research and other preparations.
On November 5th and 6th, Mini Tamayuri opened as planned. More than 20 tents were set up on the university campus. There were food shops, handicraft workshops and a game center. A citizen registry booth, employment agency, bank, stock exchange, city hall, newspaper publisher, and a court were also set up. English lessons, computer-learning class and a robot-assembling workshop were held. The community currency "Yuri" was available. About 500 children attended the event during the two days.
Since the opening of Mini Tamayuri, a children's conference has been organized to foster young leaders, and the event has been held every year. More than 3000 children participated during the three days that Mini Tamayuri was held in February 2008, and this event has taken root in the local community.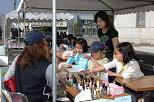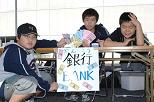 (Photos: provided by Ichiro Sakai)
Encountering Children's University

In March, 2007, Mr. Sakai resigned from the university, and set up Sakai Career Research Institute at his home in Kawagoe City, Saitama. In April, he happened to learn about the Children's University in Germany. The children's university has reportedly been organized by universities in the community. Professors give easy-to-understand lectures in the university classrooms that respond to the basic questions that children have, the "why" and "how" of nature, human and society. This program has been very popular with the children, and 70 children's universities have been set up in Germany. (At present, there have been nearly 100 children's universities in Europe.)
Mr. Sakai felt the objective and system of children's university might lead to a revolution in the Japanese school education, which he had considered for a long time to be isolated from society. He realized that it could be possible in Kawagoe, too, and began searching for information on children's universities across Germany on the lnternet and from other sources. This material has been compiled into a booklet entitled 'Children's Universities in Germany'.
In Kawagoe City, there are three universities-Tokyo International University, Shobi University, and Engineering Department of Toyo University. In May 2007, Mr. Sakai launched preparations for establishing the children's university in cooperation with the faculty of these universities.
In the past several years, Mr. Sakai had paid much attention to and been engaged in "Kids City." Now he brings living education connected to the society to fruition as the "Children's University."
Reference
Sakai, I. & Bansho, K. (2008). Career Education at Play Town. Kokudosha.

Homepage of Children's University Kawagoe: http://www.cuk.or.jp