PROGRAMS -

It's a Saturday morning. I'm in the Sanderson branch of the Toronto Public Library, a one-storey, red and grey brick building at a busy intersection in a blue-collar neighbourhood bordering China Town. I'm in the heart of Toronto, Canada.
The space is primarily lit through windows facing every direction. The light casts a honey glow on the brick-red carpet and well-used furnishings making the space seem unthreatening, casual like a family room at a friend's house. On the right as I enter are four high-speed Internet stations and shelves of books, audio books, CDs and videos catering to adult taste. To the left is the magazine/newspaper section. Several men are already lounging in chairs or sitting at tables and reading to catch up on the news. Straight ahead at the counter a young boy is handing a librarian the materials he wants to borrow. With a smile and words of encouragement the librarian hands him a computer-generated receipt listing his borrowed books with due dates. The man behind him steps up with his selection. Librarians and assistants are hurriedly sorting return books that have been left in the over-night drop box and answering questions. Some are working in the offices barely visible at the rear. A security guard sits at a small table in the middle of the aisle keeping tabs. Behind him are banks of occupied computer workstations and low tables where a mother and daughter sit thumbing through an easy reader. Beyond those, children, some with a parent, search the open stacks for interesting books to borrow. It's busy, friendly and orderly. All services and loans are free.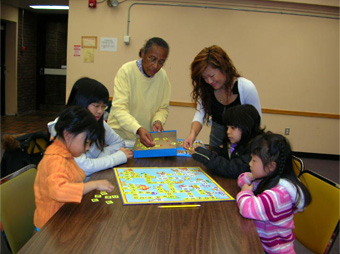 Volunteers play word game with students
I'm on my way to the basement where the "Learning to Read" program is held. This program like another, "Help with Homework," employs volunteers one hour per week in a one-in-one relationship to help children who have reading difficulties.
My student is eight years old. At home his family speaks Pakistani. He's in the fourth grade but reads at a grade 2 or 3 level. After we've sounded out new words to pronounce, I often find that he doesn't know the meaning of the everyday word. We look at pictures for clues and employ a picture dictionary. I'm still trying to find a subject that he's passionate about. At the moment it's a game of checkers. After reading we play. We set up our checkers (men) on the game-board. He chooses the black checkers and tells me to take the red. He wants to eliminate all of my checkers to win. When a chance comes he stands and slaps down his checker in a bold move to take my "man" out of the game. His grin is the width of his face. If he wins, he turns to his younger brother at the next table and shouts out that he's won. "I'm good at this," he says drumming his chest. This gives his confidence a boost since reading doesn't. He's adept at making up stories, drawing and writing captions though spelling can be problematic. I cross my fingers that my help will make a difference--that he'll begin to love reading.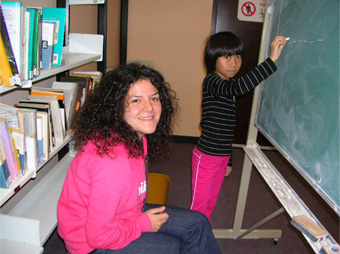 Volunteer helps student with spelling
Other library programs for children and youth at specified branches include: (1) Young Voices--an annual publication encouraging expression featuring writing by teens; (2) Author visits; (3) Clubs including reading clubs, writing clubs, knitting clubs, toastmaster (public-speaking) clubs, art exhibits, dance workshops, karaoke nights, movie nights, teen parenting workshops; (4) Ready for Reading workshops--addressed to parents to help them prepare their child for reading; (They stress adding vocabulary, asking questions that will help the child learn to supplement detail to his renditions, encouraging the child to talk about ideas, plans and feelings.) (5) On-line Dial-a-Story and Hear-a-Story services; (6) Music concerts, including hip-hop, steelpan, your own rock show and "Make Some Noise" workshops; (7) Science Net for kindergarten to Grade 12 and teachers; (8) The Youth Advisory Groups give teens a chance to input their suggestions, and participation earns high school community service hours toward their high school diplomas. The calendar is published in the free quarterly library journal: What's On.
E-SERVICE PROGRAMS- (http://kidsspace.torontopubliclibrary.ca)

The Kids' Space Home page is the conduit to many e-service activities for kids, ages infant to twelve. Sheilah O'Connor, Kids' Space Coordinator said, "The idea is that we are a virtual branch, and we try to offer the same types of things as a bricks and mortar branch does." She explained that "Grownups" and "Preschool" sites are designed for parent use with a child. All other sites are addressed to children, not adults; however parents and teachers use those sites with children as well. "In a poll asking about ages, 50% were between 9-12, 19% were 0-4, which probably means preschoolers with their parents. Last year, on our weekly poll, we asked how many were boys and how many were girls. The results: 57% were girls, 43% were boys. They seem pretty equally divided on who sends in jokes and comments, although girls probably send in more reviews." O'Connor checks all e-mails to decide whether they should be posted. Some comments may be off-colour, or some subjects are too mature for the audience. "Last month we had 24,000 virtual visits from 87 countries! Games, homework help, booklists and online stories were the most popular," she said.
Dewey, a mascot, based on a robotic alien, shows up in Kids' Space. He visits libraries and book sales and community events and hands out bookmarks as a way of promoting awareness of the programs.
I clicked on some of the sites listed on the Home Page. "Explore and Learn" had the options of audio phonic lessons--find the words that have the same middle sound, or "Tell a Story" where I could follow guides telling me points to make in writing a story about the picture. Next I clicked on "Books and Stories" and found I could hear the story "Alberta Al" by Ken Roberts being read aloud, or I could get a list of book suggestions. "Fun & Toronto" connected me to the current discussion about bullying. Aisha (12) wrote, "I get bullied very day bi a 10th grader, im scared. I need sum advice. Should I keep it in???" "Don't keep it in. u have to tell someone," another girl answered. Other students sent in comments and questions. Under "Calling all Comedians" I read jokes students had sent: This one made me chuckle. "What flower do we wear on our face? Give up? Tulips!!" There were also games, interesting facts and fun things to do in Toronto. One child wrote: "Hey! I was at school and my librarian told us to go to this website! I checked it, and it's SO COOL!!!! Great games, fun polls and u can learn here to!!!! What a GREAT website!!!" (See: http://kidsspace.torontopubliclibrary.ca/yoursayarchive.html)
Edward Karek, Communications Officer, Toronto Public Library, provided useful information. (See: http://www.torontopubliclibrary.ca/) In-branch computers offer Internet access and Microsoft Office. They also include virtual keyboards for multi-language input. A few branches offer courses in Cantonese and Mandarin, and with advance notice, translation can be arranged. Kids can bring their own laptops or mobile devices. Spaces can be reserved where students meet to work on assignments. At a few locations children in grades 3 to 6 learn basic keyboarding and mouse skills. Library computer stations are blocked to prevent access to disreputable connections.
COLLECTIONS -

The Toronto Public Library has several collections that serve as aids for teaching children. They include an assembly of Fine Art, the Merril Collection of Science Fiction, Speculation and Fantasy, and the Osborne Collection of Early Children's Books. I visited the Osborne collection housed at the Lillian H. Smith Branch on College Street.
The fourth floor suite was fitted with glass protected cases of open books and manuscripts, display cases, work tables, open stacks, and adjoining is a room for research. Leslie McGrath, Head, Osborne Collection of Early Children's Books, was my guide. "We have 80,000 items ranging from cuneiform tablets--early writing on clay that is about 3,000 years old--to a fourteenth century manuscript of Aesop's Fables on vellum," she said. "The original collection of 2000 items was donated in 1949 by British librarian Edgar Osborne. Since then, the library has made regular purchases, members of the `Friends of the Osborne and Lillian H. Smith Collections' have donated funds for acquisitions, and authors, illustrators and collectors have made donations."
Who are your typical visitors?" I asked.
"Visitors of every age can enjoy this collection. In the past, since many of these books are out of copyright, Japanese publishers came and made beautiful facsimiles of the illustrated works." She explained that there are three important public lectures given at Osborne every year, by outstanding people in the field of children's literature, and, in addition, if a group wants to book a visit to Osborne to learn about a specific topic, staff members will give talks and tours. There's no charge.
"And children?" I asked, curious about how children used the collection.
"It's particularly appealing to children. The heaviest use by children comes from schools and groups, where children are brought for a look into the past, and there is something for every child to enjoy. We spread out displays and give talks. Recently a little Korean girl was visiting Osborne. She looked about without any particular recognition of a favourite tale until she saw Canadian Margaret Bloy Graham's Harry the Dirty Dog translated into Korean, which Graham had sent us." McGrath commented that most children have heard the Cinderella story. They are intrigued to discover that the story is first known to have been told in China, about the year 200 A.D. Now there are African, European, British and Canadian versions.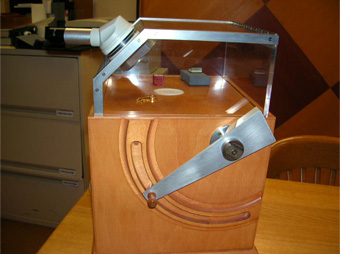 The world's smallest book
McGrath showed me toys, pop-up books and games. Then she led me to a small rectangular case sitting on a table. "Kids are amazed," she said. "According to the Guinness Book of Records¸ 2000, this is `The World's Smallest Book.'"
I peered down into the case to read the titles of two small books, just over a centimeter high, and ignored a black dot in center-field lined up under a microscope.
"No," she said. "Look through the lens. It's the dot. The dot is a book. The others are there for comparison."
Sure enough, when I focused the microscope lens on the dot, I saw the cover, spine and loose pages of a book that must be only one or two millimeters high.
"It was published by the Japan Print Museum, Tokyo, Japan in 2000," McGrath said, "We bought it through a special gift from the `Friends of Osborne' at the Grand Conclave of the Miniature Book Society. In our publication, The Gryphon, we keep supporters informed about the Collection."
"Amazing," I said, feeling completely astounded.
McGarth continued, "Last week, many of the students lit up when they saw an artefact from Mali. Two paddles of wood, with verses, including brief notes based on the Koran, painstakingly traced on them in clay, the only available inexpensive implement for writing."
"Don't you have to take precautions?"
"Visitors wanting to handle Collection materials are asked to read `safe handling guidelines,' and sign a visitor's card agreeing to follow the rules. They're simple: no food or drink, check coats and bags, no photocopying, use gloves and page-turners as needed. The Collection is kept in special stacks not open to the public, but materials are retrieved upon request." Through a partition of glass I observed two women in the research room. Maybe they were searching for historical details or looking for inspiring ideas for their writing.
In front of me was a three-dimension cardboard structure displayed on a table. "What's that?" I asked.
"Green Gables, Anne Shirley's home in Prince Edward Island," McGarth answered. She grinned and stood to point out the details as I took her picture. Your readers will want to read Yuka Kajihara's article, "An Influential Anne in Japan," about the popularity of Anne in Japan and about trends in Japanese Children's literature." (See: http://www.yukazine.com/lmm/e/articles.html).
Accessibility to this Collection is free. Such wonderful stories, such rare toys, so much to examine and learn. I was impressed.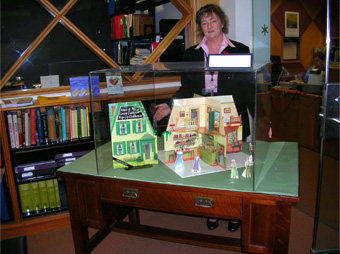 McGarth points to model of Green Gables
THE FACTS

POPULATION (See on-line: City of Toronto Facts 2006)
Greater Toronto Area (GTA) 5.5 million
City or Toronto proper, 2.48 million. Over 140 languages were spoken; Over 30% of residents spoke a language other than English at home; 7% were preschool age 5 and under, 16% were ages 6 to 14, and 22% were youth ages 15 to 24.
CURRENT LIBRARY DATA - furnished by the staff the Toronto Public Library
*Branches and bookmobiles: 99 branches, 2 Bookmobiles (Libraries on wheels making scheduled visits to areas with limited access to branches)
*Operating budget (Canadian dollars): $169, 988,000(2008 gross)
*Library materials budget (Canadian dollars): $17,387,654 (2008 gross)
*Funding sources: 99% of funds come from the City of Toronto. The average cost per Toronto household is $101 per year. Grants come from the Federal and Provincial Governments. Corporate donations and individuals make up the balance.
*Staffing: over 1,818 full-time staff members.
* Programs: 24,194 programs, with 646,457 participants.
* Volunteers: 2,822 volunteers who donate 94,592 hours each year. Of these Teenage volunteers number 2,025 or 72%.
Training - (To become a volunteer I was put through a police clearance, underwent an interview and written grammar test, and took a free half-day course on how to teach reading.)
*Circulation: 47% of Torontonians hold library cards. The rate is 12.3 per capita, higher than any other international North American library. For the year 2005 there were 145,646 teenage (13-19) card holders circulating 901,326 teen materials. Teens attended 32,716 programs.
*Properties and usage: The library owns 10,792,487 items of which 7,775,182 are books in over 100 languages.
*Online & In-branch e-services: (2007data)
Number of Public Workstations: 1,908
Number of Public Computers with Free Internet access: 1,559
Several computer training courses.
*Advice and Evaluation -
I asked Ken Setterinton, Child and Youth Advocate for Library Services, what advice he has for parents who want their children to like reading. "Come with them to the library," he said over the phone. I could picture him throwing out his arms in a gesture that said, "As simple as that."
Having noticed that wherever I went librarians were cheerfully giving advice and helping find materials, I asked, "Is this a good profession for young people to consider?"
"Yes. We employ individuals who have people skills," Setterinton answered. "It's particularly important for our staff to like children."
To summarize my evaluation, I think I'll borrow the lingo of the kid who wrote to Kids' Space. "SO COOL! GREAT!"