Hosting the Fourth ECEC Research Conference
The fourth ECEC Research Conference, hosted by Child Research Net (CRN), was held in Shinjuku on Sunday, February 8, 2015. This conference focused on the theme of "Early Childhood Education and Care (ECEC) in Japan and around the World: Seeking Learning in Play." Various features and issues regarding ECEC practices in Italy, New Zealand, and China were introduced in comparison with those in Japan, as well as worldwide universal trends in ECEC. In this report, we will introduce a synopsis of the conference.
DATE: 13:30 -17:00 Sunday, February 8, 2015
PLACE: Event Hall, Bellsalle Nishi-shinjuku
ORGANIZER: Child Research Net

Session 1: Introduction of ECEC around the world

| | |
| --- | --- |
| [ITALY: Reggio Emilia] | Mari Mori (Associate professor, St. Margaret's Junior College) |
| [NEW ZEALAND] | Nobuko Kamigaichi (Professor, Jumonji University) |
| [ITALY: Pistoia] | Miwako Hoshi (Professor, Nagoya University of Arts) |
| [CHINA: Shanghai] | Nianli Zhou (Professor, East China Normal University) |
| [GLOBAL TRENDS] | Yuto Kitamura (Associate professor, the University of Tokyo) |
Session 2: Panel Discussion - ECEC in Japan and Other Countries: A Comparison of Actual Conditions and Evaluation
Session 1: Lectures Concerning Early Childhood Education and Care across the World
[Reggio Emilia, Italy]
Teachers and Local Residents Support Children's Learning by Play, Seeing and Feeling through the Eyes of Children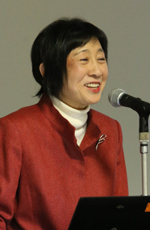 An associate professor at St. Margaret's Junior College, Mari Mori, Ed.D., gave an opening lecture on ECEC carried out in the city of Reggio Emilia, Northern Italy.
She explained that the city provides, based on the philosophy, "community is responsible for respecting each child as a citizen," an environment where children are encouraged to meet and have dialogue with their surrounding world including various kinds of art works in daily lives and museums, nature such as plants, flowers, and living creatures as well as artificial products. In this way young children are inspired to create and express their own world in multiple ways. Not only teachers, but also members of the entire community are trying to support young children's development in holistic way.
She also introduced the core of practice, "Progettazione," the process of learning and playing. Children and teachers, atelieristas, and sometimes family members and community members engage in various kinds of activities together, for example, "Recipe of Food" progettazione, carry activities such as observing, planting, growing, harvesting, cooking and finally eating vegetables. In such processes, Dr. Mori's analysis was that it greatly contributes to the notion of teachers seeing and feeling through the eyes of children to discover and be fascinated by things together.
She also mentioned that the characteristics of the community have been changing due to a multiethnic rise in population. She pointed out that the city faces the same challenge as Japan's field of ECEC does; how to maintain the evolution of educational methodologies while preserving their valuable tradition of ECEC.
[New Zealand]
"Learning Stories," a Method of Comprehensively Documenting Everyday Interaction with Children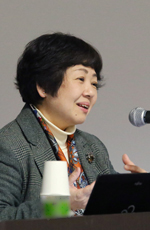 Next, Nobuko Kamigaichi, professor at Jumonji University discussed developments in ECEC in New Zealand.
She reported on the popularity of outdoor activities with the recreational use of nature offered by kindergartens, such as sandbox play and other activities involving insects and flowers. At this point she indicated the similarities between the situations in Japan and New Zealand.
Professor Kamigaichi also gave a detailed introduction to the country's national curriculum of ECEC "Te Whāriki." Showing photos of her own and her colleagues' visits and experiences, she discussed the curriculum in detail, describing how the teachers share and practice their education philosophy "Children are competent and confident learners."
She also mentioned "Learning Stories," a method established in this country of assessing children's learning in educational contexts as well as their emotional growth, which comprehensively records the emotions, motivations and behaviors of children. Since it verbalizes and visualizes the teachers' thoughts and views on ECEC, she stressed that, when disclosed to children's parents, the documents contribute to improving the relationship between parents and teachers. She suggested that the method could provide a good opportunity for Japanese teachers to reflect on their own custom and practice.
[Pistoia, Italy]
The Education System to Share and Discuss Observation of Each Teacher Among All Members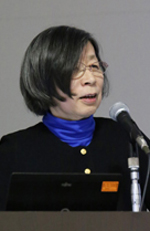 The third lecturer was Miwako Hoshi, professor at Nagoya University of Arts, who discussed the ECEC system in the city of Pistoia, located in central Italy.
First of all, she explained, by showing some photos, that the physical conditions of classrooms place emphasis on the children's peace of mind and comfort, in which is teachers are trained to talk with children quietly and patiently. Classrooms are divided into several categories such as playrooms with waste materials, reading rooms, etc., which help children easily understand what kind of activities they can play in each room.
Teachers from day-care centers and preschools collaborate in various ways to prepare activities to encourage voluntary activities of children. For example, most day-care centers and preschools are successfully providing group activities designed to make children naturally feel firsthand that "It is more fun to do activities with friends than doing them alone." This has come about as a result of persistent efforts in carefully observing children's behavior as well as effectively sharing and discussing the outcome of such observations. Her conclusion was that Japanese teachers could learn a lot from this early childhood education system.
[Shanghai, China]
China's ECEC, Reflecting Changes in Social Conditions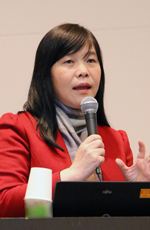 The fourth lecturer, Nianli Zhou, professor at East China Normal University, discussed the current status of play in ECEC in China.
She first explained the progress of ECEC as well as the educational philosophies of educationists in China and other countries. In the past, Chinese educationists highly valued the maintenance of traditional course work; however, recently, they have come to realize the importance of play in early childhood. In 2014, the Chinese government introduced an education policy that motivates children's learning through play.
Professor Zhou also introduced one of the children's popular activities "social pretend play," in which children create a social scene familiar to them (e.g., a supermarket,) by showing an example of kindergarten children in Shanghai. She also explained that the popularity of social pretend play is due to recent changes in the social lives of Chinese people resulting from rapid economic growth. She also pointed out that the traditional course work approach is still practiced by kindergartens in rural areas. She said, however, that the gap in ECEC between urban cities and rural areas has decreased. This is because the government has been working to improve the quality of ECEC and promote the training and education of teachers across the country.
[Global Trends]
The Importance of Comprehensive Assessments on Children's Cognitive and Non-cognitive Skills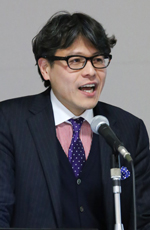 The fifth lecturer was Yuto Kitamura, associate professor at the University of Tokyo, who discussed global trends in ECEC policies through international comparisons.
He first presented some results from research conducted by the OECD, focusing on the importance of enhancing the quality of ECEC. He then presented an argument supporting methodology to assess the quality. He laid emphasis on the need for comprehensive assessment, taking into account various factors such as children's academic skills, emotional development, interaction with teachers and parents, and the conditions of education facilities. He showed a new indicator introduced by UNESCO in order to meet such a necessity.
He also analyzed that ECEC focusing on "school readiness" is on the increase in more economically developed countries excluding Japan, Korea or New Zealand, due to the increasing concerns over children's academic performance at schools, as well as changes in social conditions such as the growing migrant population and widening income disparities. He warned that it is dangerous to focus only on children's cognitive skills such as academic performance, since this will deprive the children of precious time in their childhood; therefore, it is important to support the sound development of children by focusing equally on their cognitive and non-cognitive (i.e., emotional aspect) skills.
Session 2: Panel Discussion - Reviewing Japan's ECEC based on the Practice and Assessments in Other Countries
Introduce Japan's Early Childhood Education and Care to the World!
After the session of lectures, a panel discussion was conducted by the above five lecturers and the moderator Yoichi Sakakihara, CRN Director and Professor at Ochanomizu University, as of Feb. 2015.
Different opinions were exchanged regarding ECEC systems including advantages and assessment methodologies in Reggio Emilia and Pistoia, Italy, New Zealand, China, and Japan. The panelists unanimously agreed that a comprehensive assessment is necessary by taking into account various aspects such as children's academic skills and emotional developments; and that Japan's ECEC has a lot of aspects in common with progressive education systems around the world. The panel discussion was concluded by Professor Sakakihara encouraging the audience to "Be confident and disseminate your education practice to the world!"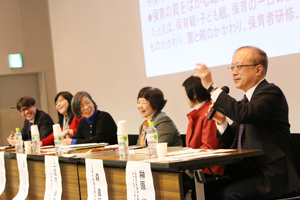 We will publish details of the panel discussion and more shortly. Please keep a lookout for our updates!