CRN was established in 1996. The importance of the Internet had earlier become recognized when the Great Hanshin Earthquake struck in January 1995. In November of the same year, Microsoft Windows 95 was released which accelerated the popularity of the Internet. Even so, at that time only a few people had considered the idea of establishing a research institution utilizing the Internet. However, Dr. Noboru Kobayashi, who had just participated in a discussion with researchers from various countries regarding the state of children in danger at a conference held in Norway, had a firm intention to "create a research institution open to the world, instead of establishing an institution exclusively for Japanese people." For this reason, he envisaged the establishment of a cyber research center that could be developed by increasing the number of access points around the world. Dr. Kobayashi consulted with Dr. Takemochi Ishii and acquired his support to establish CRN. This year, CRN celebrates its 20th anniversary.
Predicting the future of children who live in the IoT environment
Dr. Kobayashi: CRN conducts not only online publishing activities but also other activities in the real world, effectively combined with online ones, such as inviting researchers from China.
Dr. Ishii: We appropriately make use of live communications and handwriting, while maximizing the effect of online communications. We do not adhere to a versatile approach which might result in negative backfiring; instead, we try to achieve a synergy effect of multiple means.
Dr. Kobayashi: Perhaps we do not necessarily have to place real interactions on the opposite end of interactions via media technologies. In fact, I am often surprised by observing children skillfully make use of multiple media tools.
Dr. Ishii: For your reference, I will show you an example of children's media use from the survey results of the Ministry of Internal Affairs and Communications of Japan. The survey was conducted by leaving a smartphone near a baby to see whether the baby touches it or not. As a result, about 10% of the babies aged below one year touched the smartphone, while about 70-80% of the 4-6 graders in elementary school had experienced using them.
This proportion almost doubled for children with elder brothers and sisters: that is, about 20% of the babies aged below one year touched the smartphone that was placed nearby. I was surprised at the number of children revealed by these results.
Another example is the "elementary flipped classroom," a new digital pedagogical approach to establish an interactive classroom. What interests me the most is who puts together the contents of these online-courses which children are required to access and learn in advance. In most cases, it is done by their teachers. What's more, the video is only 5-6 minutes long, which means that teachers must create the online contents consecutively. In fact, they are virtually being trained to create digital materials at school. In this way, teachers are changing through having various new experiences to instruct children, acquiring skills almost like an "entrainment concierge."
Dr. Sakakihara: Considering its interactive nature in meeting children's individual needs, this approach is not a group lesson anymore.
Dr. Ishii: Conventional group lessons have different benefits for children compared to these new types of individual lessons. We need to think how to blend in these different approaches in the future.
Nowadays, the term "IoT (Internet of Things)" is becoming popular. The concept is to lump together various different devices including information/telecommunication devices such as computers and different connection modes, which enables automatic recognition, automatic control, and remote measurement systems. Nowadays, almost all companies have introduced some sort of Internet of Things. Children are participating in such a society and will utilize these new technologies even when they reach an advanced age. CRN will be required to predict the future of children in such an environment, in response to the needs of society.
The Internet has generally been used for person-to-person communications; however, it is now used to connect people with devices and machines directly. One example is a drone. It is so to say one of the "Things," which is controlled through the Internet. Children are growing in the changing information environment of the 21st century where the technologies of the Internet of things are employed directly by industries. We will find such an environment regardless of where we live, in Japan or overseas.
The prevalence of smartphones will enable us to utilize these advanced technologies. At the same time, we need to explore new places and people in the real world, like the postman I mentioned, in order to create brain systems such as human capital and social brain.
Dr. Sakakihara: It is the first time in the last two million years of human evolution that children now freely carry around and use mobile media devices. Even three-year-olds can hold smartphones in their hands and use them. Some Japanese pediatricians have started to issue warnings that this environment might harm the development of children. They are trying to draw smartphones away from childrearing. In contrast, the American Academy of Pediatrics expresses a completely different view which is relatively positive, arguing that "There are many uncertainties, but we may be able to discover certain benefits of smartphones for the future of children. What matters is the ways of using the device. We need to do more research on smartphones and the impact they are having."
Dr. Ishii: We used to hear this kind of criticism. For example, some say that children are not willing to offer their seat to the elderly on the train. This is supposed to be because of computers (laugh).
Dr. Sakakihara: It was said before that children's problematic behavior traits such as absent-mindedness and impoliteness were due to TV programs. This opinion was later found to be incorrect. Now, it is the smartphone which is the alleged culprit. I think there are two different types of people according to their attitude towards new things.
Dr. Ishii: It is impossible to take smartphones away from children, considering the state of children who are exposed to smartphones at an early age, like the survey of babies aged below one year. It is important to find effective ways to instruct them in the use of smartphones. I believe that we need to make unique efforts like teachers who prepare online contents five or ten minutes long for a flipped classroom.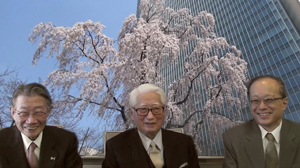 A tough challenge will give us an opportunity to find a new solution
Dr. Sakakihara: CRN also offers a mobile platform as well as the existing PC platform. We have improved and enhanced systems and online content while actively hosting live events. Now, I am thinking, as CRN Director, what the next step will be.
Dr. Ishii: One thing we need to consider is the issue of Japan's declining population due to low birth rates. The total population is expected to fall to around 80 million in the near future. This projection is, however, becoming more acceptable, considering the size of population before and at the end of the war, which is estimated to have been around 40 million and 70 million, respectively.
Addressing an aging population and fewer children are not only Japan's problems but also global challenges around the world including China.
Dr. Sakakihara: In other words, Japan can be the pioneer of aging society. We can offer a role model for the world in dealing with these issues.
Dr. Ishii: Let us imagine that we are tackling a universal issue ahead of other countries.
Dr. Sakakihara: Researchers engaged in child studies generally express negative opinions on the issue of declining birth rates. But I believe it is better to consider the issue as prerequisite for dealing with the future of our society.
By the end of today's discussion, I came to an idea that CRN should take a "forward-looking" approach, that is to find unknown pathways, in addition to the current prevailing "progressive" approaches to solve the issues of children. After listening to your opinions, I feel that we still have a great many things to discover and experience.
Dr. Ishii: Yes, we have far too many. They are our opportunities. Since all conventional concepts are no more effective than before, we are facing challenges to overcome limitations, which drives evolution.
Dr. Sakakihara: The term "forward-looking" is the key word of today. I thought CRN had done all what we could by the time of its 20th anniversary, but I was wrong. We still have a long way to go.
Moderator: It is possible to turn a tough challenge into an opportunity, just as the oil crisis under the administration of Prime Minister Ohira led to eco-friendly initiatives in the 1980s. There is the possibility to create a new world by solving the issues of fewer children and aging society.
Dr. Ishii: We are not willing to tackle new things until we face those things we least want to face. We should be of the opinion that difficulties are there to motivate us. In other words, without these difficulties, we would not have the motivation to try new things.
Moderator: Dr. Kobayashi, before closing this session, please give us your opinion on the future of CRN.
Dr. Kobayashi: I consider Child Research Net to be merely a single research center at this stage, but will be required to play a more important role in the future. I hope CRN will be sufficiently prepared to grasp opportunities and expand its activities immediately when the time comes.
It is essential to provide everything necessary for the sound development of children, but at the same time, we should avoid being caught up in conventional thinking. It is necessary for CRN to become a research center that can view child research from a wide perspective such as the dynamics of population, social structure, industries, science technologies and so on and synergistically utilize these factors.
About the human network we discussed, we run the programs of brain, mind and physical body based on various items of information. One of which is "semantic information" and another is "sensitivity information." In particular, "caring feeling" among "sensitivity information" is important for children. Caring feeling has special power to enhance the emotional development of children. Therefore, we must always keep in mind that we should provide a plenty of information regarding caring feeling for children.