I have been living now for more than sixty years, but I have never experienced such a hot summer. I am sure that those who are reading this are eagerly waiting for this sizzling heat to pass.
For those who feel this way, let me send you a cool breeze from the mountains of Switzerland.
As I mentioned in a previous blog post, mountain-climbing was practically my only hobby when I was a student. As I struggle against declining muscular strength and a sense of balance, I feel some anxiety about how many years I will be able to continue mountain climbing.
As this feeling passed over me, the wish to climb the Swiss Alps, which I had dreamed of doing since childhood, once again rose up within me. It was then that I went to the Swiss Alps with two friends who belonged to the same alpine club when we were university students.
I began making the plans last year, but finding that I had to build up my weakening muscles, starting this year, I began practicing in the Yatsugatake Mountains in winter, on the snowpack of Mount Tanigawa, and the Northern Alps of Japan. As a student, I had been able to complete the course indicated on the map in about half the time, so I was disappointed that it now took me nearly the entire average time. I climbed and kept going, watching with envy as young mountain climbers passed me on the way to the top.
In early July, I took off for Grindelwald, Switzerland with my friends. Our destination was the Mönch (4107 meters), next to Eiger, one of three largest north faces in the world. Mountains in Switzerland are ranked according to difficulty and Mönch is considered PD (Petit Difficile or slightly difficult) and relatively easy as a mountain over 4000 meters, but it is necessary to take an ice axe and crampons and have the ability to climb with a rope tied to the bodies.
The climb started from Jungfraujoch, the last railway station for climbers. At the station, we met our guide and walked for about one hour across the Aletsch glacier, Europe's largest glacier, to arrive at the rocky ridge that is the start of the Mönch climb. In Japan, chains and ladders are attached to ridges that are somewhat dangerous, but this is not the case in Switzerland, and this may be due to their wish to preserve the mountains in their natural state.
After making our approach, we began rock climbing, and although we were secured with rope, we shivered and sweated as we climbed, searching for the next foothold. After that, it was a little less strenuous, but our guide kept going at a fast pace, and because of the high altitude, we were out of breath. Nevertheless, we managed to reach the last snowy ridge, which is known as the "Knife Ridge" because of its sharp, steep angle that drops several hundred meters on both sides. The photograph below shows the Knife Ridge from the summit, but as we passed over it, the tension was so great that I did not have a moment to feel fear.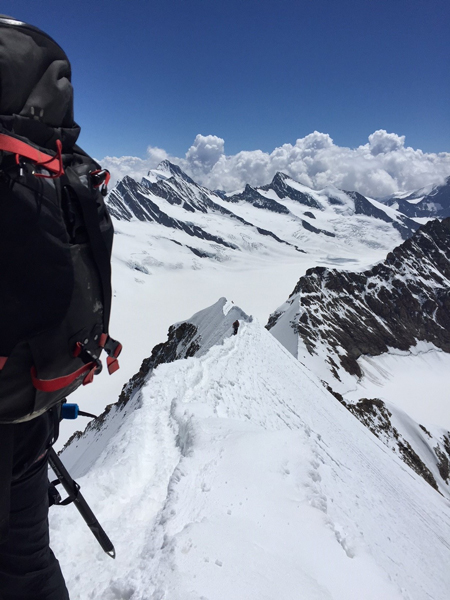 The view from the summit was wonderful. The Aletsch Glacier, the largest glacier in Europe could be seen below with beautiful, sparkling, snow-covered mountains of Eiger and Jungfrau on either side.
Exhausted, I descended to a small hut midway. I was split between a feeling of satisfaction that in my late sixties, I had now accomplished a long-standing dream and the feeling that I would never again want to experience such fatigue.
But in the intense heat, as my strength revived, the desire to climb a different mountain in the Switzerland next year began to well up. It was not runner's high, but something that might be climber's high.